After a 1998 spinal cord injury left Rosemarie Rossetti paralyzed from the waist down and in a wheelchair, she and her husband, Mark Leder, needed to build a new home to accommodate her newly compromised mobility. They assembled a design team and served as the general contractors, and founded the Universal Design Living Laboratory in Columbus, Ohio, where they've been living since 2012. This one-of-a-kind national demonstration home has received the highest levels of certification from three universal design national certification programs (Lifeflex, Livable Design, and ZeroStep), making it the top-rated universal design home in North America. It is also LEED Silver level certified and Gold level certified on the National Green Building Standard program.Rosemarie worked with ShelfGenie of Columbus and designer Michael Saunders to create solutions for storage in her bathroom and kitchen.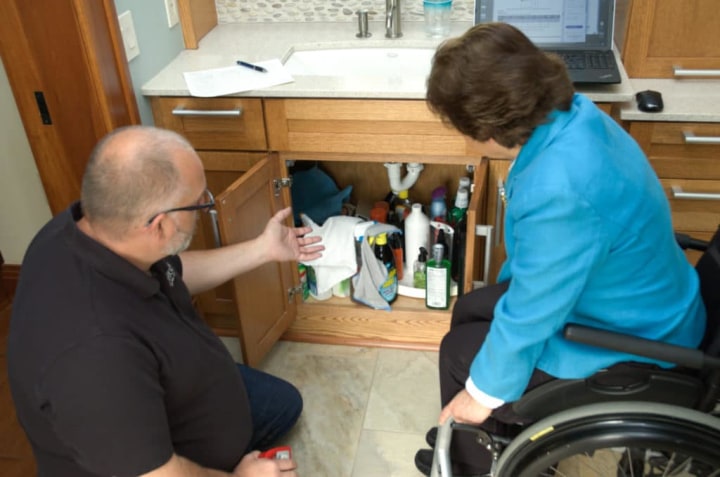 As a person who uses a wheelchair, she wanted full independence and maximum safety in their master bathroom. Bathrooms often provide a unique set of challenges, given space restraints, the location of plumbing, and the variety of tasks occurring in the room. The storage needs to be accessible from a seated position. Storage space that is typically under the sink was lost due to her requirement for knee space in order to roll under the sink. A solution was to install cabinets with deep drawers and shelves in the toilet room. For accessibility, a pull-down unit was installed on the top shelf.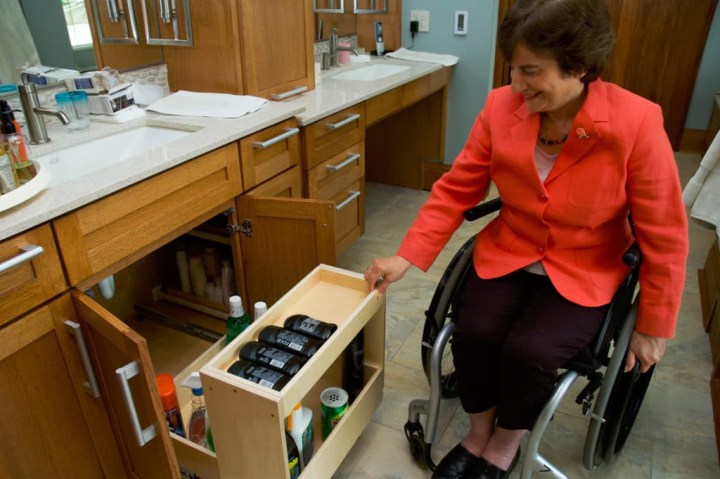 Pull-down shelving units enable a person to pull down the contents on high shelves so they are reachable for a shorter person and a person in a wheelchair.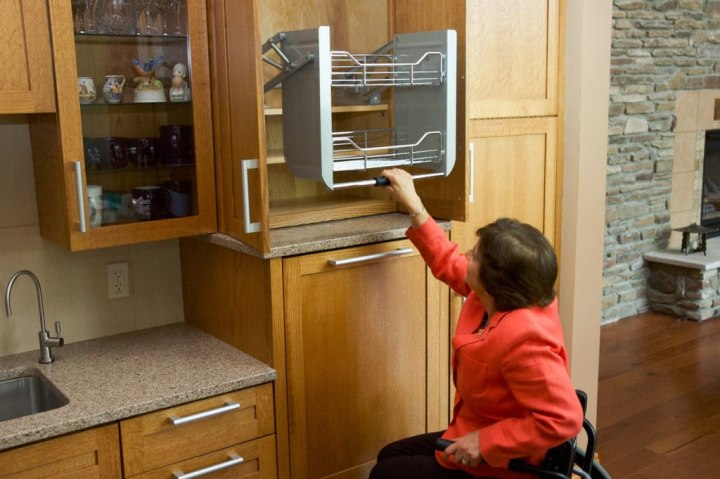 A guideline to design accessible storage is that 50% should be reachable from a seated position. Keep in mind that a person in a wheelchair has a limited reach. Generally, plan for storage to be 18 to 48 inches from the floor, so the items are reachable from a seated position. Cabinets with pull-out drawers and shelves position stored items at a more accessible reach.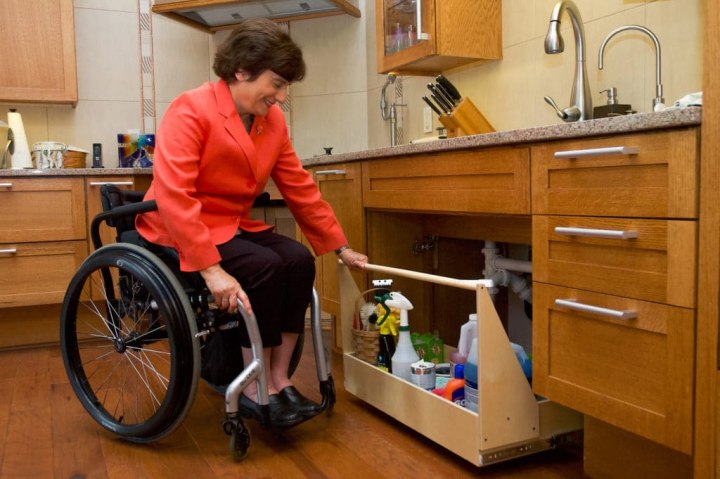 Kitchen appliances and pans are stored in a 36 inch-wide, 30-inch deep closet that's 4 ½ feet high.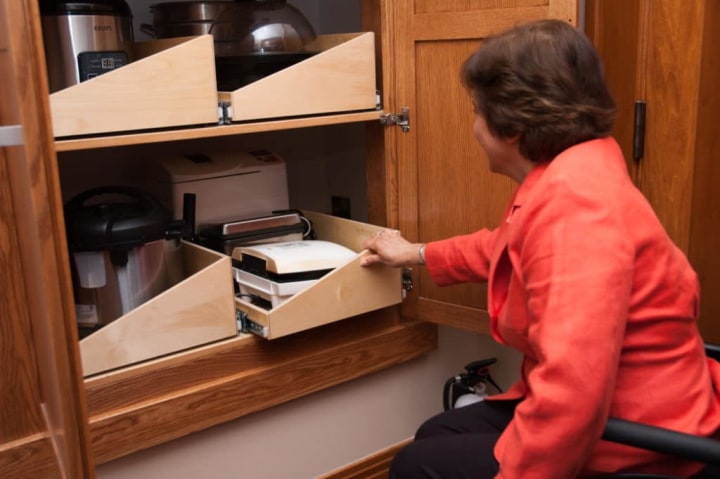 Excerpts taken from Rosemarie's series of blogs for the National Kitchen and Bath Association. You can read more about The Universal Design lab here:https://nkba.org/info/2018/12/three-myths-universal-designhttps://nkba.org/info/2019/03/design-by-experiencehttps://nkba.org/info/2019/04/powder-to-the-peoplehttps://nkba.org/info/2019/05/clothes-callhttps://nkba.org/info/2019/06/easy-access-in-the-master-bathhttps://nkba.org/info/2019/07/pull-out-pull-down-go-deepRosemarie Rossetti, Ph.D., CLIPP, is an internationally known speaker, trainer, consultant, and author of the Universal Design Toolkit.