Small bathroom storage ideas are the perfect place to start if you're struggling with space. Hitting the sweet spot when it comes to storage means more room to move. It also means the chance to experiment with décor to bring the room to life.Clever use of cupboard space is the way to go to move bathroom paraphernalia away from the bathroom sink and out of view. For many, bathroom cupboards are where hardly-used toiletries, washbags, and old towels are discarded and forgotten.Adapt shelving for ease of use – especially in tight nooks and crannies or where pipework is a challenge. Smart bathroom shelving is the best way to get organized. Banish the shame of abandoned bathroom cupboards by customizing shelving to work around the challenges of your bathroom storage.Once the cupboards and shelving are sorted out, other inventive bathroom organization ideas are the way to go. This is where you inject your personality into the design. The remaining stragglers cluttering up your space will find a home in baskets, tins, bags, and caddies. Whether you are into new age and metallic or distressed wood and vintage, this is a way to make your bathroom come into its own.Your bathroom is a room with high footfall – guests, family, your daily routine. Make it a room to be proud of – an extension of your sense of style. Get space savvy with our top 20 small bathroom storage ideas. Let's get started!
1. That Sinking Feeling – Customizable Glide Shelves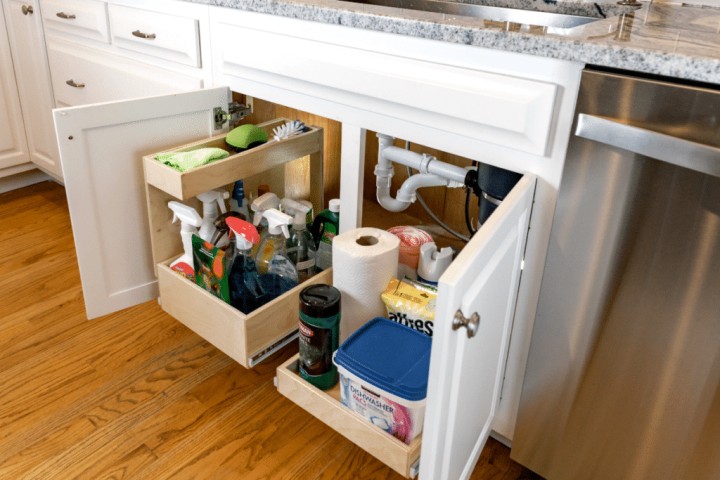 Are you losing premium bathroom space to pipework? The storage of under-the-sink shelves is often under-utilized because of the angles and unsightliness of pipes. Customizable shelves are a top idea for small bathroom storage ideas. Front, side, and independent risers are designed to glide around pipes – and look tasteful too.
2. No Port in a Storm – Use Portable Storage Solutions
Use rolling shelves or trolleys to make small bathroom storage portable. Alongside the bath or in front of the mirror, wheel it whenever you need it.
Tuck it away in the corner or kick it out of the room entirely to make the most of every nook and cranny.
3. Bin There, Done That – Bathroom Storage Ideas for Trash Cans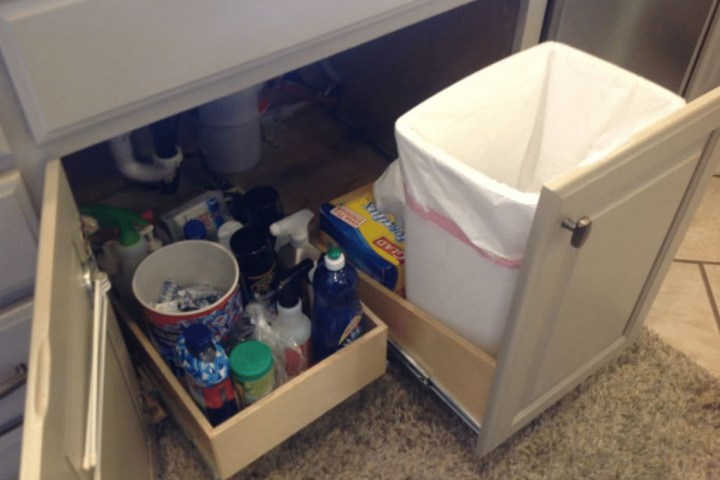 Bathroom bins aren't a waste. While they are handy to have around the bathroom, you don't want them taking up floor space in small bathrooms. Concealed trash kit cupboards are the ideal solution. If you have extra cupboard space, this is a winning bin idea for a neat bathroom.
4. Hiding Your Beauty Secrets – Bathroom Organization Idea for Makeup & Lotions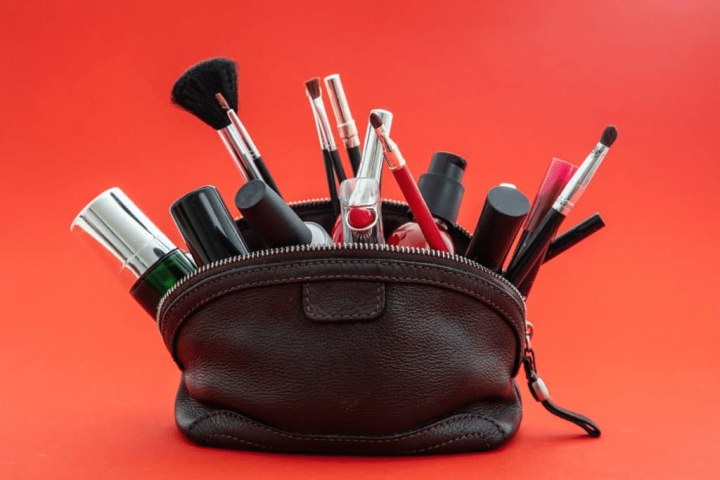 Nothing creates the impression of clutter quite like a collection of lotions, potions, and cosmetics. This can be dealt with in a number of ways. From bags and vanity cases to dedicated shelves to Lazy Susans, get creative! Keep yourself – and your small bathroom – looking great.
5. Wide Open Spaces – Bathroom Organization Ideas for Tall Cupboards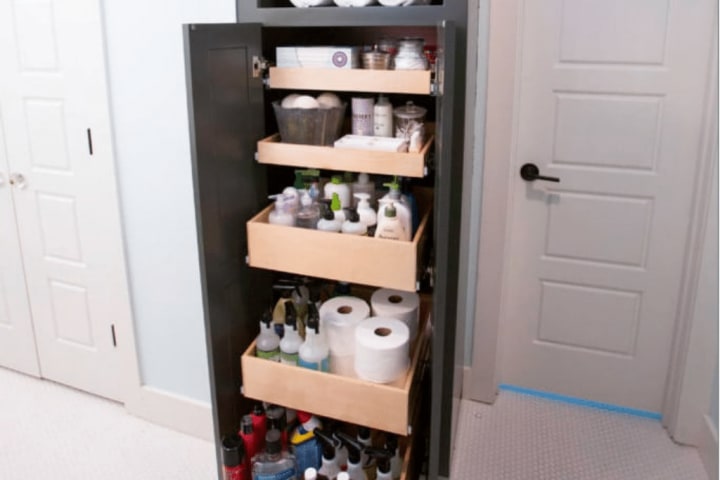 While tall cupboards create the illusion of space, their shelving is often limiting. Bathroom storage often requires cataloging of smaller items and toiletries.
That's why bathroom cupboards descend into a mess so quickly. Invest in smart shelving for tall cupboards to store everything from towels and bath rugs to toothpaste.
6. Towels on Demand – Racks, Rails, and Rolled Up and Ready to Go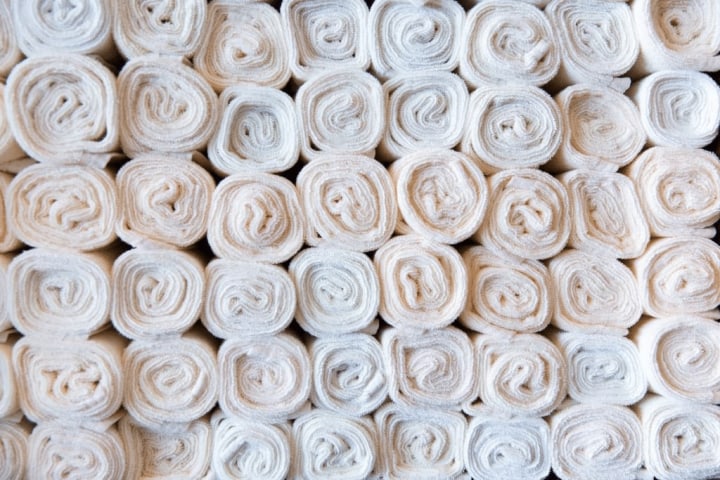 It makes sense to have your towel stash in your bathroom. Small bathroom storage ideas for towels are many! There's nothing like a fresh towel. That's why having this bathroom essential accessible is so important. A towel rail, rack, or ladder is an eye-catching décor item and practical bathroom accessory.
7. Making Space With Floating Shelves – A Favorite Small Bathroom Storage Idea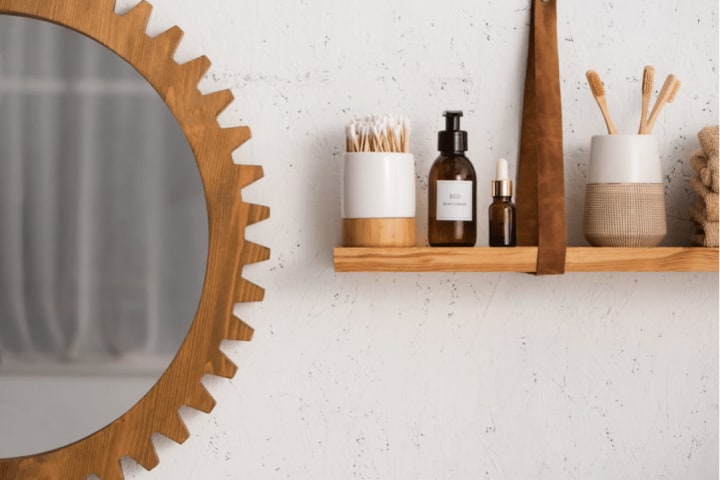 In small bathrooms, wall space feels wasted. As with any other room in your house or apartment, floating shelves are an easy go-to. Creating space for flannels, candles, plants, or your toothbrush holder couldn't be simpler. Installing floating shelves is a top DIY project for anyone handy with a spanner.
8. Shower Power – Use A Shower Caddy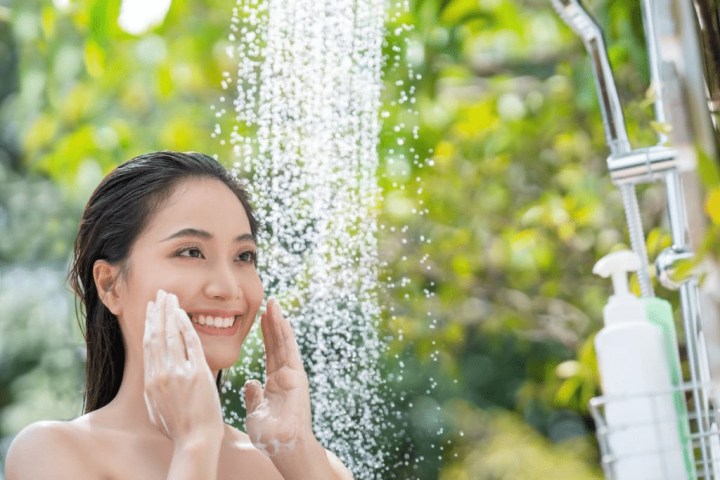 Unclutter cabinets, shelves, and the shower floor with a shower caddy. This useful bathroom accessory makes it easy to reach your shampoo and soap (without the bane of bending over). It also keeps your small bathroom looking neat and tidy, with everything you need right on hand.
9. No Towel Rack Hack – Use the Back of the Door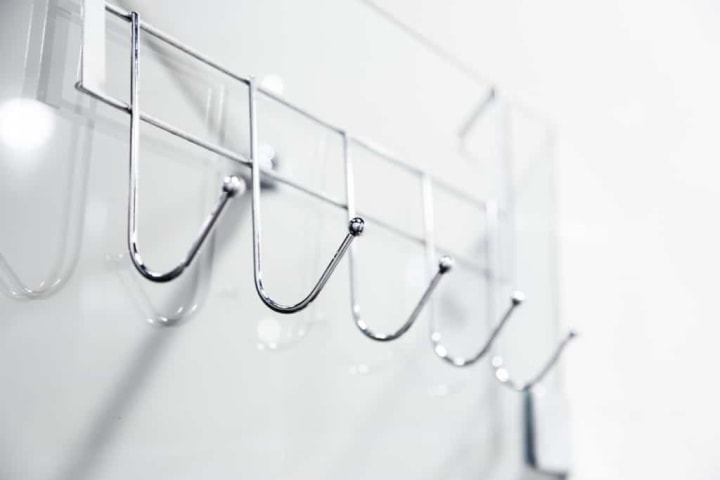 No space for racks and rails? The back of the bathroom door is out of sight, out of mind. This makes it a super choice for storage in small bathrooms. From the simple hook to over-the-top contraptions, a range of solutions exist.
10. Lighten the Load – Compact Laundry Hampers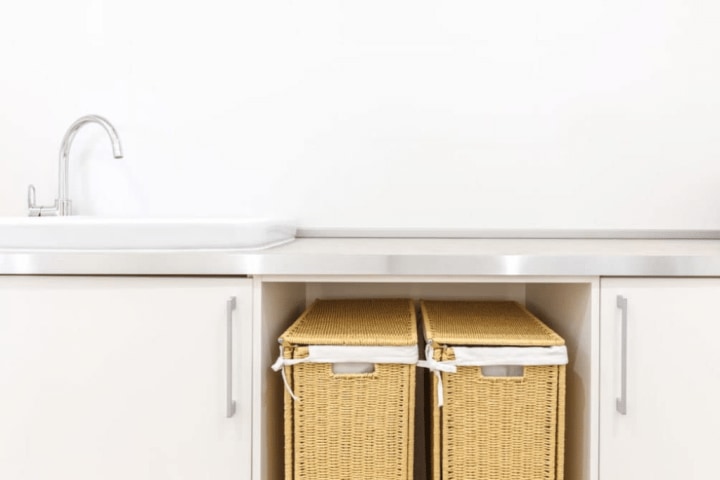 There's no space for dirty laundry in small bathrooms. Big, bulky laundry hampers are out of the question.
Keep laundry out of the way with compact laundry hampers. These options are perfect to tuck away until laundry day comes around.
11. Bath-Time Wrath – Bath Rack Hack
A bath rack is a chic addition to bath time. Perfect for bubbles, soap, shampoo, and candles – or a glass of wine for a bit of after-work indulgence. Rub-a-dub-dub, this bathroom accessory saves space and keeps you in the tub
12. Looking Above the Toilet – Around-The-Toilet Shelving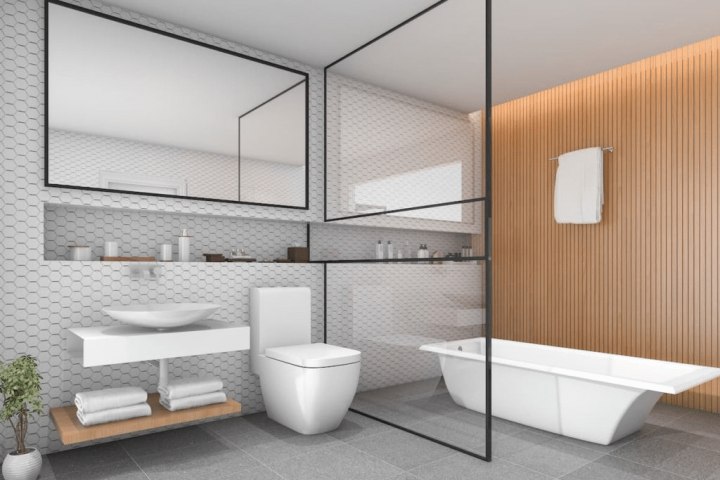 When it comes to maximizing space, the space next to and around the toilet is usually dead space in any bathroom – home to magazine racks and toilet brushes. Unlock space around the toilet with shelving.
13. Small Bathroom Storage Ideas – It Starts With Accessories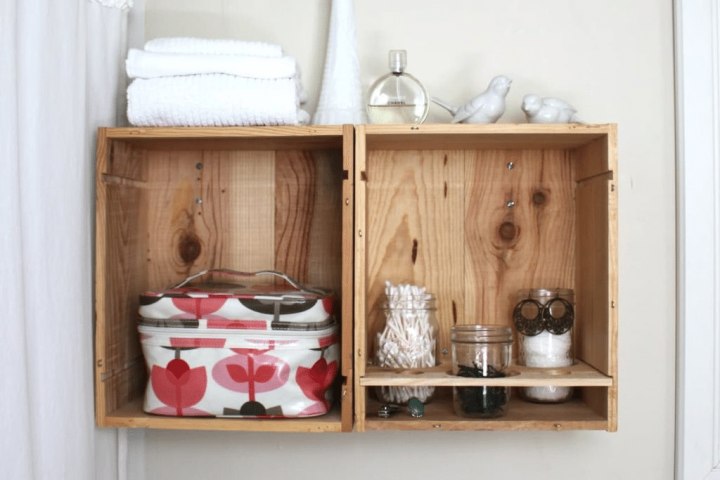 Bathroom accessories come in all shapes and sizes. There's something for almost every application – and some designs are highly effective at saving space. Around the sink, under the sink, and on your shelves, don't forget to accessorize.
14. Keep it Clean – Small Bathroom Storage Ideas for Cleaning Products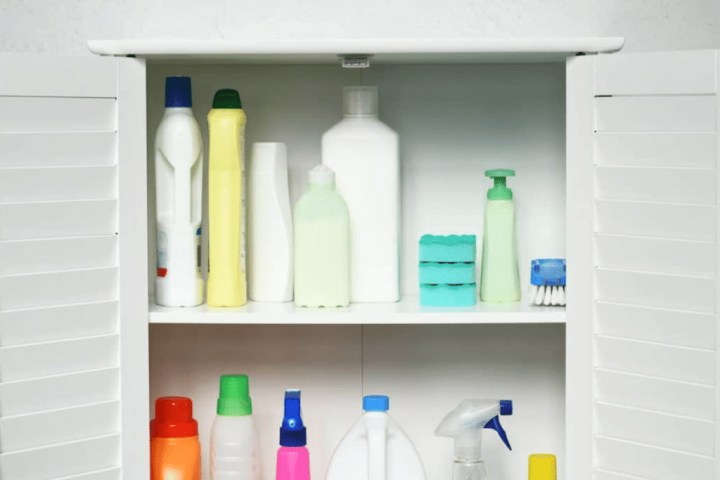 Your bathroom cleaning products shouldn't be scattered in cupboards around your house or flat. Clever shelving solutions open up opportunities for your bathroom cupboard space. With smooth, gliding shelves, your bathroom clean-up will be on a roll in no time.
15. Hooked on Space – Hanging Small Bathroom Storage Ideas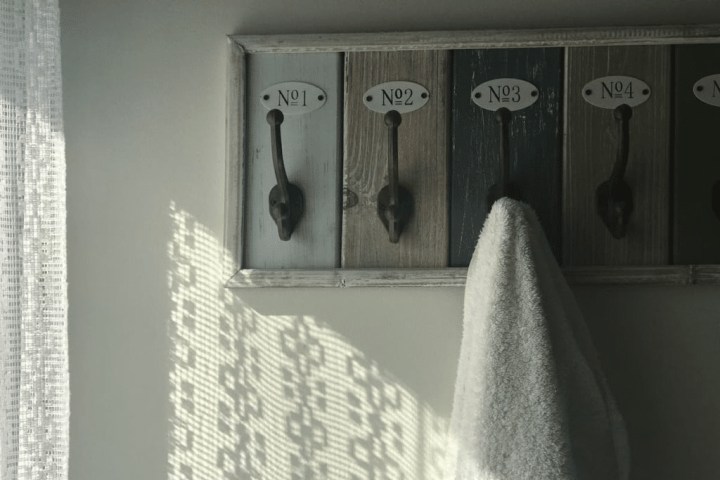 We're hooked on this idea. This design classic is unimposing and very effective as a space saver. Under shelves or behind doors, hang everything from towels to loofahs, flannels, and electrics. Well-placed hooks in different materials are an interesting design feature too.
16. The Best Medicine (Cabinet) – Taking Small Bathroom Storage Ideas Back to Basics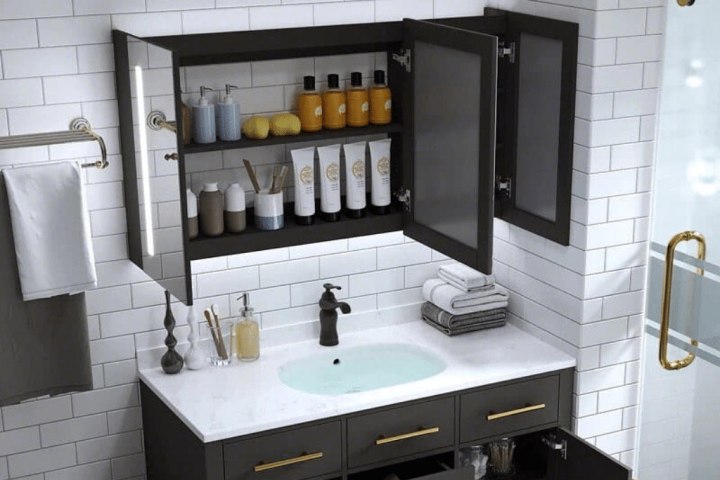 If you don't already have one, a medicine cabinet is a classic storage option to save space in small bathrooms. Behind the bathroom mirror, up high away from children's hands, this is the old faithful of bathroom storage tactics.
17. Basket case – Use Baskets to Mask Clutter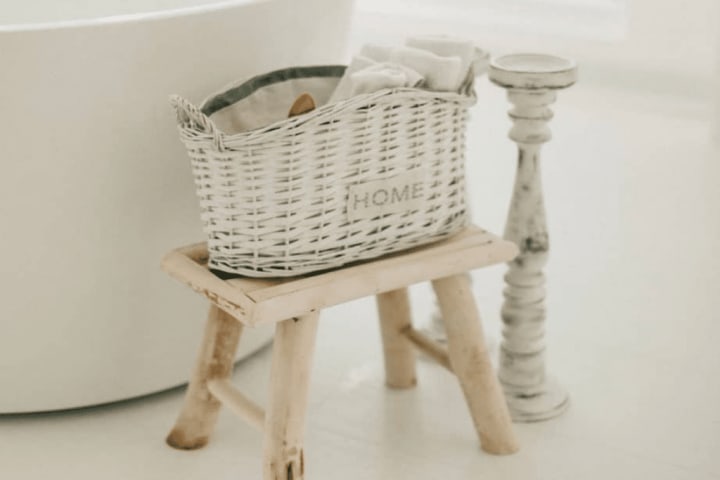 Baskets come in all shapes and sizes – just like bathroom clutter. Organize your bathroom essentials into different baskets for simplified space saving. The different designs and materials make for inspired décor too.
18. Snake Towels Through a Ladder – Bathroom Organization Ideas Made Simple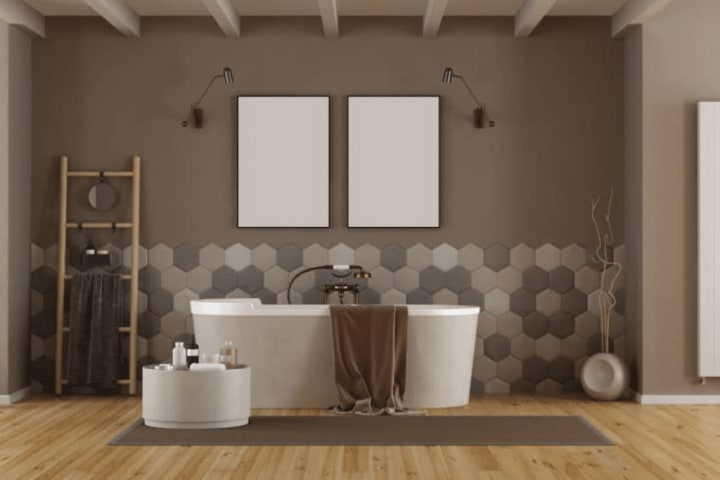 Don't want to drill shelves into the wall? Use a decorative ladder instead. There are a range of different designs on the market. Whether a simple towel rail alternative or a full shelf, this is a way to achieve useful extra storage space.
19. Make Up for Lost Time – Bathroom Organization Ideas for Cosmetics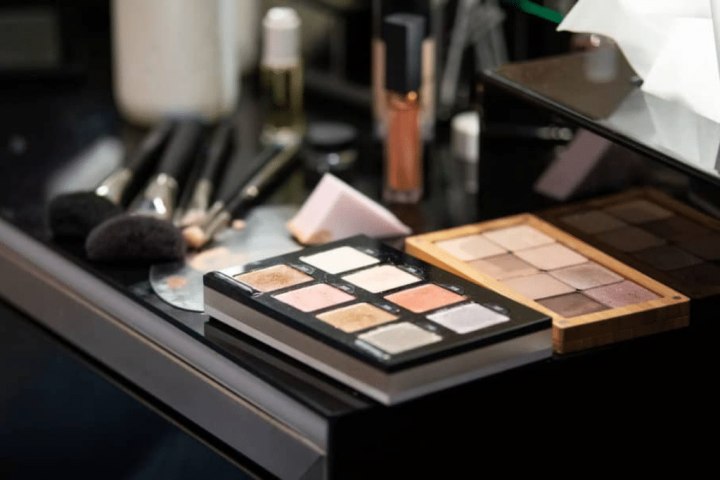 Smashed eye shadow, retired mascara, color palettes to suit every mood. If you organize cosmetics carefully, less space is required for what you don't need or use. Arrange makeup on to dedicated shelves, with an allocated space. On that shelf, design a system to maximize space.
20. Minimalist to the Max – The Small Bathroom Storage Ideas Gold Standard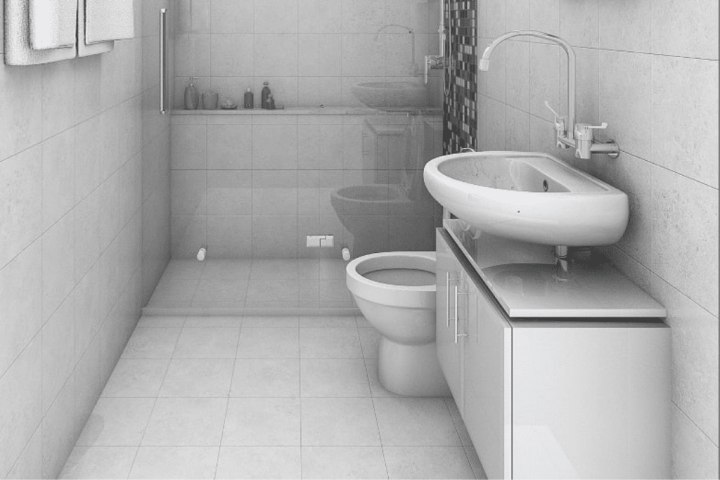 Less is more. The less you have, the more space you'll have to use in small bathrooms. Be ruthless with the contents of your bathroom. Pare them down to the necessities. It's hard to make small bathrooms look uncluttered. The first step to clean designs and extra space? Less stuff.