The best kitchen shelving ideas can steer you in the right direction if you want to renovate your kitchen. There is an overwhelming number of design options out there when it comes to kitchen shelves. Below are some ideas with a variety of decorating tips and styles. Before that, though, we'll talk about what kind of wood to use.
What kind of wood should I use for kitchen shelves?
You should choose a
reliable wood type
that can support the load the shelves will be holding. For example, if you want to store heavy appliances or ingredients on these shelves, your top priority should be strength, durability, and stability. Design and color of the wood is also an important factor while making wooden shelves.
Wooden kitchen shelving Ideas
Below are some kitchen shelving ideas with a variety of decorating tips and styles:
1. Wooden Shelves
Wooden kitchen shelves can be a great addition to any kitchen. These shelves can add interest and turn organizing into stylish design features. Open wooden shelving is on trend and looks great. These shelves are also a favorite among interior designers.
Wooden kitchen racks for spices, oils, and jars above the worktop make things easier during mealtimes. These are perfect for our modern farmhouse kitchens. The clean lines of floating shelves add a bit of a modern vibe.
2. Rustic Look
The rustic design is well-known for its natural appearance. It gives a warm and cozy vibe that is like the country style. One of the best features of rustic kitchens is the stunning wooden cabinets. Knotty wood and heartwood are the best materials to construct rustic kitchen shelves along with
materials other than wood
.
You can use a
faded paint
or weathered finish to give a rough aesthetic to shelves. Vintage accessories and textured decor are the best items to display on a rustic kitchen shelf.
3. Open Shelving
You can maximize the storage capacity of your kitchens by using open shelves. These are easy to build and can add a lot of beauty and character to a kitchen. Open shelving makes work easy and eliminates the time required for opening doors. Things are visible and easily accessible.
You can show off your most valued collections for kitchen decoration. Adopt stunning open kitchen shelving ideas to make kitchens beautiful.
Are open kitchen shelves a good idea?
Storage is one of the most important considerations while designing the kitchen. People prefer open shelves to open up space and maintain a level of storage in the kitchen.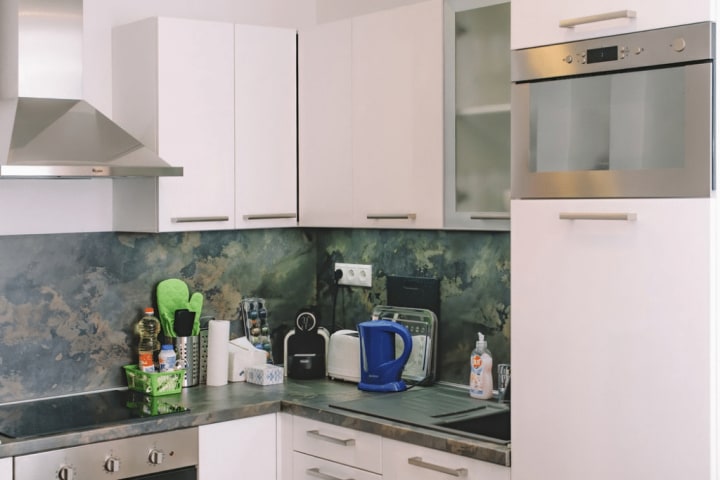 4. Corner Shelving
Another way to maximize storage is corner shelving. Create a right angle between two walls instead of a single straight ledge and use the corner space. Install corner shelves beside base cabinets to create continuity throughout the design. It makes previously unused space practical and doubles the storage.
Open corner shelves provide an easy way to make use of space.
5. Wall Shelves
Kitchen wall shelving keeps things organized and gives our kitchens a stunning look. You can keep tools close at hand by installing wall shelving. It also increases the efficiency of other storage systems in the kitchen. You can also highlight wall shelves using lighting options. It is the best way to emphasize the items placed on them.
6. Open Pantry
The open pantry may not appeal to everyone. It can work for those who like to have all ingredients and appliances within arm's reach. Some people love the way an open pantry showcases pottery, glass jars, and a beautiful set of dishes.
How do you make an open pantry look good?
While making a kitchen rack and open pantry, we can inject our personalities into the design. We can do kitchen shelf decor with a collection of vintage crockery, glass jars, and a stock of cookbooks.
7. Shelving Above the Sink
A shelf above the kitchen sink is an attractive and functional addition to our kitchen. This shelf helps you to keep things well organized and increase the storage closer to the sink. You can use metal or wooden materials for better strength and durability.
The shelves over the kitchen sink need the least assembling and are easy to maintain. They have a simple design but can hold a lot, from utensils to potted plants and soap dispensers.
8. Floating Shelves
Kitchen floating shelves have become a popular alternative to enclosed cabinets. These shelves are often made of metal, rustic, or painted wood. Floating shelves are cheaper than cabinets and break the monotony of identical cabinets. A mixture of upper cabinets and floating shelves can add value to a kitchen.
What do you put on floating shelves in the kitchen?
We can put a shiny glass pitcher, rough wicker basket, and mirrored candlestick for visual interest.
9. Classic Kitchen shelving ideas? Go All-White
The all-white kitchen is a classic favorite among homeowners and designers. A kitchen dominated by white shelves gives an airy and ultra-bright feeling. No other color can match the crisp and fresh look of the all-white kitchen. Along with the classic aesthetic, an all-white kitchen provides versatility and design flexibility. You can create a balanced look by finishing with accent furniture pieces in the kitchen.
10. Open Shelving Galley Kitchen
Houses with the limited space usually have smaller kitchens. You can make a galley kitchen more functional even if you have limited space. A galley kitchen is long and narrow, often with base and wall cabinets on both sides of a walkway. It is more efficient and functional as compared to other kitchen layouts.
You can add more storage units into a small space. Open shelving works best in these kitchens by keeping the items more visible. Installing shelves instead of cabinets can make galley kitchens look brighter.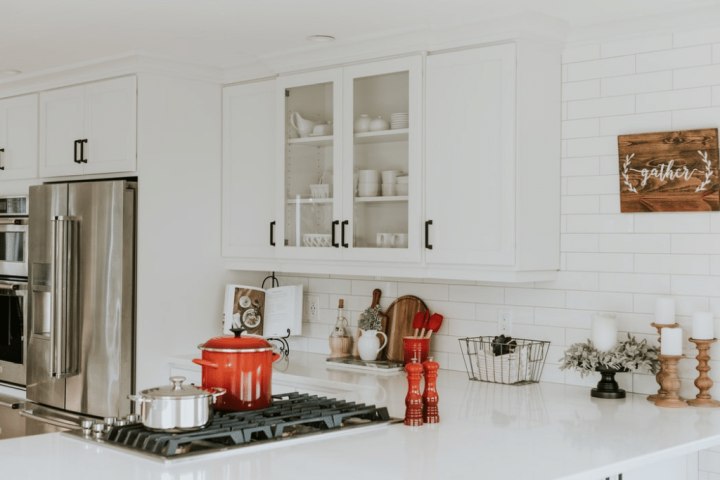 Kitchen Shelving with Other Materials
11. Metal Shelves
Metal shelves are affordable, strong, and perfect for adding extra storage in kitchens. These shelves may have a more industrial
aesthetic
, but it will be hard to beat their functionality to cost value. Metal shelves can hold heavy loads and are easy to assemble. These are perfect for showcasing beautiful dishes and special items.
12. Glass Shelving is One of the Best Kitchen Shelving Ideas
There's always something new in kitchen design trends, and glass shelves are trendy right now. Decorate the kitchen walls with open glass shelves. It allows us to showcase our shiny copper pans or favorite set of dishes. Glass shelving can fit in both a sleek monochromatic kitchen and a country kitchen. We can maximize the space and light in the kitchen by installing glass shelves.
Kitchen Shelving Options
Our kitchens have to be functional. Want to make the upgrade to both function and style? See the
ShelfGenie options
and schedule a
free no-obligation consultation
.