The best wine rack ideas display your bottles while keeping them organized and out of the way. Regardless of the amount of wine you have in your home, there is a wine rack solution available for you!
Storage solutions for wine have become quite popular in recent years. From DIY projects to innovative custom shelving, there are hundreds of stylish and sometimes unexpected ways to keep your wine on a rack.
Creative Wine Rack Ideas for Your Living Space
When it comes to wine racks, some people like to keep it simple while others prefer creativity and a unique angle. The racks on this list range from modern to timeless. It is certain to put you on the right creative path on the wine storage method that will work for your space.
1. Multi-Use Vases
Whether you are short on living space or not, one of the best tips for purchasing home goods is to ensure that every piece serves more than one purpose. You can use wooden, stackable vases for flowers and utensils when standing vertically. You can also flip them horizontally and place wine bottles in them on your countertop.
Vases of this nature are available at craft stores and from independent online sellers. Make sure the vases you buy are not rounded, or else they will roll away. Corners (rectangles, hexagons) are key.
2. Cubbies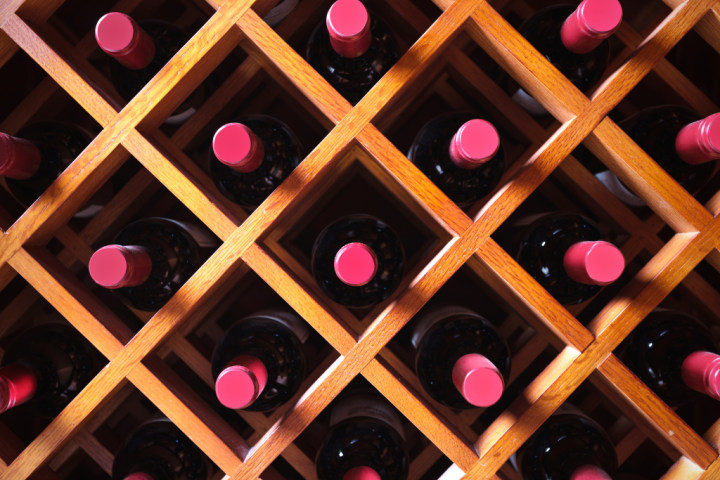 The best part of wine cubbies is that you can arrange and design them to fit in your home. From cube storage to custom-built shelving, wine cubbies are a super method for storing both filled and empty wine bottles.
Cube storage is useful. It manages to keep itself out of the way while providing ample storage space.
3. Wall-Mounted Wine Rack
If you love entertaining guests, but do not have the room for a large cart or wine storage space, choosing a wall-mounted wine rack will solve that problem. Displaying your wine while anchoring it to the wall makes for the perfect decor/storage solution.
4. Built-In Shelving
Some people prefer to take the custom-made route when it comes to storing their wine. There are few modern homes that come with built-in shelves, so most people have to have them installed.
Built-in shelving, when constructed properly, is never a waste of time or money. They look fantastic and clean while remaining modern and vintage at the same time.
5. Utilize Fabric
Various fabrics have made a comeback recently, and we use them for everything from decor to plant hangers. Tapestries add a clean and pulled-together look to a space, as long as there aren't too many.
A specialized tapestry wine holder is the perfect way to add a bit of style with a rustic feel to your kitchen or dining space. You can find them at many retailers that specialize in home goods, or have one made! They are noninvasive size-wise and will make a great corner wine rack.
6. Revitalize Old Furniture
Whether it is a treasured family item or something you picked up at the local thrift shop, old furniture can make for a fantastic wine rack. This option comes up often for wine cabinet ideas, because all you have to do is remove the drawers of an old dresser or buffet, and turn the inside into cubbies. The project is simple, but you can have it done by a professional.
7. Wall Art
Is there anything better than combining wine storage and wall art? One quick search for wine bottle wall art will put you in the middle of a world where stunning art pieces hold your wine bottles.
Combining these two concepts (art and wine storage) is perfect because it provides the chance to make a statement while improving your home storage. It's a win-win!
8. High Shelving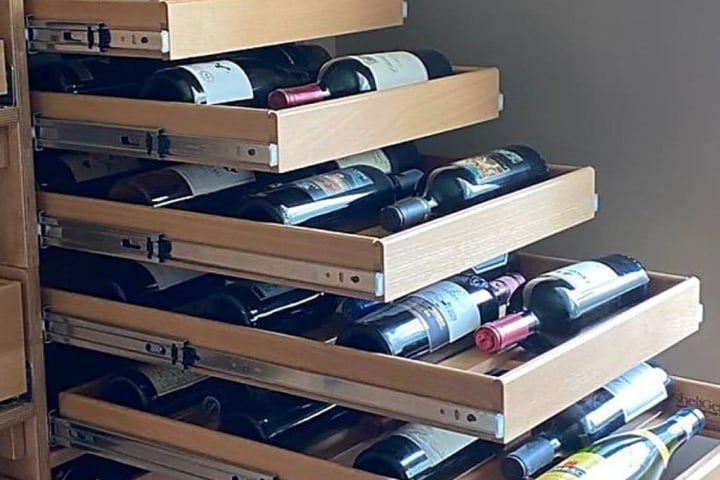 Those who are short on space know how crucial it is to take your space upward. Creating a storage space above the refrigerator or cabinets is a superb option for wine. You can try to invent something on your own, but a shelving professional can do so much in such a small space, keeping your wine out of the way while looking incredible.
9. Custom Floating Shelves
There is no end to the amount of space floating shelves save. If you are a fan of wine, and you are running out of space in your kitchen, consider custom floating shelves.
Not only can your shelving professional come up with a design that works for you, but they will guarantee safe, sturdy installation. You can customize them any way you like, including a space for your glasses to hang!
10. Pegboards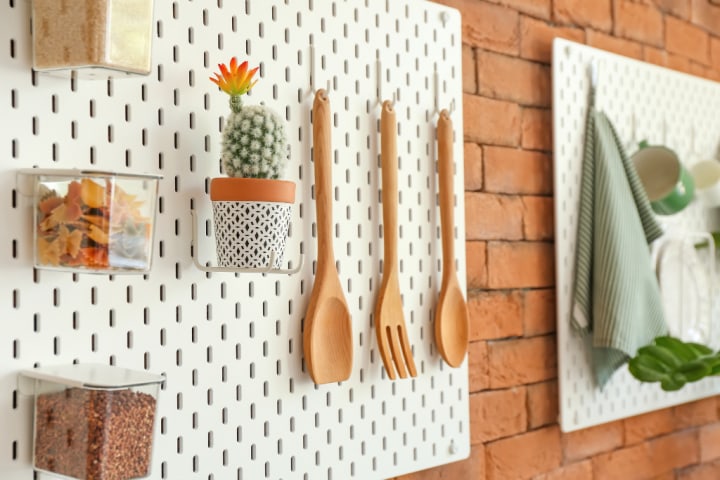 Though not the most innovative built-in wine rack design, pegboards are super for storing bottles. You can paint the background of your pegboard however you want, helping it to flow with your space. Pegboards are easy to DIY, but you can have one made as well, to ensure the spacing of the pegs is correct.
11. Secret Storage
If you love your wine bottles but you don't want them on display, gliding drawers are a sleek and stylish fix. You can have them installed in your kitchen, dining, or living area. Put them in the room that has the space, or where you often drink wine.
Secret storage keeps your home looking tidy and pulled together. If you are someone that has a lot of wine and prefers not to display it front and center, gliding wine drawers are the perfect option for you.
12. Horseshoes
Many say that horseshoes bring luck, and repurposing them for wine storage is a fantastic way to make them trendy. This type of rack isn't reserved for horse lovers only, but for people that love the rustic barn look as well.
You can order your horseshoe wine rack from nationwide buyers on selling websites, or you can inquire about having one custom-made for you. It depends on how much wine storage you will need.
Getting Creative with Wine Racks
A huge part of home storage is allowing your creative brain to shine through. It can be fun to figure out the best way to utilize space, and even better to have a professional come in and create something just for you.
ShelfGenie is proud to have a team that thrives on coming up with personalized storage solutions for every one of our clients. Seamless wine storage takes a great deal of skill, and we can't wait to show you the unrealized possibilities. It is time to get your storage under control, so call us today for a free consultation!