Are you looking for bathroom shelf ideas to improve your bathroom's functionality without compromising on design? If so, you should consider installing eye-catching shelves that can help both with storage and aesthetics. Shelves are an essential part of every bathroom. They serve as a designated space for us to store some of our personal items. If you choose the right shelves, they can help improve your bathroom's overall look, too.To make things easier for you, we have picked some of the most beautiful bathroom shelf ideas out there and compiled them below.So, what are you waiting for?Let's dive in!
Breathtaking Bathroom Shelf Ideas for Your Home
1. Small Closet Shelf
Owing to their practical and ergonomic design, small closet shelves have become a staple within many bathrooms. We typically see these shelves placed right above the bathroom sink, providing easy access to our toiletries.
Containing no more than one to three
small shelves encased in a closed box
, small closet shelves prove to be remarkably practical and don't take up too much space. Despite their small size, these shelves are designed in a way that allows them to fit most bathroom essentials within them, including things like soap, shampoo, creams, and more.
2. Tall Closet Shelf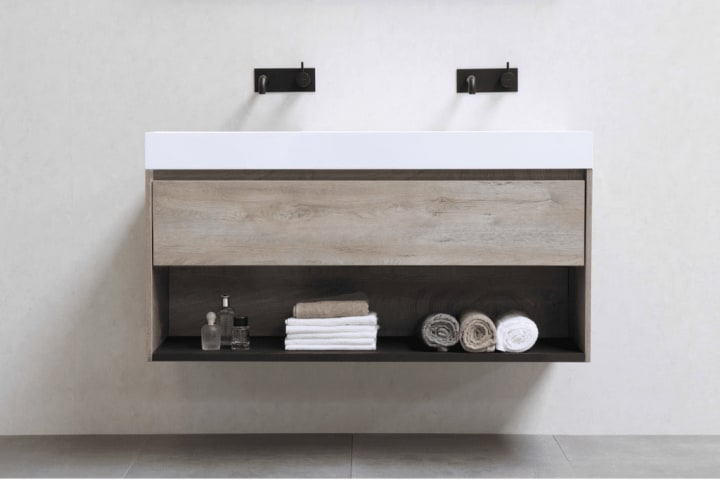 Tall closet shelves are excellent for storing towels and tissues because they protect them from dampness in the bathroom's air.
Showering with hot water, for example, fills the bathroom with steam. This steam will eventually condense and can sometimes make exposed towels and tissue paper damp. Luckily, storing these items on a closet shelf can solve this problem!
3. Floor-to-Ceiling Cubbies Are One Of The Best Bathroom Shelf Ideas
Floor-to-ceiling cubbies are perfect for those of us who enjoy clean lines and detest clutter. This shelving system can help us
organize our toiletries
so that we don't lose track of them.
The great thing about cubbies is that we can easily install small doors over the open cubbies to provide additional privacy if needed. The doors will also help hide bulk storage items that look unappealing if left out in the open.
4. Above-Door Racks
We absolutely love the idea of installing a rack that's just above your bathroom door. Such racks are perfect for
smaller bathrooms
that don't have much wall space to spare for extra shelves.
Most people like to store their towels up there, preferring to keep smaller things like shampoo in more accessible locations, which brings us to…
This is one of the most
practical locations to store items
, especially bulky ones like large towels that aren't used too often. Under-the-sink storage is perfect for storing things that you don't expect to use each time you visit the bathroom.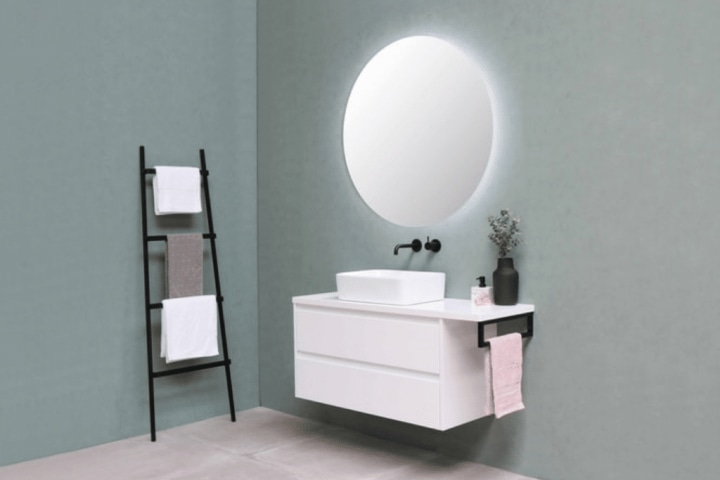 6. Transparent Bathroom Floating Shelves
These are some of the most common shelf-types you'll come across in interior design. Transparent floating shelves are made from clear materials like glass or acrylic.
Glass shelves have a finer finish and look beautiful when placed against a neutral-colored wall. However, they are also more prone to breakage. So, if you're looking for something less likely to shatter, opt for the acrylic version.
7. Out of Bathroom Shelf Ideas? Use Caddy Tray!
Most conventional bathtubs come with built-in shelves or soap trays. However, if your bathroom boasts a more contemporary bathtub, you probably won't find any shelves installed in it.
Instead, you can install a petite caddy tray on your bathroom wall that's just beside your bathtub. This small shelf is perfect for storing soap, shampoo, or resting a champagne flute on when you're indulging yourself in a long soak.
8. Bench Shelf
This is one of the most practical bathroom shelf ideas out there.
The bench shelf boasts a unique design that allows it to act both as a bench and a shelf. It's always a great idea to merge two pieces of furniture into one, especially if you're using a bathroom that's short on space.
Bench-shelves are long and wide enough for people to sit on them but can also double as a place to store your toiletries.
9. Windowsill Shelving Are One Of The Incredible Bathroom Shelf Ideas
If you're lucky enough to have a big window in your bathroom, you best put it to good use!
Try
storing your bath products
(like soap, shampoo, loofahs, and bath salts) on the windowsill. Not only will you get a place to keep your things, but you'll also receive an excellent view to go with it!
10. Use a Stool
If you're looking for a place to keep your toiletries when showering but don't have permission from your landlord to install a shelf, try using a stool instead.
When we say "stool," we don't mean the one that's hiding in your storage room. We mean purchasing a stylish tabletop stool with a more contemporary look to it.
11. Over-the-Toilet Storage Bathroom Rack
Over-the-toilet storage systems are one of our most admired bathroom shelf ideas because of how practical yet stylish they are. By installing an overhead rack, you can gain easy access to all your bathroom essentials without having to walk all the way to the sink or a designated shelved wall to get them.
If you've chosen to install an over-the-toilet rack, make sure you install it high enough so that it doesn't collide with your head each time you stand up.
12. Over-the-Door Storage Rack is another Bathroom Shelf Idea
Need a place to hang your towels? A set of tidy shelves where you can keep your bathroom essentials? A storage system that won't take over your limited bathroom space?
The over-the-door storage rack is suited to solve any and all of these problems. These open shelving units come equipped with up to two storage shelves and a rack for you to hang your towel, making them perfect for people who want to save up on bathroom space.
13. Three-Tier Bathroom Wall Shelves
What if a single shelving unit could contain up to
three
tiers?
Luckily, that's exactly what three-tier shelves provide us with. These units boast a series of successive shelves tied together by materials like rope, metal, or wood, depending on the design.
14. Bathroom Shelf Ideas? Shower Wall Shelves
Tired of having to dash to the sink every time you need shampoo? To solve this problem, you can try installing shelves on your shower wall. A "shower wall" is one of the walls that neighbors your designated shower space, making it the perfect place to store toiletries.
However, just be sure to avoid materials that aren't water-resistant, like wood. Such materials can pick up significant damage when exposed to water. So, try opting for a more practical option, like a glass shelf or metal rack.
Conclusion
Bathroom shelves aim to make your space more practical and convenient to use. But that doesn't mean they can't be beautiful, either.
We have listed many excellent small bathroom shelf ideas for compact spaces above. There are also many bathroom shelving ideas for large, contemporary spaces.
Explore our catalog of shelving options and schedule a free no-obligation consultation. These options are ready to be yours!