Clutter is the enemy of organization, and handbag storage can very easily become a source of clutter. You know the drill: empty your sock drawer at least once a week, file your receipts in chronological order, and never leave your laptop charging on the couch. But what about your handbags?
One way to make your home more orderly is storing your handbags in designated areas. This keeps your bags looking clean and tidy, but it can also help prevent them from being torn or damaged. Here are 14 creative handbag storage ideas.
1. Hang Over-the-Door Hooks
This is a convenient way to store handbags because you can see all your bags and easily pick the one you want. There are a variety of over-the-door hooks available on the market, so you can find one that fits your style. No matter what type of over-the-door hook you choose, it will be a great addition to your home décor. And best of all, it will keep your handbags neatly stored and organized.
2. Put Them on Shelves
When you have a lot of handbags, it can be hard to find storage space for all of them. Putting your bags on a shelf is a great way to keep them clean and organized. It also makes them easy to see and access. You can find frames designed specifically for storing handbags, or you can use any regular shelf or bookshelf in your home. Just make sure the stand is strong enough to hold the weight of your bags. If you have several handbags, you might want to create different sections on the frame for each type of bag.
3. Use a Purse Tree
If you are looking for a way to store your handbags that is both cheap and attractive, consider using a purse tree. These trees come in different materials including wood, metal, and plastic, and can be found for as little as $10. They are effortless to assemble, and most come with all the hardware you need. Purse trees can be placed almost anywhere in your house - some people even put them in their bedrooms! They are a great way to keep your handbags organized and out of the way, and they can add a touch of style to any room.
4. Horizontal Wall Hooks
When it comes to storage, handbags can be quite a challenge. They are often large and take up a lot of space, but you do not want to leave them lying around or stuffed in a closet. One idea is to hang them on the wall using horizontal wall hooks. You can even try making a DIY wall hook using clothespins and elastic bands. This will keep them in view and easy to grab when you need them while saving space. You could also use this method to store other items like scarves or belts.
5. Vertical Purse Hangers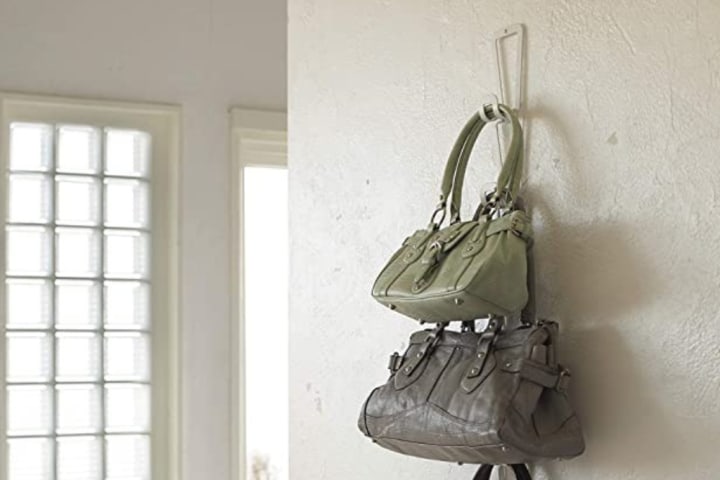 Photo by Yamazaki Home Store
If you love handbags, then you know that you can never have too many. You do not want them to wear out. Using purse storage ideas to save space is a good way to keep your bags looking new. Purse hangers are a great way to store and display your handbags in the house. Purse hangers come in various shapes and sizes, so you can find one that will fit your needs. They typically have a few hooks positioned vertically where you can hang your handbags. This is a great way to keep them organized and out of the way.
6. Hang Them on a Clothes Rack
If you're looking for an easy way to store your handbags, hanging them on a clothes rack is the way to go. This frees up some much-needed closet space, keeping your handbags in good condition. Hanging them on a clothes rack prevents them from getting wrinkled or crushed. If you have a lot of handbags, you can easily create a makeshift wardrobe by using multiple clothes racks. Just organize your bags by type or color so they're easy to find when you need them.
7. Store Handbags in a Closet
Another way to help keep your handbags in the house is to store them in a closet. Not all closets are created equal. Some have more space than others, and some have more features useful for storing handbags. This will help keep them out of sight and mind and free up some space on the floor or other surfaces where you might typically keep them. Doing this can also help avoid unnecessary wear and tear.
8. Use Freestanding Furniture
When thinking of handbag storage ideas, you may be looking for options that don't take up a lot of space. However, if you have a little extra square footage, freestanding furniture is perfect for discretely storing handbags. Putting them in or on a dresser drawer is one of the best options. You can also use a wall-mounted shoe cabinet, a storage bench at the foot of the bed, or even a freestanding wardrobe. This can be a great way to keep a large handbag collection organized and easy to find when you need them.
9. Store Them in Baskets and Bins
This is a great option for when you don't have a lot of storage space. Baskets and bins are the perfect solutions for storing bags because they take up very little space to access. You can find baskets and bins in all different shapes and sizes. Go for one that will fit perfectly in your closet, in an empty corner of the room, or on top of your dresser.
10. Place One Handbag Inside Another
To store your handbags this way, you will need bags with flexible material that you won't mind crunching. Put the first bag inside the second bag and then close the top of the second bag. You can use a zipper or a button closure to keep the bags together. You can then hang the bag on a hook or put it in a closet. If you have more than one handbag, you can put them all inside one big bag. This will keep them together and organized. You can also use this method to store other items, such as scarves or hats.
11. Keep Handbags in a Box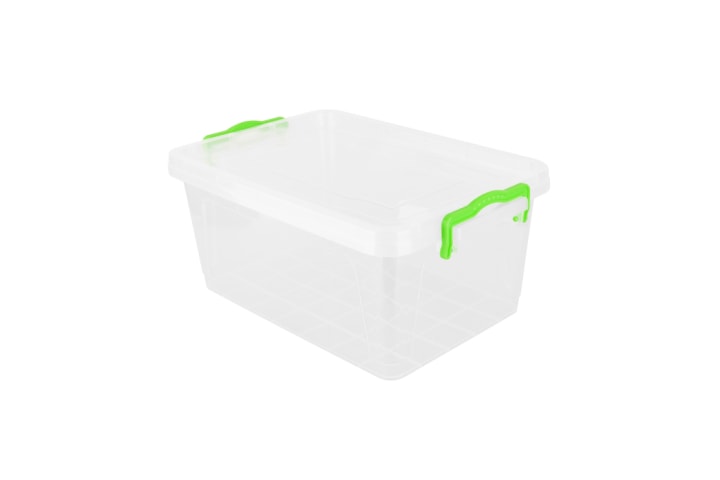 Another place to store purses is boxes. Boxes are easier to organize than bags, and some stores sell their handbags in decorative boxes for packaging. Storage boxes come in different sizes, so pick one that can fit all of your bags or multiple smaller boxes to stack. If you have several boxes that aren't made of a transparent material, you can label each one with the name of the handbag designer or the type of bag it is.
12. Hang Them on a Coat Hanger
When you enter your house, the first thing you do is take off your coat. You hang it on a coat hanger stand, and it stays there until you leave again. Why not do the same with your handbags? When you are not using them, hang them up on a coat hanger, and they will be out of the way. This is especially helpful if you have limited storage space in your house or don't have access to a purse tree.
13. Use a Handbag Hanger
A handbag hanger is a great way to store your handbags in the house. They are inexpensive and can be found at most stores. Handbag hangers come in various shapes and sizes, so you can find one that fits your needs. Most handbag hangers have a clip or loop that secures the bag to the hanger, so it will not fall off. You can hang your handbag hanger on a door or on a closet rod, so it is out of the way but still easily accessible when you need it.
14. Use a Pocket Hanging Handbag Organizer
Photo by WOWCASE
A great way to solve the problem of space is to use a pocket hanging handbag organizer. This small bag hangs on a hook in your closet and has pockets for each handbag. You can easily see and access your pouches without searching your entire wardrobe. Another great thing about using a pocket hanging handbag organizer is that it keeps your handbags dust-free and organized. You can also use it to store other items such as sunglasses, hats, or scarves.
Conclusion
There are many handbag storage ideas to choose from as explained above. You can use inexpensive solutions like boxes and hangers to keep your bags organized and easily accessible. The variety of storage options makes it easy to find the perfect solution for your needs. Head over to ShelfGenie today and take a look at our custom shelving solutions for storing your handbags.