The hallway closet is notoriously difficult to keep in order. Most people rarely even consider strategies for organizing their hall, let alone their hallway closet.
At first, the hallway closet served as a place to store coats and jackets to make them easy to access when leaving the house and easy to put away upon return. But these closets are used for almost anything these days - from ironing boards to sporting gear and even books or files.
The great news is that there are no strict rules on what should or should not be stored in a hallway closet. However, if you want to keep it neat for an organized look, there are several tricks you can apply.
Here are fifteen easy hallway closet ideas you can try out:
Build, Break, then Add
Most times, you do not need a new closet. You just need to be clever about making yours bigger. The following solutions will help you achieve just that:
1. Add Shelves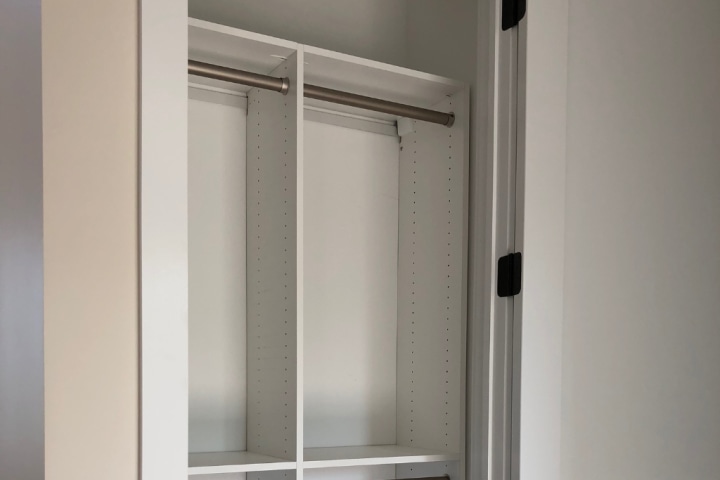 A closet is an essentially empty space, and most times, a lot of that space is wasted. This happens because we often tend to either hang things, leaving lots of space below, or lay them on shelves and drawers, leaving space above.
By adding more shelves in the empty surface, you will increase the surface available for placing items. The result is a closet that is not just tidier, but also neater.
2. Add Hooks
Hooks are the new hangers. They are less bulky, giving you more space to work with without unnecessarily crowding your closet. Another good thing about them is that your family members will find them easier to use than hangers. You can also have multiple rows of hooks in your closet, allowing you to store more items.
3. Add a Tension Rod
Tension rods create additional space in the same way hooks do: by allowing you to hang items in the middle of the closet. They are excellent for storing various items ranging from shirts and trousers to scarves, belts, or even mops and brooms.
4. Install Dividers
Dividers help compartmentalize the closet by creating sections without too much hassle. They work similarly to bins and baskets, except that they are usually bigger and fit neatly into closet spaces.
5. Install a Pegboard
If your hallway closet is often loaded with tools, installing a pegboard would be the smart option. A pegboard keeps tools off the floor, and you can hang several other items such as keys on it after attaching hooks. Keeping these tools off the bottom of the closet makes it a safer space for kids and other family members.
6. Use the Doors
Another clever way to seemingly multiply the space within your closet is to add hooks or tension poles to the closet's door. Hooks can attach to the door or hang over the door. You can add these either inside or outside to add space for hanging your clothes. If you choose to go with the outside, you could consider articles of clothing that match the exterior of your room, so it blends well with the decor.
7. Remove the Doors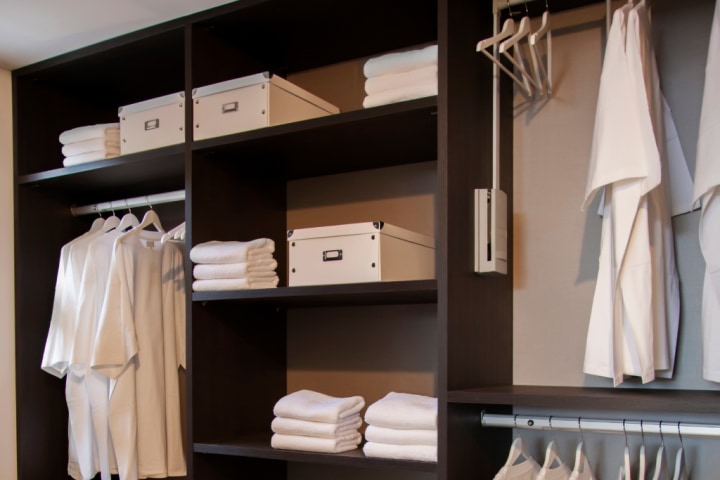 On the opposite end of the previous idea, you can remove the door altogether. This allows you to showcase all the smart and creative ways you have employed to keep your closet tidy. It also encourages you to keep it neat all the time.
Unsure about which method listed here would be best for you? Get a professional consultation today!
The Power of the Bin (Or Any Tiny Container)
Renovating your hallway closet may sound fun and get your creative juices flowing, but that kind of work is not for everyone. There is also the issue of extra costs, even though there are government programs that can make it easier for you. This is where closet bins or simply any kind of small or medium-sized container shines:
8. Tiny Bins
Tiny bins are masters when it comes to keeping busy areas clutter-free. Most times, hallway closets are the storage point for various miscellaneous items - from keys to mail to screwdrivers. You could dedicate each of these bins for different things, making them easier to find while keeping your closet tidier.
These small bins can be made of PVC or any kind of fabric. There is also the option of having plastic, metal, or wooden bins.
9. Baskets
Just like bins, baskets keep the closet compartmentalized and neat. The difference is that baskets add aesthetic value and create a fresh, earthy look. Many baskets are made from sustainable plant materials, making them eco-friendly too. Baskets also come in a variety of designs.
10. Transparent Containers
Try transparent containers if you want to make this storage container venture more effective! They make it easier to see what is inside, allowing you to find your items quicker. Transparent containers also give your closet a neat, sophisticated and modern look that everyone will love.
11. Labels, Labels, Labels!
To perfect the use of smaller containers in your closet, you can add labels to all of them. This works especially if you can't find transparent containers you like. Labels also make it easier to organize the closet, where you could place the items alphabetically to make finding stuff easier.
12. Extra-High Spaces for Your Bins
High spaces are often difficult to reach, but that is where their advantage lies. They allow you to get stuff we use less often out of the way. You can use them in conjunction with all kinds of containers and baskets and access them with a stool or ladder when you need to.
Coordination: Colors, Purpose, and Creativity
We know all about shelves and hooks, bins and baskets. But can we make it any better? Of course, we can. Take your hallway organization a step further by trying these extra tips:
13. Choose a Color Theme for Visual Organization
Everyone loves thematic colors, and nothing creates a sense of order like visual coherence. Painting your closet door will make it look attractive on the exterior, but having a color theme for the shelves, bins, and even for the clothes inside will make it look even neater.
14. Store Similar Things Together and Create Zones
To help you find things easily and give your closet a neater look, try storing similar items together. You can do this by designating either shelves, bins, or baskets for specific things and putting them all in the same place within the closet.
15. Stop Folding, Start Rolling!
The main advantage rolling has over folding is the fact that it saves space. Besides taking up less space, rolling is also an easy task for your family members, regardless of their age.
Keep Your Closet Organized with ShelfGenie
Organizing your hallway closet does not have to be such a pain. With the combination of the tips above, you can easily achieve the closet of your dreams. If it still feels challenging, or you cannot decide on any one of them, contact us today for consultation and organization ideas for other closets in your home.