Custom kitchen shelves are often an afterthought when you are designing your dream kitchen. You might naturally be more concerned with how beautiful cabinets look. After all, any home is a reflection of its homeowner. And the kitchen is the heart of a home. It is where we bond, stimulate our taste buds and nourish our bodies. But it can also become a source of frustration. You might feel like the area has gotten messy, unattractive, and filled with hard-to-reach items. And what better way to free up counter space than customized storage?
Investing in Custom Kitchen Shelves
Kitchen renovations, even small ones, could increase your home's resale value.
Taking steps to make a home look better overall (and use space more efficiently) is money well spent. And this value will not just be reflected in your home's asking price, but the absolute joy it brings you every time you reach for the spices or pull out a pan.
Here is what you need to know before you install custom shelves in your kitchen.
1. What Kind of Kitchen Shelves Do You Need?
Kitchens are the one area you are most likely to have trouble keeping nice and tidy. That is because the kitchen is not only used to prepare today's meals. It also stores leftovers, ingredients, recipes, utensils, and more. Before you invest in custom kitchen shelves, you need to identify what items are cluttering up the place.
You might find that some items straight up need to be disposed of. But for those items that are essential, you can now begin to imagine how to better store them.
Here is a list of those storage solutions
to get your creative juices flowing:
Lazy Susan:

Stacking kitchenware on top of each other in a tall upper cabinet.

Undersink Riser:

A set of shelves under your kitchen sink to store cleaning products.

Glide-around:

Shelves that you can spin around to find any number of items inside a cabinet.

Reverse Slope Storage:

These are slopes on either side of a cabinet that can hold large items in place.
Play around with these ideas. Bounce a few off your partner and the other members of your household. Once you have settled on a few solutions, you can start looking for
talented designers
to bring your custom shelves to life.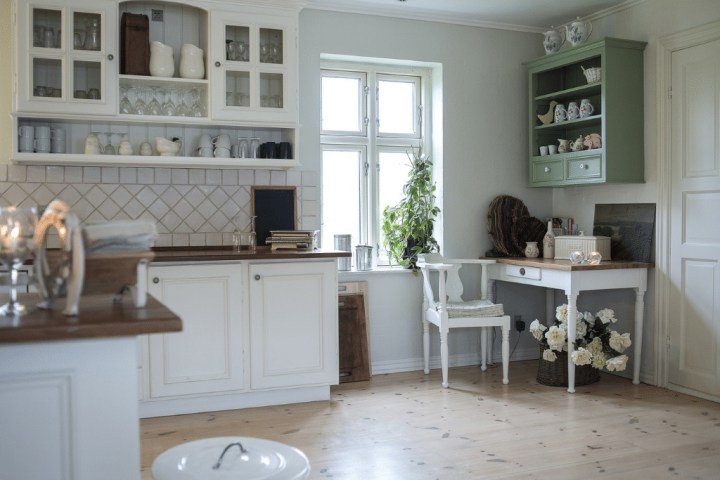 2. Who Should You Hire to Build Custom Shelves?
A few factors to take into consideration:
Budget:

You do not want to skimp on custom shelves. If you invest in quality craftsmanship, these shelves can last you a lifetime. Remember that custom shelves are also an investment in your home's value.

Turnover:

How long will the project take? There is the initial consultation, designing the shelves, sourcing the materials, assembling and installing the shelves. This process can take anywhere from 4-6 weeks.

Expertise:

Normally, you would have to browse through dozens of designers before you find the right fit. But

ShelfGenie

takes care of this busywork for you. We will assign an expert designer to your project who is pre-vetted and able to deliver a high-quality job in all cases.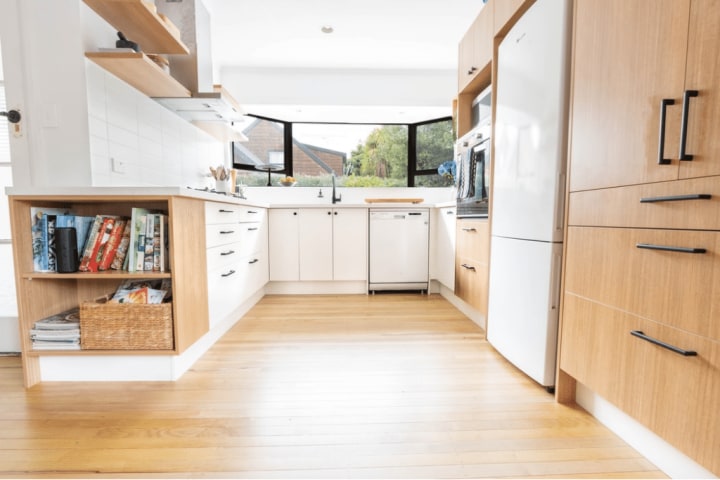 3. How Will You Pay for the Custom Shelving?
Okay so here is where you are at:
Recognize that custom shelves are a good home investment

Have looked at dozens of storage solutions and know what you want

Considered a few designers and have settled on the perfect one
All that is left is for you to agree on the price and get your custom shelves designed, built, and installed. Many shelf designers ask you to pay at least half up-front and the rest upon completion. But you do not always have to pay for everything out of pocket. ShelfGenie offers its customers a
quick, 3 step process to apply for payment options
. Our partners can offer you up to $100,000 for home improvement.
Before You Invest
Let's recap the things you should know before you buy custom kitchen shelves:
Know why you are doing it. Whether that is to bring more joy to your kitchen or increase your home's value.

Identify what specific areas and items are causing the clutter. You can then match those problems to a list of common shelving solutions.

Choose your designer wisely. Preferably someone who understands your home's unique needs and has designed works that are similar to what you're looking for.

Decide on how you're going to pay. Some designers require a big upfront payment, and

others

will help you pay bit by bit.
If you are in the market for custom shelves that give you more room for joy, do not hesitate to
reach out to us
.