Did you know that, on average, people spend 182 hours in their bathrooms each year? Thus, since people spend so much time there, why not make it into a personal sanctuary? In this blog, we will discuss the ways in which you can turn your bathroom into the ultimate relaxation zone. No matter the size of the bathroom, a few smart bathroom furniture ideas can transform your space into an oasis.
Craft Your Dream Bathroom With Personalized Furniture
There is a myriad of options for updating any bathroom. While it can be overwhelming to know where to start, here at ShelfGenie we have a variety of solutions to fit your needs.
Already know what you want for your bathroom?
Schedule
a free, no-obligation design consultation today with one of our design experts. If you are still looking for inspiration, we've gathered some of the best bathroom furniture ideas to take your bathroom to the next level.
1. Floating Sink Basin With Storage
Most bathrooms have traditional sink basins that force you to hunch over them while you use them. Installing a floating sink is the perfect way to modernize your bathroom while also adding additional functionality. This design also features a sleek drawer under the sink to store everything you need to begin or end your day. Use this cabinet to store all your toiletries like face wash, shaving goods, cosmetics, and more. Plus, this style gives you additional storage space where you can add a woven or wicker basket under the sink.
2. Open Cabinets in Odd Areas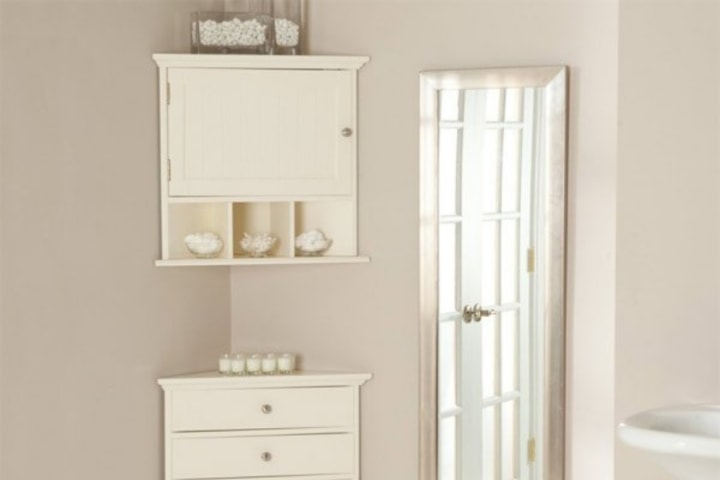 Fill strange structural spaces with our custom cabinets. Very simple additions can dramatically increase your storage space and add a personalized touch to an otherwise unused corner.Custom or DIY cabinets turn bathroom eyesores into the center of attention. For increased luxury, you could transform some of your new shelves into
pull-out units
, which makes reaching for your bath bombs, towels, or toilet paper even easier.
3. Pull-Out Cabinets for Vertical Spaces
[caption id="attachment_6336" align="aligncenter" width="1024"]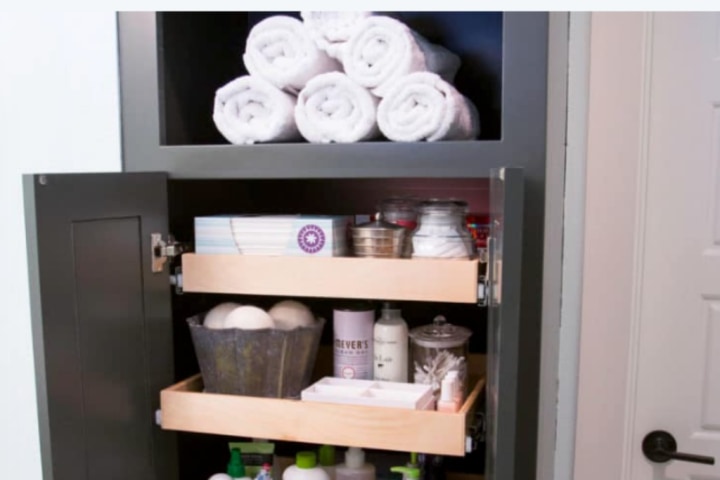 Custom vertical pull-out cabinets - bathroom furniture ideas from Shelf Genie[/caption]For small bathrooms with high ceilings, it's essential to make the most of your vertical space. Try installing a vertical cabinet solution next to the sink, bathtub, toilet, or all of the above. This solution will allow you to get what you need without rummaging through the back of your cabinet. Many companies sell generic versions of pull-out guides for shelving, which may not fit your unique space or aesthetics. Crafting the shelves yourself or working with our world-class
ShelfGenie designers
will guarantee the perfect fit for your space. This is a simple yet genius bathroom furniture ideas.
4. Floating Shelves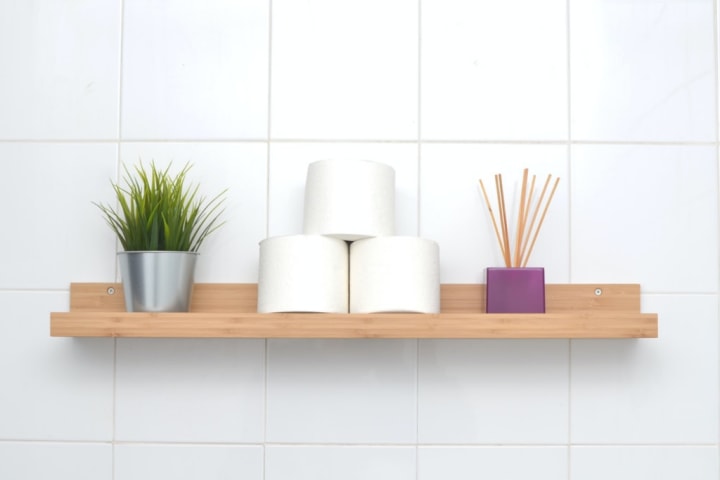 Installing floating shelves adds a touch of elegance to any bathroom. These shelves come in a variety of shapes, colors, and materials, so it should be easy to find a set that matches your style. Plus, with all the small objects and decorations in bathrooms, additional storage is always important.
5. Circle Mirror
While often overlooked, mirrors are one of the most important pieces of furniture present in any bathroom, especially if they feature additional storage. Ditch the traditional medicine cabinet mirror for a stylish one that holds your essentials and keeps you looking fresh. As an added bonus, their reflective properties add additional light to the room and give the impression of more space!
6. Raised Sink Basin
Adding a raised round sink basin to the counter adds a stunning rustic flair to any bathroom, making this an amazing bathroom furniture idea. The sink need not just be a bland, functional tool – it's easy to make it pop by raising it off the counter. This image features a stone, but the idea can be translated to a variety of materials, like polished wood, glass, or stainless steel.
7. Standalone Vanity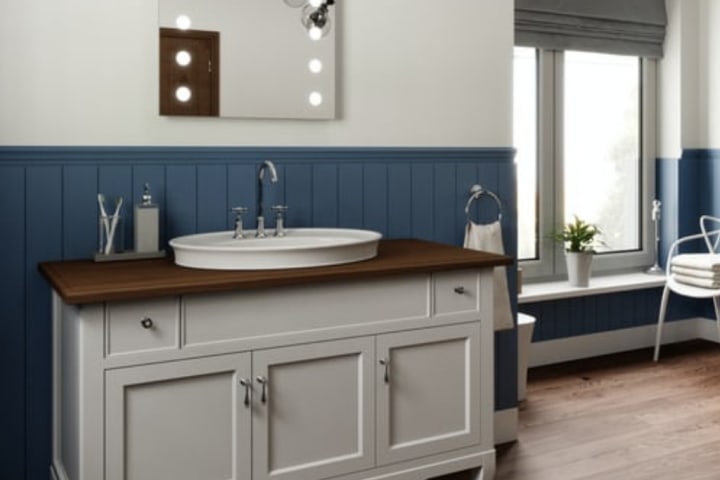 Make your bathroom feel more luxurious by adding a standalone vanity. This option is particularly great for a single bathroom used by two people – one person can sit at the vanity table while the other stands at the sink. It also makes for great additional storage and ensures that your commonly used items are right where you need them when you are in a pinch.
8. Over the Toilet Storage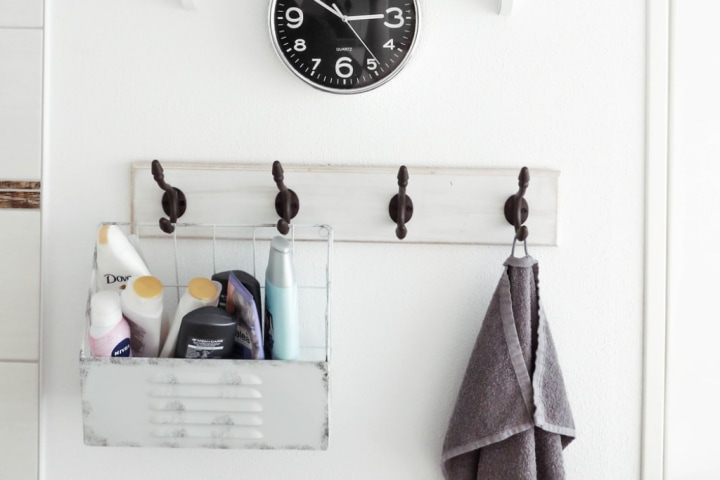 Use the space above the toilet to your advantage instead of letting it stay empty with this bathroom furniture idea. Installing an over the toilet storage piece adds a touch of elegance while also being practical.There are many options for these storage solutions. Opt for a wooden enclosed cabinet for a rustic chic style or a dark metal minimal shelving unit for an industrial look. Of course, you can also find solutions, like the one pictured, that mount directly to the wall if you want to save floor space.
9. Sliding Door Sink Cabinet
Open the space in your bathroom with a sliding door sink cabinet. This style of cabinet provides a traditional feel while still being distinctly modern. The sliding door saves the space in front of you from the usual doors swinging open. Additionally, the single door still provides a degree of privacy for the things you keep in your cabinet.
10. Corner Cabinet
Spruce up one of the corners in your bathroom with a cabinet designed to fit between your walls. This option provides a boho, retro style while giving you extra space to store the things you need. Corner cabinets come in various heights, widths, and styles. No matter how big or small your bathroom is, as long as there's a corner, there is a corner cabinet right for you.
11. No Hardware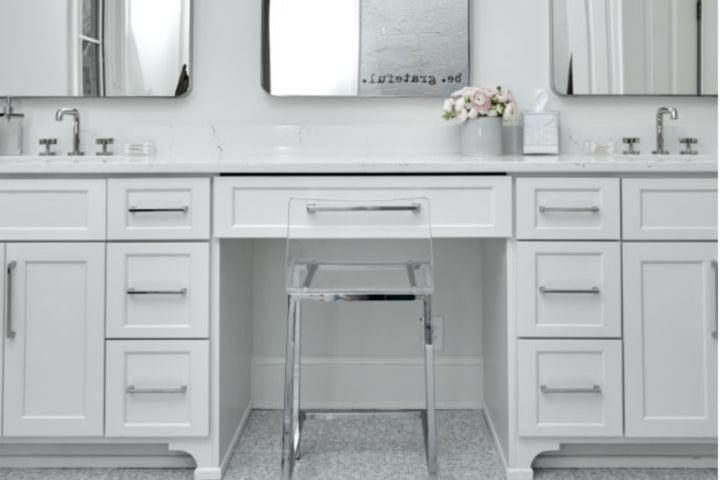 Get rid of the handles on your cabinets altogether and opt for a hardware-free cabinet structure. Install cabinets with a push-to-open feature or with notches cut out to open the doors or drawers.
12. Floating Wall Cabinet

Take your cabinets to new heights. Installing a floating medicine cabinet puts your goods at the right height while adding a chic touch to your bathroom. A floating cabinet provides a sophisticated element to your bathroom layout while freeing up floor space.
13. Hanging Light Fixtures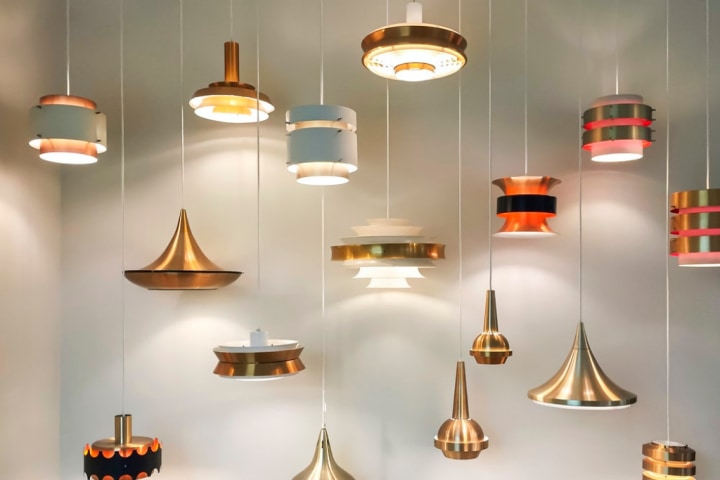 Add a touch of drama to your bathroom with hanging light fixtures. When you find a fixture you love, customize the final look by determining the number of lights to hang and whether they'll hang at the same or varied levels.
14. Swap Out Old Hardware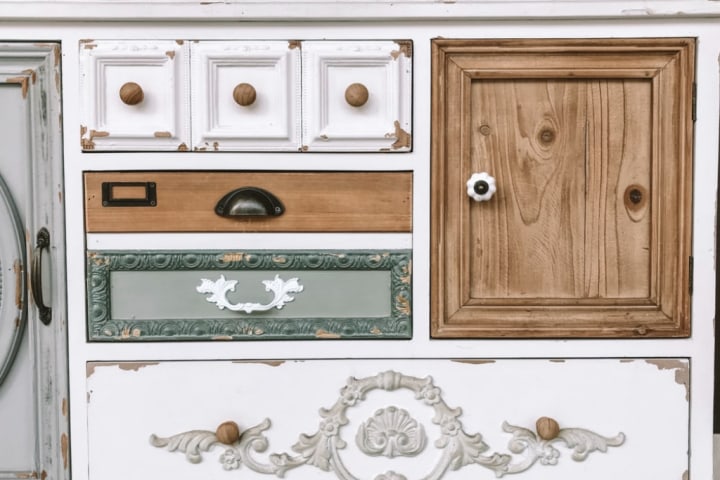 If you want to instantly update your bathroom at a low cost, try changing out your hardware. Options include colorful ceramics, vintage-style rattan knobs, modern leather pulls, and sleek metal handles. Try pulling them from old cabinets or visit an antique store. The possibilities are endless.Swapping out your handles and pulls saves you money on the exterior of your cabinets and drawers so you can
splurge on other interior designs
.
15. Ladder Towel Rack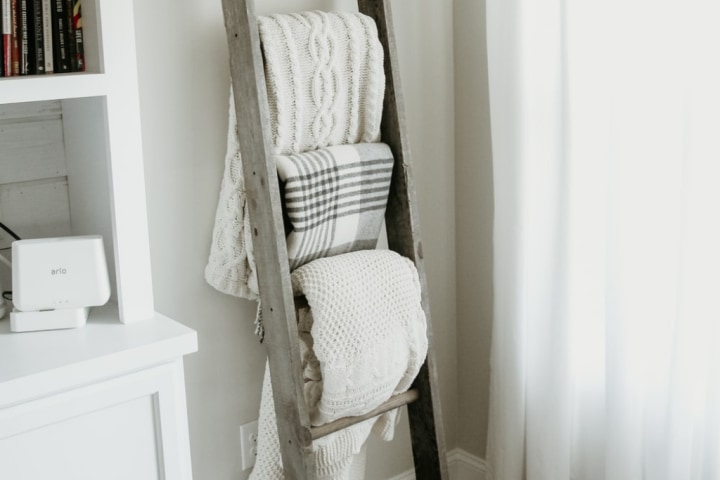 Do you need a bathroom furniture ideas for your towels? Display your hand towels or fancy towels with a wooden ladder towel rack. This piece leans against the wall and adds dimension to your space. Say goodbye to traditional towel hangers, and embrace this modern approach.
16. Upgrade Your Current Cabinets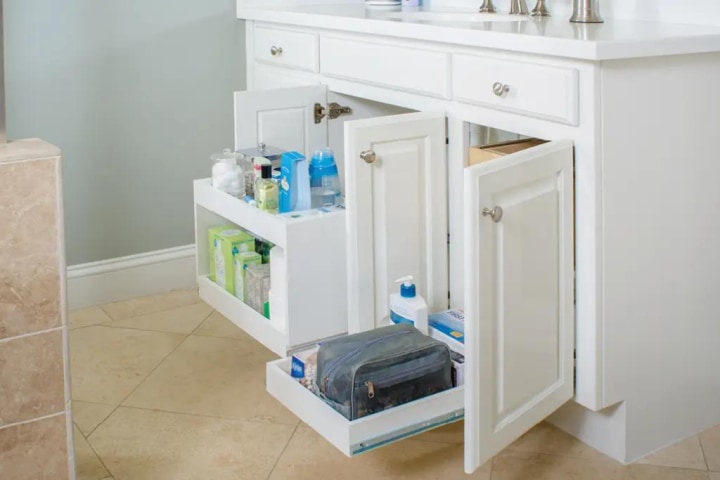 You can refresh your bathroom without reinventing the wheel. Make the most of the cabinet space you already have by
installing shelving solutions that keep your space organized
.
Can ShelfGenie Make Your Bathroom Dreams Come True?
We would love to help you make your organizational dreams a reality. Our team of experts is ready to start.
Schedule
a free, no-obligation design consultation today, or have a ShelfGenie team member call you back.