Looking for bathroom towel storage ideas so you can make the most of your space? Every bathroom has unique dimensions and features, so finding the right solution can be overwhelming. Thankfully, a bit of creativity goes a long way when it comes to storage. If you need a little inspiration, we recently wrote about the advantages of another clever unit – the pull-out hamper cabinet.You're in the right place if you are looking for creative storage ideas that don't need many materials – just some clever arrangement. We hope you find the perfect solution that will maximize your bathroom shelving in a way that is simple and elegant.
Mounted Bathroom Towel Storage Ideas
1. Classic Mounted Rack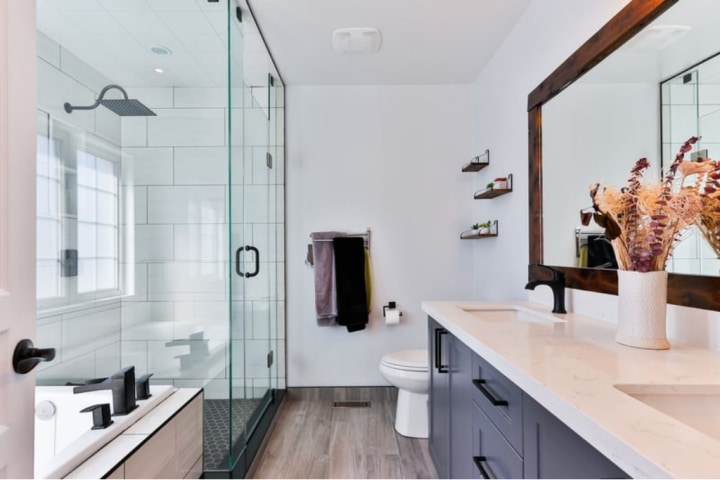 There's a reason that the classic mounted rack remains the most popular way to store towels. They're relatively affordable to buy and simple to install. If you aren't confident with a drill, a trusted handyperson can install it in a matter of minutes. Plus, mounted racks come in various lengths, and you can purchase ones with multiple rails to add storage.
2. Mounted Hook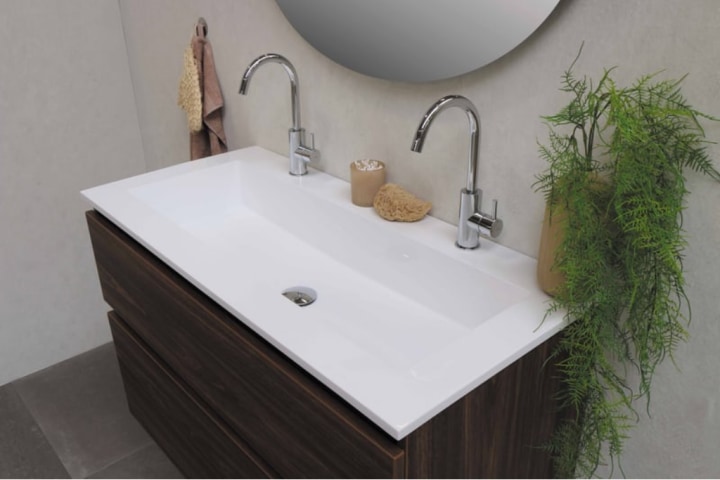 Only need to store one towel at a time? A well-placed hook could be the answer. Some mounted hooks need nails, but not all of them. Command hooks stick onto the wall with strong adhesive tape and can support 3-5kgs – more than enough strength for towel storage.
3. Mounted Frame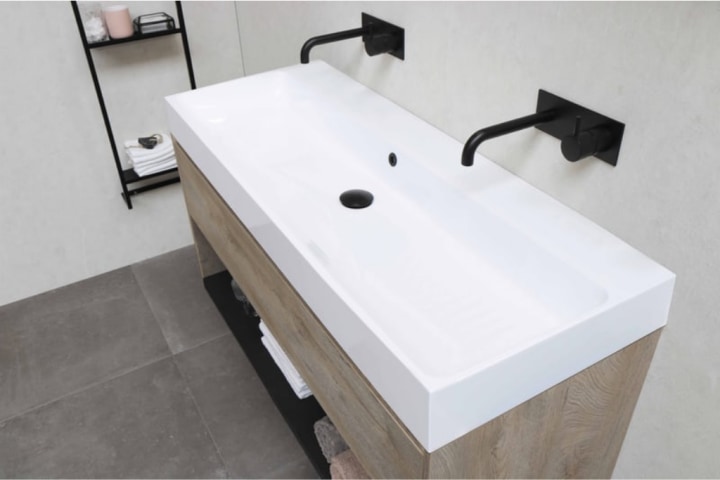 Mounted frames add more shelf space to the walls. Unlike mounted cabinets, they're lightweight and designed for open access. If you want easy access to your towels, mounted frames can do the job without straining the brickwork.
4. Floating Shelf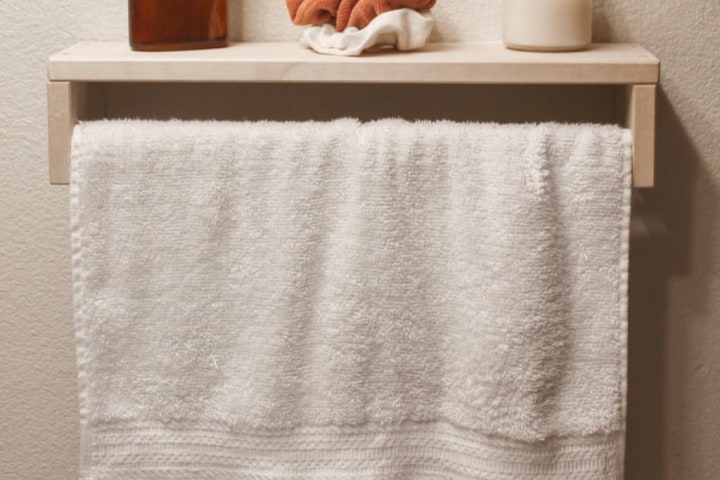 Floating shelves don't just look good in living areas, -- they can create a space-efficient platform anywhere along a bathroom wall. Since the mounting structures are hidden, floating shelves still look clean next to other mounted features like a sink cabinet or mirror. Combined with an under-the-counter rack, you also get the added benefit of additional storage capacity.
Freestanding Bathroom Towel Storage Ideas
5. Leaning Racks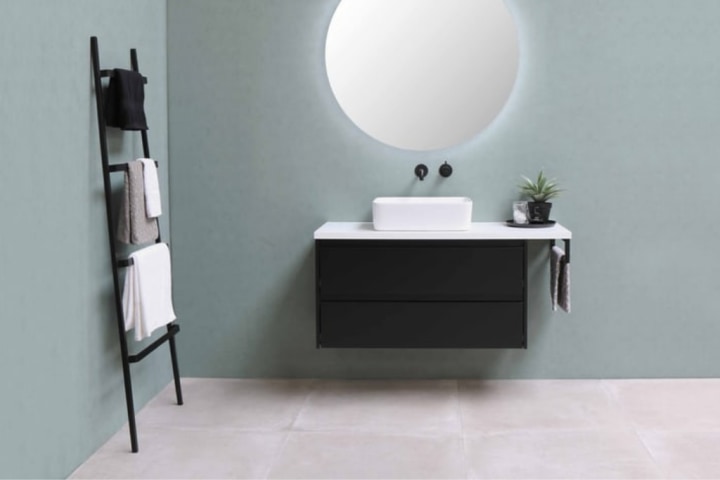 A freestanding rack offers a storage option without requiring power tools. Their slim, lightweight design makes it easy to move about the bathroom, which lets you make the most of any free space. As an added benefit, you can even fold a standing rack away when it isn't in use.
6. Cupboard Storage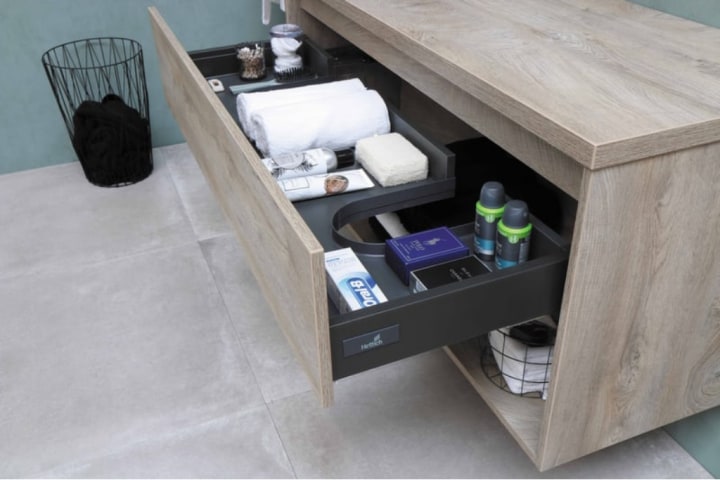 Sometimes storage is about making the most of what you already have. Bathroom cupboards aren't just slots for toiletries and supplies; they make convenient storage options too. If your bathroom has cupboards installed, consider turning one of them into a storage space. Cupboards help store towels out of sight too!
7. Wicker Floor Basket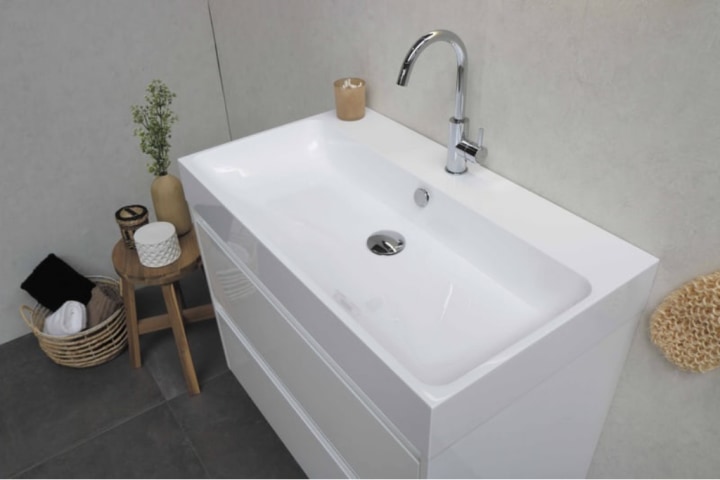 Another classic look, wicker baskets offer several benefits. Wicker is incredibly lightweight, but the woven pattern makes the basket durable. These baskets can be shifted into the smallest nooks in the bathroom depending on the size, and keep your floor space open. Few textures in décor look as good as wicker. If you're looking for even more ways to beautify your bathroom, we have
15 small remodeling ideas
just for you!
8.Wire Floor Basket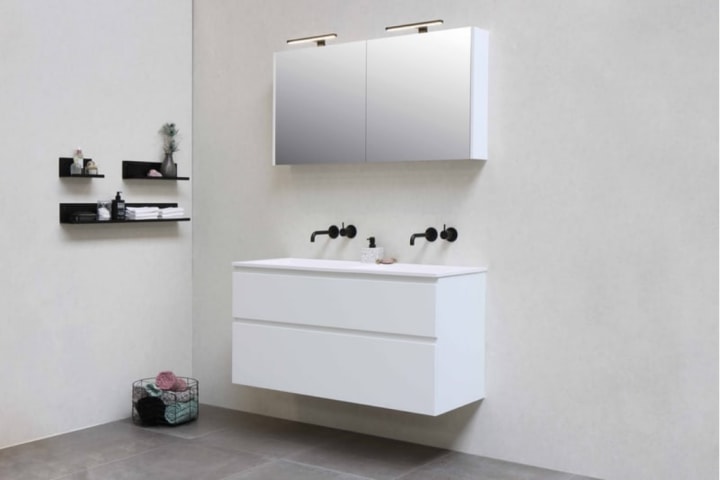 Wire baskets could be an alternative option if wicker doesn't fit your bathroom's overall style. They offer the same size and weight benefits as wicker, but their metal frames give off a more modern aesthetic. As an added perk, wire baskets with waterproof coating are resistant to the dampness that can fill a bathroom, meaning these baskets have a long lifespan.
9. Barstool Pedestal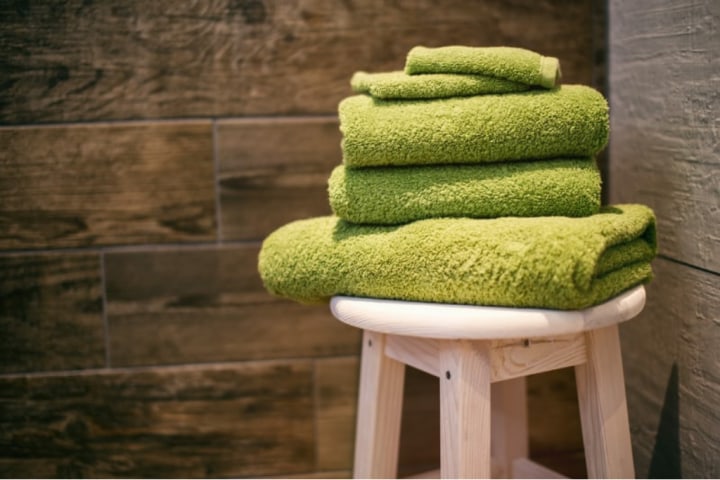 Sometimes, the simplest ideas are the best ideas. Many people have a spare barstool taking up space somewhere in the house. Why not move it to the bathroom corner where it can function as a makeshift shelf? Even if you don't own one, second-hand chairs are a cheap option – and many come with some added character.
10. Footstool pedestal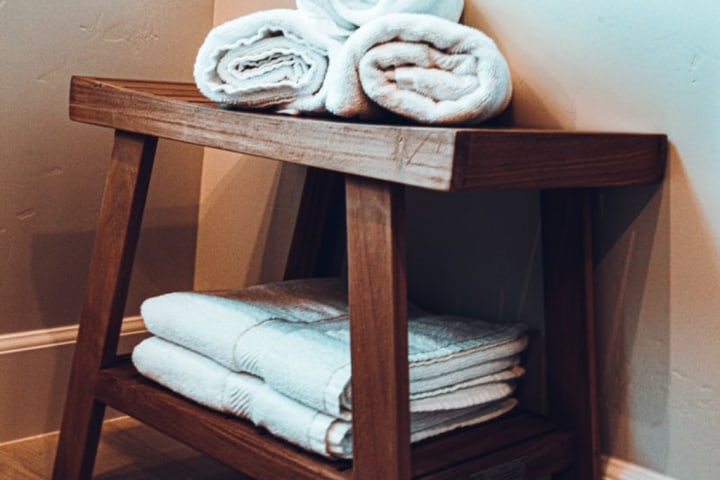 If a barstool doesn't match your style, a footstool can make a great alternative. Any shorter chair will do, as these tend to function more like baskets than pedestals, and chairs with a lower platform offer double the storage space. Footstools are not the most common decor, but many have designs that can complement your bathroom's unique look.
11. Standing Platform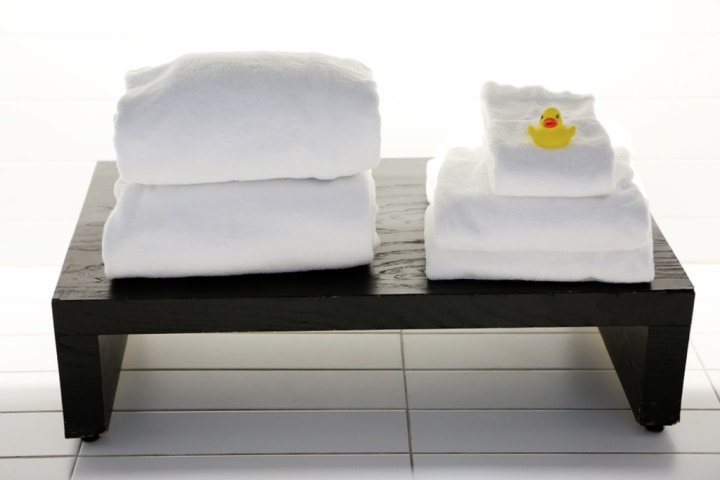 Standing platforms are the easiest way to add structure to more open spaces. If you prefer your towels stored in the open, A standing platform creates a dedicated space for them. The result is a bathroom that feels less cluttered and busy. These platforms may be a small detail, but they can certainly catch the eye by organizing prominent surfaces.
12. Ladder Rack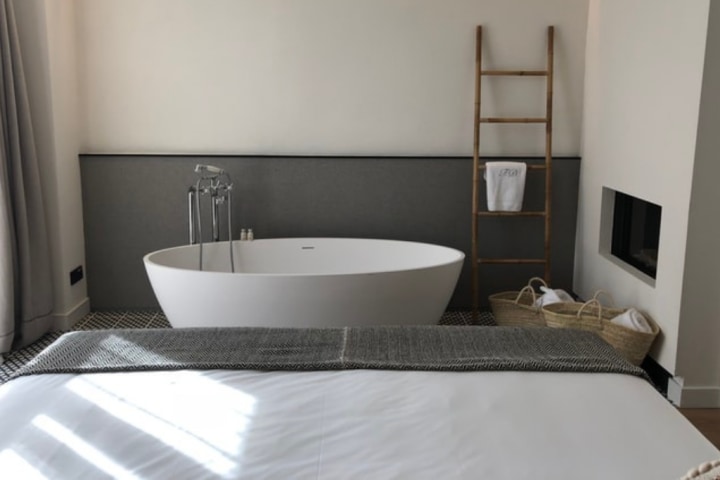 Want all the benefits of a freestanding rack but don't want to buy one? Convert that old ladder in the garage into a new towel rack! Old wooden ladders bring a rustic warmth thanks to their weathered grain. They can be sanded down and varnished for a polished look too. When it can shine this brightly, why let old equipment sit in the dark?
Nook-style Bathroom Towel Storage Ideas
13. Under the Sink Nook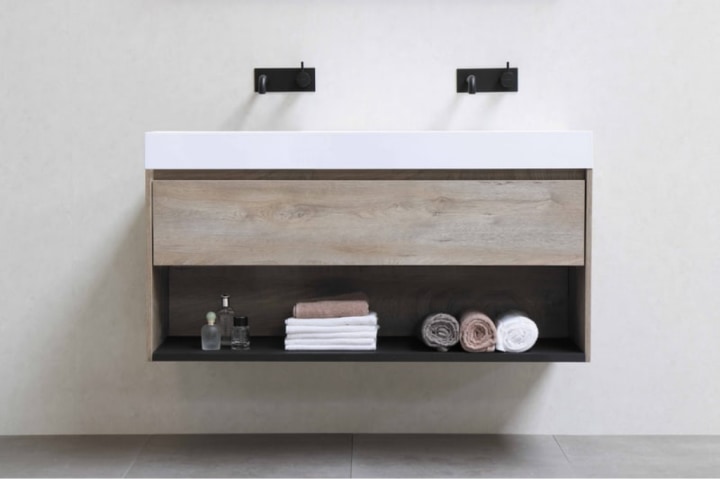 This storage idea is perfect if your bathroom cabinet already has a shelf underneath it. Why not make the most of it by setting aside space for towel storage? Whether you use half or all the space, these nooks are assets to any bathroom. For more looks like this, check out
12 more under the sink storage ideas
right on our blog.
14. Lattice Storage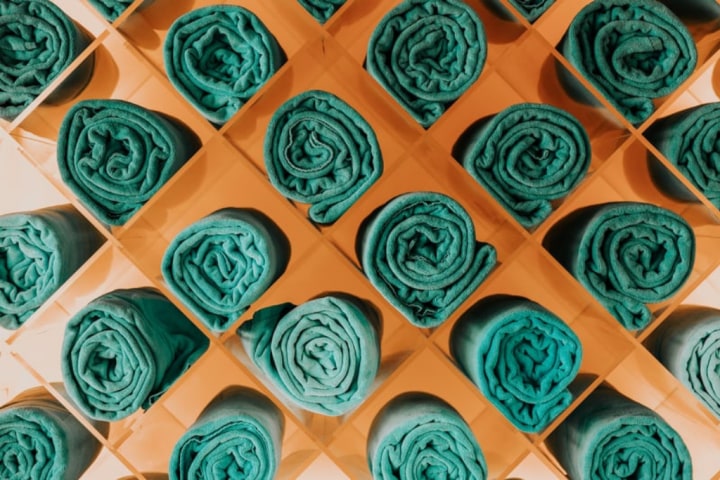 A lattice box isn't just good for preserving wines – it offers extra storage too. A lattice box can be mounted or freestanding, depending on your needs. With a bit of DIY and plywood, you can even build your next storage solution in the shed. When it comes to looks, few storage designs make a bolder statement as a lattice does.
15. Under-the-Counter Bar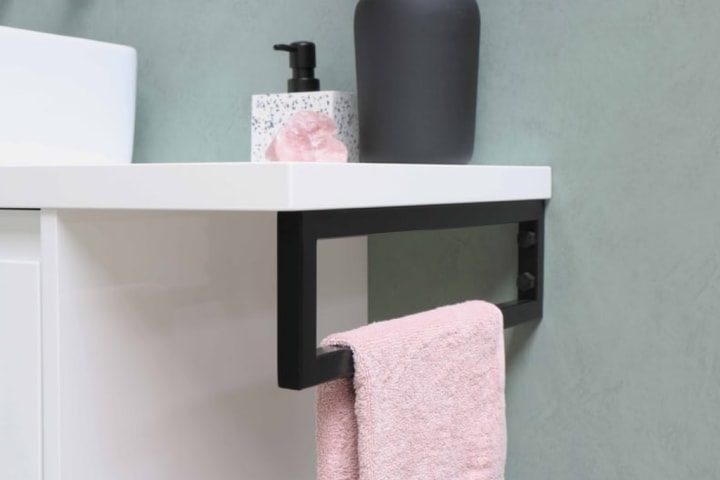 Is there a hanging space under the bathroom counter? An under-the-counter bar lets you hang fresh towels while keeping them out of the way. This also keeps your hand towels right at arm's reach, perfect for when you need more utility in your space.
16. Converted bookshelf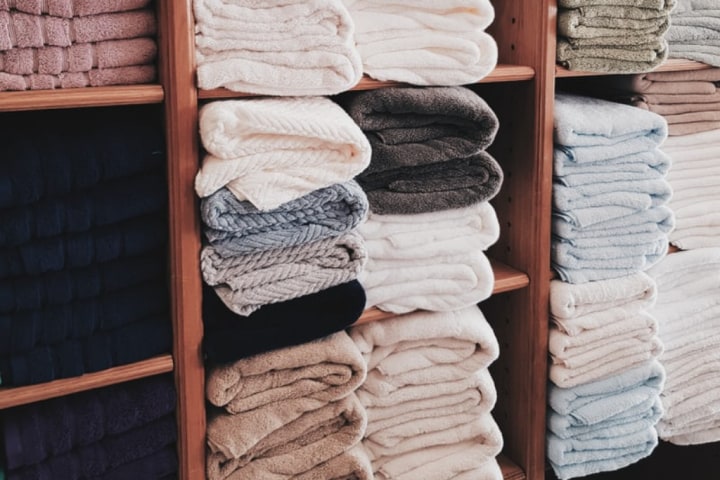 Who said bookshelves were only for books? If you're looking for more storage along the walls, convert an old bookshelf into a freestanding unit. Bookshelves offer neat rows for creative storage. You can even use the top surface for decorations, plants, or extra storage. Aesthetically, bookshelves add a clean wooden finish to bathroom decor.
No Fuss Bathroom Towel Storage Ideas
17. Flat Basket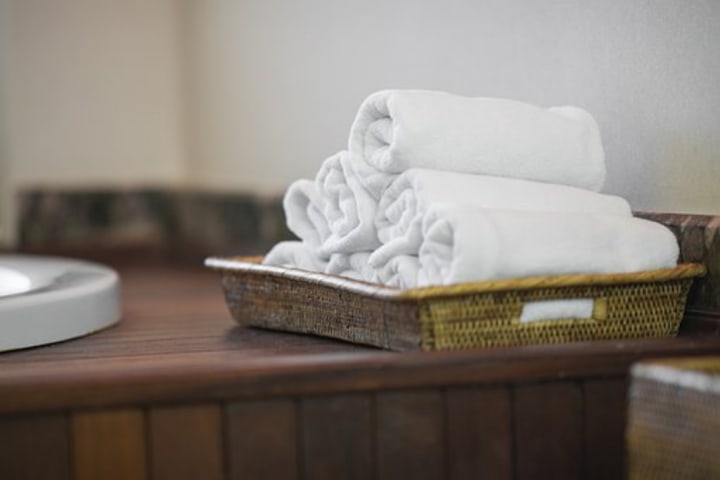 A classic household item, a flat basket or tray is perfect for towel storage. These baskets can be easily moved from surface to surface so you can experiment with ideal placement. They're light and easy to stack rolls of towels into without worrying about them toppling over. Trays can also be slid under counters, put up on shelves, or squeezed into nooks – they'll get the job done every time.
18. Ribbon Tie-Up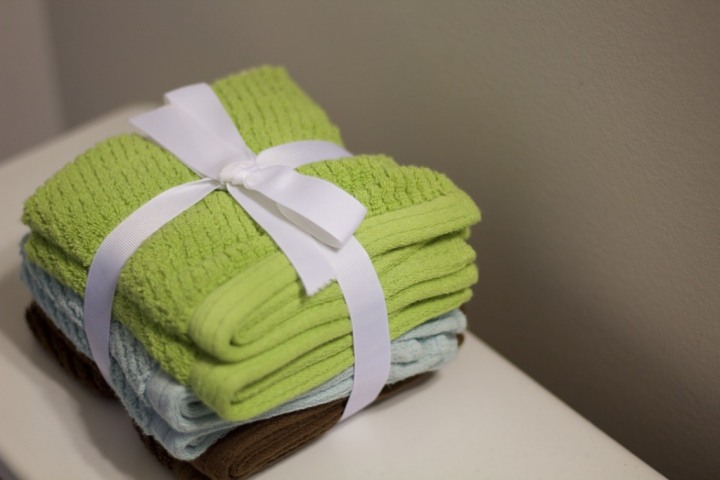 Storage isn't always about finding a hole to put something in – often, it's about finding ways to keep items together. A simple way to organize towels is to bundle them with a length of ribbon. The towels can be color-coded to match, or the ribbons can be alternated depending on the week's aesthetic.
Storage Comes in Many Forms
Adding storage to your bathroom doesn't have to be expensive, but it is important. Thankfully, you can repurpose many of your existing household items to add additional storage space. Of course, If you'd like a professional perspective, you can
book a free design consultation
with us. We'd love to create your dream bathroom with you!