Looking to make your bathroom area more inviting? More memorable? These bathroom vanity ideas can give your entire bathroom a makeover. ShelfGenie knows how to keep bathroom space organized and beautiful. However, if you are limited by space (perhaps especially if you are limited by space), making gorgeous changes doesn't need to be difficult or expensive.Bathroom vanities have come a long way in recent years. With so many exciting design options available, there is no reason to have a drab bathroom – it's time to stand out from the crowd.To get started, try repurposing old dressers or bureaus for the sink vanity base. Maybe you want to opt for concrete vanity counters, matched with a cast iron or classic porcelain sink. Or, for example, consider a backsplash using stacked stone or hand-painted ceramic tiles. Lastly, if you're feeling particularly adventurous, add track lighting behind your vanity or mirror.The options are endless, and depend entirely on your style and space. Are you ready to learn more about some exciting bathroom vanity ideas?
1. The Simply-Spa Feel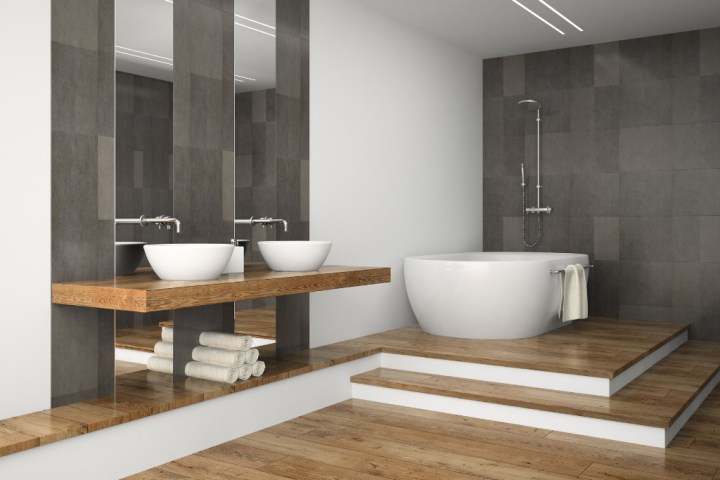 This minimalist approach to modern bathroom vanities requires a simple mounted wood shelf, or laminate, to form the sturdy base. Above, dual white porcelain basins complement the standing tub. The floor shelf-step design is truly masterful, providing shelf space without cluttering the room.Above all, affixing the faucet fixtures into the wall also saves on space. While it may seem complicated, updating your fixtures is functional, inexpensive, and looks lovely.
2. Table Bathroom Vanities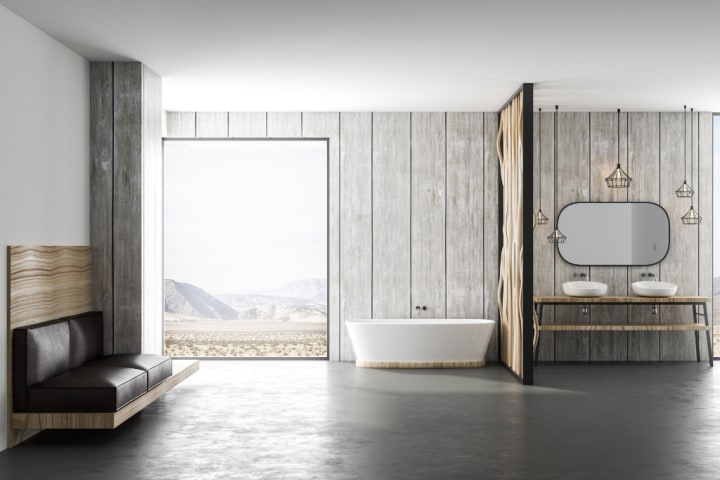 This elegant bathroom vanity design idea began by
repurposing a table
—what could be simpler? Surface sinks, like those above, come in blown glass, composite stone, hand painted ceramic and more unique designs. Wrought iron light fixtures contrast against the natural elements.This design is perfect for mountain chalets or getaway cottages. (Or making you feel like you're in one.)
3. Manhattan Minimalism: The Shelf Vanity
Stylish, minimalist, and affordable—the ideal trifecta for modern bathroom vanity ideas. The long white shelf provides a sturdy vanity surface for the sink basin, and ample counter space. Shelves come in countless materials, from wood to plexiglass to laminate particle board.To top it off, a long mounted mirror and red accent wall finish off this stylish, modern design.
4. Drawer Bathroom Vanities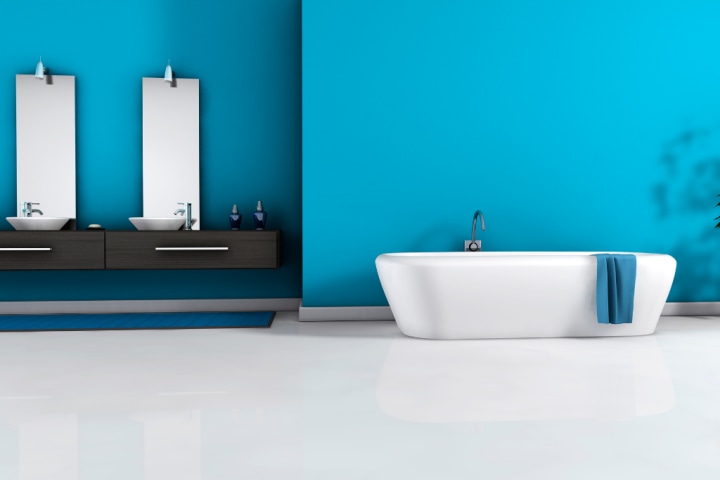 Using regular drawers as a bathroom vanity option adds a simple, functional elegance. Once interior designers learned the art of customizing dresser drawers—like the floating, wall-mounted set featured above—bathroom vanities have never been the same.
5. The Sleek Naturist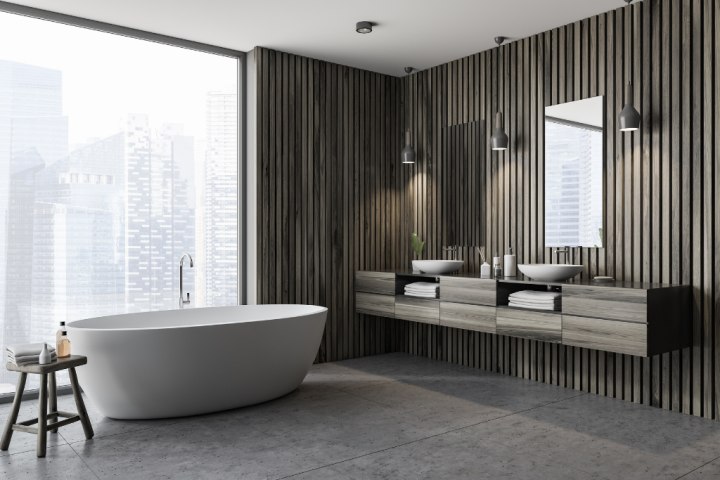 Custom bathroom vanities, like the one in this photo, offer excellent space optimization. Featuring ample drawers, shelves for towels, and a sturdy area for the sinks, this design is the perfect fit for someone seeking a functional yet minimalist look. For example, this floating wood drawer unit also provides a great deal of counter space, and the wood panel walls and natural textures complement the room.
6. The Floating-Shelf Bathroom Vanity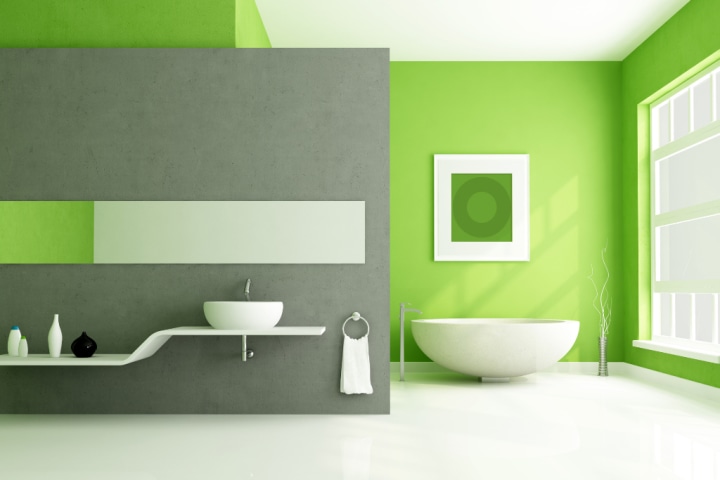 A white porcelain surface sink and sleek sideways mirror sit above a long white floating mounted shelf made of fiberglass. This minimalist bathroom vanity design features green accent walls to complete the bathroom makeover.
7. Traditional Glamour: Bureau Vanities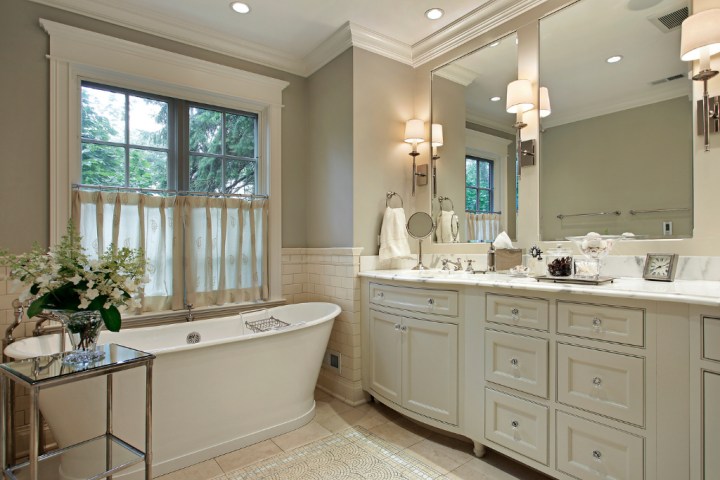 This elegant bathroom vanity set was created by repurposing a long dresser bureau, painting it, then adding a customized marble countertop to hold the inset sink. It offers ample drawers and counter space, with framed mirrors above for a classic Victorian finish. Remember that the counters can also be made from sealed wood.If you like this design, ShelfGenie can
customize glide-out drawers
for ease of access, so drawers never get stuck.
8. Earthy & Affordable Bathroom Vanity Idea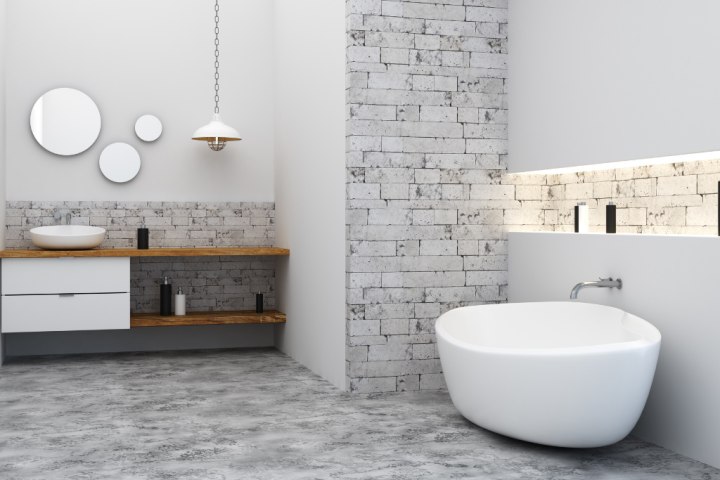 This earthy bathroom vanity idea is not just simple and beautiful, it is also very inexpensive. Two long wood shelves provide a sturdy surface for the sink basin, framing the small white mounted drawers. A stacked stone backsplash accentuates the piece's natural elements, masterfully combining wood and stone.
9. Geometric Elegance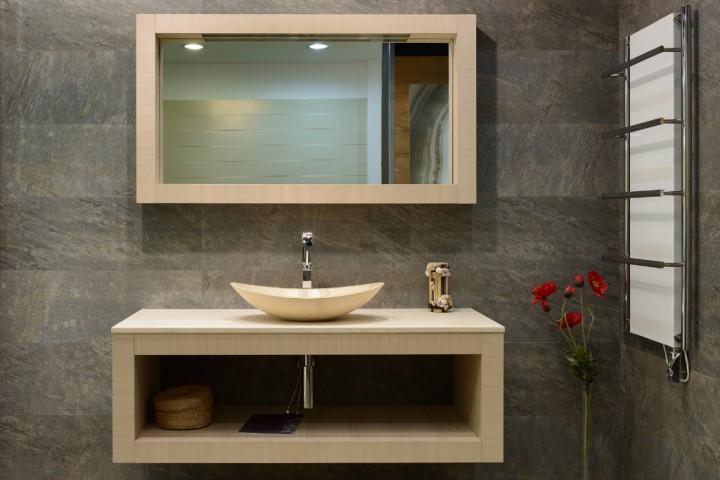 This sanded wood bathroom vanity set is a simple geometric design idea of sheer elegance. The floating mounted vanity cube and framed mirror can be made from wood or laminate particle board, while the matching countertop and sink basin complement the natural beauty of the wood.
10. Attic-Space Bathroom Vanity Options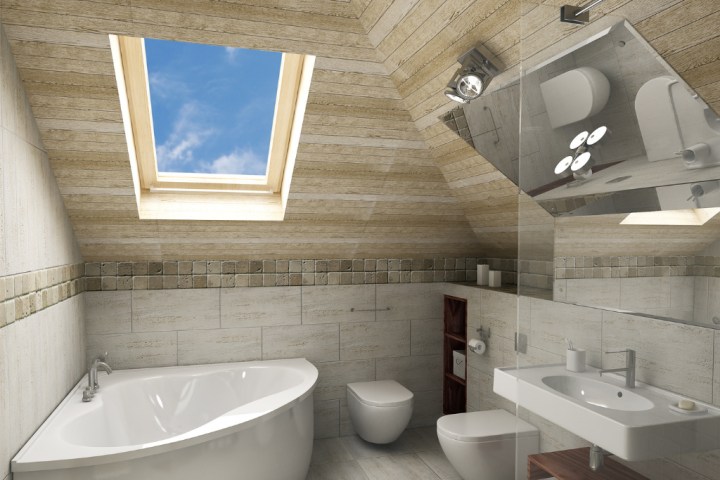 Here's a bathroom vanity design idea optimized for half-baths or cramped attic spaces. Merging all-natural tones and white amenities creates the illusion of space. Using traditional elements—for example, a trough sink, a suspended mirror above, a floating wood shelf unit below, and a suspended mirror above—the small space becomes highly efficient and stylish.
11. Track Lighting Magic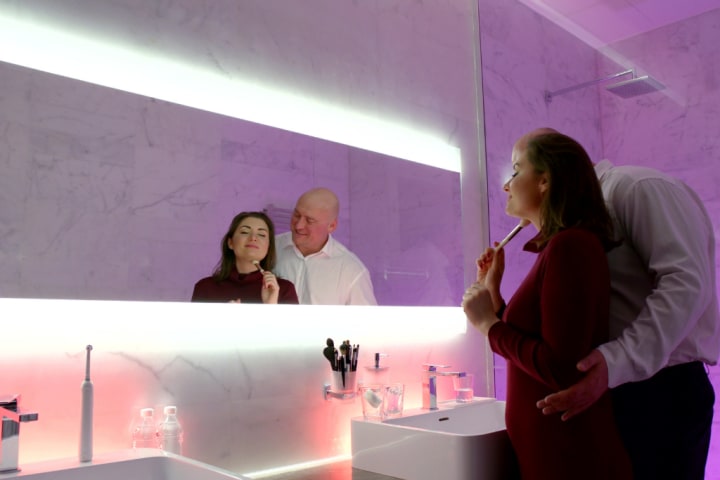 In this example, track lighting brings magic and mood to even the simplest of design ideas. This vanity set features white-tiled walls and a traditional white ceramic pedestal sink. The genius of this master bathroom vanity is the LED track lighting behind both sinks and mirror, fitted beneath plexiglass ledges. LED lighting lets you switch colors with your mood. As an added bonus, it also makes a fantastic nightlight.
12. Bathroom Vanity Works of Art & Beauty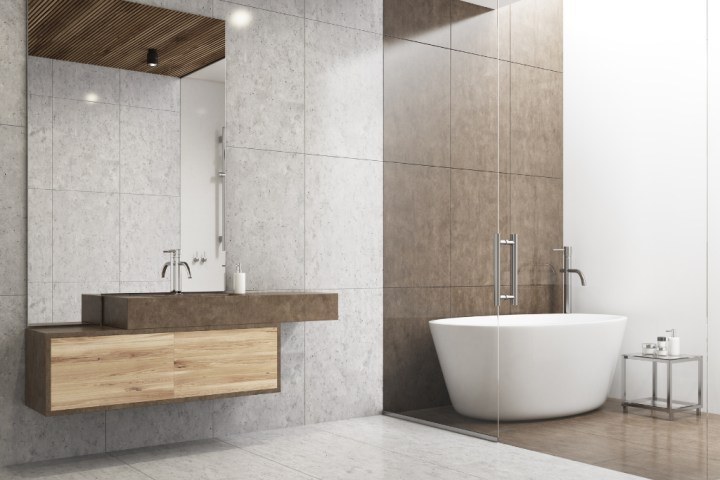 Beautiful bathroom vanity design ideas begin with
imagination
. This gorgeous design uses simple mounted shelf units in wood to frame an inset sink. The wood-paneled cube drawer below offers space for toiletries, while the mounted mirror behind it amplifies the space and its organic beauty.
13. The Console Vanity Design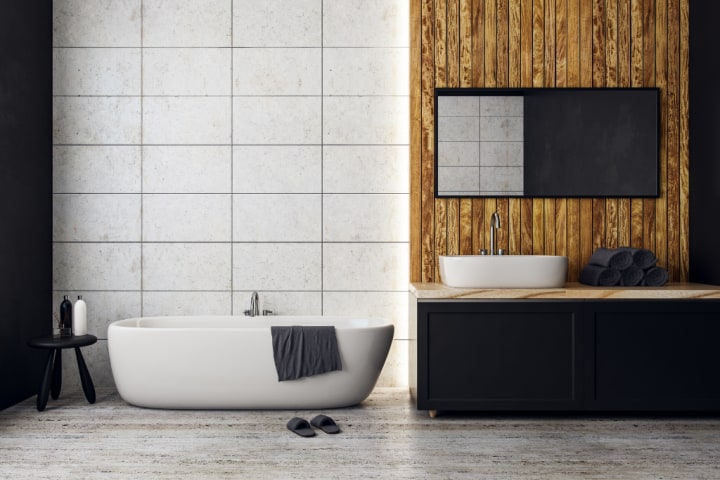 Consoles, dressers, tables, bureaus—all make for excellent bathroom vanities, perfect for those who like DIY projects. This design repurposed a TV console as a sturdy, elegant frame for a surface basin sink. It also provides plenty of storage space below, topped with a sealed wood counter, and a wood back wall.
14. Make Small Bathroom Vanities Stellar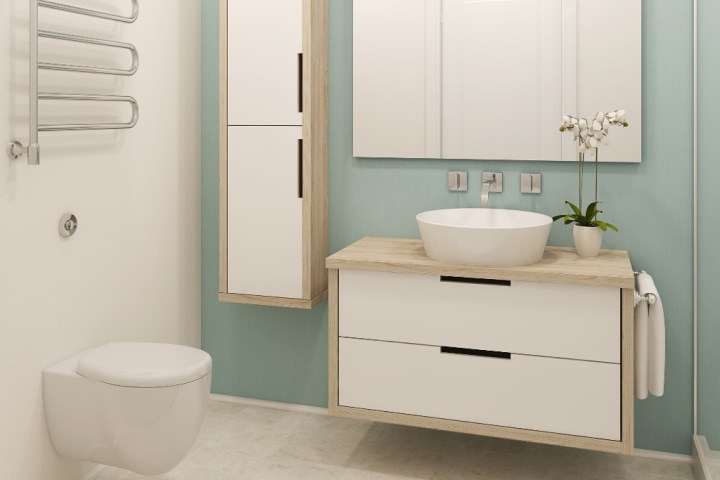 Even cramped spaces can be made to feel luxurious. This mounted wood-framed small bathroom vanity set has a drawer unit sturdy enough for a basin sink, and a matching cabinet for toiletries and towels. Additionally, a sage accent wall complements the light, natural hues, making the area seem large and open.
15. Mounted, Minimalist & Memorable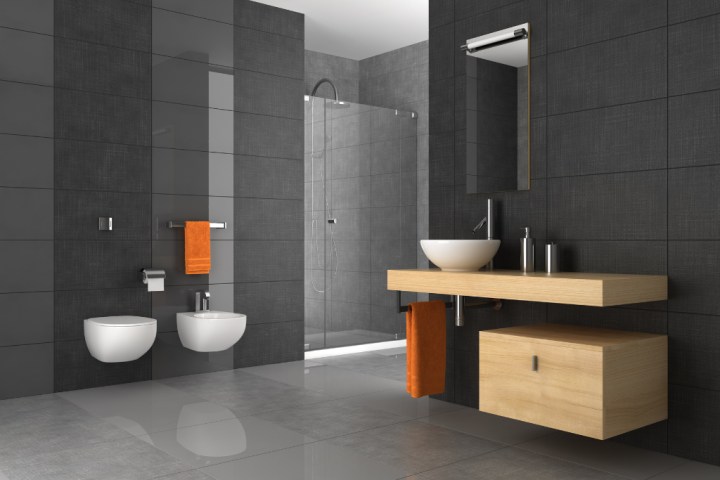 It doesn't get more simple or organized than this design. In it, a mounted wooden shelf holds a surface sink while the matching, mounted wood trunk below can hold anything from towels to dirty laundry. Sinks like the one above are available in everything from ceramic to soapstone to gorgeous Terrazzo.For more 2021 bathroom trends, head over to
this post from our blog
.
Stunning Styles & Space, Made Simple
Designing your bathroom vanity doesn't need to be a chore because you can have a lot of fun while doing it! Creating artful areas within your home can be simple, stunning and affordable. What blend of the above bathroom vanity design ideas best suits your needs and style?Want a
free design consultation with experts
? Our custom professionals can upgrade what you already have, or help you plan something entirely new. At ShelfGenie,
your design wish is our command.