We have compiled a list of the best microwave cabinet ideas to help you spice up your kitchen. Cabinets are a great way to keep your microwave off of the counter if your home does not have a microwave built into the kitchen cabinetry. Microwave cabinets are available in a variety of styles, colors, and materials. You can find them made of wood, metal, glass, or even plastic.
The first thing you need to do when choosing a microwave cabinet is to measure the space where you want it to go. Make sure that the cabinet will fit into the space without being too big or too small. Also, consider the height of the cabinet.
You'll want to make sure that the microwave is at a comfortable height for cooking while also aesthetically pleasing.
You can then look at different styles of cabinets to find one that matches your kitchen's decor.
Best Microwave Cabinet Ideas To Keep Your Kitchen Organized & Stylish
A microwave cabinet is a fantastic way to keep your kitchen clutter-free. Here are some ideas to get you started.
1. Get a Microwave Cabinet That Matches the Style of Your Kitchen
For a modern kitchen, look for a sleek and simple cabinet. If you have a rustic kitchen, look for a cabinet made of wood or stainless steel. However, a traditional kitchen will look good with a cabinet made of glass or plastic.
2. Consider the Size of Your Microwave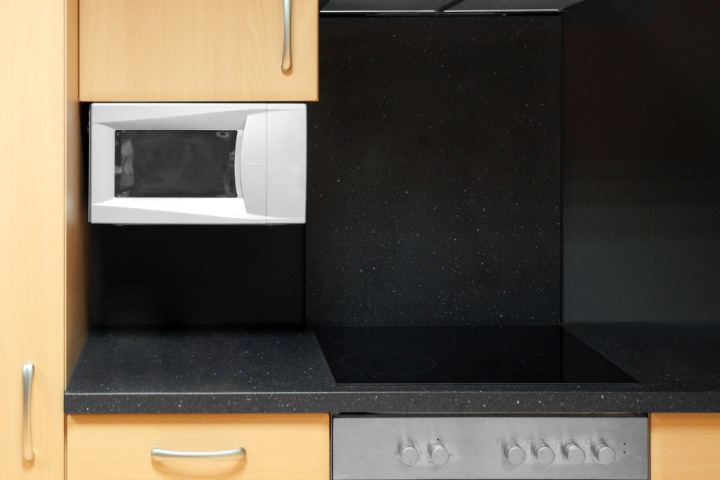 Make sure that the cabinet you choose is large enough to accommodate your microwave. A large microwave will need a bigger cabinet leaving room for the microwave door to swing open. While a small microwave can fit into a smaller cabinet, it may not have enough space to function properly. So, get a cabinet that is the right size for your microwave.
3. Choose a Color That Matches Your Kitchen
Most cabinets come in neutral colors such as white, black, or brown. However, you can also find cabinets in other colors such as red, blue, or green. Choose a color that will complement the other colors in your kitchen.
4. Pick a Material That Is Easy to Clean
Since cabinets are in the kitchen, they will need cleaning often. So, choose a material that is easy to clean. Wood cabinets only need wiping down with a damp cloth. Metal cabinets need cleaning with a mild soap and water solution. Glass cabinets only need some window cleaner and a soft cloth. Plastic cabinets will need scrubbing with a brush and soapy water.
5. Get a Microwave Cabinet with Doors
The doors on a cabinet will conceal your microwave from view. They can also prevent young children from accidentally turning on the microwave. With pets, doors will keep them from getting into the cabinet and making a mess. You can choose typical swing hinge doors, bi-fold doors, garage style doors that roll down, or even flip lift doors that open from the bottom. A microwave cabinet door that matches your other cabinetry seamlessly is always ideal.
6. Look for a Microwave Cabinet with Shelves Underneath
Shelves in a microwave cabinet will give you more storage space. You can use the shelves to store spices, cookbooks, or other kitchen items. ShelfGenie's Glide-Out shelves are a great custom solution. These shelves pull out so that you do not have to stretch or reach to get what you need. This makes it easy to get to everything in or out of your cabinet, even if it is in the back.
7. Get a Microwave Cabinet with Drawers
Drawers are another excellent storage option for a microwave cabinet. They can hold pots, pans, or other kitchen items. Look for ones that have soft-close hinges. This will prevent the drawers from slamming shut and making noise.
8. Consider a Microwave Cart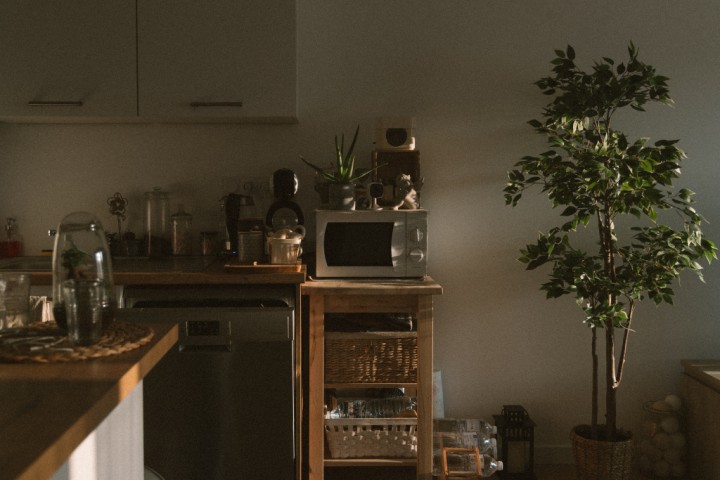 A microwave cart is a mobile version of a cabinet. It has wheels so that it can move around easily in the kitchen. This is a brilliant option if you do not have a lot of space for a cabinet. Plus, it is easy to roll out of the way when you are not using it.
Tips for Using a Microwave Cabinet
Now that you know some of the best ideas for a microwave cabinet, here are some tips for using one.
1. Don't Overload the Microwave Cabinet
When you are loading up a cabinet with shelving above the microwave, do not put too much n it. This can make the cabinet top-heavy and unstable. Plus, it can make it difficult to open the doors.
2. Store Heavy Items on the Bottom Shelves
For safety reasons, it is best to store heavy items on the bottom shelves of the cabinet. This will prevent the cabinet from tipping over if it is top-heavy. It can also make it easier to access the items on the top shelves.
3. Don't Put Hot Items in the Microwave Cabinet
It is tempting to put hot food items in the cabinet to keep them warm. But, this is not a good idea. The heat can damage the cabinet material and make it warp. It can also be a fire hazard. Wait until the food has cooled down before putting it in the cabinet.
4. Keep the Microwave Cabinet Clean
Since the microwave cabinet is in the kitchen, it can get dirty quickly. Always wipe down the cabinet after you use it. This will prevent the build-up of dirt and grime. It can also prevent pests such as cockroaches from taking up residence in the cabinet.
5. Use Door Guards
Use door guards on the cabinet to protect the doors from bumps and scratches. Door guards can also help to prevent the doors from slamming shut.
6. Don't Block the Vent
This is the most important tip for using a microwave cabinet. Never block the vent on the microwave. This can cause the microwave to overheat and catch fire. Make sure that there is at least 3 inches of space around the vent.
7. Use Cabinet Liners
And last, use cabinet liners to protect the shelves from getting dirty. This will make it easier to keep the cabinet clean. It can also extend the life of the cabinet.
Final Thoughts
Picking out the perfect microwave cabinet can be a daunting task, but with these ideas and tips, you can find the perfect one for your kitchen. They can assist you in keeping your kitchen organized and neat. They can also give an additional storage area for all of your kitchen supplies.
Did you find this helpful? Let us know in the comments below. And, be sure to share this with your friends who are looking for storage ideas.