Are you looking to give your kitchen a quick and easy makeover? If you are not ready to commit to a complete renovation, painting your kitchen cabinets is a low-effort, affordable, low-maintenance way to elevate the appearance of your kitchen space. Before customizing kitchen cabinets for optimal storage organization, a few coats of the right paint can make a dramatic difference. So, what is the best type of paint for kitchen cabinets to use? This in-depth guide will answer your questions about what to use and how to paint kitchen cabinets in a way that elevates your cooking, eating, and entertaining spaces.
How to Paint your Kitchen Cabinets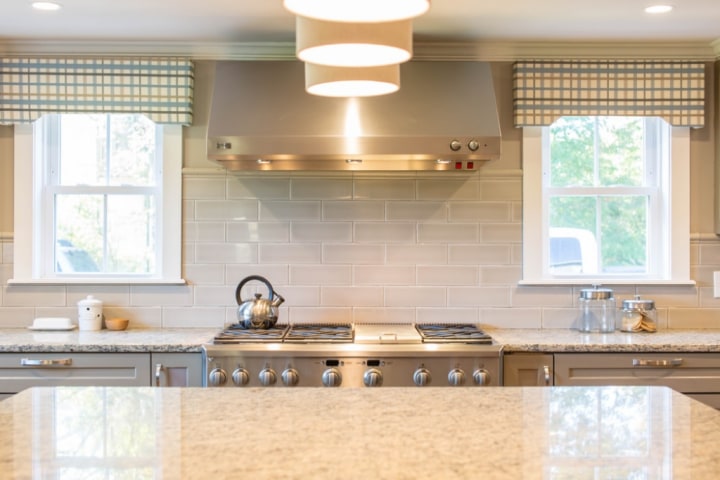 Before you start purchasing paint cans, evaluate what type of cabinets you have, determine the prep you will have to do, and then decide on the best paint option for your kitchen upgrade needs.
What You Need to Know Before You Paint
Before you dip the paintbrush into the paint can and let your artistic abilities get to work, there are a few essential considerations to make. Unlike other areas of the house, where you have a bit more freedom about the type of paint you choose, the wear and tear of a kitchen requires a more durable paint type.
Evaluate your cabinets' current state. Consider whether you'll need to prime the wood, what type of wood your cabinets are, and how you will need to clean and prepare the wood for painting. While this may seem daunting, upfront planning, consideration, and deliberation of your current construction and the necessary renovation materials will save time, money, and headache in the long term.
Do you Need to Sand Your Cabinets?
Whether you need to sand your kitchen cabinets before painting them will depend on the type of wood. You can paint over natural wood cabinets without much sanding because the raw grit on the surface of the wood allows the paint to adhere to it tightly. If your wood cabinets are already stained or glossed, you will have to sand them to remove the finished layer to ensure each coat of paint properly sticks to the surface.
If you have wood veneer cabinets, it's important to lightly sand the surface before painting. This step will take off that thin, plastic layer, allowing for a smooth and long-lasting application.
Your cabinets may also contain medium-density fiberboard, or MDF, a material that closely resembles a stronger, more rigid plywood. MDF is a common material for kitchen cabinets because it is easier to paint. It requires no sanding, just an oil-based primer (more on that later in this guide).
The last popular kitchen cabinet wood type is laminate. This is the most challenging type of kitchen cabinet to paint over because it requires sanding before and after applying a primer.
To properly paint your kitchen cabinets, be sure to determine the type of wood and the amount of sanding needed before painting.
Do You Need to Prime Your Cabinets?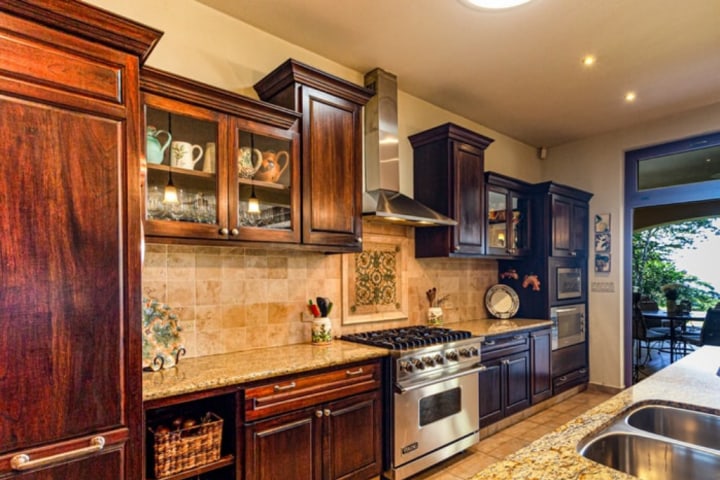 Primer will help ensure a smooth, even coverage and thorough absorption of paint on wood and wooden veneer cabinets. Any water-based primer will work here. For MDF cabinets, oil-based primer is a must, and remember to sand before and after primer application.
How Much Will It Cost to Paint Kitchen Cabinets?
The cost of painting your kitchen cabinets will depend mainly on the type of paint you choose and the size of your cabinets. As you might expect, premium paints are several times the cost of their budget-friendly counterparts. And you'll require less paint if you only paint the exterior of your cabinets and cabinet doors versus painting every visible surface.
Which Paint Should You Paint Your Cabinets?
Now that you have evaluated and prepared your cabinets for optimal painting, you can decide which type of paint will suit your kitchen best based on your appearance goals, kitchen traffic, and budget.
Oil-Based or Latex Paint?
The most common paint options for kitchen cabinets are oil-based paint and latex paint. Latex paints are often the best choice for kitchen cabinets, especially acrylic paints. Water-based acrylic paint will have no chemical odor, unlike oil-based paint, and is water-resistant and easy to clean -- all-important distinctions for working in a kitchen space.
Choose paint brands and finishes known for their durability and performance in high-moisture areas, like a bathroom or kitchen. Water-based paints are an excellent choice for durability, performance, and affordability.
What Finish is Best?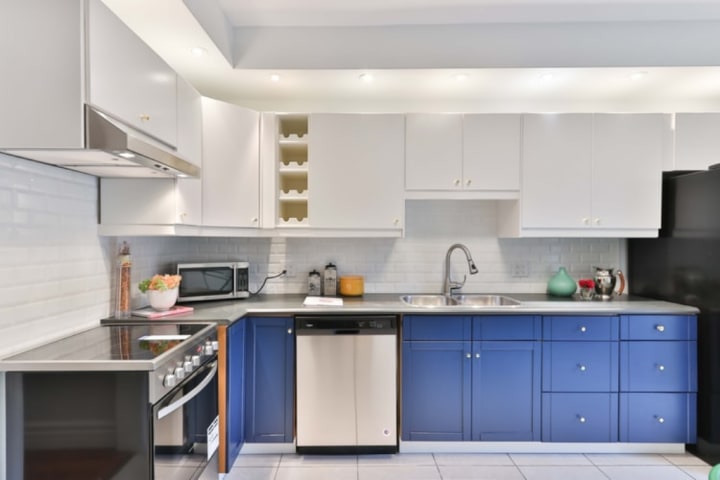 Latex paints are the preferred type of paint for kitchen cabinets and come in several finishes. The options are matte, semi-gloss, gloss, and satin. Avoid matte paints, as they are challenging to clean.
Gloss is highly durable, easy to clean, and suitable for high-traffic areas as scratches and fingerprints are less visible. The glossy effect also helps to reflect light, which opens up space visually and can make any kitchen feel larger.
Semi-gloss is another top option to use in kitchen cabinets. Its versatility and easy-to-clean surface are a few features that make it a popular choice. Semi-gloss paint enriches the color you choose to paint your cabinet, making it a perfect choice for lighter colors.
Satin or eggshell paints, like matte, are typically not the best choice for kitchen cabinets. The flat finish makes the paint harder to clean and maintain.
Application Tips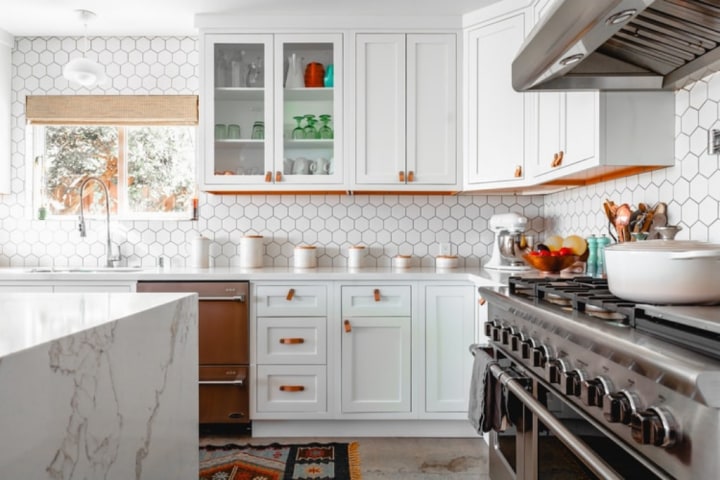 Now that you have thoroughly considered the best type of paint to use for your kitchen cabinets and have researched the type of cabinet you have and how to paint it, here are some tips for a seamless, high-quality paint application.
After sanding and priming your cabinets as necessary, you can begin painting. If you have flat cabinets, you can go right ahead with a small roller. If your cabinets have inlets or any design, it is best to use a brush in the smaller, harder-to-reach areas. Use a synthetic brush with latex paint to avoid the swelling that occurs with water-based paints and natural brushes. Be sure to cover all countertops and floors before painting, and remove the cabinets if necessary for an easier and safer application.
Time to Get Started
Now you're ready to begin the transformation of your kitchen. A simple, cost-effective paint refresh will dramatically elevate your kitchen space in a short amount of time. Consider installing custom shelves and pull-out drawers after you paint to upgrade the functionality and organization of the interior of your kitchen cabinets.
ShelfGenie's
customizable kitchen shelves can take your newly painted kitchen cabinets to the next level so that your kitchen is a functional space to cook, entertain, and spend quality time with your family.