Adding a built-in bookshelf is a timeless, sophisticated way to upgrade any room in your home. Built-in bookshelves are also an affordable way to optimize storage space. It can be a challenge to choose design elements that complement your space without compromising on functionality. We want to help inspire your creativity by sharing some ideas to help you organize and display your items. If you have been thinking about selling your home, it's well worth optimizing your storage and display spaces. Built-in bookshelves can often increase the resale value of your home, according to Better Homes and Gardens. The best way to have built-in bookshelves added to your home is by contacting a professional. Professionals know how to install built-in bookshelves safely and securely.
Functional and Gorgeous Built-In Bookshelf Ideas
1. Brighten Up a Built-In Bookshelf With Color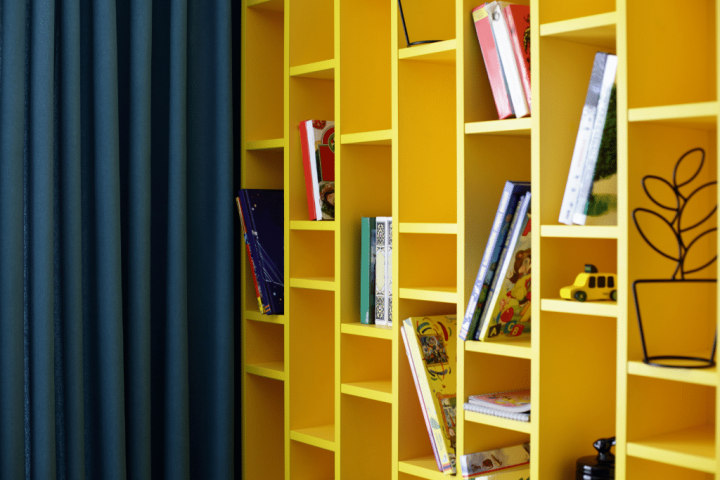 Uplift the mood with a built-in bookshelf painted with a bright color you love. A beautiful shade of orange, yellow, pink, or red can bring vibrancy and a pop of energy to a space.
If you're feeling bold, consider contrasting tones; for example, a bright bookshelf with darker trim. This option is all about personality and expressiveness, so don't hold back.
2. Create a Gentle Atmosphere with a Feminine Style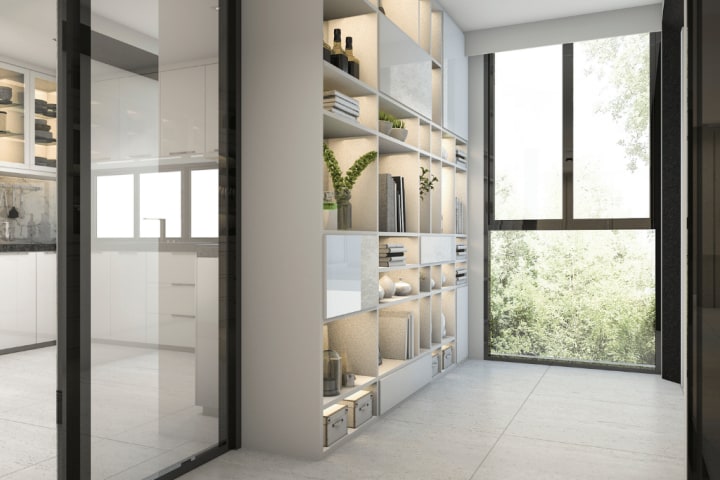 Adding a built-in bookshelf can soften your bedroom or powder area while adding valuable storage. Bring a sense of ease to this area with lighter wood tones. Comforting neutral color cushions add a gentle touch, which will make the space even more inviting.
If your space allows, combine chunky natural wooden shelves with natural light. Use your shelving to strategically place decor or plants so you create a zen-like space where you can relax and rejuvenate.
3. Bring Balance With Clean Lines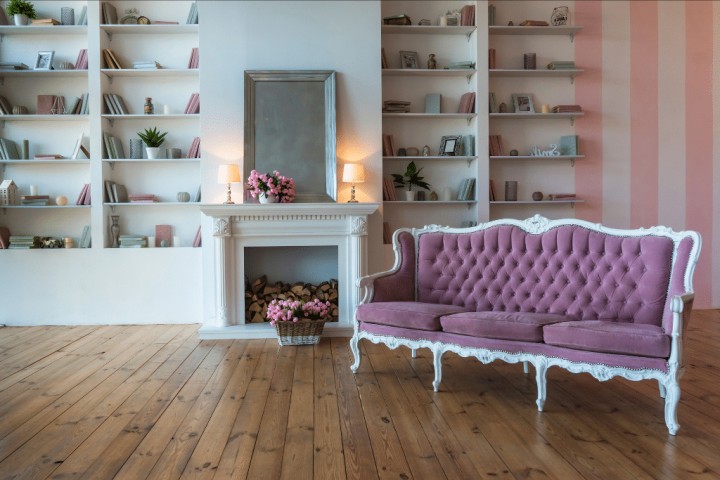 Do you already have a focal point in your living room or home? Add functionality and keep the balance in your room with white built-in bookshelves. Since the white color is neutral, it won't clash with the other features in your room. Choosing a white built-in bookshelf creates practical storage for any space.
If your living room includes a fireplace, consider placing a bookshelf on each side for balance and subtle structure. The straight lines create a simple look that complements anything else in a room with neutral tones.
4. Spark a Conversation with Creative Shelving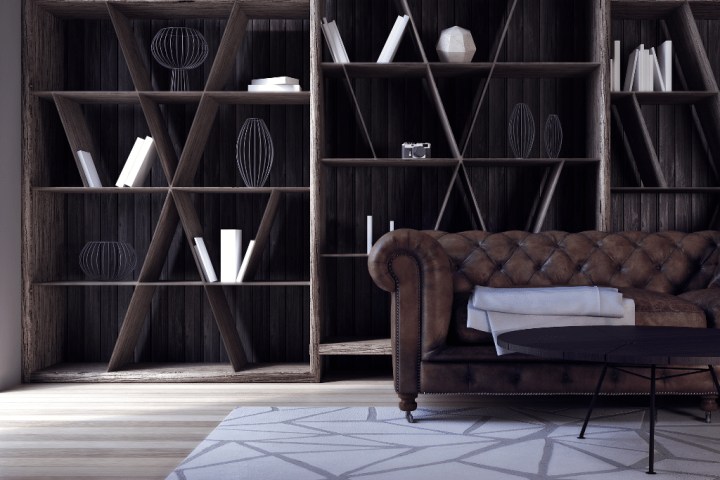 Who says shelves have to be perfectly horizontal to look amazing? Break the rules and create a luxurious built-in bookshelf with angles or curves intended to draw attention. When people walk into the room, it will be the first thing they notice. This is such an effective conversation-starter if you're hosting guests.
A bookshelf with angled shelves can make a fashionable statement with a dramatic dark paint color and metallic trim. This is a great option if you are tired of neutrals and want to add a pop of color without using bright red or yellow tints.
5. Install Easy-to-Reach Drawers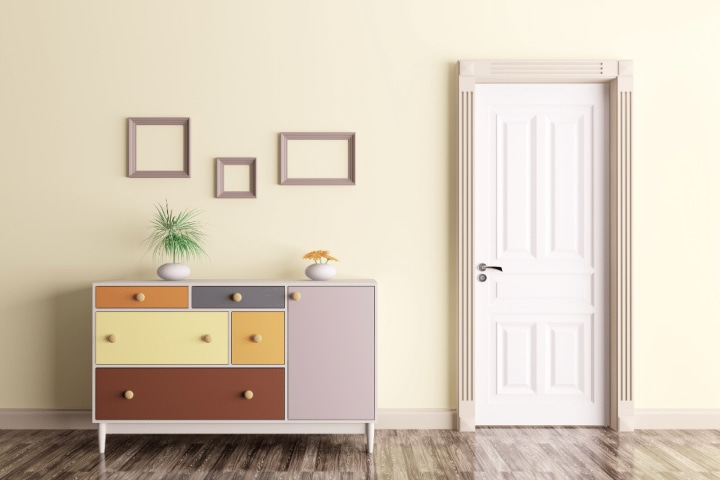 Keep your space decluttered with convenient drawers beneath a traditional bookshelf. This option can dramatically increase the utility of a space, as you're able to keep even more items organized and out of sight.
To get the most out of your drawer space, consider one of our custom glide-out shelving solutions. Once your built-in bookshelf is completed, you can book a free, no-commitment in-home consultation with ShelfGenie using our
easy booking tool
.
6. Frame Your Artwork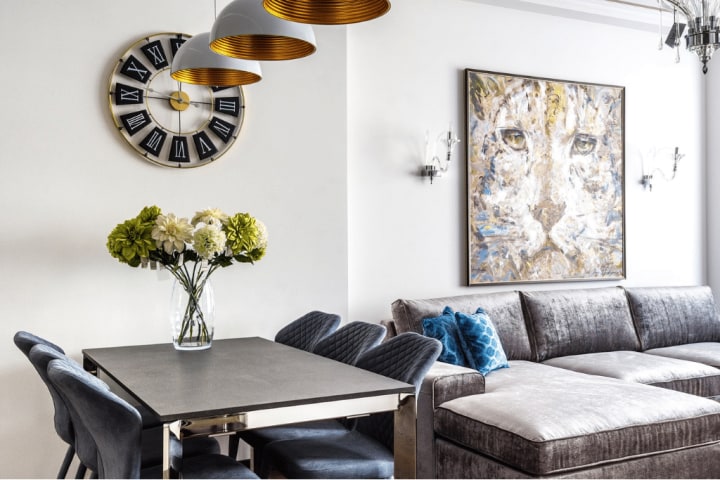 Design your built-in bookshelves with a central spot to hang a treasured piece of art. This will naturally become the focal point of the room, as the art contrasts with the surrounding shelves.
You can even swap out the art periodically for a seasonal refresh, or replace framed art with a 3D artifact like a decorative platter or wall-mounted sculpture.
7. House Your Recipe Books in Your Kitchen Island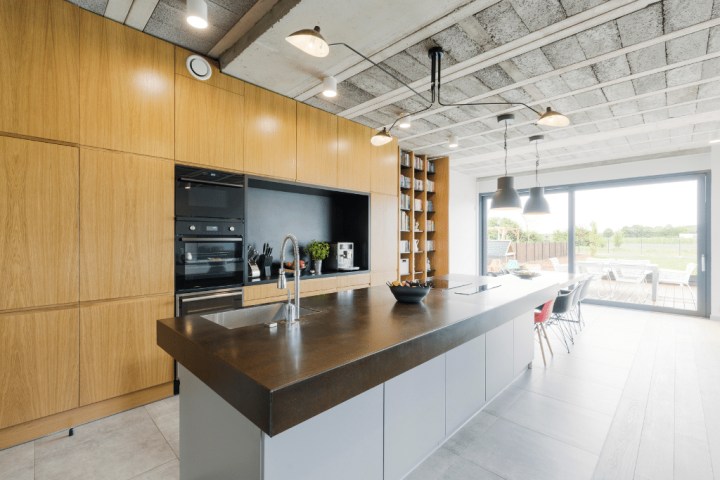 Use your kitchen island to keep recipe books handy! A built-in bookshelf in your island ensures inspiration is always at your fingertips, and also frees up valuable countertop space.
Practical and Elegant Built-in Bookshelf Ideas for Your Office
1.Create Multiple Private Workstations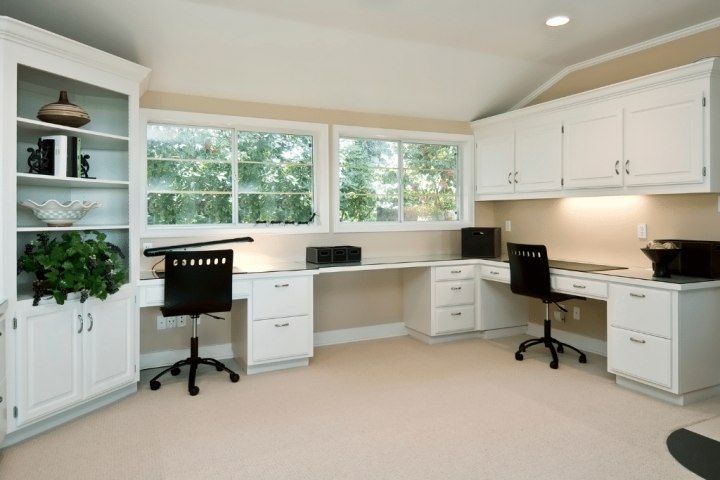 You and your colleagues can get work done in a focused environment that is also stunning. Built-in bookshelves deliver on style and functionality, especially when they're designed to carve out multiple workstations.
You can even convert empty space to desk space by extending a shelf so that it forms a desk. To really max out your storage space, enhance your drawers with one of our
custom glide-out solutions
.
2. Use Doors to Hide Sensitive Items in a Built-In Bookshelf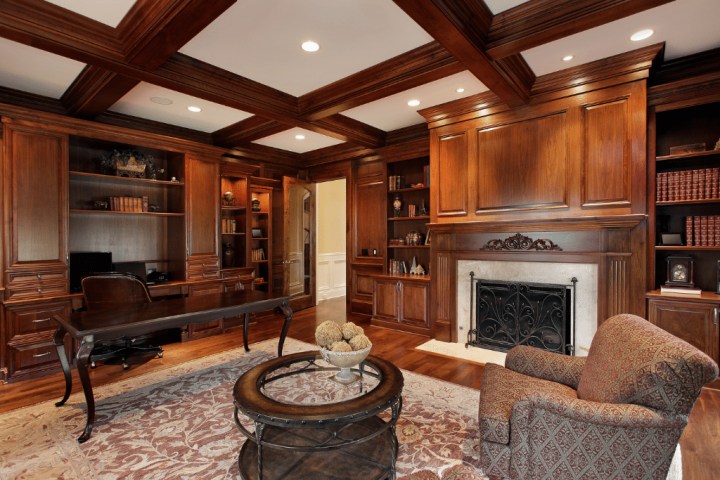 Cabinets keep your workstation clear. Consider storing sensitive and private documents in a safe within the cabinets, or install locks on the cabinets or drawers themselves for added security. By customizing built-in bookshelves, you have many different options for privacy and security based on your unique needs.
3. Install a Functional Desk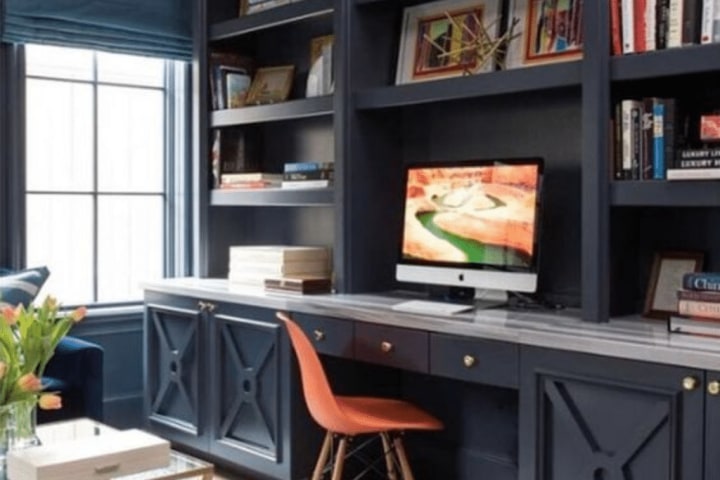 Your office can be a sanctuary of creative productivity, especially when everything you need is within reach. When you install a desk into your built-in bookshelf, it minimizes distractions without sacrificing functionality. No more walking around the office looking for paper, sticky notes, charging cables, or pens.
4. Add Comfortable Seating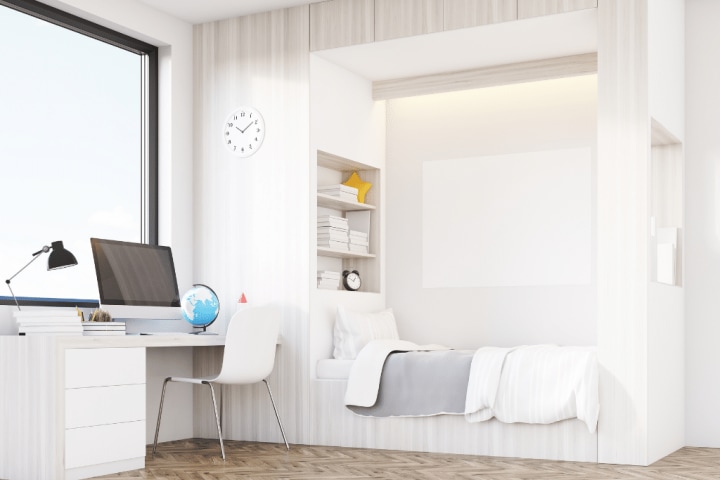 Create a multipurpose space by adding a bench, couch, or any seating into your built-in bookshelf. The seating can stand on its own or be built directly into the structure. How comfortable would that be for your clients, or as the perfect spot for a social media photo or livestream.
5. Incorporate Crown Molding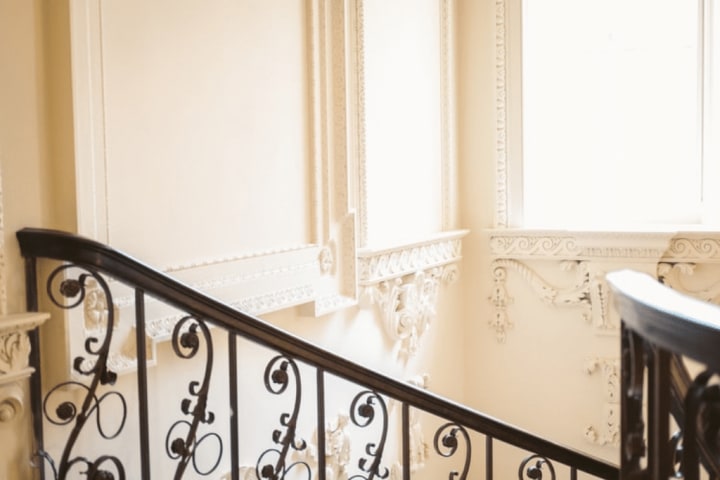 If you want a space that feels like a study, install crown molding. The shape of your crown molding can add an atmosphere that feels like a library. Well-designed crown molding adds immediate sophistication and credibility to any office. Never underestimate the influence these small details in your environment can have on your productivity.
6. Use Lighting to Add Warmth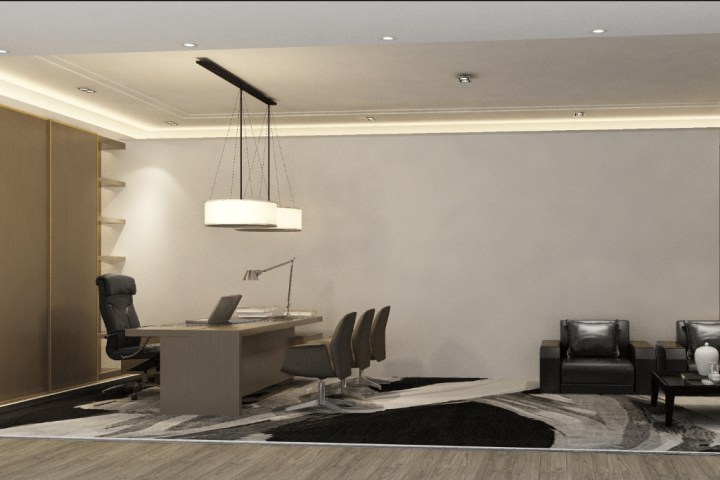 Office lighting does not have to be hard on the eyes. You can use backlighting and other accent lights to create depth and warmth in your office. Some lighting strips and smart bulbs even let you customize the color temperature using your smartphone, enabling you to change the look and feel of your office in moments.
Creative Built-In Bookshelf Design Ideas
1.Display Your Hobbies and Your Heritage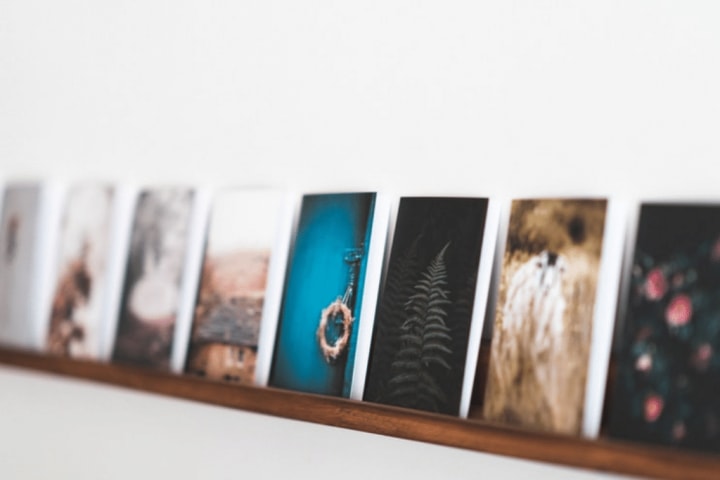 Have you traveled the world? Do you have an impressive photography collection? Don't hide it. Show it off and keep it safe with a built-in bookshelf with glass doors.
This option keeps your best memories safely on display. Share your history and family photos with your loved ones by placing precious items in a beautiful showcase. Doing this creates a loving atmosphere in your home and opens the door to deeper connections with your loved ones.
2. Frame the Entryway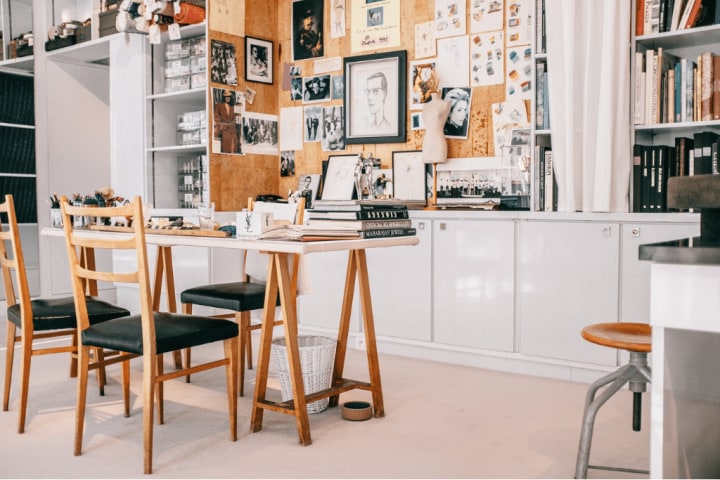 Frame your office entry with a built-in bookshelf. You can look up in the middle of a busy work day and admire the architecture and beautiful photos or items you decide to place there.
Pay homage to your career achievements, or keep your reference books close by and organized in a way that makes sense to you. Framing the door to your office with a built-in bookshelf adds a sense of intimacy and privacy to the space, even if the door is glass.
4. Style Your Built-in Bookshelf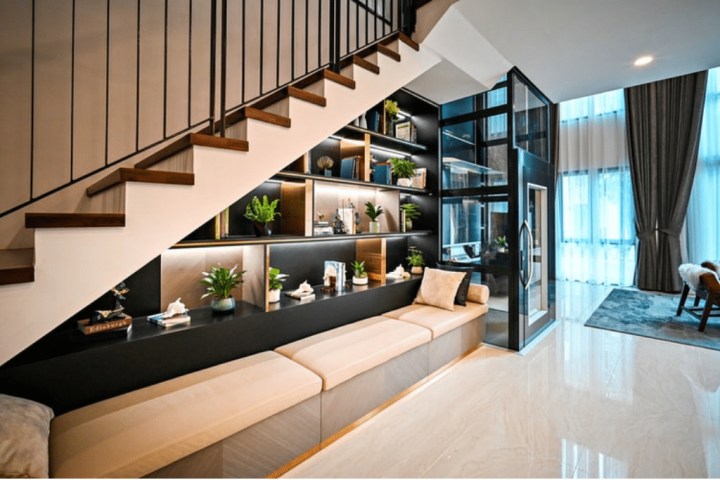 Plants are an amazing way to add color and life to any room. When you have an all-white built-in bookshelf from floor to ceiling, add plants. The pop of color will bring your wall to life and add comfort to the room, while cleaning the ambient air.
Combine neutral shades, wicker, and metallic colors for a more grounded look for your built-in bookshelf. Adding bronze, gold, or silver to a dark built-in bookshelf creates a fashionable, modern look.
However, you choose to style and construct your built-in bookshelf is totally your choice. We hope we were able to inspire you to be creative!
How Can ShelfGenie Help Me With My New Shelving?
We would be happy to send over a personal ShelfGenie designer to help you get the most out of the drawers and cabinets in your new built-in bookshelf. Our
custom glide-out solutions
are made to last, and backed with a warranty. Book a free, no-commitment in-home consultation using our
easy booking tool
.