Have you considered butler pantry ideas but don't know where to start? A butler pantry can be the perfect storage solution to help you fully enjoy your kitchen. Not only does it cut down on kitchen clutter, but it can also make entertaining guests way less stressful. You can prep and plate items in your butler pantry and then serve guests in your kitchen. With the kitchen becoming more popular as an entertaining space, a butler pantry will be the perfect way to stash all your supplies and equipment, keeping your kitchen nice and clear for entertaining and enjoying.
Butler Pantry Ideas
The options for elements you can add to your pantry are nearly limitless. No, you definitely do not need a butler to fully enjoy your butler pantry. It's a room the whole family may find useful.
1. Essential Butler Pantry Ideas: Add in a Sink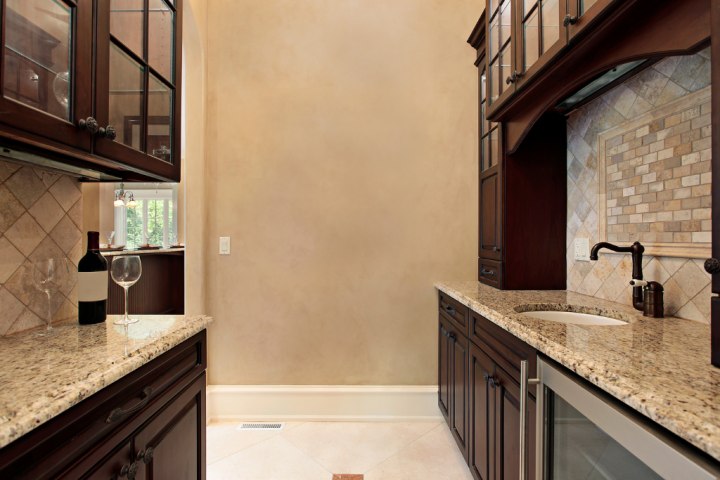 One of the main elements that elevates a butler pantry from an everyday pantry is the addition of a secondary sink. If you're looking for
butler pantry ideas
, this is a great place to start. This turns the space from storage to multi-functional. Clean produce, prep meats, or mix drinks; no matter the task, it's easy when you have a sink and faucet in your butler pantry. Butler pantry sinks are typically smaller than traditional kitchen sinks to keep space reserved for added prep counter space. An inset sink gives the space an especially polished look. Even if you only have room for a tiny sink, it will soon prove invaluable.
2. Butler Pantry Ideas with a View: Include a Window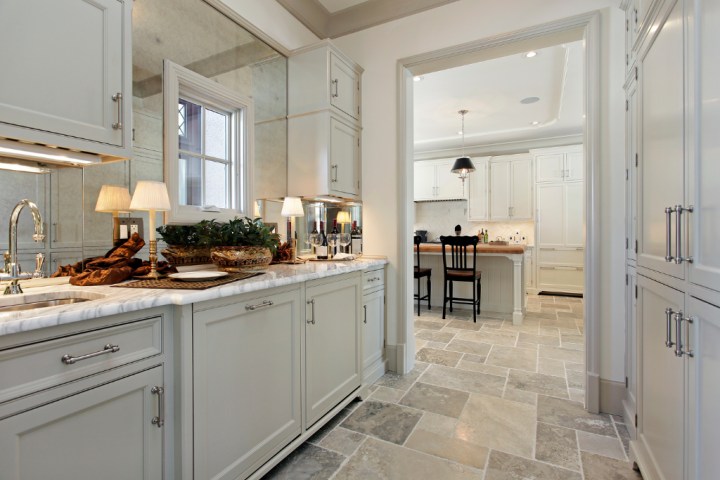 Don't let the butler get lonely, or anyone else working in the room, for that matter. Adding a window will open up the space and make it more light and airy. You could add in an exterior window if possible. Or if a window to the outdoors is not something you can do, you could add in an interior window. This way, even if someone is prepping drinks or meals, they'll still feel connected to the conversations happening in an adjacent room. A small window only takes away a tiny amount of kitchen cabinet space.
3. Butler Pantry Design: Add in a Wine Room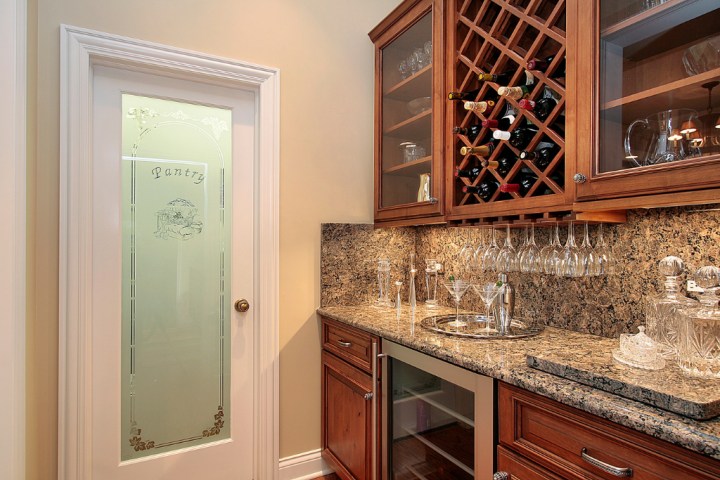 A wine cellar doesn't need to have its own room. Take a portion of your butler pantry design and create a full-service wine room complete with a wine rack and wine cooling fridge. Even more convenient than a cellar, you'll have your wine glasses and food pairings close at hand. Not a wine fan? How about a coffee bar? Swap out the wine rack for some shelves to store a variety of coffee beans and flavoring. Add in an espresso machine, and your mini fridge can be used for cream to make delicious whipped foam toppings. It will become the perfect place to start your day.
4. Kitchen with a Butler Pantry: Add in More Appliances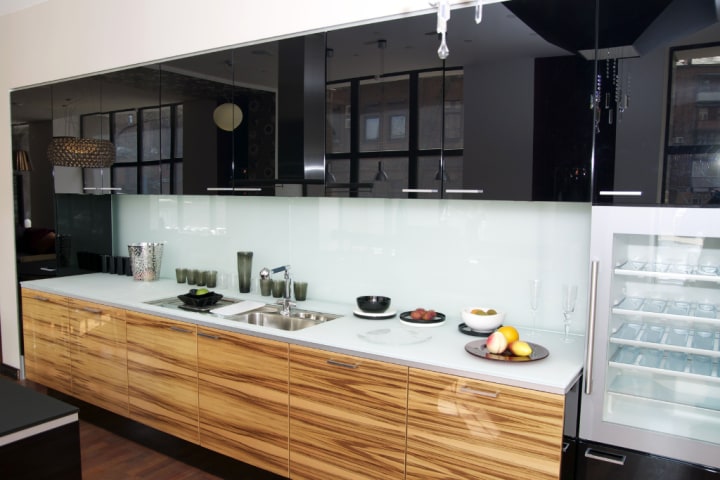 Do you wish you had more refrigerator or oven space? If you have the room, your butler pantry can become your most useful area by adding in an extra appliance. Remember those giant unattractive basement freezers? Well, they have come a long way. Now you can enjoy a stand-up stainless steel freezer that can fit in well with any decor. This is the perfect solution if you like to buy your frozen food in bulk. And with it being conveniently right next to your kitchen, you won't be the next one to go into a dingy basement to get the evening's dinner.
Butler Pantry Room Ideas
5. Butler Pantry Design: A Corner Space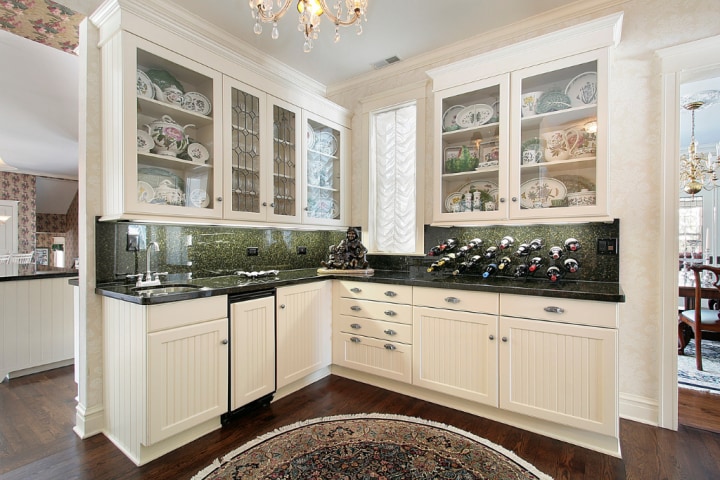 A butler pantry design doesn't require a full room. Even a corner of a dining room or an unused side of a kitchen can serve the same purpose. By making it elegant and deliberately designed, not only will you gain a useful addition to your home, but you will also create an upgrade to its overall look. A few components that help to create a polished, finished look include:
Cabinetry with plenty of trim
Elaborate or ornate hardware
Glass upper cabinets
Under-cabinet and in-cabinet lighting
Scaled-down sized appliances like a dishwasher, mini-fridge, or mini-convection oven
6. No Room for a Butler Pantry? No Problem
Look around your home. Do you have a spare wall that could hold a few cabinets and perhaps a mini-fridge? If so, that's all you need for a scaled-down
butler pantry design
. Add a sink and some upper cabinets, and you have everything you need for a functional wet bar, food assembly area, and wine storage space. This is an easy way to get the look and function of a butler pantry even if you don't have spare room for one.
7. Hallways Have Butler Pantry Potential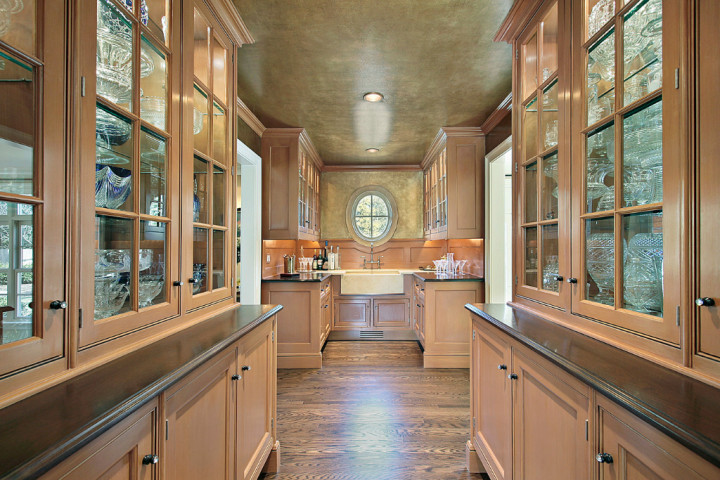 Perhaps you have a hallway with some space on either side. It's an unused area that doesn't really give you much function. Adding in cabinetry on both sides of the hallway can instantly create a set of butler pantries. Make sure to finish the exposed sides with elegant cabinetry and trim. There's no reason a hallway has to interrupt the flow. By keeping the same style on both sides, you can create a butler pantry and remove awkward empty spaces.
8. Add in a Laundry Room to Your Butler Pantry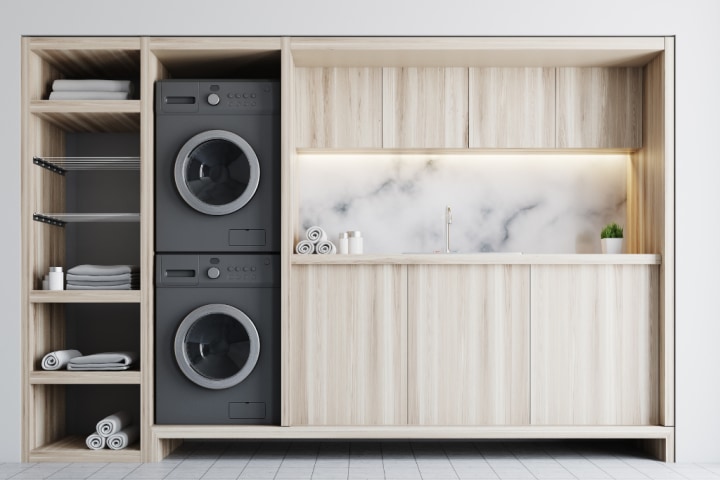 A butler pantry does not need to be exclusively about food or drink. If your washer and dryer are housed in an inconvenient location in your house, it might be time to move them to the new pantry. Here, you can take kitchen towels and dinner napkins right over to the laundry in just a few steps. It also makes your chores more convenient, with everything being in the same place. Add in functional cabinetry on one wall for your laundry needs. Include an ironing board here and shelves to place folded clothes on. On the opposing wall, you can keep all your additional kitchen supplies and food.
Butler Pantry Cabinet Ideas
9. Glass Cabinets
Do you have a lot of gorgeous servingware, dishes, and glasses? Here's your chance to show them off in a way you might not have room for in your kitchen cabinets. Leave those cabinets to store the glasses and coffee mugs you use every day. With butler pantry cabinets, you have the room to show off all of those fancier items that probably aren't utilized on a regular basis. A great way to do this is by including upper cabinets with glass fronts. To truly elevate the look, include lighting in your glass cabinets.
10. Wrap-Around Cabinetry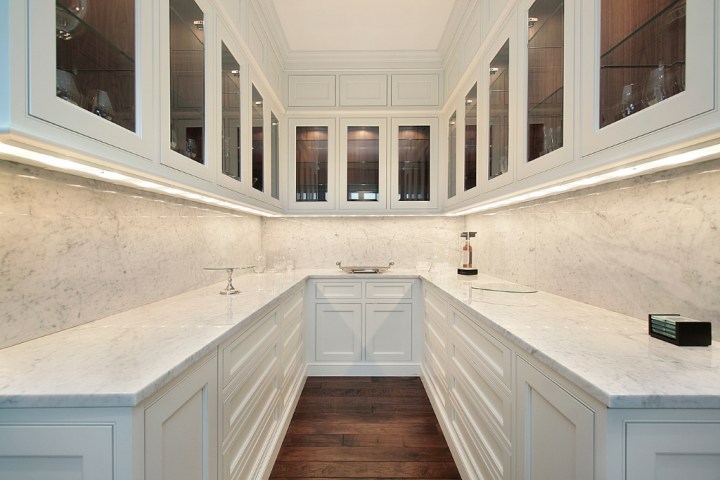 Kitchen countertops are often interrupted by the need for multiple appliances. But butler pantries don't have the same functional demands. This leaves you the chance to give the space an air of opulence with wrap-around countertops and cabinetry that gives a stunning display. You won't lack for storage with upper and lower cabinets seamlessly reaching around the room.
11. Open Pantry Shelves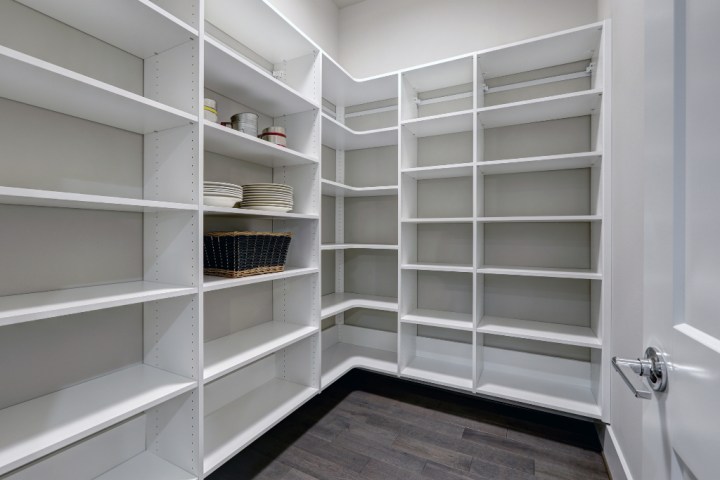 Open shelves are a great way to display dinnerware, but they are also perfect for attractive jars and barrels. Ideal for a more rustic, farmhouse look, open shelves give the option of customizing the size and dimension of each shelf. Stagger them to allow shelving to accommodate a variety of sizes of items, or keep them uniform for a sleek, modern look.
12. Customize Your Cabinetry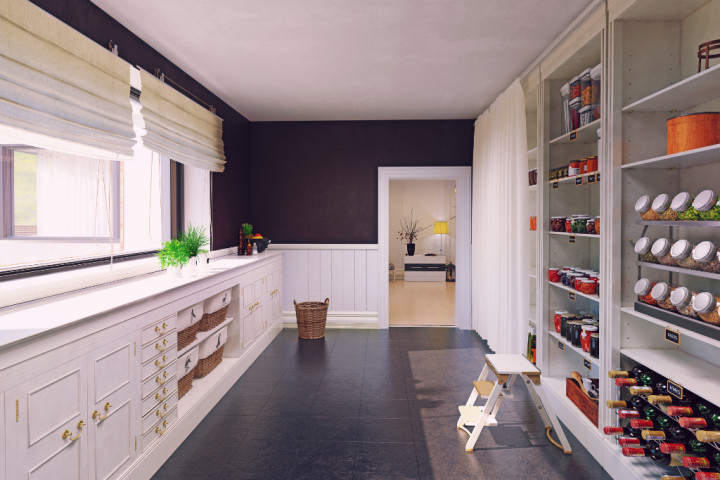 Your butler pantry should work for your lifestyle. That means if you love to buy dried goods in bulk or a lot of spices, you can include shelving that allows canisters to be easily stored at an angle for quick retrieval. Assess the items you have trouble storing and the items you would like to be able to store more of. Including a step-stool in the room can allow you to add storage up to the height of the ceiling.
Butler Pantry Design Ideas
13. Add in High-End Touches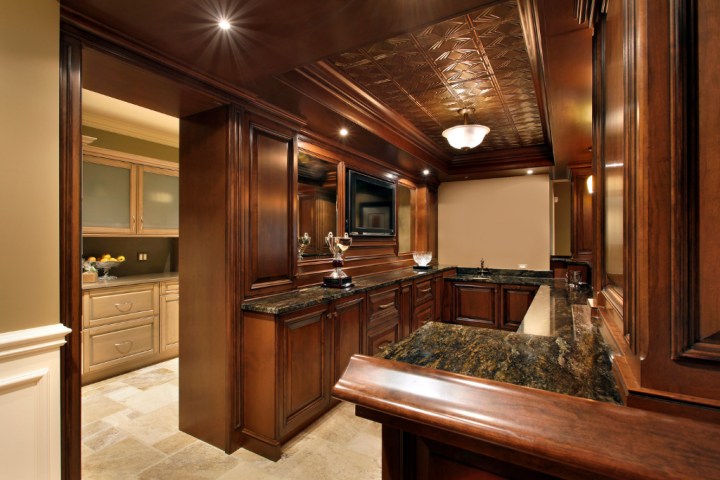 Although it may be a place for work and prep, your butler pantry can also be an area where you live the good life. After all, if you're going to be doing chores, you might as well do them in style. Because most butler pantries are rather small, you may be able to splurge on higher-end materials, like marble and carved wood.
These elements
will truly make your butler's pantry the crown jewel of your home and a place guests will want to visit.
14. Give Your Butler Pantry Personality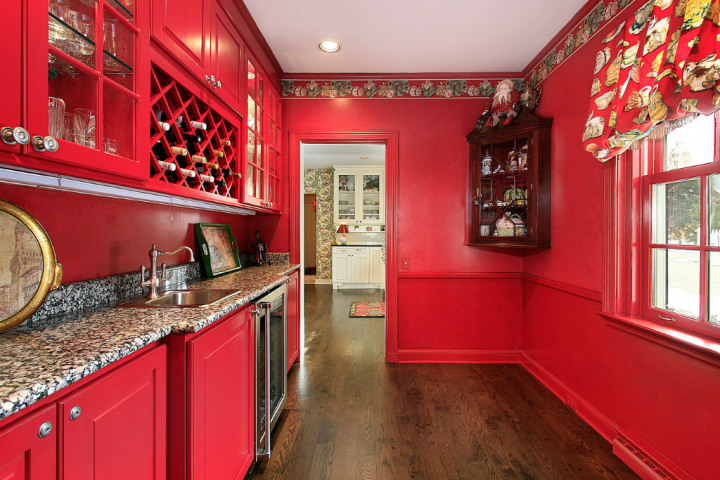 Your butler pantry will most likely be located out of the way of typical traffic flow. That means that it won't get regular visitors who don't live in the home. This gives you a great space to go a bit wild with your design. There are no
style rules
when it comes to a butler pantry, so let your imagination run wild. Even the most functional of pantries can include some pizazz with bright colors, wallpaper, and specialty flooring.
15. An Old World Look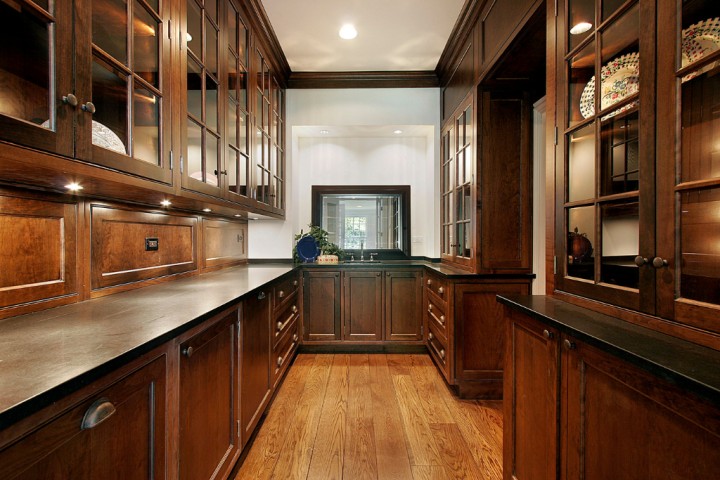 Butler pantries can give us visions of Bridgerton and Downton Abbey. Imagine deep wood cabinets set in well-appointed country mansions. Let the style tradition live on by focusing on dark wood tones and a black countertop.
Glass-paned cabinets
are a must while backsplashes can be filled with decorative wood paneling or flowery wallpaper. Be sure to add a bright white wall or two to keep the space from feeling too small and cavelike.
Give Your Home More Storage and Style with a Butler Pantry
A butler pantry is a throwback to another time but a modern solution to our many storage dilemmas. It's a space that can give you the comfort to spread work out, prep with abandon, and stock up without the fear of finding space for everything.When you make the decision to give your home the ultimate butler pantry, your options can be overwhelming. The professional design experts here at ShelfGenie are ready to provide plenty of advice and custom glide-out shelving options to make your butler pantry the most functional and user-friendly it can be.
Reach out today
to schedule a free design consultation and learn more about the possibilities for your space.