While most bedrooms today have plenty of closet space, this is not always the case. There are bedrooms out there that do not have enough room to fit all of your clothes. In the case of significant others, the closet might fit one-half of the couple's clothes, leaving the other half without any closet space.
On occasion, homeowners turn basements and attics into bedrooms and they don't add a built-in closet to go along with the upgrade. In short, there are many people who have to figure out how to store clothes without enough closet space or any closet space at all.
How to Store Clothes Without a Closet
If you have been searching for clothing storage ideas, or have no closet, then this article is for you. While it is entirely possible to have a specialized, custom-built closet installed just for you, there are other methods that will give you the space you need in the short term.
Get Creative with Storage Furniture and Shelving
Choose a corner of your room and get as creative as possible. Utilize tension rods, dressers, armoires, and shelving to create an open-faced closet. You can install shelving above the tension rod, and then place dressers and closet-friendly furniture under the rods, how you see fit.
By using your imagination and a bit of creativity inspired by Pinterest, you can easily create the closet of your dreams. If you want to close it off but you do not have any way to secure and install doors, you can try a room divider instead.
Clothing Racks for the Win
If you don't have a cubby space with two walls close enough to install a tension rod, you should consider free rolling clothing racks. You can purchase these racks at almost any major retailer, and you do not have to put the wheels on if you would like them to stay put. If you line them up in the right spot, you can seamlessly tie the racks in with your decor.
One of the main components of creating a closet out of nothing is minimalism. It is all in the way you decorate around the clothing, helping it become its own part of the room instead of a mess. Keep things as simple as possible.
Curtain Call
If you've got the cubby space necessary to install rods and strategically place a dresser to create a makeshift closet, then you will want to consider hanging a beautiful pair of heavy drapes to close off the space. Curtains give off more of a closed feeling than a room divider alone.
As long as your closet is neat, you can pull the drapes open, helping the room flow. Curtains are a fantastic option for privacy. It is technically their job.
Baskets and Woven Bins
Baskets and totes are key components of organizing a room without a closet. Not only can you fit these organizational tools into your "closet", but you can store them under the bed as well. Baskets under the bed look pulled together and organized, especially when they're matching.
If you are moving into a room that does not have a closet, you will want to ensure that there is space under the bed. The extra space is essential in a room without a closet, and you will be more than happy to have it. Choose woven baskets and bins, as they look the nicest when it comes to storage.
Staggered Floating Shelves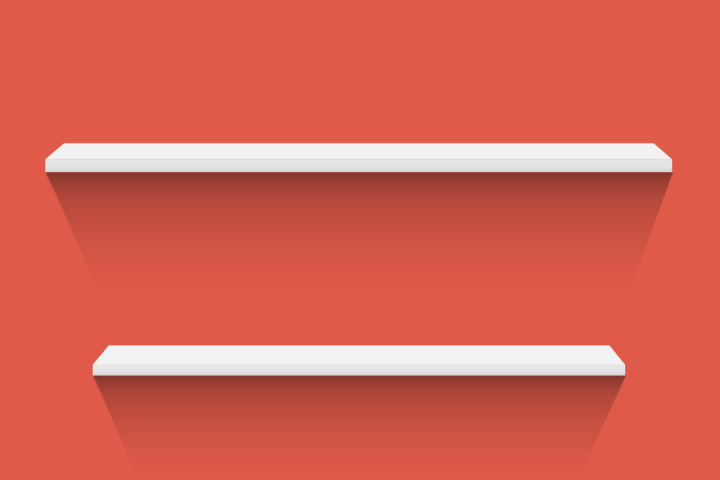 You will not be able to fit all of your clothes on floating shelves, but they work very well for shoes, bags, and sweaters! Install them above a dresser and pair them all with a rolling rack for your hanging items. When placed strategically, you will have a beautiful place to keep your cherished clothing items without having to stuff them in plastic totes.
You can successfully purchase floating shelves at pretty much any store that stocks home goods, but you can have them custom-made as well. Taking the custom route is always a good idea because you can be certain that they will look exactly how you want them to look.
Storage Behind the Bed
If you do not have a headboard, you might consider taking your clothing storage behind the bed. Hanging a clothing rack up high, relatively close to the ceiling, creates a headboard-like feeling while keeping your clothes organized. You can line the space next to your clothing rack with shelves for bags, shoes, and accessories.
Making space behind your bed for clothing is an incredibly creative process. There are so many possibilities, you will have so much fun establishing what works for you.
Store-Bought Wardrobe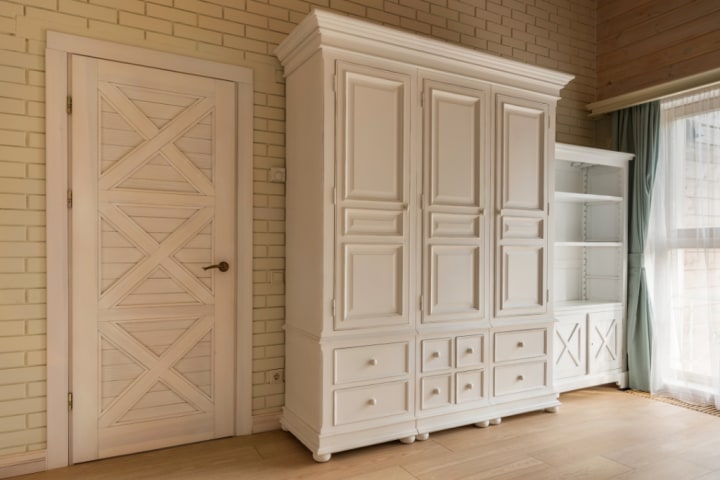 If you do not like the idea of your clothes out in the open, and you do not want to install a custom closet, a store-bought wardrobe is a great option. You'll often find these pieces, complete with a rack, minimal shelving, and drawers, in most hotel rooms. While it might not hold all of your clothing, it is a good place to start.
Built-In Custom Closet
If you do not have the time or the right space to create a closet on your own, you should consider working with a professional team to install a custom-built closet into a section of your bedroom. You can get super creative with the design, tailoring it to fit your needs and style perfectly.
Investing in a permanent closet gives a feeling of having a properly organized space that you do not get from creating a makeshift closet in your room, even though they have the potential to look amazing. You cannot go wrong with helping to create something you love.
Making Space for Your Clothes
Clothing that sits out in the open, even when it is organized, can give off an unorganized or messy vibe. You can cut down on the feeling of chaos, especially if your space is small, by decorating in neutral tones. White walls are a great place to start and keep your bedding solid. If you love patterns, try to keep them as toned down as possible.
Your clothes are a huge part of who you are. You should take care of them in the same way that they take care of you. Proper storage helps your clothes last longer, and if you are tired of living without proper closet space, ShelfGenie is here to help. Reach out to us today to discuss your options when it comes to custom closet space and shelving. We offer our closet solutions in select locations, and we're happy to get started right away. Your free consultation is waiting!