There are too many common questions about bathroom organization out there. That's because organizing the bathroom is perhaps the biggest storage and organization challenge in the home. After all, it's a room that's often cluttered up with more random junk than maybe anywhere else. It just seems like a law of nature: any bathroom ends up collecting an assortment of disused toothbrushes, half-empty shampoo bottles, and more towels than anyone knows what to do with.
6 Common Questions About Bathroom Organization
As you begin your journey to better bathroom organization, here are the answers to some of the most notorious questions and hurdles facing homeowners.
1. How can I organize my bathroom?
Bathroom organization doesn't have to be incredibly stressful...although too many of us
make it
stressful through a lack of planning.
In our
bathroom organization guide
, we wrote out the detailed process that anyone can follow to really bring order to the chaos of their bathroom. Check it out for yourself. To summarize, though, there are a few basic steps:
Purging (getting rid of what you don't need)

Prioritizing (what do you need your bathroom to enable?)

Zoning (structuring your storage system around different activities and needs)

Creativity (thinking outside the box!)
2. How do I maximize limited bathroom space?
It's an unfortunate fact that too many bathrooms (especially those built today) just aren't as big as we'd like. It would be fantastic if we could all fit a full shower and full bath...with plenty of room left for a trough-style sink and massive wall vanity. Of course, that's simply not the case.
That being said, there's no doubt you can make a smaller space work. It's all about working in some creativity—AND being strict about eliminating clutter. We went over the basics of making a small bathroom work a while back—
try reading what we came up with.
3. What are the best bathroom storage containers and accessories?
Bathroom design is a full-blown industry. Perhaps that should be no surprise, given just how many possibilities you have to choose from.
When it comes to considering storage accessories for your bathroom, the list is massive. Racks are always popular: both those that sit on the back of the door and those that rest on the floor. Also worth considering are wall-mounted accessories: extra shelves, hanging baskets, and vanity mirrors can work absolute marvels as far as opening up your space. For a more complete list of ideas, just try
this absolutely gorgeous list from HGTV
.
Just keep in mind: not everything has to be strictly functional. When it comes to making a bathroom feel livable, you'll want to add a few touches of flair and personality. That's what makes it feel like an extension of the rest of your home.
4. What should I be storing in my bathroom?
Talk about an important question.
Whenever we're talking about organization, it can be easy to get totally caught up in solving the problem immediately at hand...without actually considering if we need to fit
everything
in the room.
Towels are a perfect example: they take up so much space...but how many do you really use on any given day? If you have a spare closet, consider moving the majority of your towels there...and maybe breaking them all out if you have company.
Beyond towels, it's actually great to have something you might consider an "overflow" closet, as a general rule. If you can put your cleaning supplies there, for example, then you can actually save space in the bathroom
and
the kitchen. Talk about efficiency.
5. How can I get custom bathroom shelving?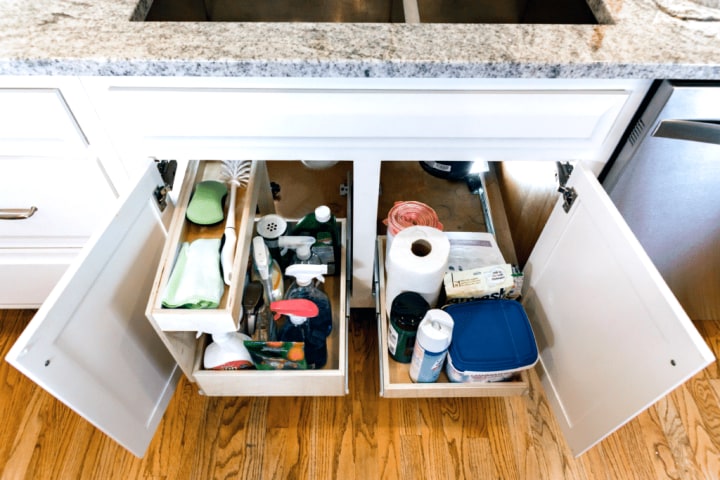 One of the best possible ways to make a bathroom more livable is to maximize what you're able to fit in those cabinets and shelves. With that aim, off-the-rack options often simply won't do. All those clunky, boxy shelves end up wasting a whole lot of space.
So it's no wonder that this is one of the most common questions about bathroom organization on the internet when it comes to bathroom storage.
To find a good supplier, you'll want to keep in mind a few key factors:
Reliability

Ease of use

Time to install

and Cost
ShelfGenie is a perfect example of a company that provides all four. Over the last few years, we've built an unrivaled reputation all around North America for custom shelving solutions that completely transform our customer's lives.
The best part about ShelfGenie? It's such a trusted, well-documented option. We're proud of our thousands of online reviews, and the countless success stories we've been a part of.
6. How much does custom bathroom shelving cost?
Custom shelving, unlike something you buy off the rack, ranges considerably in price.
Factors to consider include placement, material, timeline, and financing options. Luckily, our expert design team at ShelfGenie can easily give you a price estimation along with a custom design plan, all
completely free of charge.
Just book a call today to get started.
Let a ShelfGenie Expert Answer All Your Questions About Bathroom Organization
Our professional design experts have been solving problems of bathroom storage for years—at this point, we've just about seen it all. Our
before and after photos
are often extraordinary, with customers left surprised at just how impressive the change can be.