Many homeowners are looking to add value and space to their homes, and one of the best ways to accomplish that is through custom built-ins like bookcases, cabinets, and shelving systems. You can add these to any room in your house for an immediate increase in value and expanded storage space. If you're curious about custom built-ins, then keep reading. We're sharing everything you need to know about this design solution.
The Benefits of Custom Built-Ins
There are several benefits to adding custom built-ins to your home. They can add value to your home, especially if this is a trending amenity in your area.
They also make your life easier and more enjoyable. If you have areas of your home that are tight or awkward, a custom built-in cabinet can give you extra space you never thought possible.
How Do You Get Custom Built-ins?
Custom built-ins can be installed by a professional, or you can do it yourself. The most important part of adding them to a room is to plan everything out beforehand.
The Design Process
Before installing your custom built-ins, you need to design and thoroughly think through what you want. Here are some things to consider when planning out your cabinets and shelves.
Know Your Measurements
For custom cabinets to be a success, you need to have exact measurements of the area you're working with. On top of that, you need to accurately plan out the height, depth, and width of the custom built-ins you want.
Understand the Structure of Your Home
There may be an area of your house that you think built-in cabinets would be perfect for, but do your research first. Depending on how your home was constructed, and the location of wall studs, certain areas might not be ideal for installing custom built-ins.
Choose Your Materials
Plan out the materials you want and need before getting started. Understand your options and think about which type of wood, finish, and hardware will give you the results you want. Make sure to shop around and ask questions to get to know your choices.
DIY
Built-in cabinets are a popular DIY project for handy homeowners. As long as you do your homework and have all the suitable materials and measurements, it's just a matter of putting it all together accurately and safely.
This option is also an affordable way to get the storage space you dream of. Be realistic about the amount of work that goes into it, especially if you're new to these types of projects. Keeping track of all the measurements and designing a proper built-in on your own could be more time and effort than you intend.
Contractor
A good carpenter or contractor will be able to help you design your built-in cabinets and professionally install them. Working with an expert can ensure you get the project done promptly and safely. This can save you a lot of time and overwhelm compared to doing it yourself.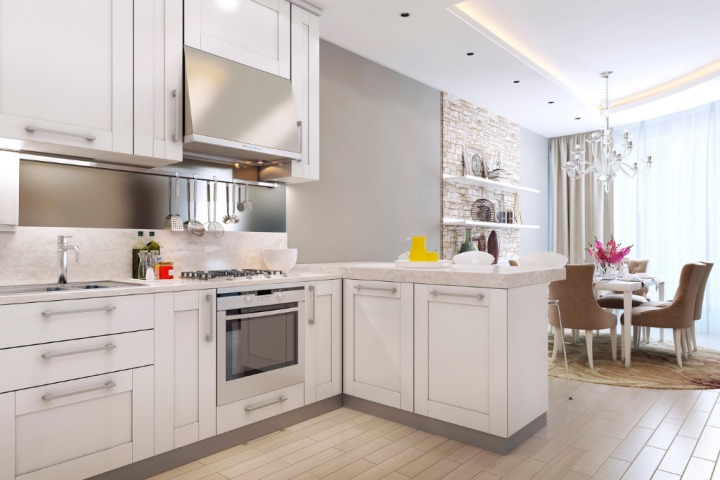 How Much Do Custom Built-ins Cost?
The cost of built-in cabinets can vary since they are customized to fit your unique living space and needs. Several factors go into the overall price you pay for custom built-ins, which include:
Design
If you choose to work with a professional designer or carpenter, you'll need to pay for their help designing. They work with you from beginning to end, which includes making sure you get a custom built-in that makes the most sense for your space.
Project Size
Custom built-ins don't have to be massive projects. Some homeowners just get smaller installations like custom bookshelves or shoe racks. So the size of your project will significantly impact the cost. An expansive entertainment center or ample dining room storage will cost a lot more than a smaller built-in.
Labor
When you get built-in cabinets installed by a professional, you will have to pay for labor costs. Carpenters often charge more than other types of laborers, and you can expect an hourly rate of around $50 to $100 per hour depending on where you live.
Materials
The type of material you use to construct your custom built-ins also plays a considerable role in the cost. Natural hardwoods are some of the best materials you can use, but they don't come cheap. For instance, cherry wood costs around $7.00 per square foot on average, and walnut is around $7.45.
Softer woods like pine and poplar are more affordable, ranging between $1.95 and $2.30 per square foot. Keep in mind that softer woods are more prone to getting dents and scratches.
Finish
The finish you choose can range from inexpensive to costly. It just depends on what you want. A clear coat finish is the most budget-friendly option compared to painting or staining. The size of your built-in cabinets and the material you used can affect this too.
Staining and painting would be less expensive on smaller pieces, or if you chose to work with pine. Applying the finish to custom built-ins yourself can also save you a lot of money.
Accessories
You can't forget about the accessories of your built-in cabinets. These include details like lights, handles, knobs, glass, and hinges. Depending on the design you're after, this area can get pricey.
Maximize the Space of Your Custom Built-ins
Get even more storage space and organization out of custom built-ins by investing in gliding shelves by ShelfGenie. Our custom Glide-Out shelves add an even more tailored feel to your home because they are customized to fit your space, lifestyle and budget.
If you're ready to start exploring built-in cabinet solutions for your house,
contact us for your free design consultation
.