Are you wondering how to make a small kitchen look bigger—as in your small kitchen?Converting a small space into an aesthetically pleasing and very functional space can be quite a challenge, especially when it comes to your kitchen with all its appliances, cookware, and other contents. Luckily, there are a number of ways to achieve the illusion of more space. If you're looking to learn how to make a small kitchen look bigger, then this article is for you. Read on to learn more about giving any tiny kitchen a big feel.
How to Make a Small Kitchen Look Bigger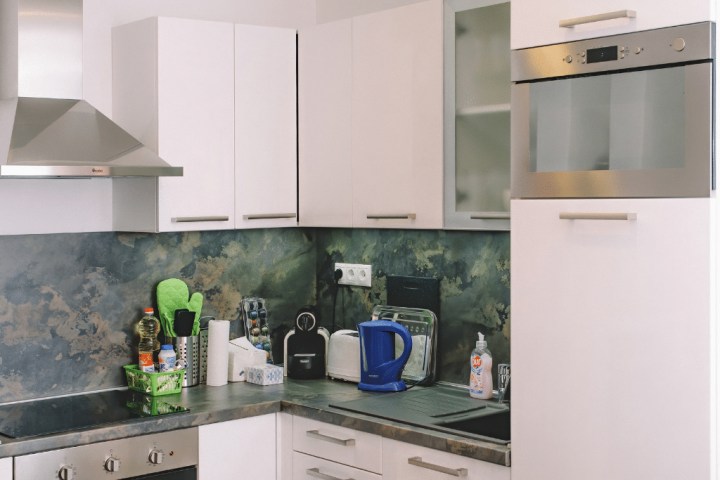 Small kitchens are far more common than most people realize, despite what we see in movies, tv, and magazines. When it comes to making your small kitchen appear as a wide-open space, it all comes down to a few constant variables—lighting, colors, patterns, and surface area.
Here are a few ways to make a small kitchen feel bigger:
Choose Lighter Colors
Lighter colors, especially white, give the illusion of a bigger space. This is because light colors are much more reflective than dark colors. They tend to make a kitchen look bigger and brighter. They may even give it a more natural and airy feel.
When it comes to light colors you're not only limited to white. Pale blues, yellows, and greens work just as well. It also doesn't mean you can't have dark-colored kitchen appliances—although we wouldn't suggest going overboard with contrast. (We'll talk more about that in a bit!)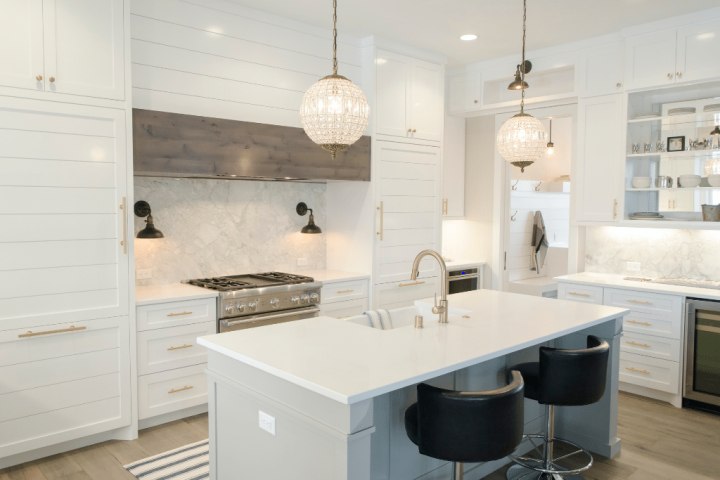 Depending on the pattern, lines can stretch your kitchen out horizontally or even vertically. You can create these line patterns using your cabinetry, tiling, and flooring. You may even use the rest of your decor to make a tiny kitchen look bigger.
For example, the addition of a kitchen island and subway tile lines can give your kitchen the illusion of being much taller and longer.
Use Reflective Materials and Surfaces
In case you didn't already know this, reflective materials, like mirrors, can make a tiny space appear larger. Think about how much bigger reflective materials and surfaces make bathrooms look—then apply that to your kitchen.
Of course, you don't need to install mirrors in your kitchen. Stick to the reflective surfaces and materials that match the overall intended color scheme and design.
Install Glass-Paneled Cabinetry
Another great way to make a small kitchen look bigger is by installing glass-paneled cabinets. Glass-paneled cabinets can really expand your kitchen's visual path since it's both transparent and reflective. Plus, it allows you to display your dishes and cookware, adding more depth to your kitchen walls.
Of course, if you're unable to swap out your kitchen cabinets, you can also swap in some clear chairs or glass pendant lighting.
Get Rid of the Clutter
If you want to make a tiny kitchen look bigger, then the objective is to keep as many sightlines open as possible. That means clearing any and all clutter off your countertops.
There are tons of
efficient solutions
to storing your kitchen clutter, from utensils to cookware and beyond. For example, you can find an area to hang up your pots, pans, and ladles, install a knife drawer
or
hang your knives up using a magnetic wall strip.
Minimize Shadows
The more shadows your kitchen has, the smaller it will look. To ward off the shadows and make a kitchen look bigger and brighter, the solution is to add
more
lighting.
Lights can be added virtually anywhere, for example beneath your cabinetry. Or, if you're going with glass-paneled cabinetry, you can add lights to the inside to add more depth and illuminate your dishware.
Stow Your Appliances
Typically, appliances such as toasters, blenders, coffee makers, and so on take up residency on kitchen countertops. However, with small kitchens, it's better to find ways to stow your appliances rather than leaving them out so that your visual pathways led by line patterns and reflective surfaces remain uninterrupted.
Stowing kitchen appliances is easy if you have cabinetry paneling below your countertops that aren't already overflowing with cookware and other contents. (That's usually where under-the-sink
storage
comes in handy.)
Avoid Contrasting Colors
Remember, shadows minimize already small spaces. Additionally, shadows aren't only created by the absence of lights but also by contrasting colors.
Make sure that you're not using a contrasting color scheme among your tiling, countertops, cabinetry, backsplash, and even your flooring for uninterrupted visual lines. Of course, it's okay to have a few accent colors, such as wooden trim around your windows or a black oven and stovetop—accent being the operative word.
The last thing you want is to go overboard with completely contrasting appliances, since the dark versus light colors will force the eyes to jump around, minimizing the all-over space.
Opt for an Undermount Sink
For a seamless view, you're going to want to opt for an undermount sink. An undermount sink sits below the surface of your countertop rather than above, contributing to a clean visual pathway that's easy on the eyes.
In addition to an undermount sink, it's a good idea to opt for a single-bowl sink to physically create more countertop space.
Use Open-Shelving
If you decide to forego the glass-paneling cabinetry, another way to make a small kitchen feel bigger is by using open-shelving. Of course, open shelving is also great in combination with the cabinetry you've already got installed.
Open shelving is another way to create unobstructed visual pathways, making your kitchen appear larger.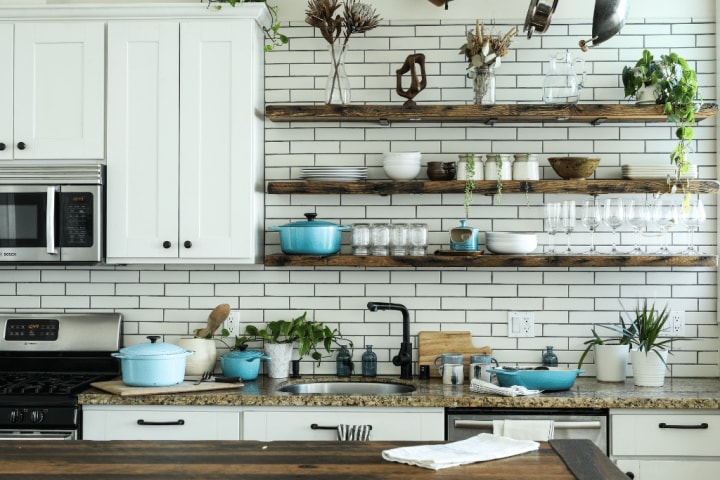 Choose Slimmer Furniture
To make a small kitchen feel bigger, furniture may not be the first thing that comes to mind since it's something that takes up space. However, choosing pieces that are slim-lined versus chunky and wide can really make a big difference.
Think in terms of small barstools, tall thin chairs, a compact kitchen island, etc.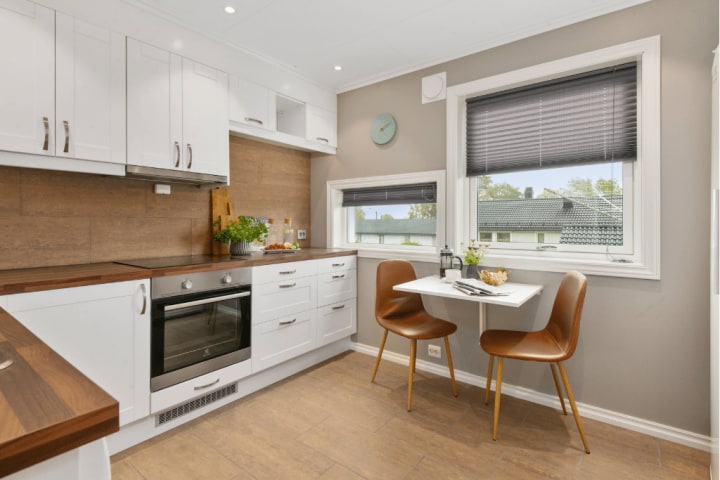 Think About Your Flooring
Much like line patterns, clever flooring patterns can open up your kitchen space a great deal. You can make a narrow kitchen appear longer by using flooring boards that run parallel with the length of your kitchen. You may also try using flooring tiles that run the width of your kitchen can widen its appearance.
Learning How to Make a Small Kitchen Look Bigger
Figuring out how to make a small kitchen look bigger is the easy part. It's deciding on which options are the best fit for your kitchen specifically, without going overboard that's difficult. Remember to keep it light and simple, focusing on clean lines and lots of light.
When you're ready to make larger-than-life improvements in your small kitchen, we've got all the solutions.
Contact us
today and schedule an in-home consultation to get started on creating a space you'll love for all the right reasons.