Do you often wonder how to make a small room look bigger? If you live in a small home, this is probably the greatest conundrum you face in terms of design. Given the high rise in homeownership costs, every square foot and inch is precious. While striving for a bigger home is smart, you can explore numerous décor ideas to make any room look bigger.That's right. Never underestimate the power of interior decoration when it comes to creating the illusion of spaciousness.
How to make a small room look bigger
Allow us to walk you through 12 amazing ideas to make a small room look bigger. Don't worry; you won't have to spend a ton of money to pull off these fabulous tricks.
1. Create depth with dark or light color palettes
Most homeowners don't realize that medium-toned shades make rooms appear much smaller. On the other hand, rich dark wall paints, or even light drapes and bright white paint, create depth and spaciousness. You can either choose a dark color palette or work with light colors to make a room look bigger.
2. Invest in multi-functional furniture to sneak in storage space
If you're still buying furniture for your home, this is a great strategy to increase storage space and prevent cluttering. You can create a built-in window seat with storage space for all your winter clothes, books, or shoes. Ottomans with sneaky storage spaces are all the rage on Instagram, and you can explore more unique ideas as well.
3. Floor-to-ceiling curtains can make a small room look bigger
How to make a small room feel bigger without overspending? Just hang floor-to-ceiling curtains. They create a dramatic effect with their floor-sweeping charm. How will this help make a room look bigger? It will make the ceiling appear much higher and add more height to the room. You can easily scoop up some charming and affordable floor-to-ceiling curtains from IKEA or Home Depot.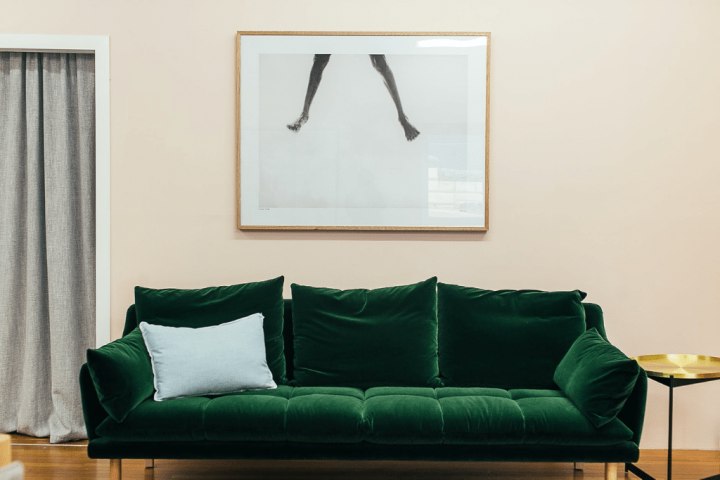 4. Choose large decorative pieces and ornaments
Small decorative items, frames, and memorabilia create a cluttered-looking environment, making the room appear smaller. Here's a simple trick to make a room look bigger: apply symmetry and the triangle rule while decorating surfaces. Be it a nightstand, dining table, coffee table, or dresser top, avoid cluttering up decorative pieces.
Instead of several tiny decoration pieces, define the décor with a few large and powerful ornaments. Also, avoid decorating all the surfaces in the room. Bare spaces are essential to maintain a neutral aesthetic and avoid crowding, which makes a room appear much smaller. Adding a few large décor pieces will instantly make your room look bigger.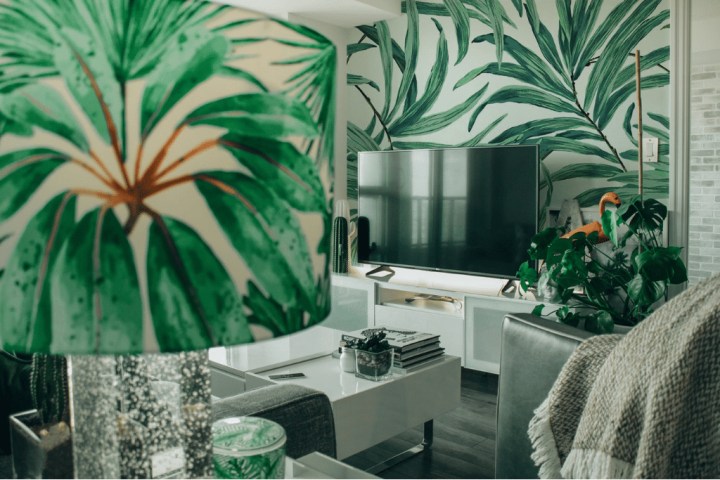 5. Hang up large pieces of art
If you're an art lover, this is the best trick to personalize your space and make a room look bigger. But, how to make a small room feel bigger by hanging up some wall art? The keys to achieving that illusion are size and placement.
It is advisable to pick out one or two large pieces that will dominate the aesthetic profile and create a powerful accent. If you like the chaos of graphic imagery blended with personal photographs, go ahead and create a gallery wall. However, be sure to limit this project to one wall and pair up smaller pieces, medium-sized and larger frames.
6. Spread the light can make a small room look bigger
Just using one overhead light can often plunge a room into darkness, making it appear much smaller and cluttered. Spreading the light with multiple bulbs and lamps can create the illusion of spaciousness.
More importantly, it will give the room an expansive vibe by shedding light on every nook and cranny. It is best to use natural sunlight during the day, so just draw the curtains and let in some sunshine.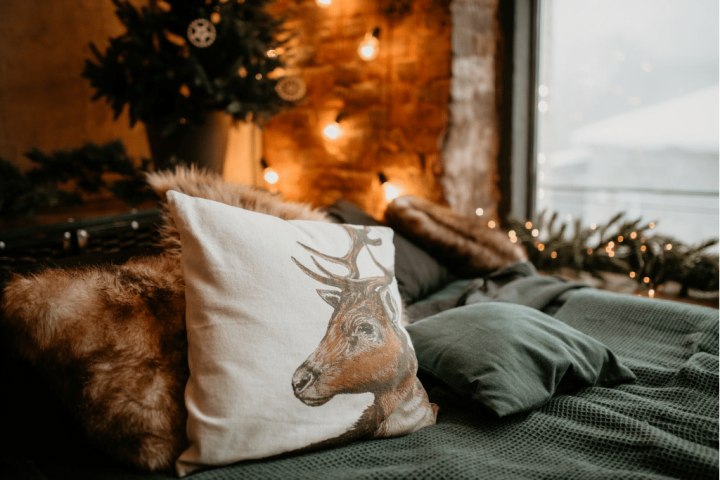 7. Add rich color tones and textures that pop
Dark color tones and rich textures are a great strategy to make a room look bigger. We recommend playing around with textures. Think pillows, rugs, and blankets to define your face. Try to explore eye-catching designs with vibrant color play and geometric art. Afghan Kilims and Persian rugs have a timeless charm, but you can also explore contemporary designs.
Another great idea is to add rich textures with dark-toned pillow covers, sofa covers, and even tapestries. Rugs and dark tapestries will create the illusion of extra square footage!
8. Pick out large pieces of furniture
Instead of creating an elaborate seating arrangement with multiple chairs and sofas, pick out one large statement piece. A large piece of furniture that delivers comfort and style will make a room look bigger and expansive.
How to make a small room feel bigger by rearranging furniture? For a bedroom, try trading up to a king-sized bed. It may seem odd, but a king-sized bed will make the room look bigger by adding more depth.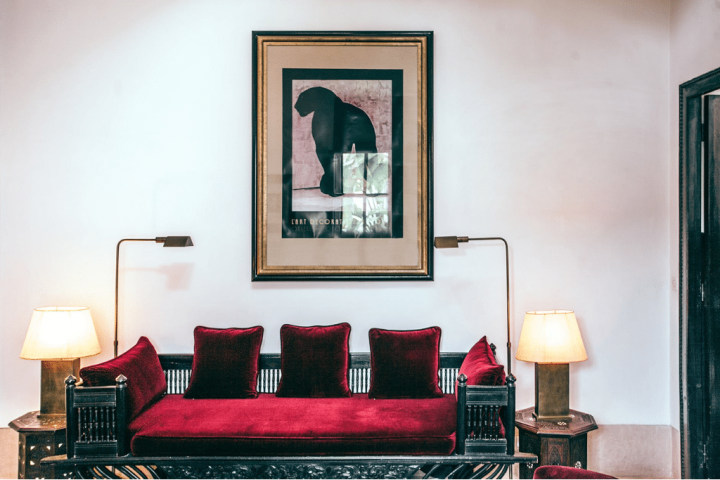 9. Buy sofas and chairs with exposed legs
Furniture pieces with exposed legs make a room look bigger by keeping more of the floor visible and creating an open ambiance. Beds, sofas, and chairs featuring skirts create a boxy and closed appeal. However, furniture pieces with exposed legs give the illusion of more space.
10. Hang up some mirrors will help make a small room look bigger
Mirrors bring in more natural light to make a space look expansive and create the illusion of spaciousness. How to make a small space look bigger without rearranging the furniture or changing the color or décor? Just hang up some large and small mirrors around the room.
Multiple mirrors will allow more light to bounce from the windows, making the room look
spacious
. Be sure to hang up a larger mirror on a dark wall or one that doesn't attract much light.
11. Declutter
Clutter and junk make a space look overcrowded and cramped. If your racks, shelves, and room surfaces are brimming with items and decorations, the room will feel overfull. It is crucial to undertake a decluttering mission every six months or so.
It will help you create a healthy and harmonious space alongside a sustainable lifestyle.
Declutter
your cabinets, drawers, closets, and all surfaces to make a room look bigger.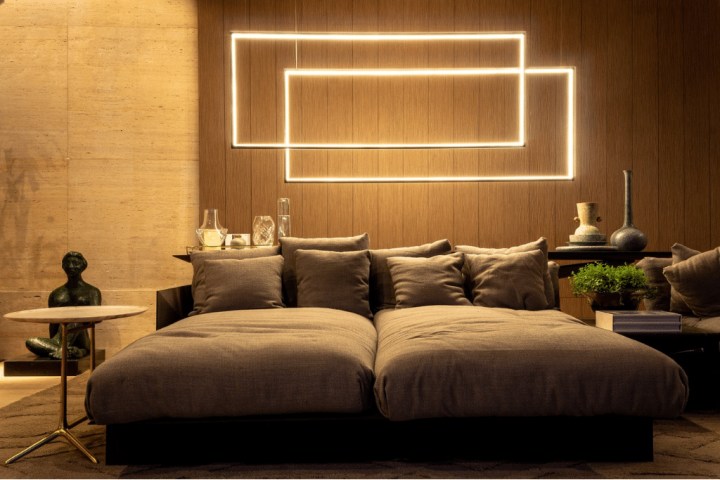 12. Add some clever storage spaces
Floating wooden shelves and built-in cabinets create a charming aesthetic profile and sneak in clever storage spaces. Shelves are a great way to
maximize storage space in your bathroom
and prevent surface clutter.
Do You Agree that Making A Small Room Look Bigger is an Art Form?
With a few small changes, it's not that difficult to make a room look bigger and more spacious. Adding a large mirror, a few large pieces of art, some family photographs, and a statement furniture piece can work wonders. We strongly recommend adding large mirrors to allow light to bounce off and create the illusion of extra square footage. Which of the ideas are you most excited to try out?
When you're ready to make larger-than-life improvements in your home, we've got all the solutions.
Contact us
today and schedule an in-home consultation to get started on creating a space you'll love for all the right reasons.