Kitchen design is a fascinating topic. There are so many factors at play, so many small decisions that can impact the overall result. Storage, cooking space, room to socialize...there's plenty of considerations that need to be weighed when laying out and structuring a kitchen. Naturally, the result for most of us is that we make concessions one way or another: trading our dream spice rack, say, for more room to store our pots & pans along the wall. Whatever the decisions, though, we'd hope that the end result is a kitchen that doesn't just fulfill our bare-minimum requirements...but rather elevates our day-to-day lives. In a perfect world, our kitchen would be a source of pride and joy.
Kitchen Design Inspirations We Love
When you're looking to reconsider your kitchen space, it's good to take in all the inspiration possible. We all have pre-set ideas in our heads of what a kitchen ought to look like...but too often that unconscious bias can stop us from considering a few truly exciting ideas.
Here we've collected exactly what you need to spur your kitchen design creativity: the best inspiration we could find from all around the web.
1. Island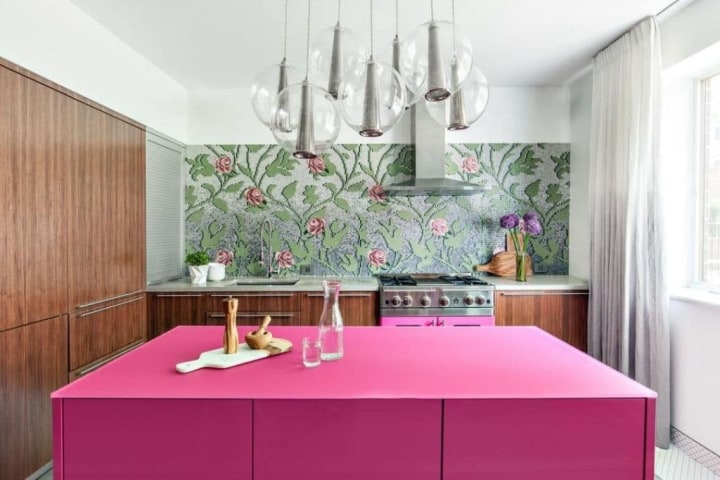 In the option above, you see how a splash of color on the island brings energy to the space around it.
Below, you have other possibilities for the island: more utilitarian, with features like a sink and extra storage space.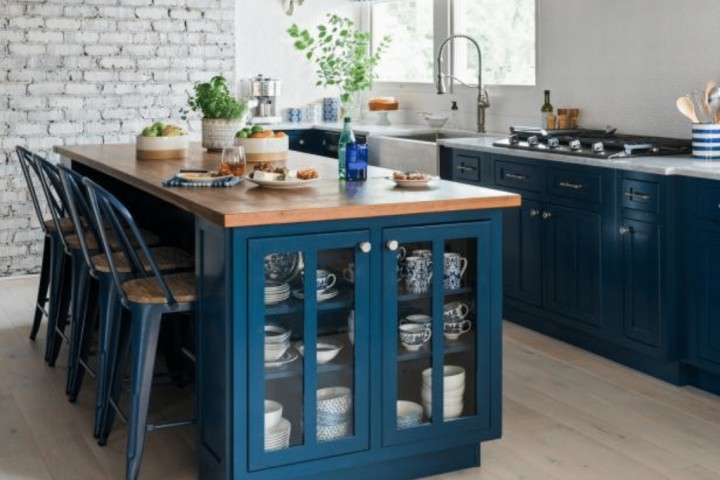 2. Custom Shelving as Kitchen Design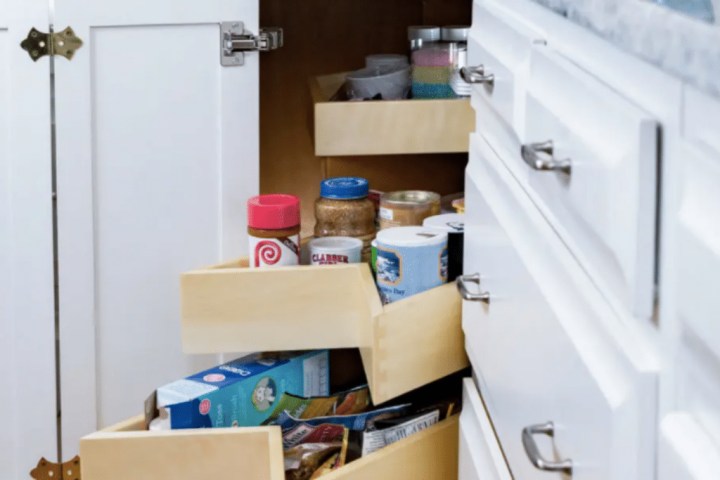 In any kitchen, there seem to be corners, nooks, and crannies where nothing seems to fit at all. Spaces that just don't accommodate all the beautiful things we'd like to fit inside our kitchen.
Enter custom shelving, and the marvelous ways it can extend our usable space. In the example above, you see how a custom-built shelf turns a small corner into an extra storage opportunity for pots and pans. The good news, in this case, the only real limitations to what's possible is what you can imagine.
3. Sort Out Those Pots & Pans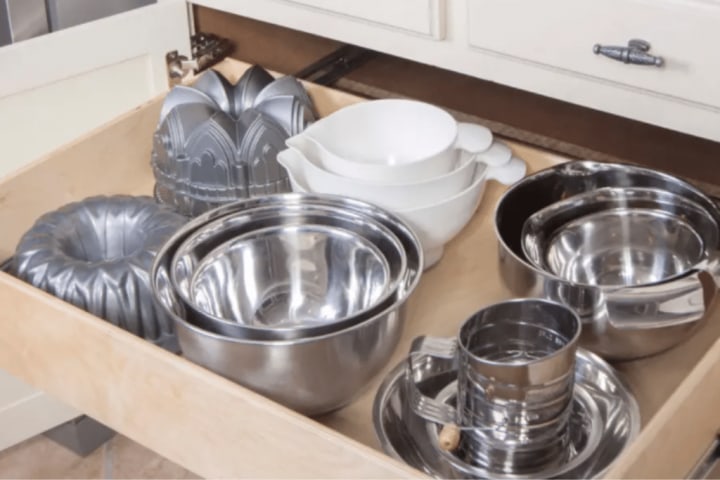 Pots and pans are a two-headed beast: on the one hand, as a chef, they're your best friend: your trusted ally in nearly every dish you'll make. On the other hand, they're forever cluttering up even the cleanest of kitchens. After you wash, they stack up on the counter...and they never seem to quite fit perfectly into pre-built cabinets.
That's where slide-out shelves can really make a difference. It's incredible how much easier it can be to go looking for the perfect sized pot for your upcoming pasta dish when you're able to simply slide out the entire pot drawer and see it all before your eyes.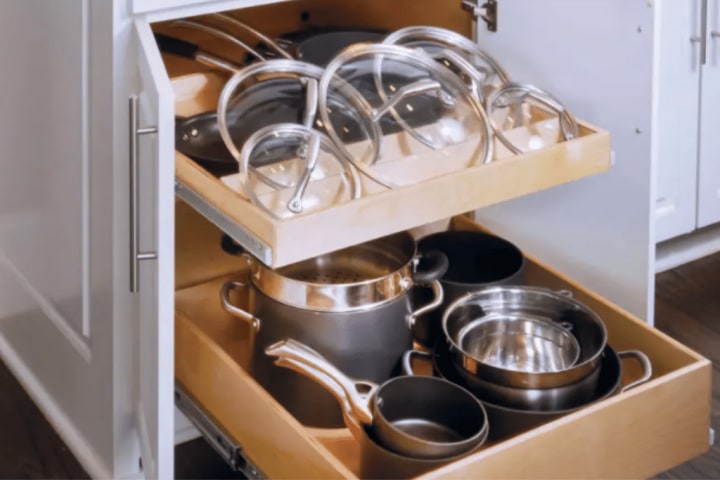 4. Utility Closets Galore for Kitchen Design? Why not?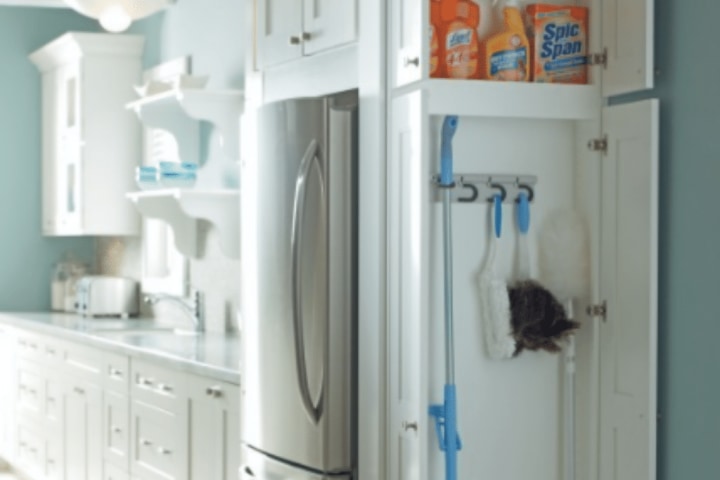 Sure, it's not possible in every house. But any kitchen could be made better with a nicely designed utility closet. Imagine being able to separate your cleaning supplies completely from the things you cook with...without having to trudge across the entire house whenever you want to wipe down the floor.
5. Store Your Cleaning Supplies Beautifully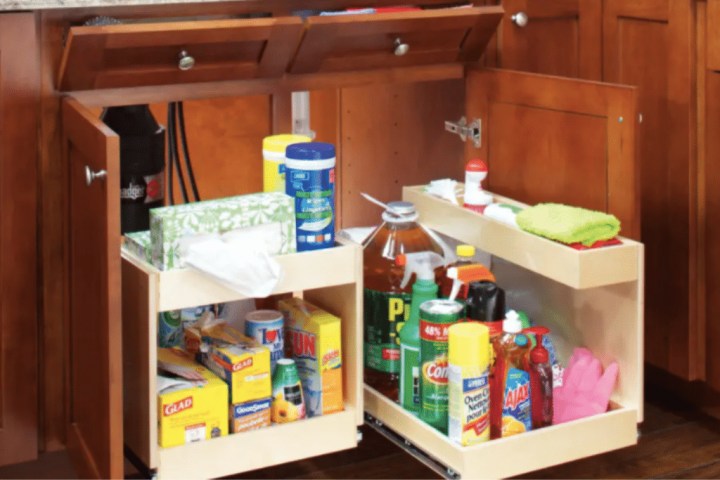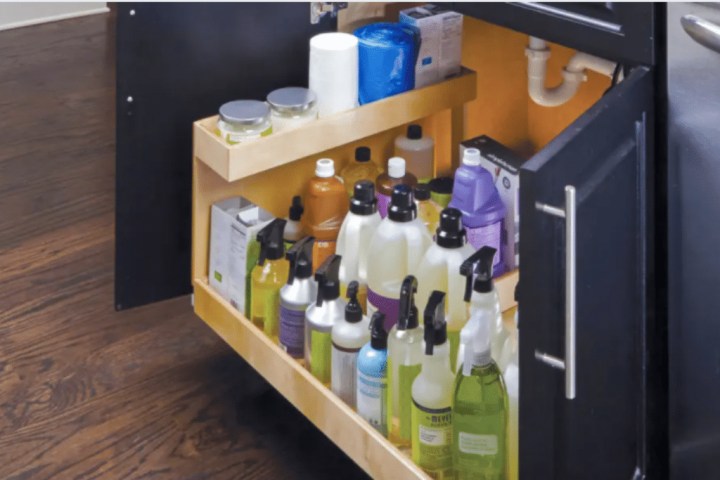 Speaking of cleaning supplies…
Of course, a utility closet isn't the only option (although they are gorgeous). And if you're looking to store your supplies in the classic spot under the sink —
without an unruly mess
— here's yet another use for glide-out shelving. You can have all your sponges, wipes, cleaning products, et al, available immediately within your grasp.
6. Bold Colors Baby as Part of Kitchen Design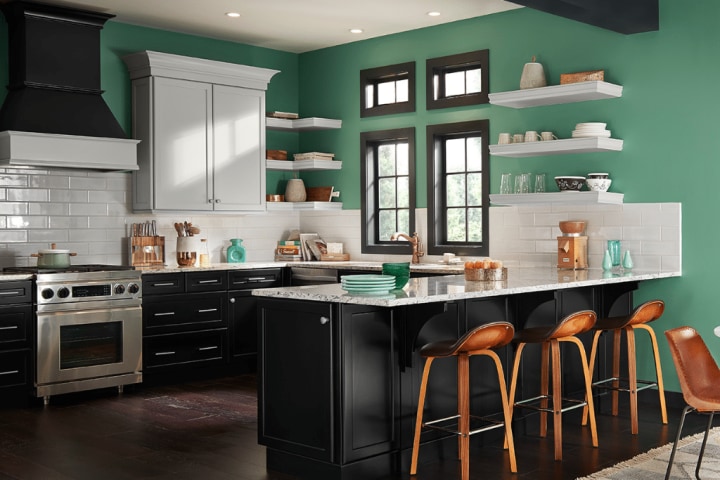 If any space in your house calls for a chance to open up your Pantone color book, it must be the kitchen. The wrong colors are dangerous—they can make the space feel strange and even unappetizing. The right colors, though, could bring your space to the next level—offering a new dimension of comfort, calm, or even excitement.
Remember, though, that while the colors may be bold, it often makes sense to keep them on the cooler side as well. A nice confident blue or purple suits the calm, cozy energy of the kitchen very well.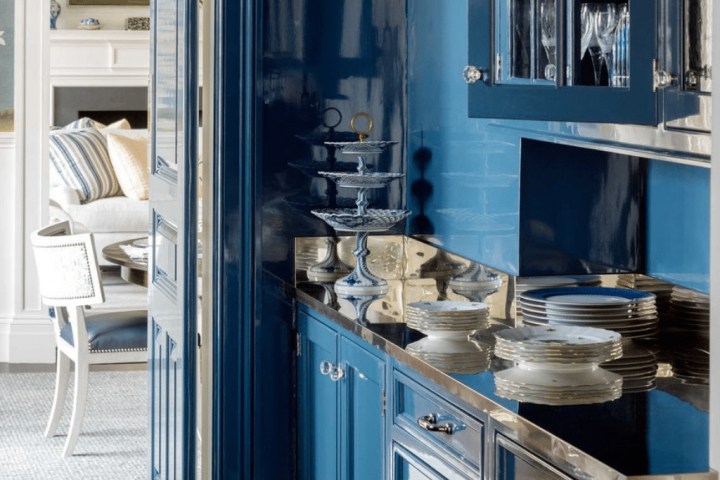 7. Spicing Up The Spice Racks
When it comes to great design, sometimes it's all about the smaller touches. A kitchen spice rack is a perfect example. Is it the most important piece of your set-up? No, of course not. But there's no doubt that a well-designed option can make a gigantic difference to the overall impression of your kitchen.
Consider the examples here. Above you can see how a labeling system and over-the-counter racks make for a gorgeous option. Below, something a little more unconventional: a spice cupboard hidden behind a work of art.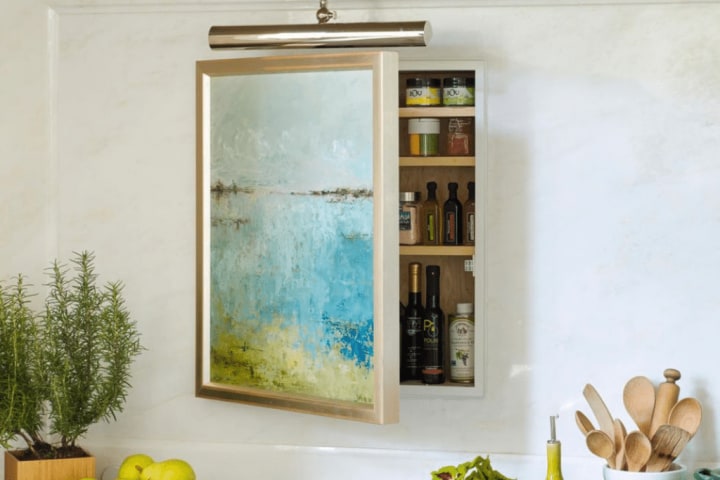 Need some kitchen design inspiration? Check out
ShelGenie Solution
and be sure to
schedule a FREE, no-obligation, custom design consultation.