One quick way to remodel your home to an open plan structure is to have the right kitchen extension ideas. Then you can design a simple plan to create a multifunctional and inviting living space for socializing, lounging, and dining. Kitchens today breathe life and energy into a house. With many remodeling projects, homeowners are choosing to showcase their kitchens as a focal point of their homes. An open-plan interior design does a lot to maximize space and transform small homes into modern living rooms.
Thinking of a kitchen extension to improve your home?
Check out some of our kitchen extension ideas below.
1) Connect it to the outdoor areas
Some of the most spectacular views can be seen right from our backyards. A simple way to open up your kitchen space is by adding glass doors so that it creates a seamless indoor to outdoor transition. Glass doors bring in a lot of natural light and unobstructed views of the surroundings around the home Floor to ceiling glass doors and windows create a connection between a home and its exterior, combining it into one beautiful setting.
2) Optimize your dining area for a social setting
Since the pandemic, home gatherings and parties have begun to gain popularity, and it seems that they are here to stay. In this space, the goal is to place the dining and cooking area close to the living room, so seating areas are abundant. This helps to optimize the home for a social setting, especially for large groups of people. Guests can choose to lounge in the living room after a hearty meal, and hosts can continue to socialize with their guests even when cooking and cleaning.
3) Open up the space in other rooms
Who says that an open plan only works for the kitchen? Born out of necessity rather than a trend, the effortlessly stylish New York-inspired loft design has made its way to large and small homes where homeowners can explore harsh fixtures and create the idea of a bigger, more elevated space. This loft utilizes all corners of the house, building a second level to accommodate the workspace and bedroom. With the private rooms on the upper floor, the kitchen and living area can be expanded to take up the entire floor plan, thus allowing for more room to move about.
4) Add a splash of color to bring focus to your kitchen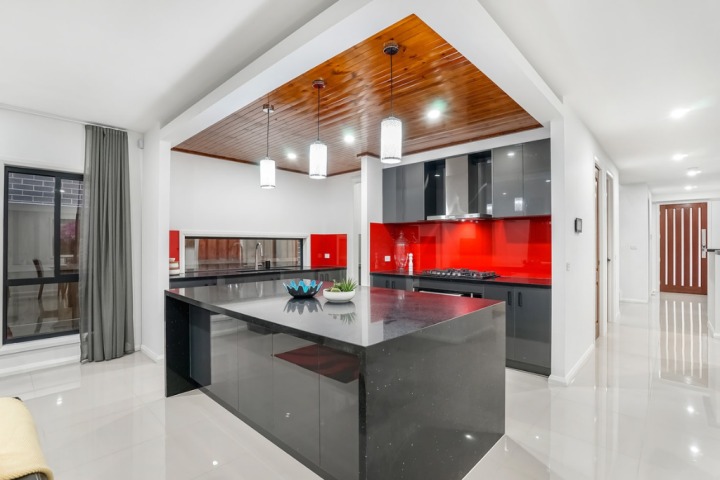 Traditional interior design liked to tuck away the kitchen and pantry areas because of the mess. Today, kitchens are not thought to be 'messy'. Rather, they breathe life into every house and transform it into a home with character. Many homeowners now choose to have their kitchen as a focal point rather than a hidden aspect of their house. That is also where the kitchen extension plan comes in. The goal of the kitchen extension is to open up the room so that the stunning design is always visible from any corner of the house. You can do this by adding bold colors and experimenting with custom-made fixtures.
5) Get inspired by your favorite weekend vacation resort
We are probably always dreaming about our next beach getaway, now more than ever. This resort-inspired home uses landscaping, a pool, and glass doors to recreate a luxury resort setting. When redesigning your kitchen, it is crucial to consider how you want your home to look and feel, especially since this is a space that you spend most of your time in. Homeowners love to model spaces that reflect their interests, passions, and personalities by playing with materials, color, and design.
6) Create a cozy space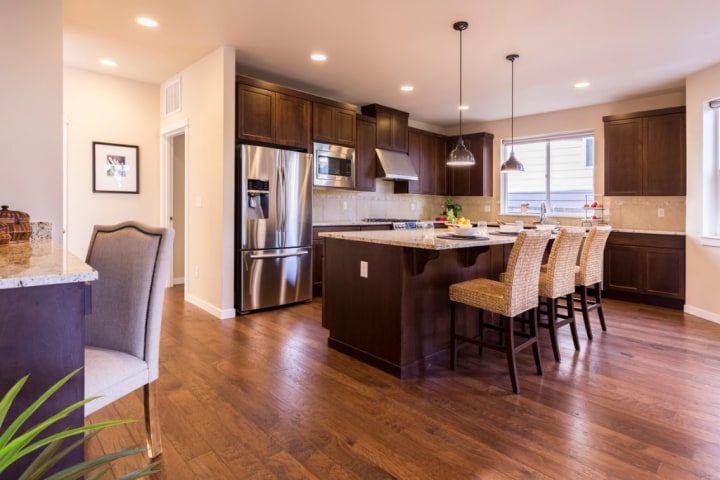 Being confined to our homes for the past year has brought about the realization of the need to have a comfortable, aesthetically pleasing, and functional home. While minimalist and sleek home design trends have taken the stage pre-pandemic, many homes revamp are seeing the incorporation of nostalgic flairs, such as through cozy, warm kitchens. This open floor plan home appreciates the use of traditional wood elements and warm light throughout the house, while also incorporating more recent design trends like an island and smart fridge.
7) Sometimes, less is more
More people are turning to industrial design homes because of the raw simplicity and charm of a seemingly 'incomplete' home. Industrial homes, inspired by warehouses and old office design, allow homeowners to combine modernity with age-old structures and materials. In this kitchen, the rustic cement floor and unrefined wooden table boast a nostalgic flair. Paired with the lighting fixtures and sleek shelves, these traditional elements are given a fresh new perspective. Kitchen extensions are a great way to create an industrial home, sort of mimicking the look of a large factory, by opening up the other areas of the house.
8) Explore materials and textures
Playing around with materials and textures gives the kitchen a unique look and feel, along with making the space functional. They provide balance to the kitchen and allow for a more experiential design. This contemporary kitchen design uses herringbone flooring for an interesting texture. Furthermore, the combination of unrefined wooden shelves is paired with glass doors to showcase beautiful kitchenware. Lastly, a dramatic marble countertop is a popular element of many modern homes and gives the kitchen a special touch.
9) Don't be afraid to mix and match
The reinvention of the modern kitchen reflects the owner's personality and eye for design. Do not be afraid to mix and match colors, materials, and themes in one space. The great thing about having an extended kitchen is that it gives you the right amount of breathable space to do so. At a glance, this kitchen uses four main colors, blue, grey, brown, and white, to zone different areas of the kitchen. For instance, the blue cabinet is for storage, the white countertop is for dining, and the grey areas are for cooking and storing kitchen essentials. Modern interior design aims to create nonverbal communication this way, further enhancing the concept of living and smart homes.
10) Utilize the abundance of space
It is not how much space you have, but more what you do with the space that matters. Kitchen extensions increase your usable space by a great deal, and with the right storage layout, there will never be a need to cram all your utensils and cookware in one cabinet. This kitchen utilizes long drawers and ceiling cabinets, essentially all available space, to make room.
11) Let the light in
When buying a family home, natural light is one of the top factors that buyers look for. That being said, there is a multitude of ways you can enhance the natural lighting in your kitchen and the rest of your house. Daylight exposure has been proven to improve health, mental wellbeing, and moods. Not to mention, it is absolutely beautiful. To create the ideal living space, it can be beneficial to design a space that allows light in. This kitchen introduces natural light into the kitchen through large glass panel windows. Even with artificial lighting in the kitchen, the flood of daylight helps to enhance kitchen elements like the carpet and countertops.
12) Make sure you have sufficient storage space
Since the goal of a kitchen extension is to maximize space, it makes sense that the remodeling project has to account for sufficient storage space. The use of ceiling cabinets and island storage in this small kitchen is not just functional, but extremely pleasing to look at. This Japanese-inspired kitchen boasts minimalism and aesthetic design, made possible by the lack of clutter. With kitchen extensions, the idea is to combine the cooking space with the rest of the home, so having enough shelving in the kitchen doubles down as storage for the rest of the house. However, it can be challenging to find the exact dimensions right out of the showroom. A great kitchen extension idea would be to have shelving solutions custom-made to fit into odd-shaped corners and tight spaces.
13) Match the rest of the house
If you are running out of ideas for your kitchen extension remodeling project, why not take inspiration from yourself? With open-floor plans, living rooms, kitchens, and lounging areas are blended Optimization to form one whole area. Matching the themes of the house can create a seamless connection between spaces. In this home, the white and grey minimalist theme pairs well with the white walls and furniture in the dining area. Extending the theme from one room to the next ensures that there is harmony between rooms and minimizes the disruption inflow.
14) Do a half extension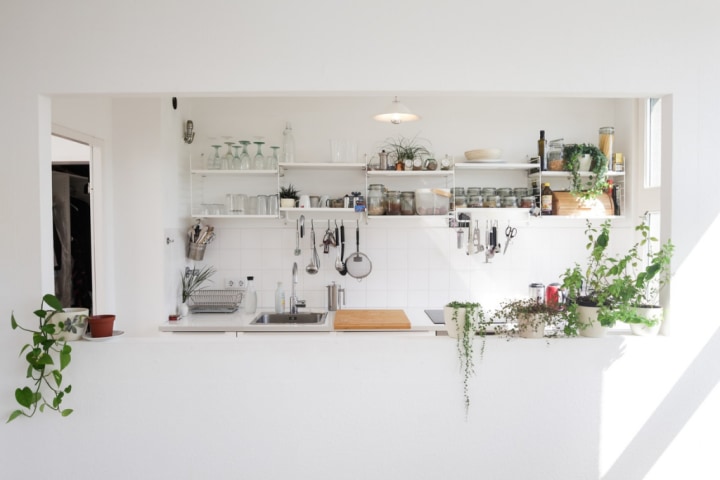 The beauty of kitchen extension ideas is that they are meant to be tailor-made to fit the needs and preferences of the homeowner. Perhaps, some individuals lean towards a more conservative and traditional approach to interior design and are second-guessing the open-floor concept. However, there is no need to follow popular home styles. Rather, it is about finding out what works best for you.
Some homeowners may be reconsidering a kitchen extension because they want to have a private enclave for cooking, or they do not want the smells to get out. Maybe they are afraid that the construction will be irreversible. This home smartly uses a half-extension by including a small window that looks into the kitchen, as opposed to knocking down an entire wall. If there is a change of mind in the coming years, it is also cheaper to rebuild and re-cement the space. Adding in beautiful custom shelves and kitchenware can help to create a picturesque view from the outside in.
15) Create a multipurpose space for gatherings
Especially in compact homes, space is key. With the way that different parts of life have unified together in the past year, the lines between work, home, and social life are blurring for many. Parents, workers, and students are finding themselves doing "double duty" at home, attending to work, school, and household chores at the same time. The way to combat this is by working with the architect to create an ergonomic environment that transforms chores into delightful experiences. When building a multipurpose space, one must factor in intuitive flow and comfort. Kitchen extensions are ideal for multipurpose spaces because they minimize restrictions and allow for more movement. In this kitchen, the extended island works as a place to conduct office hours, Zoom calls, family dinners, and entertaining guests.
Find the right custom solutions for your kitchen extension shelving
Getting your kitchen shelving right starts with correct usage analysis and design. Book a free design consultation now to meet with one of our expert designers for help. Custom kitchen shelving solutions can free up a lot of space and make way for more organized storage and improved accessibility. ShelfGenie offers custom-made storage solutions that are fit for every lifestyle, budget, and space.