If you have a multi-floor home, you may be wondering how to build and organize a pantry under your staircase. This unused, empty space is an ideal place to house your groceries, dinnerware or spare kitchen supplies if laid out properly.
Benefits of Repurposing Space Under the Stairs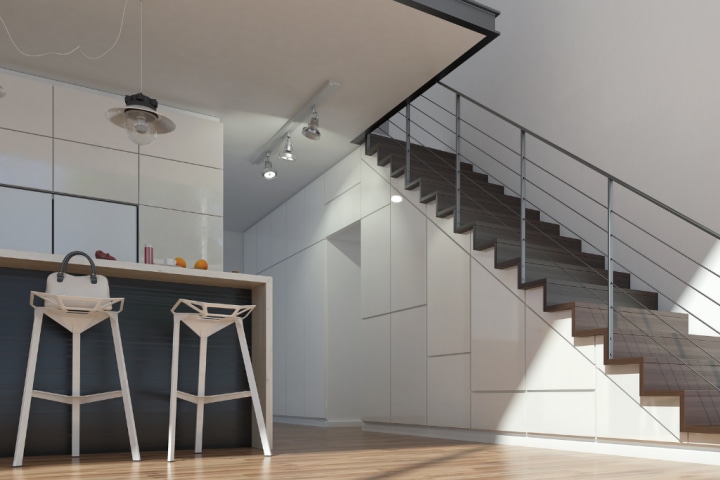 In many homes, the space underneath the staircase is untouched, unused and forgotten about. This wasted space can transform into so many things: a place to hang grocery bags, or out-of-the-way storage for bulky kitchen appliances or infrequently used cookware.
If you have a smaller kitchen, or one with little built-in storage, building a pantry under the staircase can double or triple your usable storage space.
Can You Install a Fridge or Freezer Underneath Your Staircase?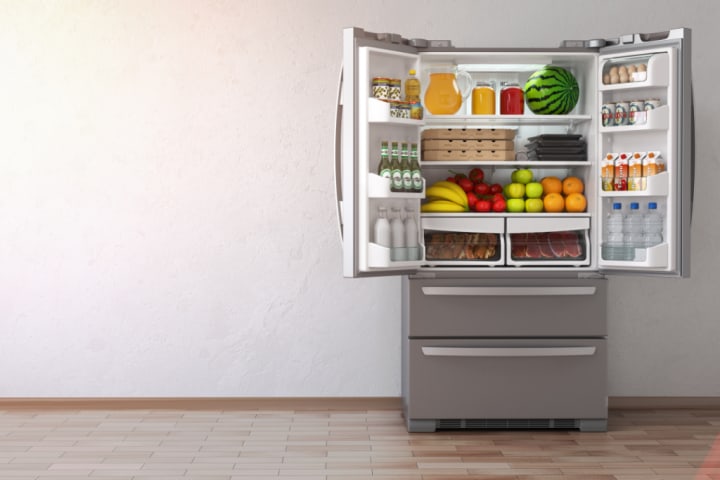 Yes, you
can
put appliances underneath the stairs! This is especially useful if you need an extra freezer or fridge. Make sure the appliance is the right size and has enough space for air to flow around it. Adequate ventilation is another important factor to consider when you install appliances under your stairs.
How to Build The Perfect Pantry Under Your Staircase
Before you choose to DIY this project, call in a professional for a quick assessment to ensure your staircase walls are not load bearing. Once they give you the all-clear, you are ready to start creating your pantry!
Measure Everything Twice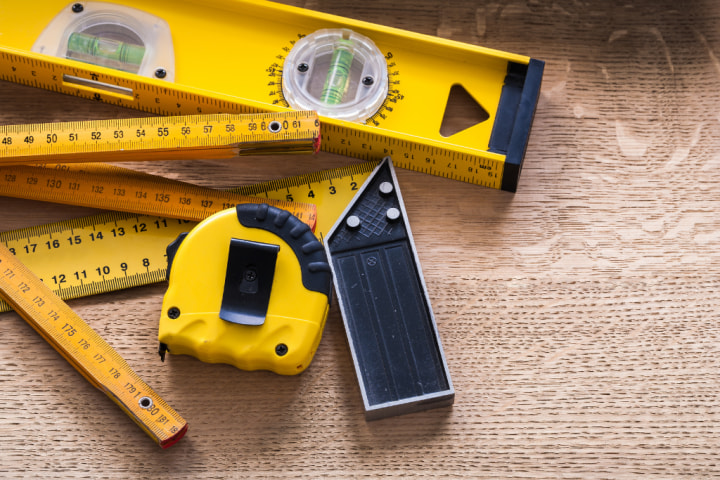 First use a tape measure to get the length, width, and height of the space under the stairs. It is vital to know how much actual space you have for a pantry underneath your stairs. It would be frustrating to plan for a walk-in pantry when there is only space for a slide-out option.
Next, your pantry needs to be able to fit the items you intend to store in there. This helps you to choose the right size for your shelves.
Measure the tallest and widest food items you plan to store, and add a little room to get a sense of how tall and wide your shelves need to be. If you are installing appliances, measure them and add ventilation space.
Select Your Favorite Lighting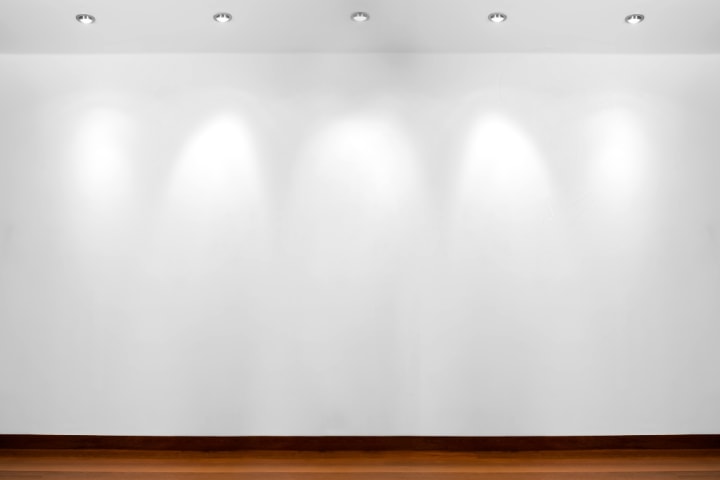 When you know how much wall space you have, you will be able to know how much light and paint you need.
Pick a bright light and a matching cover for added decoration. You can choose LED lighting or backlight for the shelves in your pantry. This can help save money if you do not have to rewire.
Door or No Door?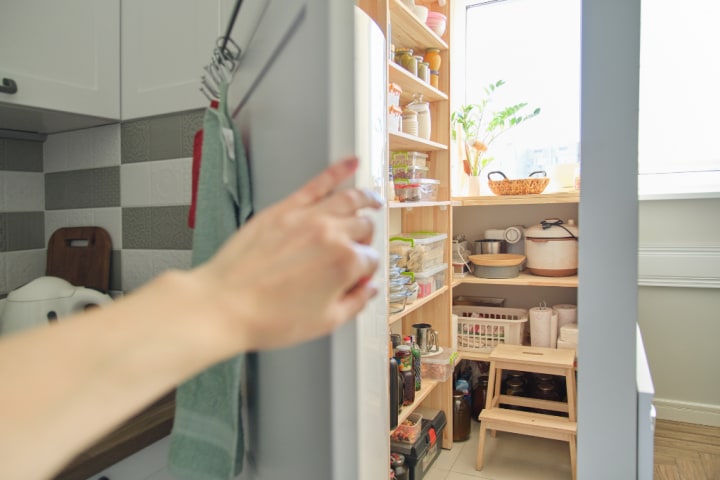 If you don't install a door to your pantry, you will be able to see into it every time you are in the kitchen. This can be helpful for quickly checking for items that you need to restock. A pantry with no door under the stairs is your best option if you intend to use it all the time.
Adding a door to your pantry under the staircase is best if you want to conceal it from hallway traffic. You may want to choose a sliding door or installing custom Glide-Out shelving for easy access and maximum use of your space.
Glide-Out Options to Organize Your Pantry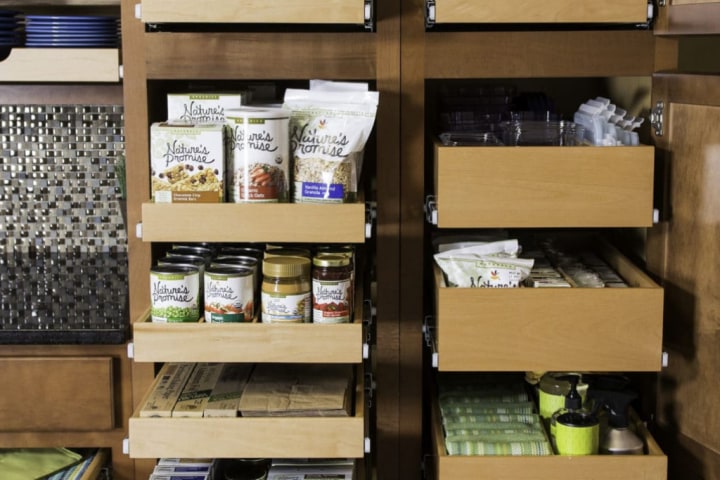 ShelfGenie's
pantry shelves
can transform the space under your stairs into a beautiful, simple and accessible storage solution. No more awkward stretching and bending to get that baking pan or spice shaker.
Choose a Paint You Love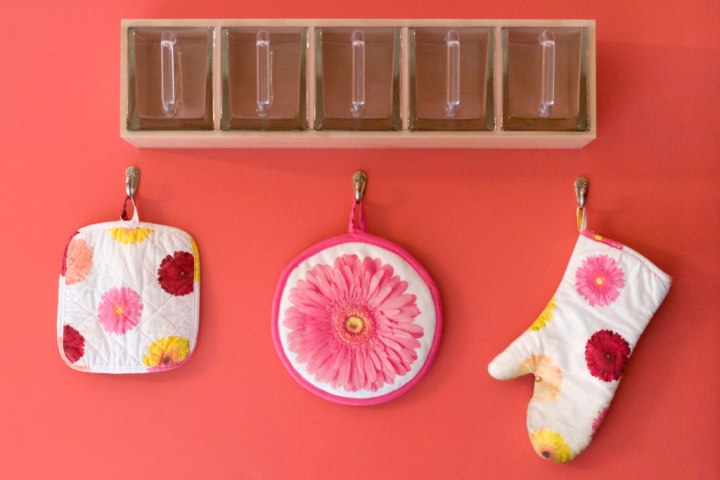 It is easiest to select a color that complements the theme in your kitchen or your living room. You can choose whether to paint the wood of your shelving. Exposed or stained wood can add a natural look to your pantry. This looks gorgeous if you combine it with neutral colors or natural light.
The light in your pantry will not change much if it is not near a window. If it is near a window, be sure to test the paint color first to make sure you like it during both day and night.
Organizing Hacks For A Perfect Pantry Under Your Staircase
Once your awesome pantry is built underneath your stairs, you will need to keep it organized. Having easy access to your culinary items is key to having a great pantry. These are some of the best tips we found for keeping your pantry organized.
1. Group Similar Items Together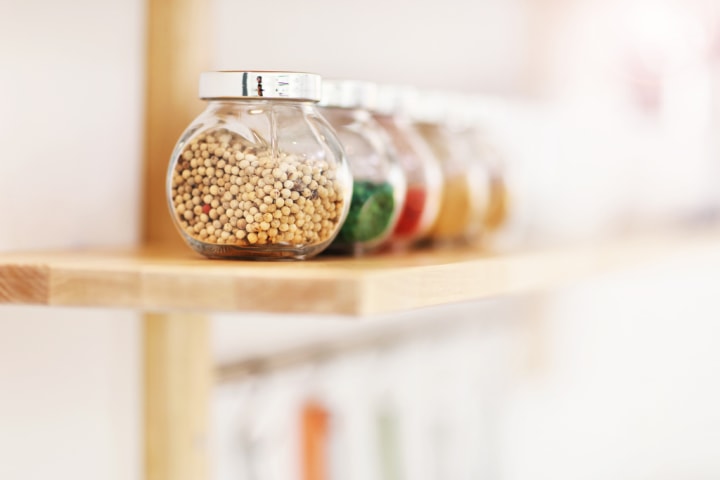 Installing a turntable (or a lazy Susan) for your spices can save time in the kitchen. Label baskets, shelves, drawers, and glide-outs to keep track of where items should go. This tactic is also helpful when you are restocking your staircase pantry.
2. Hang Baskets From the Door and Walls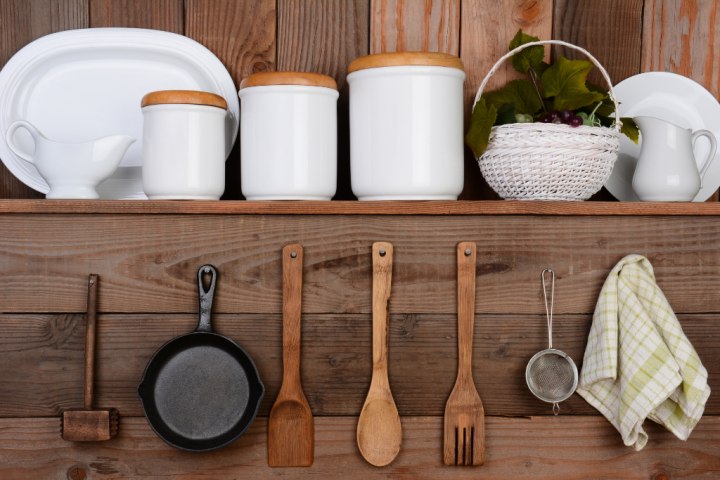 If your pantry door is sturdy, you can attach lightweight baskets or hooks to the inside and store produce like potatoes, onions, and garlic in them. This makes accessing them much easier. Hanging aprons and kitchen accessories on hooks or in baskets can also free up space.
3. Put Your Snacks In Containers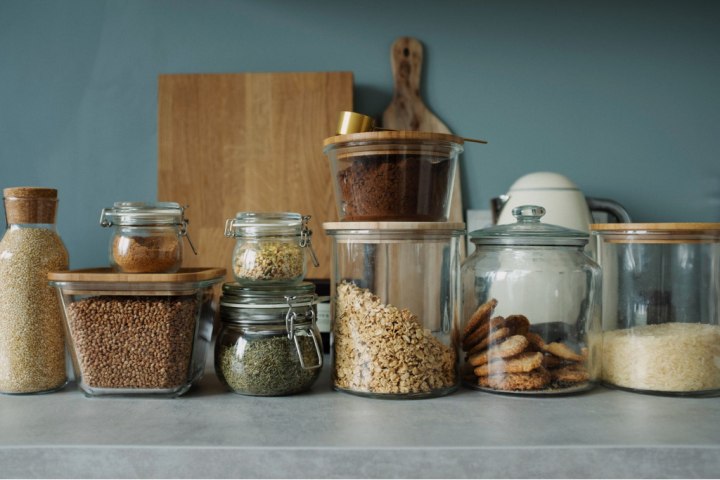 Multiply your pantry space by putting your favorite snacks in plastic or glass containers. The bags and boxes that these items come in can often take up more space in your pantry than if you poured them into storage containers. Because the plastic containers have airtight seals, your snacks will stay fresher for much longer than they would in a retail box.
How ShelfGenie Can Help
If you build a pantry under your staircase, consider enlisting the help of ShelfGenie to get the most out of your new space. We can send over a personal ShelfGenie designer to evaluate your space and design a custom Glide-Out solution that suits your needs, lifestyle and budget.
Our custom Glide-Out shelves are constructed from the highest quality materials, and we stand by our work with a lifetime warranty. Book a free, no-commitment in-home consultation using our
easy booking tool
.