Wine enthusiasts around the world are constantly searching for new wine storage ideas. From the avid collector to the occasional wine drinker, almost everyone has a bottle of vino or two around the house.
Regardless of how much you love your wine, you probably don't want it cluttering up your countertops. It can be frustrating to keep it in the cupboards as well because it is not readily available when you want it.
You need wine storage ideas that work for your home and living space. Wine storage can be cool and practical all at once, so it's one of the more interesting items to find room for. The right wine storage rack or cabinet can take your kitchen or dining room to another level decor-wise.
Wine Storage Ideas for Every Home
Whether you are displaying your favorite bottles or you keep quite a bit of wine in your home, you need sufficient wine storage that makes sense. What works for one home does not always work for another. It is imperative that you take the time to examine your storage solutions, and if necessary, work with a professional to design a wine or liquor shelving unit specifically for you.
Repurpose a Cabinet or Armoire
Old cabinets and armoirs are easy to come across, both at thrift stores and even in your own home! You can easily turn an old drawer into a wine storage rack. Start by placing inserts and securing them inside the drawer to create spaces for your wine bottles. Next, drill holes in one side of the drawer so the tops of the bottles can come through.
Finally, flip the drawer and mount it on the wall. The result is one of the best wall-mounted wine rack ideas. If you need help executing this, try finding a tutorial on social sharing sites.
Bring Back the Riddling Rack
The French riddling rack came about in the early 1800s. It operates with the sole purpose of holding wine bottles during the creation process, and so they can easily serve that same purpose today.
Not only does the riddling rack hold your wine bottles with ease, but it makes for a stunning piece of statement art. Riddling racks are timeless, and they look beautiful in every kitchen, regardless of your established decor.
Wine Cubbies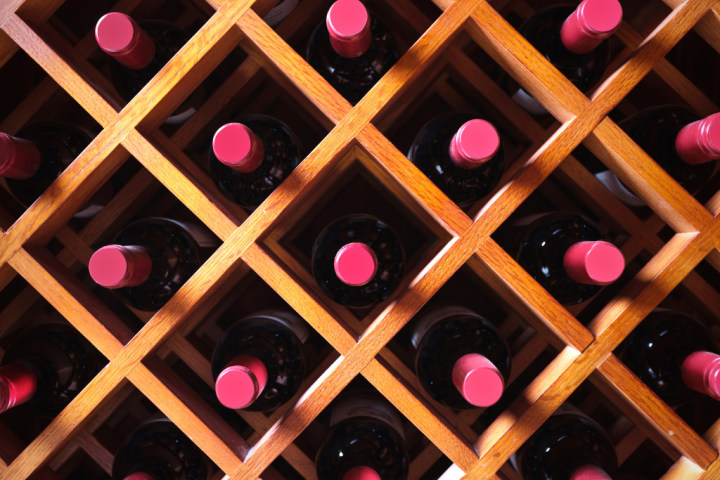 Small cubbies, perfectly made to fit one wine bottle, are a simple way to level up your wine storage while keeping it out of the way and discreet. If you have a lot of wine or are a wine collector, floor-to-ceiling cubbies might be a great wine storage option for you. You will likely have to have them professionally constructed and installed, but the end results are well worth it.
Unique Tabletop Wine Rack
You can find generic tabletop wine racks at most major retailers. However, a tabletop rack that looks incredible and brings a sense of originality to your home is among the best of unique wine rack ideas.
If you want your wine display to stand out, try a tabletop honeycomb wine rack. In most cases, they're completely customizable and can be found on selling sites like Etsy.
Consider Wall Art
The best way to go about finding creative wine storage that you love is to consider all options. When you approach the situation as you would when you shop for wall art, you will come away with wine storage you truly love.
Home goods retailers and independent sellers alike are constantly stocking (or making) wall art that can double as a wine rack. They often give off a vintage vibe and come in various shapes, sizes, and finishes. These can be custom-made as well, and if you are unsure what you want, consider working with a designer.
Custom-Built Shelving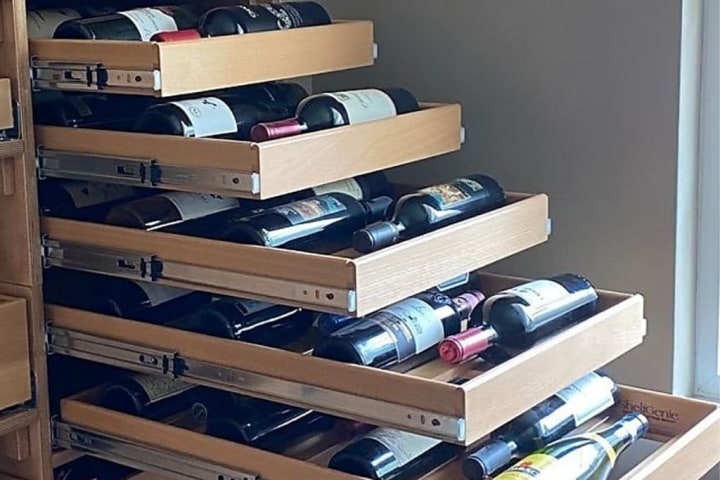 Living in a small or oddly-shaped space can be frustrating when it comes to finding wine storage ideas. If you cannot seem to find a rack or cabinet that fits correctly in your home, consider custom-built wine shelves.
You will have a designer come to your home, take measurements, and invent the best shelving solution for your situation. When it comes down to it, you cannot go wrong with custom.
Use Dead Space
Almost every home has dead space above the refrigerator. Unless you had a hand in building your home, you probably have those tiny cupboards above the fridge that nobody uses. You can turn this space into wine storage.
Make it a DIY project, or have a shelving team come in and create the new storage space for you. A great aspect of turning dead space into wine storage is the fact that you can do whatever you want. It is a blank slate!
Make an A-Frame
If you are super into doing it yourself when it comes to wine storage, consider making a tabletop A-Frame for your wine bottles. The process is incredibly simple, and you can paint it in a way that suits your home. Making your own A-Frame wine rack does not take many tools or much time.
Try Old Furniture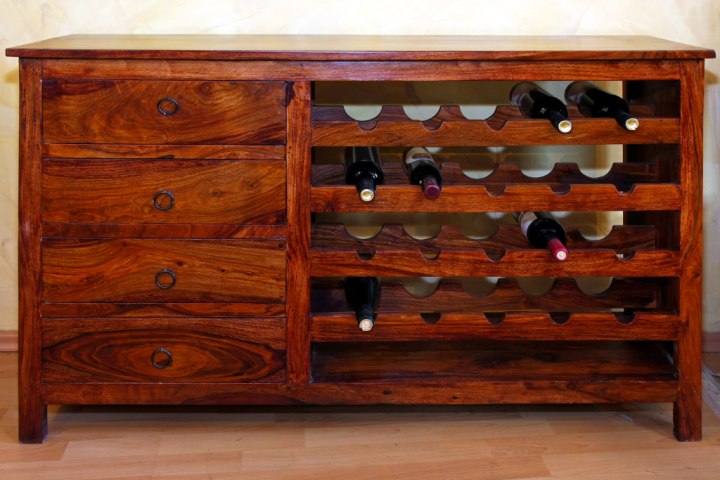 The next time you are in a thrift store or antique shop, stop to browse the furniture section. So often, old furniture can be fully repurposed to hold your wine. You can check the internet for ideas or use your own creativity to tackle the project yourself.
There are designers and small businesses out there that will help you repurpose your furniture if needed. In short, there aren't many pieces of furniture that you cannot turn into a wine rack!
Floating Shelves
Though one of the simplest options, floating shelves are perfect for wine storage because you can tailor them to your home and your wine collection. Add as many or as few shelves as you would like, or have them custom-made for your space.
You can also tailor floating shelves to hold wine glasses underneath, making them even more useful. Floating shelves add a classic vibe to any home.
Wine Storage to Suit Your Style
In any home renovation or decor situation, it is crucial to stick to your style. If you are having trouble finding a wine rack that you love, consider something custom-made instead of purchasing something that does not suit you.
The design team at ShelfGenie is ready and waiting to bring you the wine cabinet or shelving unit of your dreams. Whether we create something completely original or work with what is already in your space, we are confident that we can find a solution you will love. Contact us today and book your free consultation!