The best way to organize pull-out drawers for a pantry is to ensure you get maximum utility out of your available space. Depending on your kitchen's design, your pantry may be small, around a corner, or blended in with your primary kitchen cabinets. Regardless of its layout, a disorganized pantry makes it challenging to find and use what you have. Get more use out of all your pantry space with these creative options suitable for free-standing shelves, islands, and countertop areas.
Use Clear Storage Containers
Clear containers allow you to easily see what you have, which is half the battle. Pour dry goods into clear containers. Stacking storage containers help you maximize the space on a shelf. If you have more space, clear jars can be an attractive design feature on an open shelf.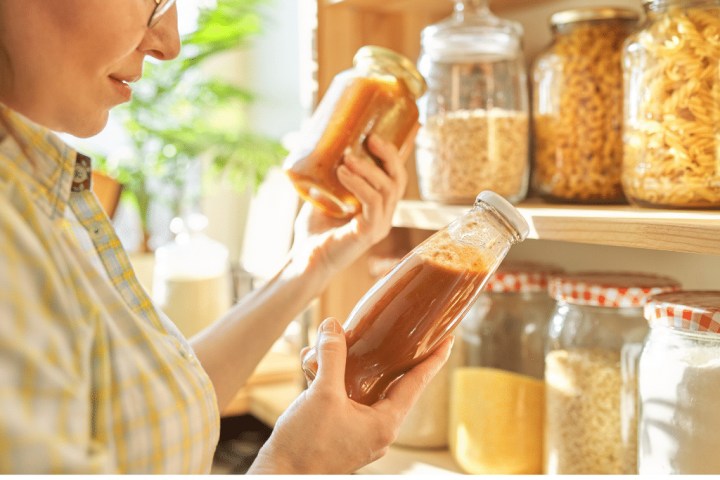 Use Baskets, Shelves, Bins, and Racks as Pull-Out Drawers for Pantry
Using containers to store similar products saves room and keeps your space organized. When choosing containers, consider your habits and activities:
Are you a baker, or do you primarily stick to the stovetop?

Does your family tend to consume snacks and other dry goods?

Do you buy a lot of canned goods?
Instead of simply stacking cans on top of each other like a supermarket shelf, place them horizontally in a container so you can access them easily and see what you have. (No need to unpack your shelf to see if you have a can of tomatoes somewhere in the back!)
Use clear containers or zip-close bags to store similar items. Keep them together in one larger basket or container for easy access.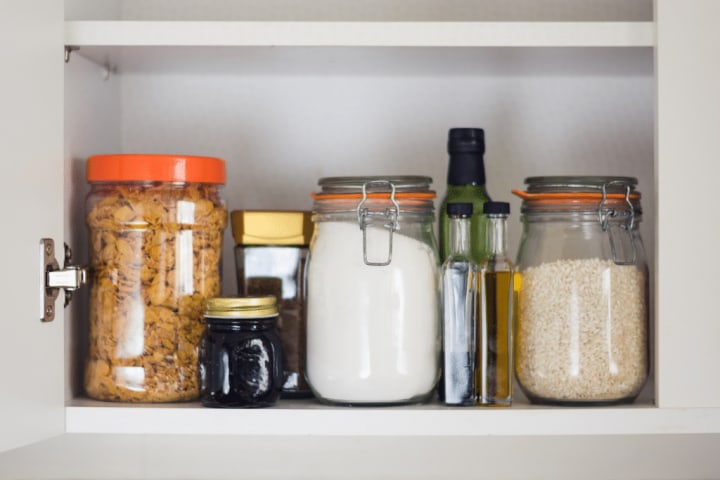 Door Rack Storage
Hanging a rack on the inside of your pantry cabinet door instantly gives you more storage space. Racks are great places for spices or your stash of granola bars.
Out of Sight, Out of Mind
Higher shelves in a pantry aren't ideal spaces to store everyday items. The same is true for lower spaces and very deep shelves. It's very easy to lose track of what is being stored. A simple rule of thumb is to have easy access to your most-used items. This means placing items at or around eye level and within reach.
Pasta on a high shelf? Not a good idea. Take a moment for a quick audit of your existing pantry:
How functional is your pantry area?

Can you see everything?

Do you have

easy

access to your most used items?
If not, your pantry may not be designed to give you the best access to your groceries.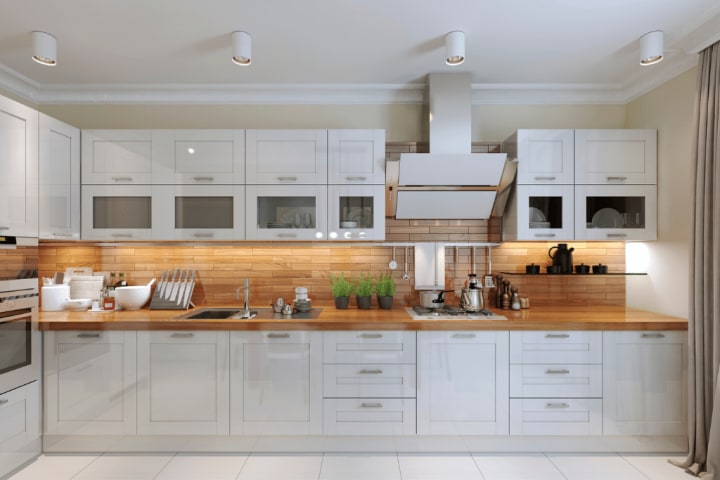 Pull-Out Drawers and Shelves
To improve any pantry space, consider adding pull-out drawers and shelves. There are many premade slide-out shelves and drawers available online that can be fitted into your pantry cabinet. Sliding metal racks designed to fit next to cabinets, or between a refrigerator and cabinet, can be used to store items like spices.
User-Friendly Storage Spaces
Understanding how to get the best use out of the space based on your daily habits and lifestyle is the key to making your pantry storage work for you. Having your most-loved groceries and everyday items within easy reach makes up a big part of the efficiency of your pantry.
There are two concepts to keep in mind:
Organizing your groceries

Efficient, easy-to-access storage spaces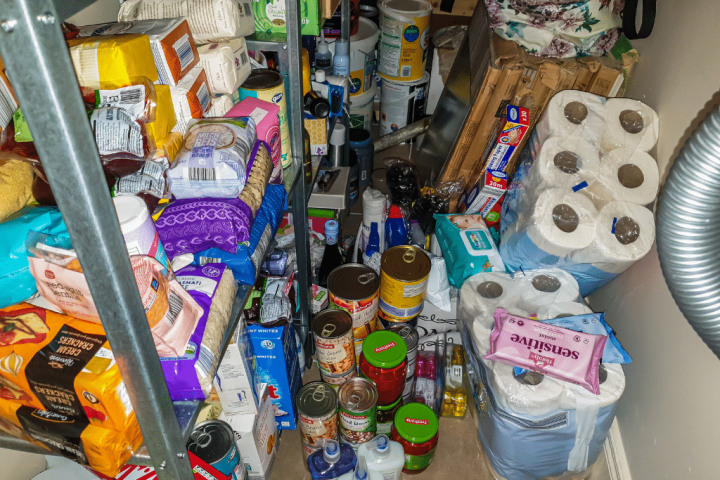 Stacking similar items together in bins, baskets, or jars can help you fit more into a smaller space. But a big pantry with many shelves is not necessarily a more efficient space. Big or small, glide-out pantry drawers and shelves give you better access to your groceries.
As you optimize the pull-out shelves for your pantry, revisit your layout every few months to see where you can make additional improvements.