A pull-out hamper cabinet for laundry can help any home look tidier, simply because clothing is kept out of sight. Even the most beautiful laundry baskets and hampers can look unorganized and unsightly when they're stuffed to the brim with clothes. If you've been wondering about ways to keep your dirty clothes out of sight, read on to learn why a pull-out hamper cabinet is a wise choice.
What is a Pull-Out Hamper Cabinet?
A pull-out hamper cabinet is an excellent solution if you want to conceal your dirty clothes and save space. These conveniently placed cabinets blend in with other storage areas in your home.
They're traditionally installed in cabinets above the floor and consist of mounts and sliding mounts. Once secured, simply place your laundry basket into the mount and close your cabinet. A pull-out laundry hamper basket is easy to install and will make doing laundry a breeze.
Advantages of a Pull-Out Hamper Cabinet
A pull-out laundry cabinet does so much more than hide clothes. These convenient enhancements come with a long list of positives, including:
Accessible
A pull-out laundry cabinet makes doing laundry more accessible. You can place it in a convenient location that allows you to grab what you need out of the basket and leave the rest. This style of cabinet is something everyone can get to without pains or strains.
Cross-Functional
Installing a pull-out hamper cabinet doesn't mean you just have to use it for laundry. They're just as useful for extra storage and organization for your kitchen or laundry room.
No Bending or Reaching
Since a pull-out laundry basket is close to the ground, you won't have to worry about bending, reaching, or lifting. This is extremely helpful, especially if you suffer from back pain or limited mobility.
Easy to Install
Installing a slide-out laundry hamper is something that nearly everyone can do. That means you won't have to worry about hiring a professional unless you need something custom-made.
Long-Lasting
A pull-out laundry hamper cabinet will give you your money's worth since they are affordable and long-lasting. You may have to replace one eventually, but expect them to last years, if not decades.
Increased Property Value
Even minor home improvements can do a lot to increase a home's value, and a pull-out laundry hamper will do just that. Since they create additional storage, many buyers would see its value, which can increase depending on the materials you use.
Who Can Benefit From a Pull-Out Hamper Cabinet?
Anyone can benefit from a pull-out laundry cabinet, but they are beneficial for people with limited mobility and strength. They are easy to access and don't require strenuous reaching or pulling, making it easier for those with physical limitations to get what they need when they need it.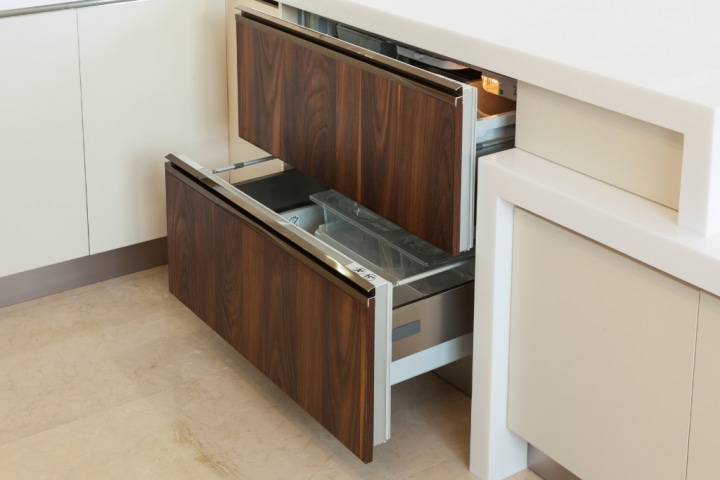 How to Choose a Pull-Out Hamper for Your Cabinet
By now, you're probably convinced that a pull-out hamper—or a few—would be a great addition, but what makes a quality slide-out laundry basket? These are some things you should figure out before making a decision:
What type of basket do you want?
You'll need to decide if you want a plastic, canvas, or wire liner or basket style.
What type of material do you want?
This pertains to the actual structure. The three common materials are wood, chrome wire, and white wire.
How will you mount the pull-out hamper cabinet?
This is what holds the slider in the cabinet, and you can install it as a bottom, top, or side mount.
What kind of slide mount do you want?
Your slide mount determines how it glides. There are either ball bearings or soft-close slides.
Do you have precise measurements?
Before you can install your mount and slides, you need to have accurate measurements, so it fits comfortably.
Replacing Your Current Cabinet
If you've had a pull-out laundry cabinet for a while, it might have visible wear and tear. The sliding may even be a little jerky. If this is the case, it's time to replace it. Luckily, taking out the old and installing a new one is pretty straightforward.
Pull-Out Laundry Cabinet vs. Tilt-Out Styles
When it comes to laundry hamper storage, you have two options: pull-out and tilt-out. So what's the difference, and does one have an advantage over the other?
A pull-out laundry hamper cabinet glides out once you open the cabinet door. A tilt-out is attached to the cabinet door and opens at an angle. Tilt-out cabinets are convenient, but their accessibility is limited when compared to pull-out options.
Get a Custom Pull-Out Hamper Cabinet
A pull-out hamper cabinet is an excellent addition to your home storage. Not only do they make doing laundry more accessible, but they also keep things organized and neat. Don't wait to get your pull-out hamper cabinet.
Schedule your free design consultation today
.