Reorganizing your bathroom is one of the most efficient investments you can make in terms of time and the small amount of money it can take. According to the National Soap and Detergent Association, disorganization (as opposed to lack of space) is responsible for 80% of the household mess.Clutter and mess are incredible time sucks. They can also make any space feel small and cramped. Luckily, the solutions are fairly simple. And with just a few
Reorganizing Your Bathroom—It's All About Priorities
As our good people at
ShelfGenie of Seattle
, put it, "Priorities will determine everything you do".
Before you dive into any ambitious reorganization, it's worth asking yourself: what do you look for in a dream bathroom?
Not everyone has the same needs or desires. For some of us, the perfect bathroom is a modern statement, full of glass and sheen. Meanwhile, others see the appeal of the traditional—a tub with feet, perhaps.
There's no one answer...but it's important that you know what
your
answer is. That's exactly why it's so critical that you analyze your daily life and your own priorities. Here's a good a great system to follow for doing that:
Try making a list of all the things you'll need to keep in your bathroom, and all the functionality you'd like it to have (think shaving, makeup, cleaning supplies, etc...)

Assign each item on your list a number 1-5: items with a number 1 are essential to you...items with a number 5 are less important.

Now, imagine if you could only have the things you ranked from 1-3. Would that be enough?
Here are 5 Effective Tips You Might Want to Consider:
1. Start Reorganizing Your Bathroom With A Purge
To start, it's important to literally see every item in your bathroom and start from a blank slate. This lets you really analyze the space you have available...and take stock of what exactly you want taking up that valuable space.
As you remove each item, think about it critically. The goal here is to answer a simple question:
Do I
need
this in my bathroom?
Bathrooms are, by their nature, often a fairly small space. Unlike reorganizing a kitchen
,
creating a working organization system for your bathroom means adapting to super limited space.
As you attempt to decide what exactly belongs, it's important to be fairly ruthless with yourself. Sure, it can be difficult. But this is absolutely crucial. The easiest way to create a stressful mess is to start piling everything and anything you own into a limited area.
3. Use Custom Pull-Out or Glide-Out Cabinets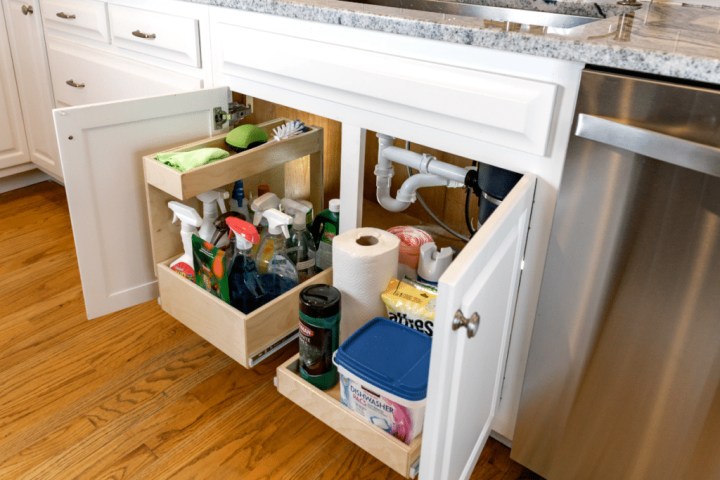 Now, as you start to zone your space, you may realize (to your horror!) that there simply isn't enough space to go around. For example, you want to keep your cleaning supplies away from your makeup...but you only have one cabinet at your disposal!
Never fear. The easiest way to maximize limited storage space is fairly simple: glide-out (sometimes called pull out) shelving.
This type of shelving works miracles in small spaces, by allowing you to store items in the far back of a cabinet...without making those things inaccessible. You can use shelf organizers to designate the back of one shelf as a space for cleaning supplies (for example) and keep them hidden away...only to slide out the shelf easily when you need to get in there.
And the great thing is, glide out shelving can be built custom for you by outfitters like ShelfGenie, in a surprisingly short time frame.
3. Continue Reorganizing Your Bathroom By Designating Zones
Now that you have your things pulled out (and you've hopefully eliminated the superfluous items), it's time to start thinking about reorganizing.
Here's what you need to do: start thinking of your bathroom in terms of zones.
The average bathroom plays host to a variety of items dedicated to a variety of activities. Take a look at your list from earlier and make sure you've considered all the possibilities of what needs to be stored in there. Then start zoning your available space by activity.
It makes sense, for example, to have cleaning supplies stored together, in a place that's super easy to access (so as not to deter you from cleaning in the future!). That same logic can be applied to every other activity. This may seem simple...but it's a step that most people simply don't do when originally stuffing their things into any given drawer.
4. Get Creative With Your Bathroom Storage
No matter what, it seems like the space available in your bathroom will feel somewhat limited. So what's an aspirin organizer to do?
Well, there are all sorts of creative steps you can take to expand the space you're working with.
For example, look vertically—to the back of your bathroom door and any empty walls. Could you use new wall-mounted shelves, or an over-the-door hanger, to add new spaces in which to keep your things?
There's also plenty of possibilities hiding in less obvious places: windowsills can be a great place to keep a few things, as can under the sink. Installing a shower caddy, meanwhile, can mean moving some of your personal hygiene items from off of the valuable real-estate on your countertop.
Done Reorganizing Your Bathroom? Take A Moment To Reflect
OK, I realize that after you've put all this effort into a big-time reorganization, it's only human nature to want to take some time and rest.
And you should! But, don't forget the final step…
About a month after you've undergone the big move, take some time to think about how it's changed your life. Has it been for the better? Make sure you list out any problem areas so you can adjust things as necessary. Don't let all your hard work go to waste!
Naturally, you'll have adjusted your routine and your habits as a result of your new organization. And that just might call for some small tweaks to your original plan. If you're willing to put in the effort, making those changes can take a pretty good storage system and make it extraordinary. There are many ways you can gain space in the bathroom to make it feel larger and more usable - check out ShelfGenie bathroom solutions.
Good luck!