If you've been wondering how and when to replace cabinet drawers in your kitchen, this article is for you. Do you have a drawer that is broken? Would you like to upgrade or replace your cabinet drawers? Good quality drawer boxes and gliders should last a lifetime. Most drawer slides are rated at 75, 100, and 150 pounds, while ball-bearing slides can hold a load of 500 lbs. Over time, depending on the materials used, your drawer box may have become warped. The clearance space needed to open and close it easily may be affected.Or you might have old drawers that do not look great inside or work well. The good news is that while replacing cabinet drawers can be simple and economical, you can also use the ShelfGenie custom glide-out system to optimize its functionality.
What Do You Need to Replace Cabinet Drawers?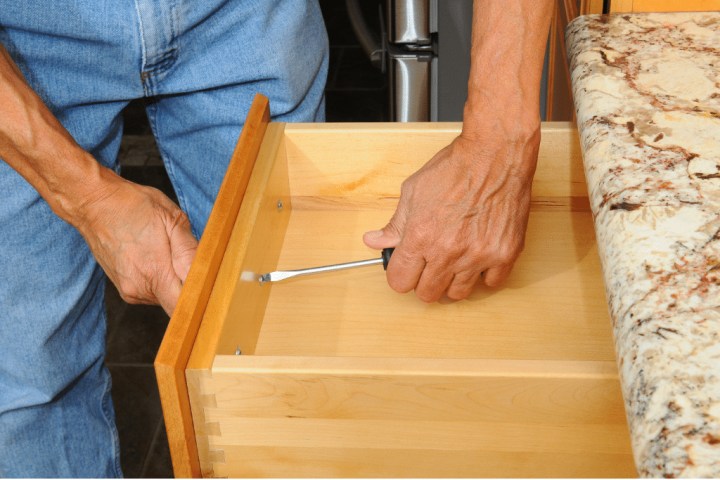 Inspect the Drawer and Gliders
For a broken drawer, you must first check exactly what is wrong with it. It might be that your drawer box is fine, but that the gliders are damaged. In this case, you will only need to replace the gliders and not the drawer box.
How Much Space Do You Need for Drawer Gliders?
If you would like to replace your drawers and install gliders, you'll need:
½-in between the drawer and the side of the cabinet

Side-mounted drawer slides, which are the easiest to install
The only downside to using gliders is that you will lose some of the horizontal width space – but only a small amount.
Pull-out drawers and shelves
give you easy access to your kitchen and bathroom items.
Examine the Drawer Structure & Material
Is your drawer custom-made from wood, MDF, or laminate? How does the drawer front attach to the drawer box? You may not need to replace the drawer box and drawer front. You may only need to replace the drawer box and then reattach your original drawer-front.
Key Considerations
To replace your kitchen or bathroom drawer cabinets, ask yourself:
Are the gliders in good condition?

Does the drawer box need to be replaced?

Do I need a new drawer box and drawer front?

Would slightly smaller drawer boxes better accommodate a glider system?
Once you have established your needs, replacing your cabinet drawers becomes much easier.
Replace Your Cabinet Drawers: Materials & Any Hidden Costs
When you are deciding which company to use, it is important to check all listed costs. There can be fees listed to add coatings, notchings, or other details. You can select drawer boxes made from different materials. The cost of these varies depending on the materials: plywood, maple, or oak. The design of the drawer box is also a factor – as are the joints used to make it.
Example of the Cost for a Cutlery Drawer
(Height: 3.5"; Depth: 17"; Width: 12")
Plywood Drawer Boxes: $32.94
With Dovetail: $43.38
Birch with Dovetail: $46.40
Check the Exact Increments Available
This is the increased size option available to you for adding to the width, height, and depth of a drawer – some companies offer custom ¼-in or ½-in. While this might seem like a small measure, it does matter, as your drawer and gliders need to fit exactly in your space.
Note that gliders need about half an inch between the sides for installation.
Options to Consider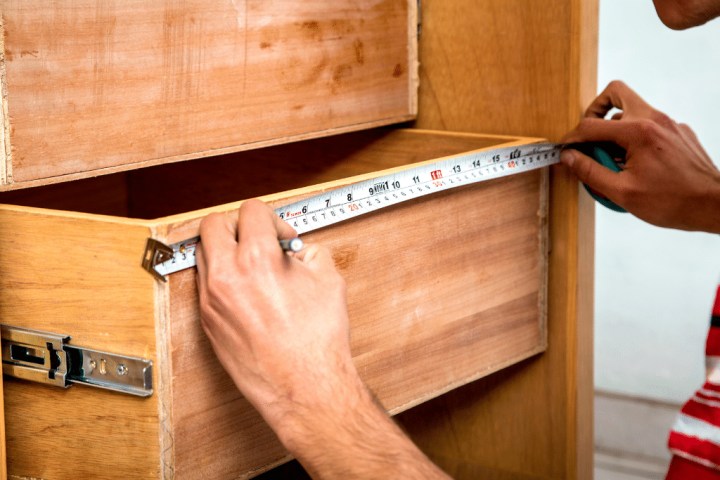 Shopping online is not your only option. You can also:
Contact a local handyman

Visit a home-improvement store

Visit a local lumberyard

Buy a used drawer box in good condition (Check eBay, Facebook Marketplace, Salvage yards)

Do you have DIY skills and tools? (Or do your family members or friends?)
If you are replacing cabinet drawers in a bathroom or kitchen, you might consider changing the drawer fronts. There are many different styles to choose from that could upgrade the look of your bathroom or kitchen. We've previously shared
new bathroom trends
for cabinets in 2021. These can be bought separately and then attached to drawer boxes.
Replacing cabinet drawers in any room is relatively simple, but it is very important to take accurate measurements. There are different options available to you. You can buy from companies that specialize in making drawer-boxes and drawer-fronts, or consult a kitchen design company.