Is replacing that pesky, broken kitchen cabinet drawer on your weekend to-do list? No need to call in a handyman. Anyone can replace kitchen drawers easily and affordably with a little DIY know-how. Set yourself up for success with these simple steps.
Your Guide to Replacing Cabinet Drawers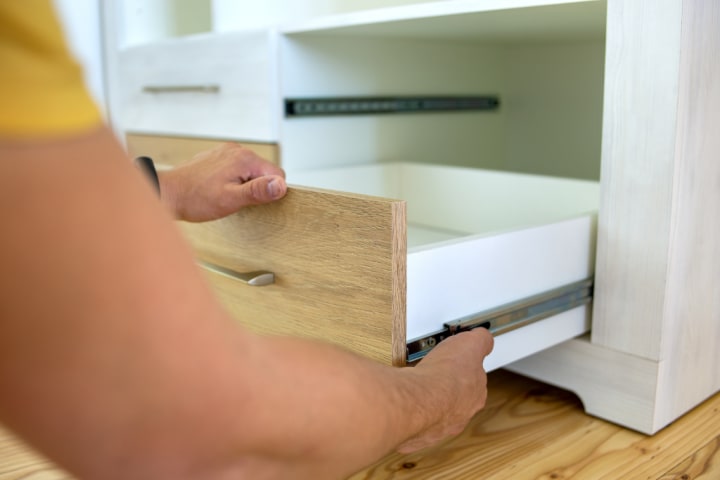 Measure the Replacement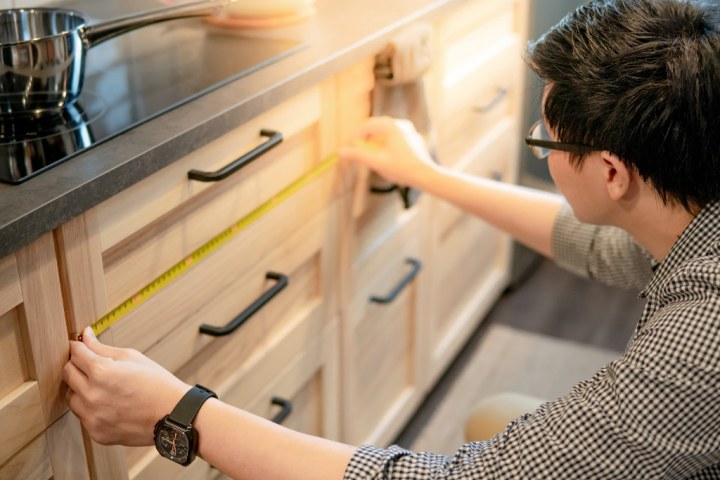 Whether you are replacing a broken cabinet drawer or preparing to buy a new one, here is how to measure for a perfect fit.
To replace kitchen drawer boxes:
Measure the height, width, and depth of the existing box. Measure the
outside
dimensions. You do not need to measure the drawer front.
To measure the cabinet opening (using side-mounted glides):
Measure the frame-to-frame cabinet opening width. Subtract 1" to account for both side-mounted glides. You may need to subtract more if you have atypical or custom glides.
Measure the frame-to-frame cabinet opening height. Subtract at least 1/2" for drawer clearance. Round down to the nearest 1/2" (3 3/4" becomes 3 1/2")
Calculate depth by subtracting 1" from the length of the side-mounted drawer glides. For example, 21" glides will need a 20" deep drawer box.
Double-check the depth of your cabinet. Typical kitchen base cabinet depth is 24" but it is possible for gas and water pipes to change that number.
To measure the cabinet opening (using undermount glides):
Measure the frame-to-frame cabinet opening width. Subtract 3/8" for side clearance.
Measure the frame-to-frame cabinet opening height. Subtract 3/4" then round down to the nearest 1/2". Most drawer boxes are only sold in 1/2" heights.
Drawer box depth is the same length of the undermount drawer glide.
Look for the "notch and bore" option for drawer boxes with undermount slides.
Bottom Drawer Replacement
A quick fix for holes on the drawer's bottom panel is to replace it with plywood. Buy or cut a piece the exact measurements of the damaged one. Then press the new bottom panel into the grooves of the drawer. If it fits, secure it with a line of wood glue all the way around the panel. Use clamps if needed to ensure a secure fit as the glue dries.For drawer bottoms without slots or grooves, staple the new panel into place. Then replace kitchen drawers. You know you are all set when it slides easily into the frame.
Choosing the Wood and Hardware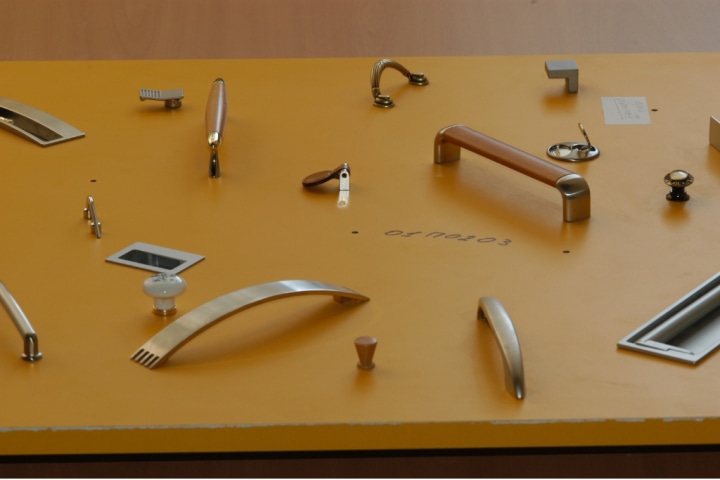 Solid hardwood has been the top choice for cabinet drawer fronts and sides. Well-constructed wood joints are assembled using techniques that should not loosen over time. A technique called Dovetail Joinery is widely considered the strongest way to construct a drawer. It's worth researching if you have the budget for it!But, if solid hardwood is outside your budget, engineered woods are a popular alternative. Veneered plywood, particleboard, and medium-density fiberboard (MDF) are available at most lumber yards. Plywood is recommended for the bottom section of the drawer because it will not swell or shrink.Choosing slides for kitchen cabinet drawers requires a choice between style and simplicity. Since undermount slides are not visible when the drawer is open, they need less side clearance and a wider cabinet. Bottom-mount slides align the drawer box so it is easier to install, but visible on the side edges. Either way, look for heavy-duty materials that contain ball bearings or smooth-gliding rollers.As for accessory hardware, it is considerably more comfortable to open a heavy drawer with a horizontal pull. Feel free to get creative with finish and shape! Let your kitchen design guide you: Are the cabinets curved or square? Are lighting fixtures chrome or brushed nickel? When shopping, choose hardware that creates a cohesive look.
Buying Drawer Slides to Match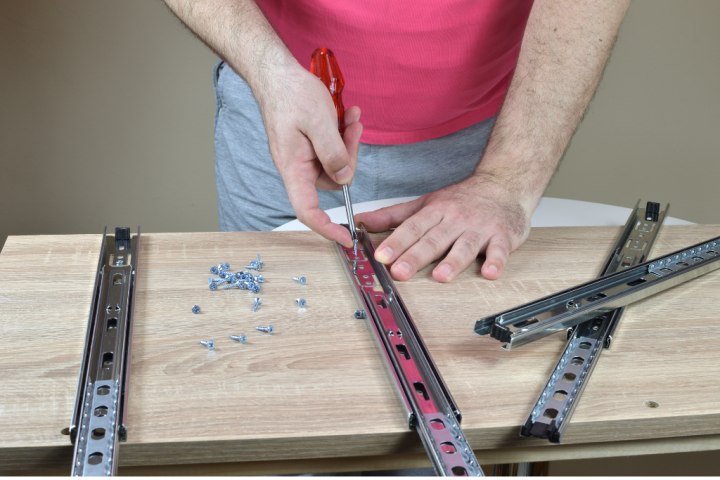 If you like the style of slides already installed inside the cabinet – you need only buy the matching set at your local home center or lumberyard. Generic, epoxy-coated slides are perfectly fine if they match the depth of your drawer box. Follow the product directions to attach the new or replacement slides correctly.Switching up the style of your slides is easy. Uninstall the original or broken slides and follow product directions to give the drawers the look you want. Custom drawer slides like our
Glide-Out design
are a simple way to personalize any kitchen. Just refer to the measuring guide above before you go to the store or order online.
Dividers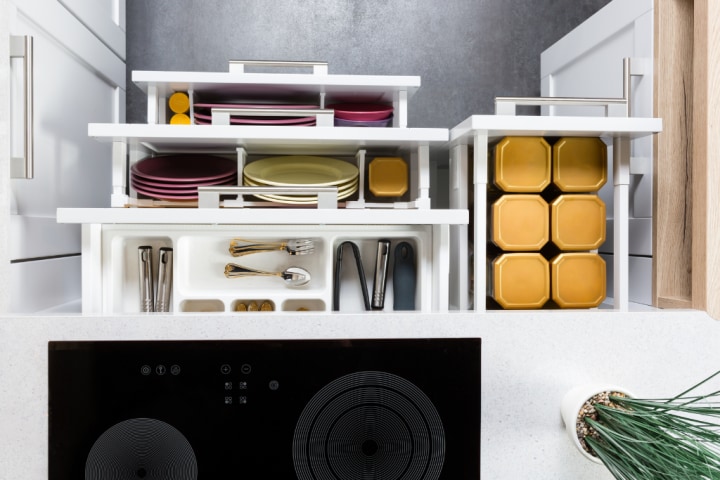 Don't waste time in your kitchen looking for everything you need. Nobody wants to burn dinner because they can't find a spatula. Cabinet dividers are available at any home goods store, and they come in many different styles. But why settle for one-size-fits-all cabinetry when you can
customize cabinets
to your every need?Custom inserts organize silverware, cooking utensils, and oversized tools, and drawer-in-a-drawer solutions maximize cabinet space. Keep what you need within reach and save the rest of the drawer for storage.
Installing the New Drawer Box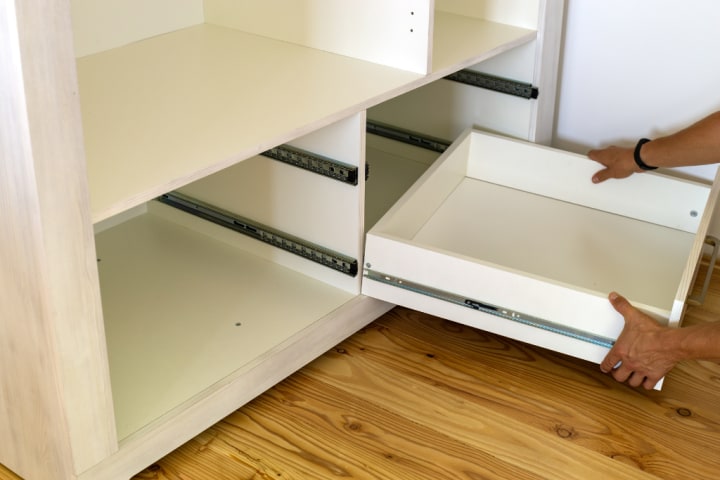 Once the sliders are on, test the new drawer box to see if it rolls without trouble. Then follow these steps to complete your installation.
Use double-sided tape to adhere the drawer front to the box.
Make sure the drawer front is centered – all surrounding gaps are evenly spaced.
Screw through the drawer box from the inside. Use a minimum of two screws.
Slide your new cabinet drawer into its frame with ease.
We Can Help
One reason homeowners replace kitchen drawers is to maximize their storage space. Want to update your kitchen without the hassle of renovating? Schedule a free, no obligation at-home consultation today! Book online or call (866) 460-9894. We hope to talk to you soon.