We'd all love a bigger cooking area...or at least to save some space in the kitchen. You see a show like Top Chef or Chopped, it's hard not to imagine the things you could make with that kind of professional-scale, fully-kitted-out space at your disposal. Particularly when you're struggling to put together a nice meal in a cramped area.Sadly that Food Network kitchen is a total pipedream—for most of us at least. Instead, we have to make do with what we have.However... just because we can't have the tools of Gordon Ramsey, doesn't mean we have to put up with a cramped and claustrophobic kitchen. We've collected our best pro tips for making use of all the space you have, bringing efficiency and logic to your use of space. You won't believe the difference it can make in your kitchen.
Read on to See How We Can Save Kitchen Space
1. Use All Available Surfaces To Save Kitchen Space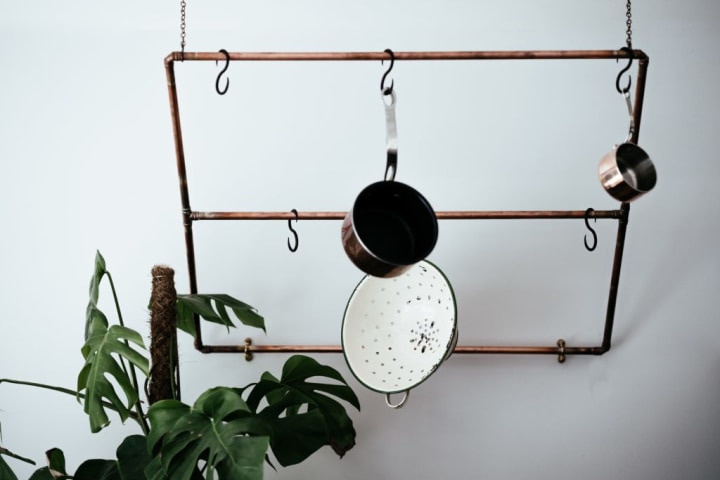 With the clever installation of bars, hooks, racks, nails, and more, you can turn the sides of your cabinets into good use of space.
Hang pots and pans. These country-style write baskets, featured on Golden Boys & Me, keep dish towels, lunch bags, and paper plates nearby and at the ready.
If you have space (and super-sturdy cabinets), consider hanging larger shelves on the sides of them. Then, you can load the shelves up with books and dishes.
2. The Power of Shelves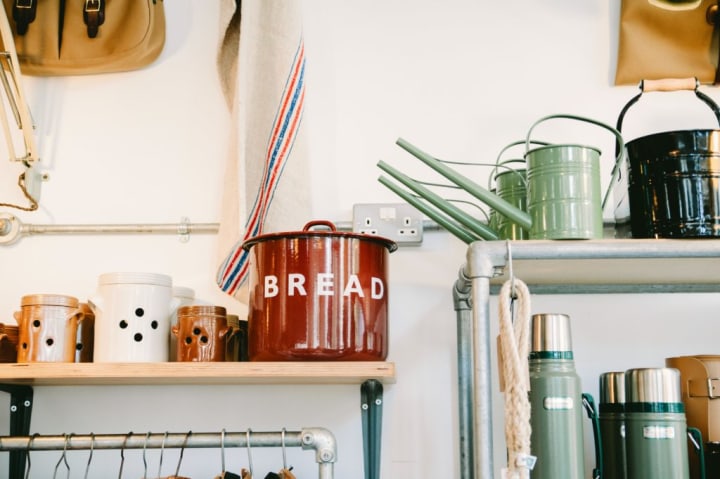 This is the biggie: adding shelves, racks, pegboards, etc, can help you make your walls work for you. So many kitchens have items packed on every available counter...and totally empty walls just waiting to be used!
The advantage here isn't just in saving space—it can also be an opportunity to
step up your aesthetic game
. A nicely displayed spice rack, for example, brings a homey touch to any kitchen.
3. Downsize Your Fridge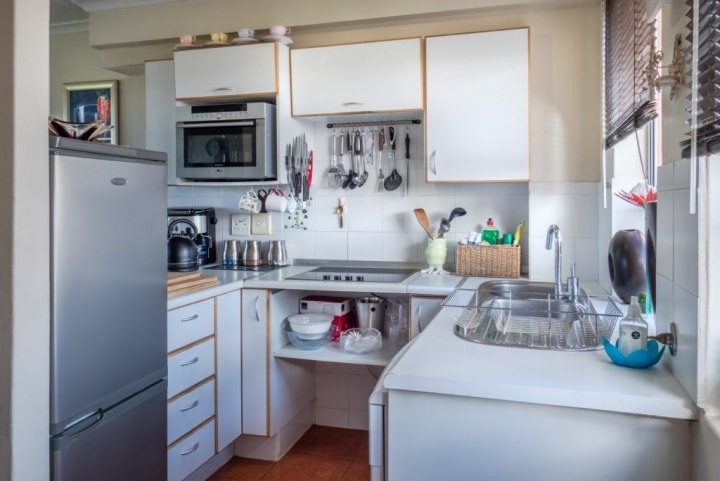 Smaller houses are often the domain of slightly smaller families—and if that's the case for you, it could certainly be worth examining just how badly you need that massive, full-sized refrigerator. The space savings of a half-size fridge are enormous...and it may not make as big a change to your grocery habits as you'd think.
4. Bring It All Together To Save Kitchen Space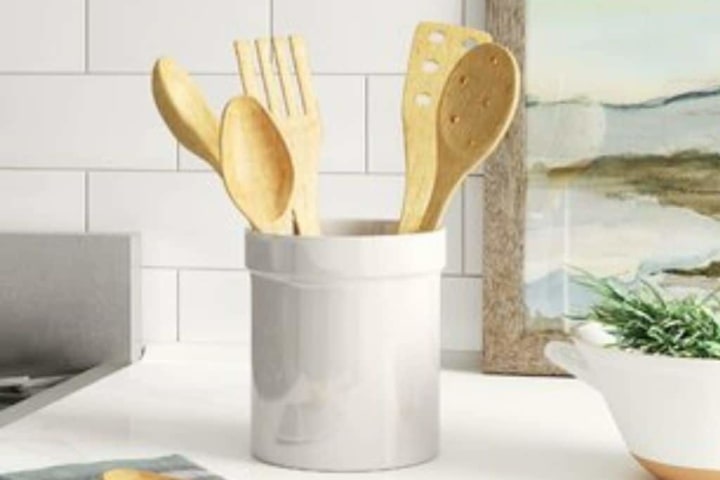 Sometimes all it takes to go from uncoordinated to gorgeous is bringing similar items together. Using canisters and trivets to simply collect small items into groups can work wonders.
5. Mini Appliances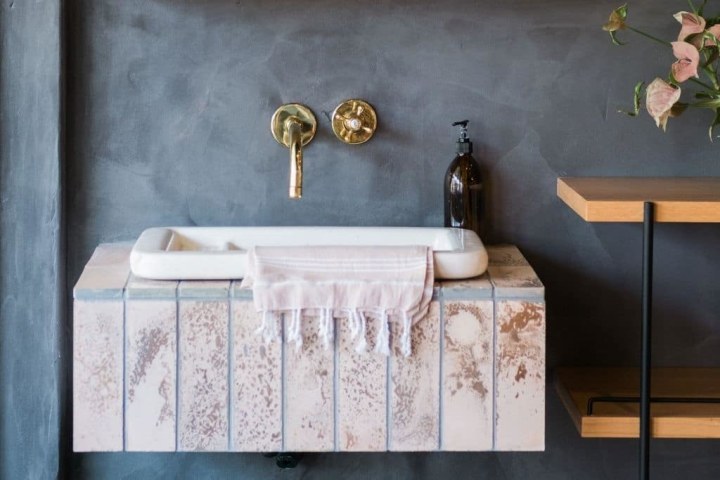 Here's a question to ask yourself: do I need a full-sized toaster oven?
That same logic applies to all appliances. One of the best and simplest ways to save space is to downsize your larger items to a sleeker model—a simple 2-slice toaster, for example.
6. Stay Light, Stay Bright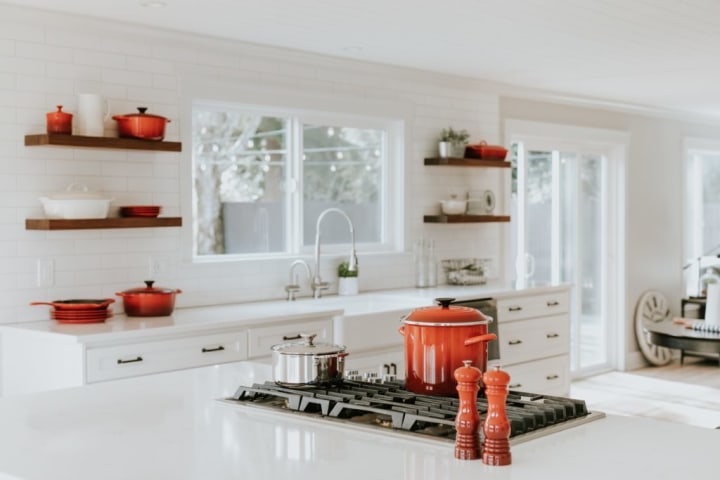 A full-blown color change might seem drastic, but trust me: the investment is often worth it. Surprisingly, nothing really opens up a dark space like lightening the color. Use pastels or whites for the area around a kitchen. And beyond the color of the walls, include mirrors or shiny surfaces where possible: the reflections of light will only help make the place feel brighter.
7. Cubbies Go Anywhere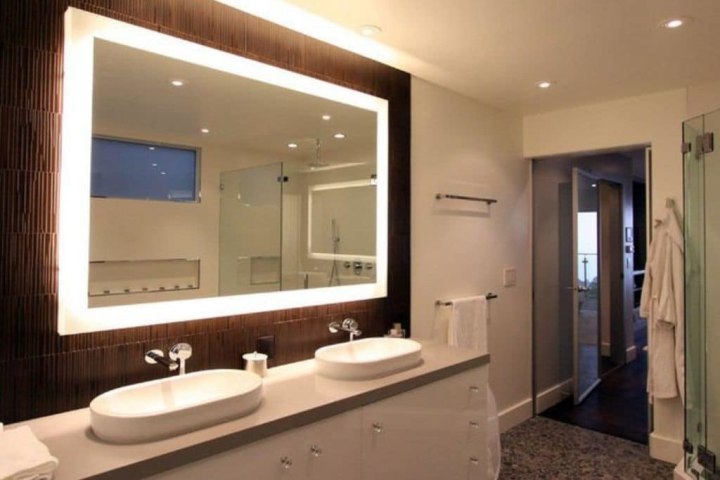 Cubbies are a designer's dream: the perfect melding of beautiful form and efficient function. If you've got, say, some room between the fridge and the wall, see if you can't fit in a series of stacked cubbies. It'll become an extra spot to place those odds and ends. Some even use it as an area to keep wine or beer.
8. Consider A Fold-Down Table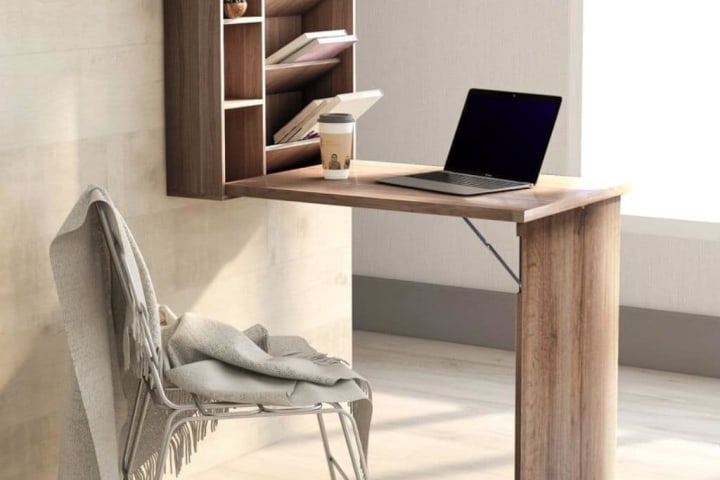 So many of us feel like a permanent (and large!) dining table is an absolute necessity. But if you're looking for table space in a tiny kitchen, a fold-down option could absolutely work for you. It might sit on a wall, or even a sturdy bookshelf—either way, it offers just the right amount of flexibility that a smaller space needs.
9. Windows = Storage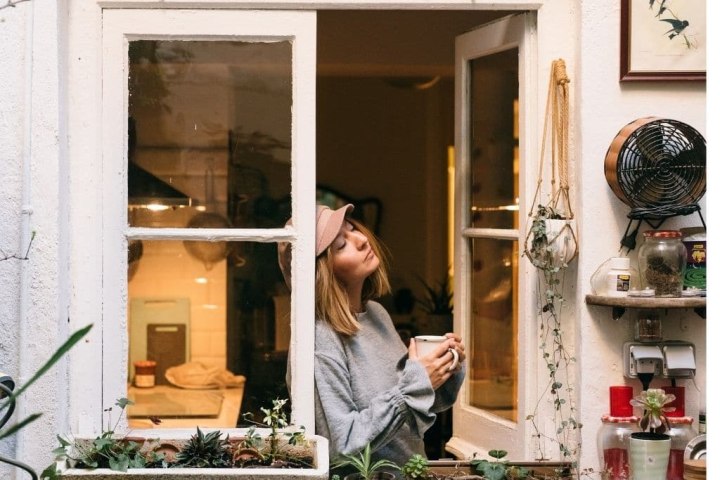 Window sills aren't necessarily conventional storage space...but they can be your secret weapon in the battle against clutter. Choose your signature pieces (maybe the nicest pots and pans) and try placing them near the window. You may find that the light actually highlights them in a way that seems like modern art.
10. How About Glide-Out Shelves to Save Kitchen Space?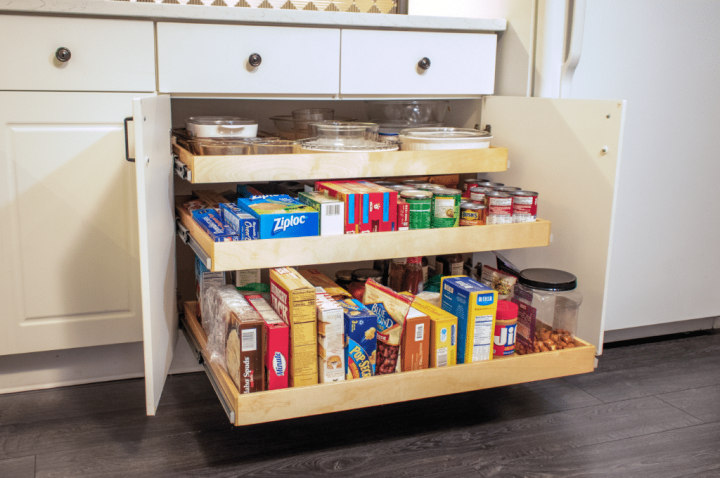 ShelfGenie's Custom Glide-Out Shelving is a space-saving miracle. Imagine keeping your often-used (but less aesthetically pleasing) kitchen items tucked away out of sight...but still within an arms reach! Rather than constantly digging through cupboards, pull out shelving makes it possible to store everything right where you need it.
11. Look Outward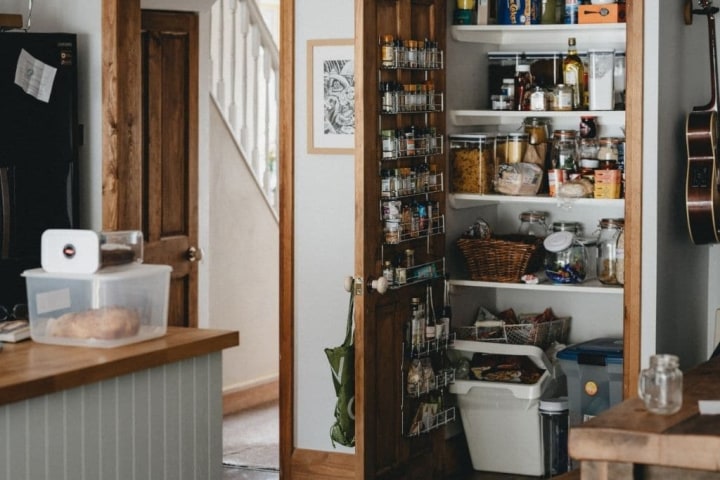 This may be blaspheme for some but I'll say it anyway: your kitchen supplies
don't
have
to stay in the kitchen.
Some kitchens are simply built small...and no amount of space-saving tactics seem to make a difference. Is that the case for you? Try using nearby shelves...even if they're located in an adjoining room. For less-used items, the saved space just might be worth it.
Don't Settle in the Kitchen
The power of spending more time in the kitchen should not be overstated. As other sources have noted, cooking often
has a calming, soothing effect
.
Naturally, that's much easier to do when the space you have feels large and welcoming, rather than tired, cramped, and claustrophobic. And as this list shows, those changes can come surprisingly easily. There's really no reason to settle for a kitchen that brings you anything less than real joy.
Need a kitchen boost to spark joy? Check out
ShelGenie Solution
and be sure to
schedule a FREE, no-obligation, custom design consultation.