Need Some Small Kitchen Remodel ideas?
You do not have to look far for Small Kitchen remodel ideas. We spend so much time in the "heart of the home" that the idea of a renovation to organize the space is irresistible.
1. Clear Your Countertops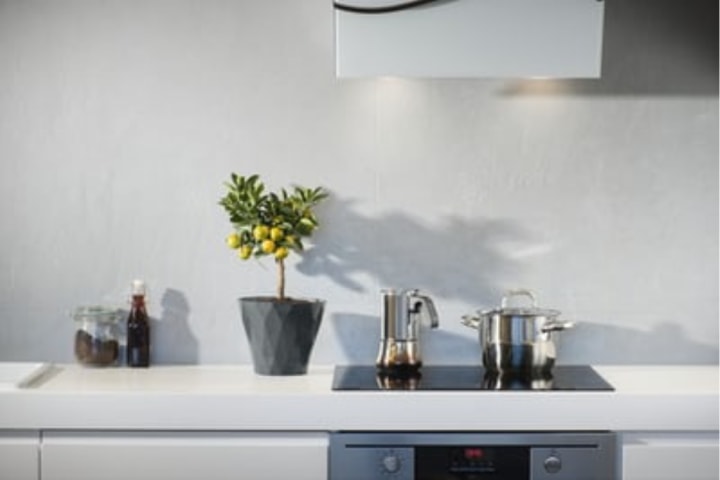 Nothing signals change like clearing out the old to make room for the new. A kitchen is a very personal space, especially if you enjoy making delicious meals regularly. As the years go on, though, the counter can fill up with clutter.Remodeling is about breathing new life into an area. By clearing away everything that is familiar to you, you approach a kitchen renovation with a fresh perspective. Trust us; it is easier to move the sentimental items out first to avoid holding on to the extra clutter.You can always find a home for your most loved items, and clear countertops make all the difference to how open a room looks.
2. Set Up Some Casual Seating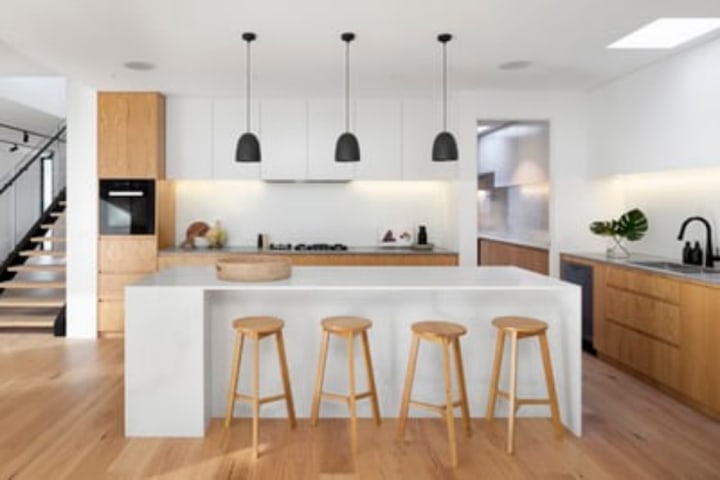 If you want to boost the entertainment value of your small kitchen, try setting up casual seating for your guests. This arrangement works best with open kitchens that feature an island counter or bar.Even without an open concept, you can still create a casual area. Keep in mind that you will need to create separation between the seating area and your cooking surface. That separation lets you carry on a conversation without people needing to fill into your functional space.
3. Play with the Lighting Fixtures
So much of a room's atmosphere is dependent on the lighting. Decorative lighting like Edison bulbs can wash a room in warm and buttery light. These decorative bulbs are just bright enough to soften the overall tone of a room, and they make excellent background lighting in pictures!On the other end of the temperature spectrum, cool fluorescent bulbs sharpen the contrast between the brightest and darkest areas. Cooler bulbs create a dramatic effect and make the polished surfaces in a kitchen pop.
4. Create Structure with Tiered Surfaces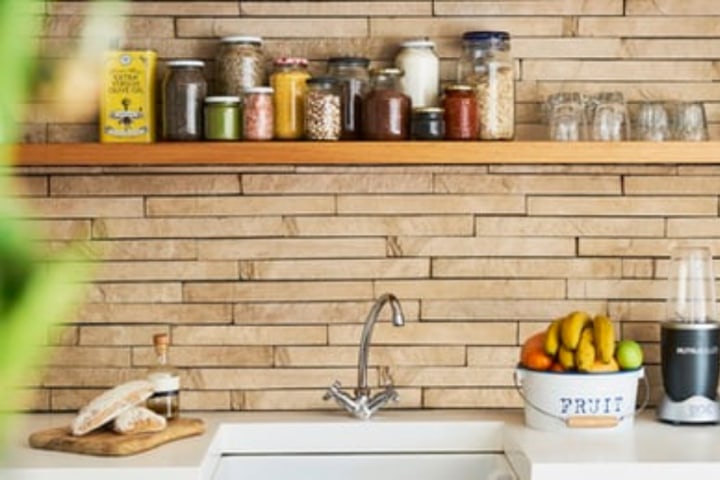 Even if you clear all of your counters, you may want to fill them up with new treasures soon enough. Arranging the surfaces in tiers helps make a small kitchen feel lived in but still organized. A mounted spice rack right over the stove is always an attractive feature, and as an added bonus, it clears up space in the pantry.
5. Refresh Your Display Equipment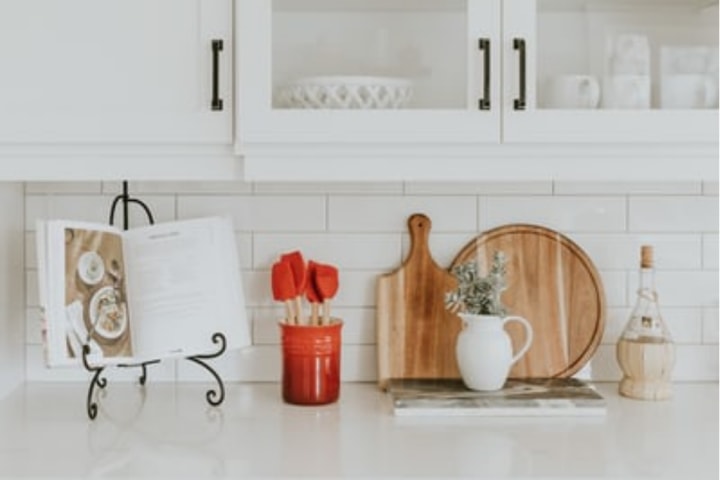 Some kitchen equipment just cannot be kept in the dark. Curating which items sit out in the open is an easy way to remodel the look of your kitchen. A quality chopping board or cast iron only look better as they age, but electronic appliances can become outdated within a few years.Upgrading your kitchen's "featured items" gives you a chance to build your dream aesthetic through small but striking details.
6.Treat Your Wooden Cabinets
[caption id="attachment_6095" align="aligncenter" width="1024"]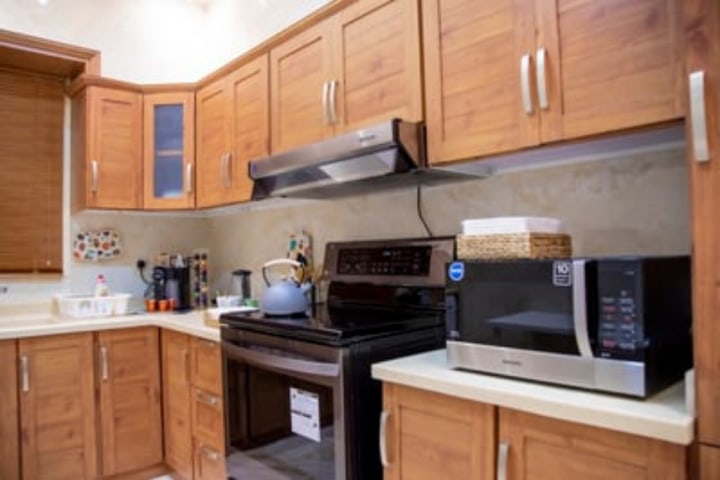 A kitchen unit with wooden cabinets and various appliances[/caption]Cabinets take up a lot of visual space, so it is vital to keep them in top condition. Cooking generates heat, puts moisture in the air, and can leave food particles on surfaces. Even with the best cleaning routine, the effect can add up over the years.Treating the doors and cupboard with a sealant and varnish can renew their luster and protect them for years to come. If you need some extra tips, we have a guide on
how to clean a wood cabinet
to help!Are you thinking of giving your cabinets a fresh coat of paint? Excellent! If you need more information, we have a guide that breaks down everything you need to
paint your kitchen cabinets
right.
7. Compartmentalize the Major Spaces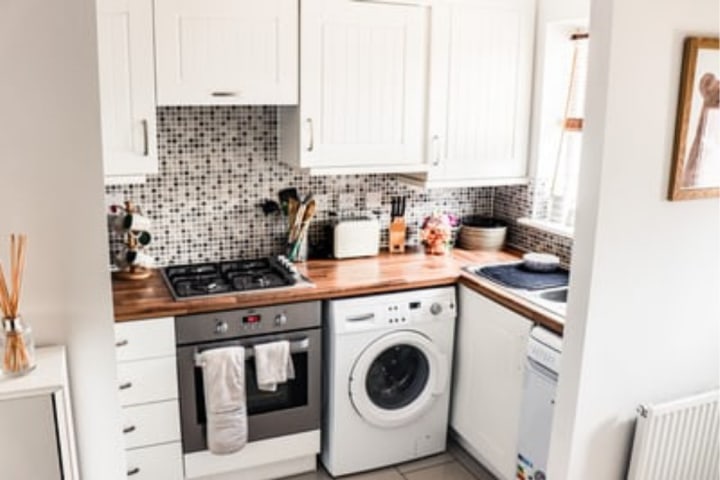 A small kitchen renovation is a great time to experiment with layout. Rearranging the big pieces in the kitchen can completely change the flow of your cooking space. One of the best ways to visualize a new arrangement is to stand at the kitchen entrance and look at it through the eyes of a guest.What is the first thing you want them to see? What kind of first impression do you want to leave? Most importantly, is there an arrangement that would make you even more excited to enter your kitchen? Be sure to run with your first impressions here – and try to add some creative flair to stand out from the crowd.
8. Upgrade the Sink Unit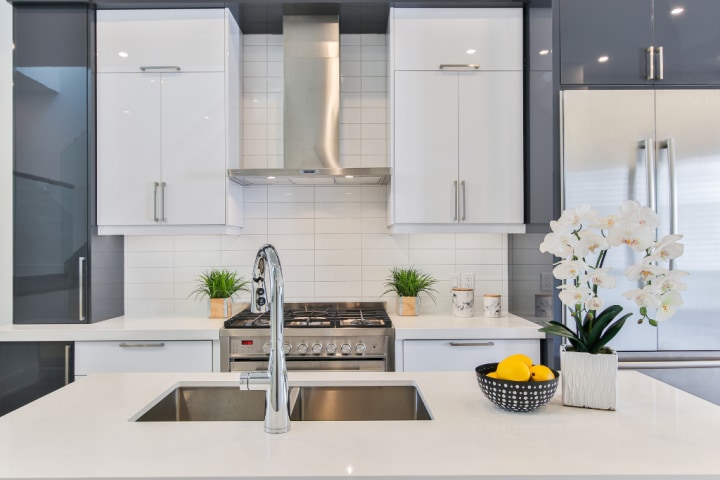 A quality sink can transform how an entire space looks and feels. Fitting in a larger sink maximizes the utility in a small kitchen, and can make monotonous tasks like doing the dishes more enjoyable.If you are thinking about upgrading your kitchen sink, try thinking about more than just functionality. Ceramic sink bowls add a unique aesthetic that metal units rarely can. Give this area a little drama by installing modern faucets during the remodel.
9. Add Some Greenery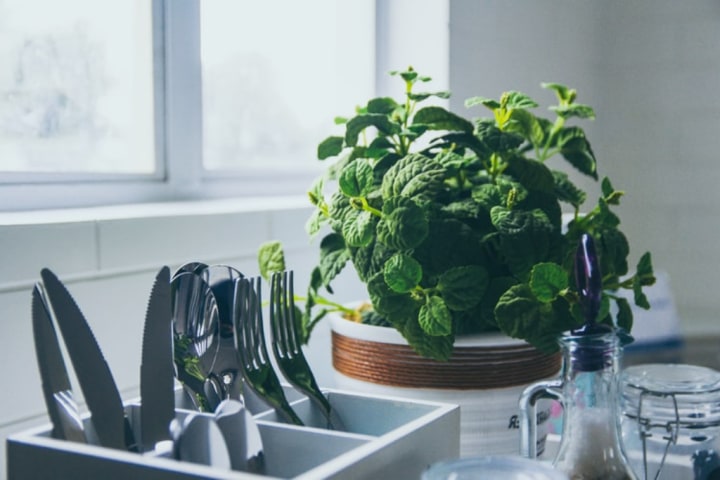 Indoor plants add a vibrant element to the stone, metal and wooden surfaces that dominate most kitchens. If you want to improve the air quality in a small kitchen, consider picking up some air-purifying plants at the local nursery. Plus, if you enjoy cooking with rosemary, mint, coriander, or other spices, they make excellent potted herbs for the window sill.
10. Maximize the Natural Light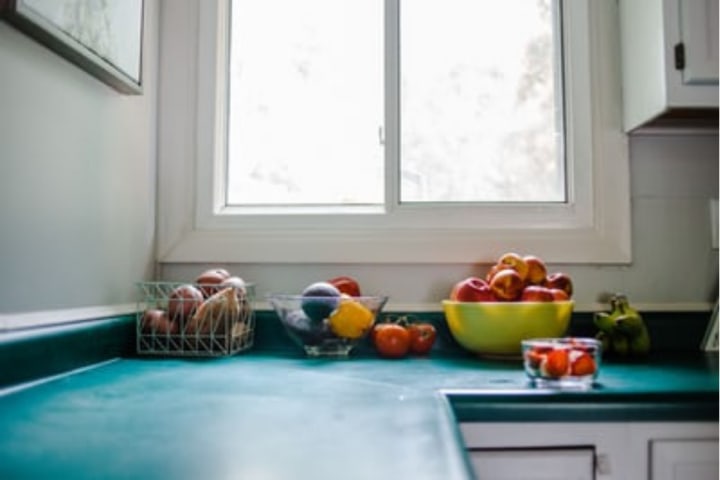 You do not need to change much in a small kitchen to change the feel of the space. Natural lighting makes a room feel open and brightens up its best features. Modern windows let in more natural light than their older counterparts, which will give the kitchen a more open feel and keep those indoor plants happy and healthy.
11. Use Mirrors to Open the Visual Space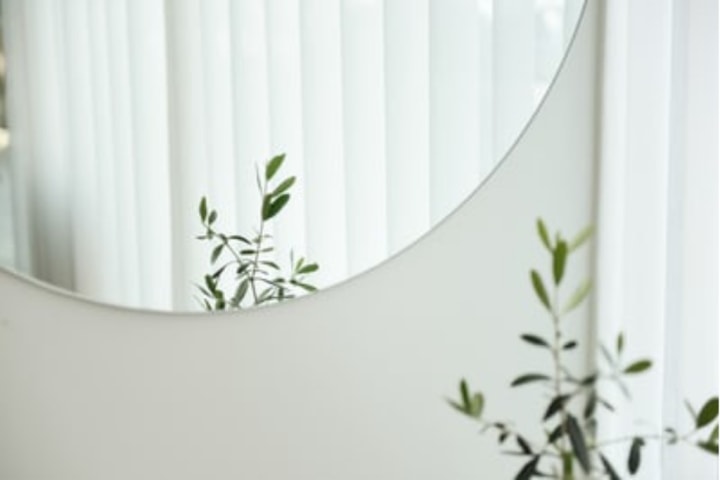 We all know the saying: a mirror doubles a room's size! It can certainly feel that way when the placement is perfect – and the larger the mirror, the better. While freestanding vertical mirrors are good, they can get in the way while you cook. We recommend a wide mounted mirror placed at eye level near the stove for the most striking effect. Of all our small kitchen remodel ideas, this is one of the easiest.
12. Organize Storage for Small items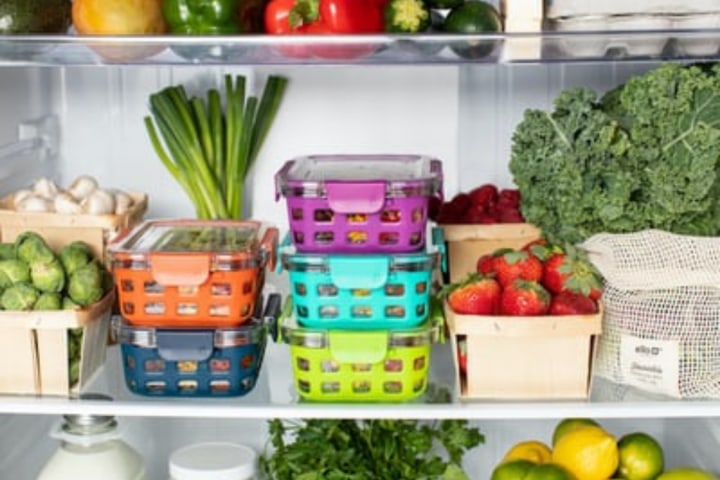 Loose cutlery, appliances and dish towels can make a small kitchen feel cluttered. Investing in storage for each of these items can free up counter space and give the surfaces a sense of organization. Mason jars and painted tins are just a few visually appealing storage ideas – feel free to experiment until you find the best fit for your space.
13. Add a Splash of Color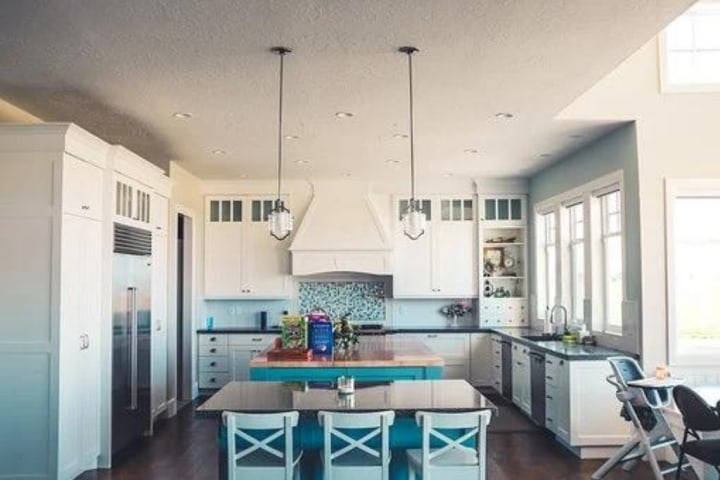 Painting can be intimidating, but it does not have to be. Repainting the walls shifts how a person perceives a room, especially a public one like the dining area and kitchen. If you don't want to commit to painting the walls, you can still add some vibrant hues by painting the kitchen chairs or cabinets.
14. Add Some Rustic Details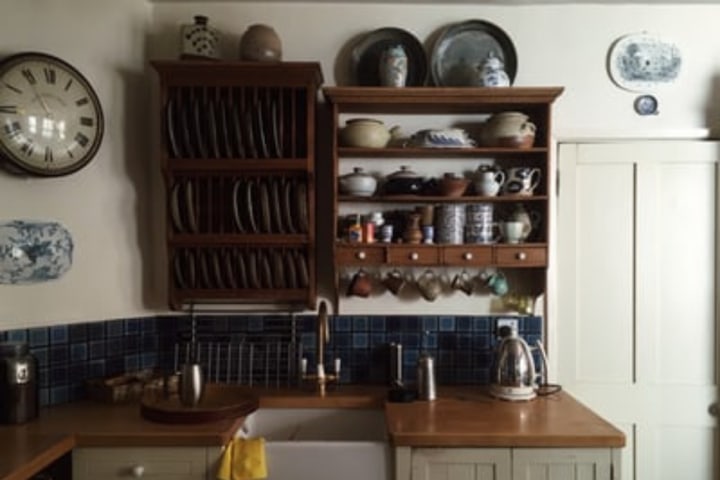 Many remodeling guides focus on creating a modern aesthetic. Still, a more traditional piece of furniture lends the room some character and warmth to break up the coolness of stone, metal and glass. A small antique cabinet can provide a rustic finish and is one of our favorite small kitchen remodel ideas.
15. Make a Sit-Down Area in the Corner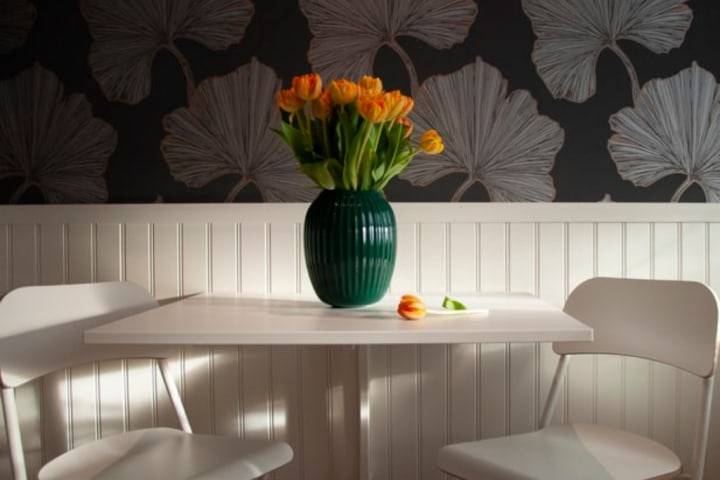 We started this post by talking about clearing out the old, so let's wrap by introducing the new. If you can dedicate a part of your kitchen to a coffee table, why not build a small sitting area for mid-morning tea and quiet Sunday lunches? Adding a casual nook will drastically increase usable space, and provides a great opportunity to add additional decorations, like potted plants or candles.
Are You Ready for a Small Kitchen Upgrade?
You can upgrade your kitchen without a full-blown renovation, so why not enjoy the process with as little stress as possible? If you would like an expert perspective on how to optimize shelving for your next project, you can
book a free consultation
on our website.