Every square inch of any closet is prime real estate. Struggling with keeping your clothing organized? Give your space an organizational upgrade with one of these genius storage ideas for small closets.When a closet is well organized and easily accessible, you have peace of mind, which adds to your quality of life. When unorganized, closets can really weigh you down. This is even more important for smaller closets, where there is little room for error. Here, organization is key.But what if you already cleaned out your closet, removed winter items, donated what you know you will not use, and there is still not enough room? There's still hope.
These clever ideas will help you make the greatest use of tiny closets.
1. Expand Closet Space from Floor to Ceiling
[caption id="attachment_5809" align="aligncenter" width="1024"]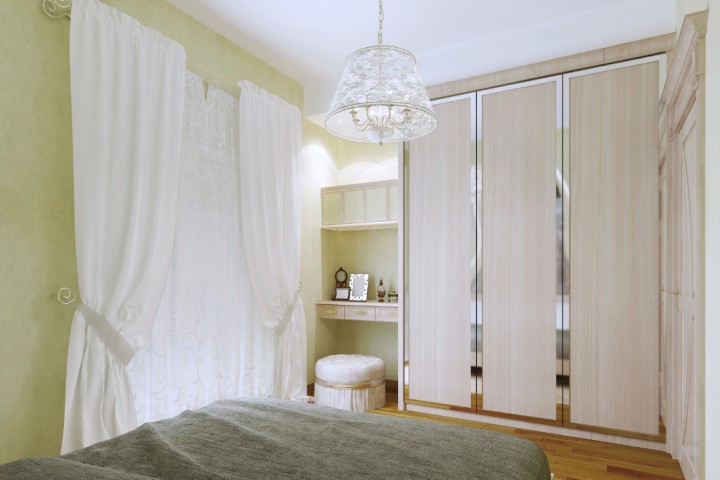 Gorgeous floor-to-ceiling reach-in closet in a white and silver finish.[/caption]
Put every square inch of storage space in your closet to work.
The airy
art deco
bedroom shown above had no closets, typical in older homes. Then a reach-in closet was built, spanning from floor to ceiling, and leaving a small space for a vanity table. This elegant closet solution upgraded the entire room.
Another way to expand your space? Use mirrors on your sliding closet doors.
Visually, mirrors expand any cramped space.
Both beautiful and useful.
2. Find Studs, Add Shelves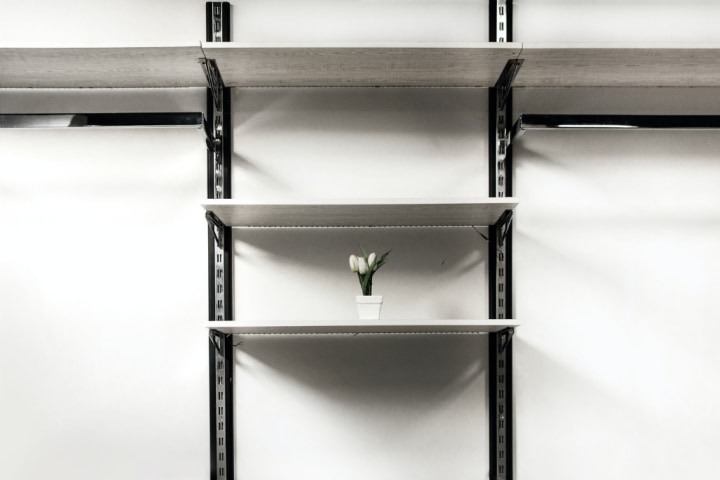 If you find unused wall space in your closet, think about adding shelves.
Shelf options are unlimited—metal, natural wood, laminated particleboard. The laminate shelves shown above sit on shelf-bracket tracks, making their height adjustable.
Find which shelf brackets will best sustain the shelves you desire. Then, locate your wall studs.
If needed, you can even install a mounted cabinet to serve as an extra closet.
With studs, all things are possible.
To get our expert designers' eyes on your space, or design a custom shelving solution for your needs,
call the number on this page now to talk to a ShelfGenie consultant
. Please, note that our custom closets are currently produced at just a few locations. And while our custom shelving solutions are available at all locations, there must already be some sort of cabinets in your closets before we install the shelving.
3. Baskets, Bins & Beauty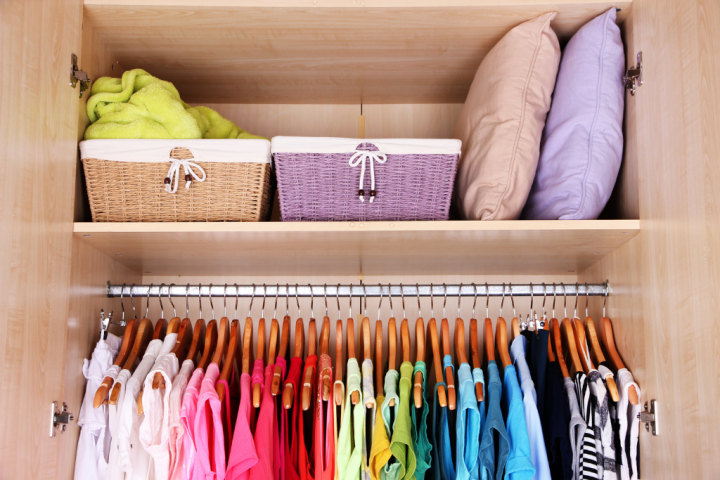 It can be unsightly to see stacks of clothing when the closet or shelving space is exposed. Baskets are a beautiful way to contain your things and maintain your closet's aesthetic harmony.
Options range from wicker baskets to linen bins to removable fabric bins to drop-front boxes. These elegant boxes, made in shirt or sweater-size, protect your clothing from dust, wrinkles and time.
With drop-front boxes, you see what is inside.
A word of caution:
If you choose linen or wicker bins, add an outside label of what is inside each bin, so one day you will not have to pull down every last one to find something. If you're feeling crafty, chalkboard paint turns any surface into a chalkboard. It's a terrific option for labels, to-do lists or leaving notes.
4. Master Your Shoes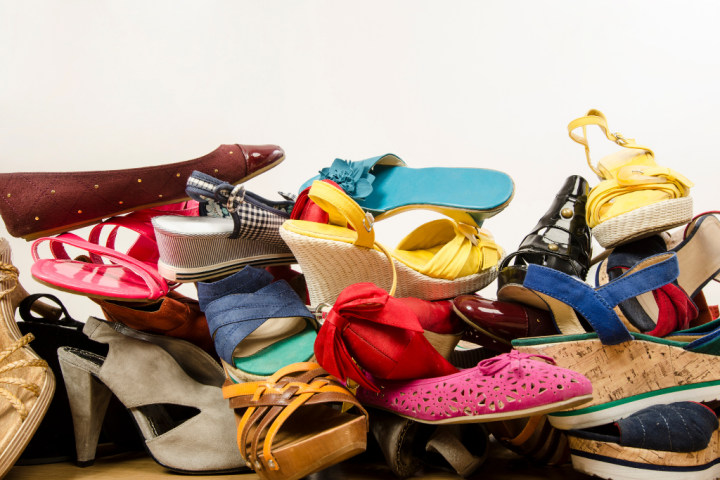 Shoes take up a lot of space, and when this area is disorganized, locating the right pair can be maddening.
Stack your shoes behind doors, hang them in shoe organizers, or organize them on their own shelves. Plastic or linen drop-front shoe boxes can also help you protect and organize your shoes.
For small closets, try stacking drop-front shoe boxes in the corner. These can be stacked high, yet shoes remain easily accessed by the drop-front door.
5. Divide & Conquer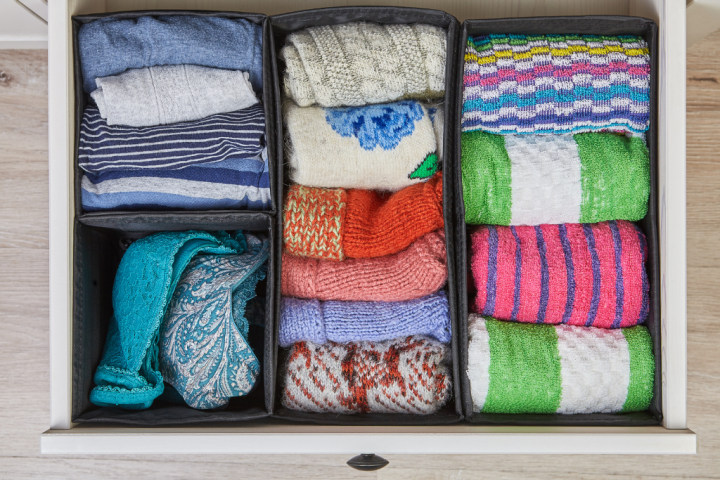 Drawer dividers make order of chaos. These
ShelfGenie shelf dividers and glide-out options
were designed for our clients based on their individual needs. We make custom-made, lasting solutions for dividing and accessing your shelves.
There are also many good commercial drawer dividers out there. They may not glide out, but they will keep your items in place, so your socks stop invading your shorts. Dividers can help organize shelves and storage spaces throughout your home—from closet to bathroom.
6. Pegboards Away!
Not just useful and sturdy, pegboards can also be beautiful. Especially for maximizing and organizing small closets.
Picture the back wall or door of a reach-in closet with a pegboard, where you can hang jewelry, scarves, purses, or similar items. Painted, or framed with distressed wood, pegboards can be lovely lifesavers. So flat, they take up infinitely small depth space; yet they can span an entire wall.
Add O-rings, S-hooks or wooden clothespins to hang even more. This is how you keep 100 ties hung safely and neatly, even in a small closet. Pegboard pegs can be made of anything, though using pine or other scented wood is ideal for keeping your things fresh and fragrant.
7. Hang Out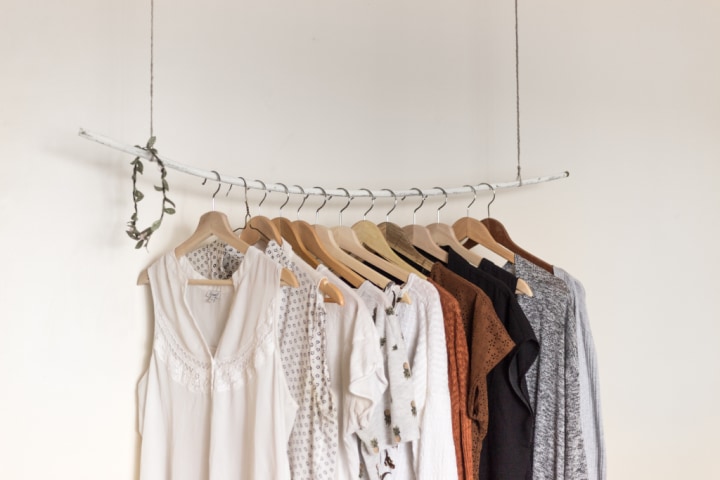 If it becomes necessary to turn your bedroom into additional closet space, find a beautiful way to do so. Hang your clothes on a rod made of copper pipe. Or silver, like that pictured above. Then secure your hanging hooks safely from ceiling beams or wall studs.
This is a fantastic, minimalist approach. Trendy stores are adopting this look, with regular rope or wire cables supporting rods, branches or pipes. The only rule here is: Make it sturdy and stunning.
8. Refurbish, Repurpose, Repeat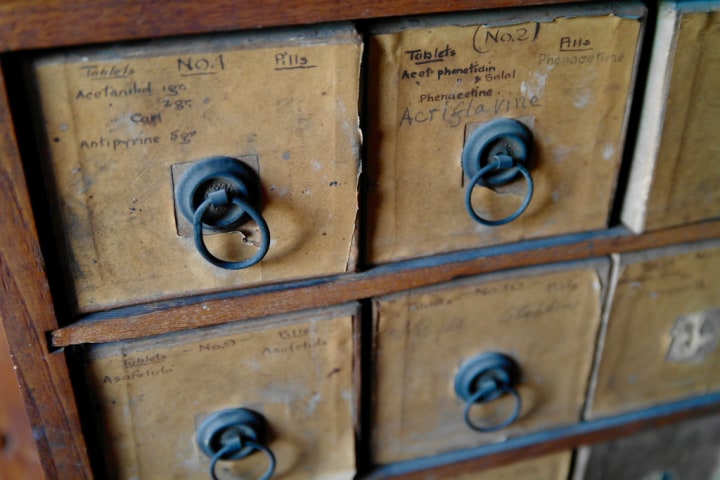 At ShelfGenie, we love
renovating existing cabinets and drawers
. We also love when homeowners choose to salvage and repurpose items, like the above-pictured vintage medicine cabinet. As long as the foundational frame of the unit is sturdy, you can restore it easily.
As an alternative, try closet dividers, linen bins or wicker baskets instead of drawers. Or, if you want to update the existing drawers, invest in its hardware. New knobs will give the entire cabinet unit new life.
9. Isolate Odors Intelligently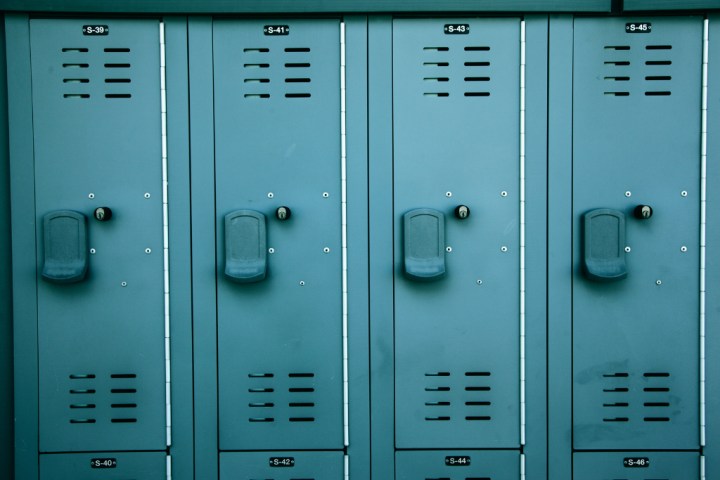 Especially in smaller closets, it is critically important to prevent odors from contaminating your clothing. Modular storage units, plastic and on wheels, make odor containment issues easy.
For storage areas that need to be contained, but must also be able to breathe, one simple idea is old lockers. Pictured above, lockers allow items to be contained, yet remain ventilated. A great option for sport or scuba equipment, mudrooms or man caves.
Another ingenious solution? Scented shelf paper. Just as the best offense is a good defense, the best way to fight odors is with fragrance. Scented drawer liners fit into nearly every closet.
10. Think Outside Your Box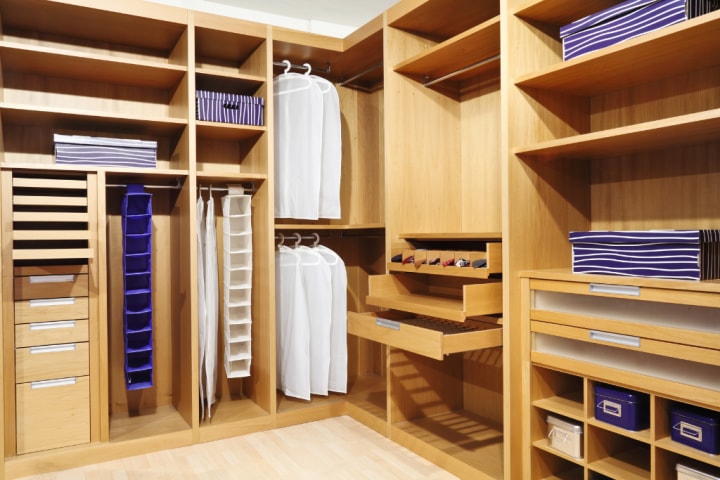 When it comes to closet solutions that maximize space, thinking out of the box is what we do.
Our custom solutions are individually tailored to your specific needs. Our quality products and lifetime guarantees will improve your home's value, as well as your daily quality of life.
Schedule a
ShelfGenie free design consultation
to evaluate and optimize all your home's problem areas to make your organization dreams come true.