Have you been thinking, "I need storage ideas for small spaces?" As things accumulate over the years, it can be difficult to stay organized. ShelfGenie has a ton of experience in the organization department – we love customizing storage areas for optimal use of every square inch.If you think there is no space left in your home, think again. These genius storage ideas for small spaces will ensure that you reclaim all the valuable, unused space in your home.
1. Drawers Everywhere
Do you need more storage ideas for small spaces? Try this stylish storage idea for a small, narrow living room. In this example, drawer units from wood laminate have been blended into the walls. The white tones expand the space, while ample drawers allow for optimal organization.
2. Hallway Mudroom & Shelf Storage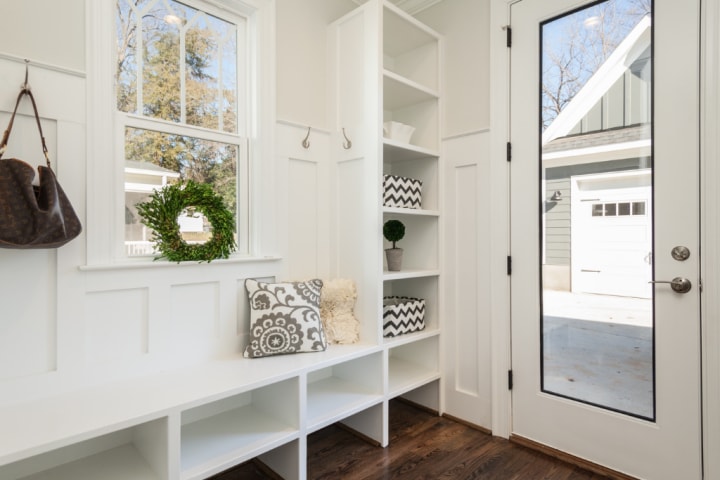 This storage solution for small spaces turned a bland entryway into a functional mudroom. White wooden shelves provide excellent storage space and the narrow, long shelf unit doubles as shoe shortage and a bench.
3. Window Nook Storage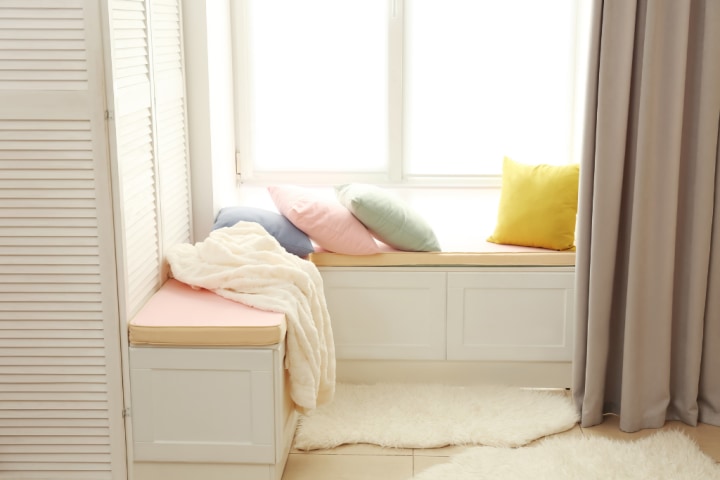 How do you organize a small house with no storage space? Check your windows. This creative storage idea shows you how to turn window areas (or corners) into beautiful, comfortable benches. Below the padded seat, the wood bins can be used to store things large and small.
4. Go High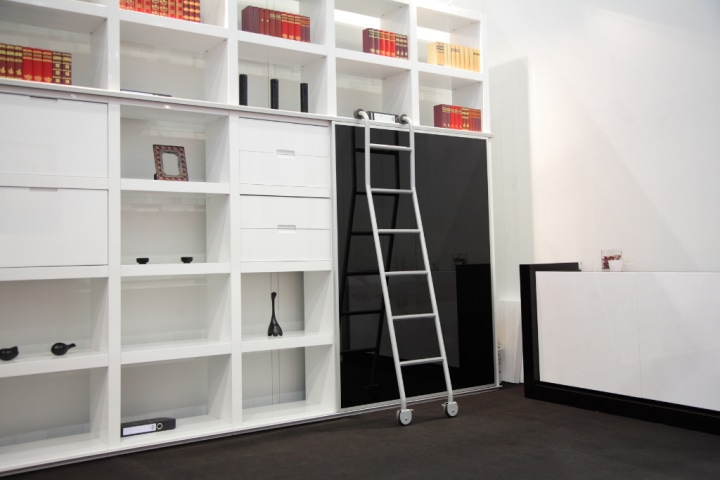 This is the single best storage ideas for small spaces apartments: build shelves high. This gorgeous white wood shelf unit spans from wall to wall and floor to ceiling. A ladder with rolling casters allows you to reach things on the upper levels. If you are feeling creative, you can even fit an entire entertainment center in these built-ins.
5. Repurposed Medicine Cabinet Storage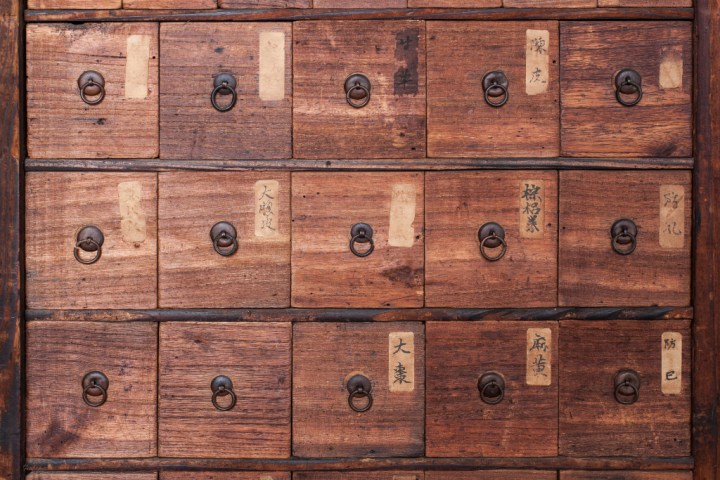 Need storage ideas for small spaces to work with your budget? Take a look through your local vintage or consignment shops. This repurposed vintage medicine cabinet features ample drawers and updated hardware, which makes for a gorgeous statement. Best of all, the many drawers offer additional storage for clutter around the house.
6. Stairwell Spaces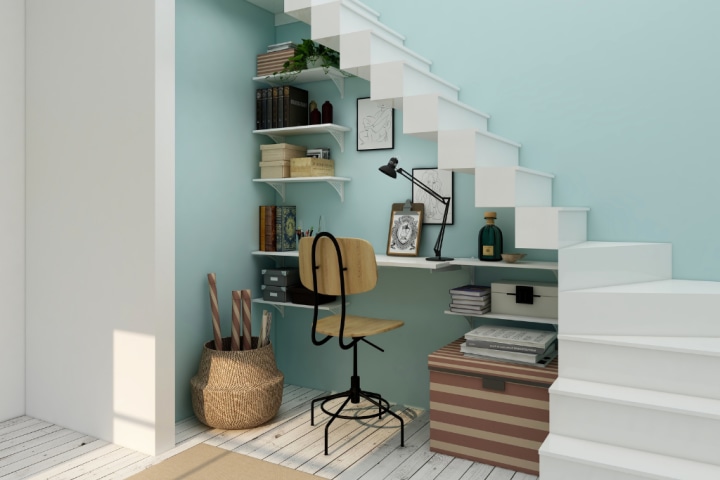 Do you have stairs in your home? If so, try converting the space below the stairwell. This design employs fiberglass steps and bracket shelves, and the space below can be used for just about anything.
7. Hook it Up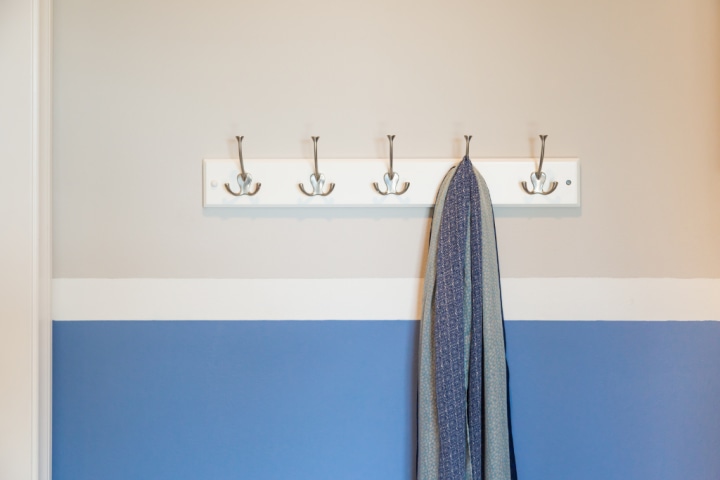 A simple idea, perfect for getting the most organization out of any area. You may have a wood-base wall coat hanger near your front door, but what about other areas? These space-saving decorations can be useful anywhere in your home: hallways, closets, shed, or in the bathroom for towels.
8. Creative Corner Rooms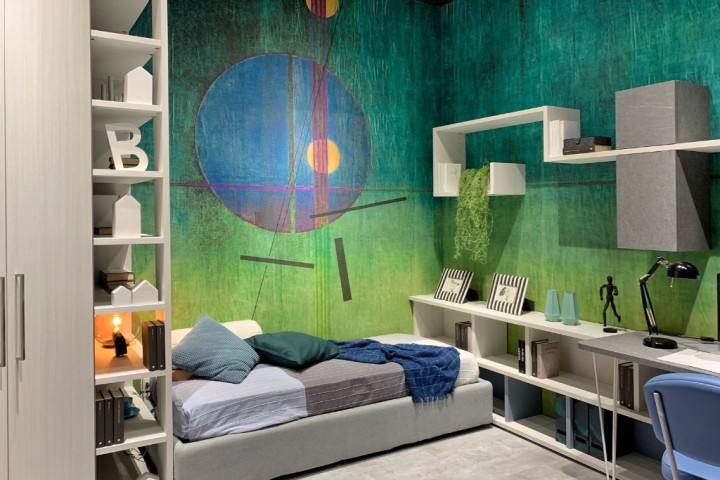 How do you organize a small room? This modern design idea turns a corner into a small guest bedroom or sitting area. Wood shelves form a bookcase, spanning from floor to ceiling. Small laminate shelves on the other side of the room provide ample storage and counter space. This is a bold statement that will certainly bring attention to those with a more artistic eye.
9. Under the Bed Storage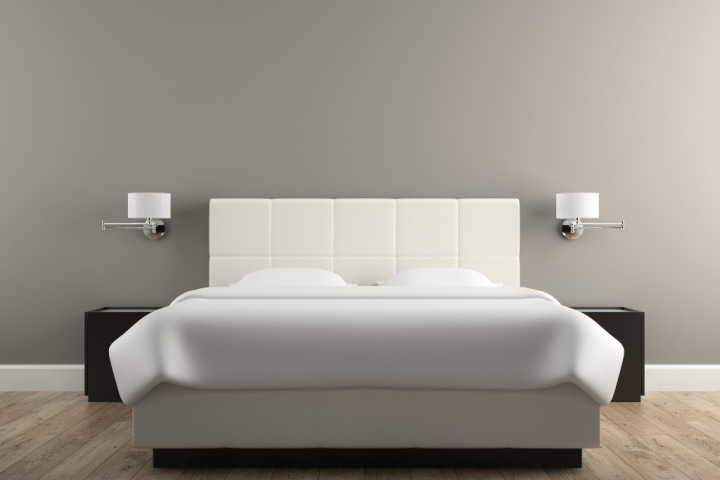 Check under your bed.
Seriously
. Most beds, like the white platform bed featured above, have room below to store your items. If drawers will not fit beneath your bed, consider long plastic lidded containers, or
ask ShelfGenie about glide-out
solutions to easily access the space beneath your bed.
10. Decluttering Small Rooms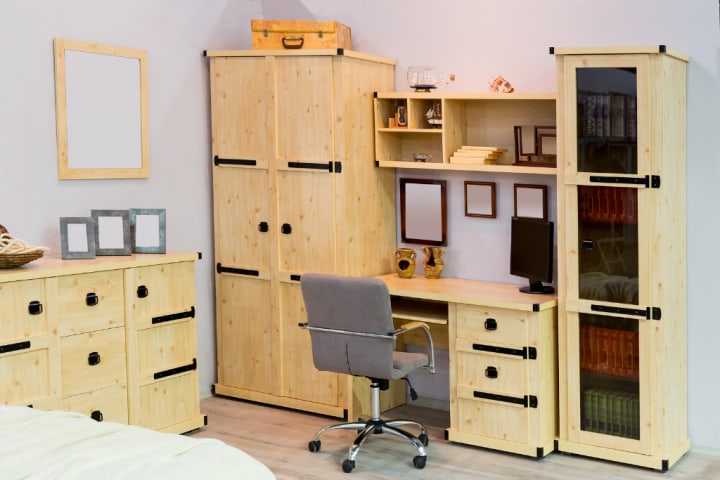 How do you declutter a small bedroom? Find a lovely place for everything. This design braces a desk between wardrobe and a bookcase, with a matching sanded-wood dresser nearby. The internet is chock-full of ideas for building home workstations using inexpensive items, like IKEA wardrobes.
11. Attic Options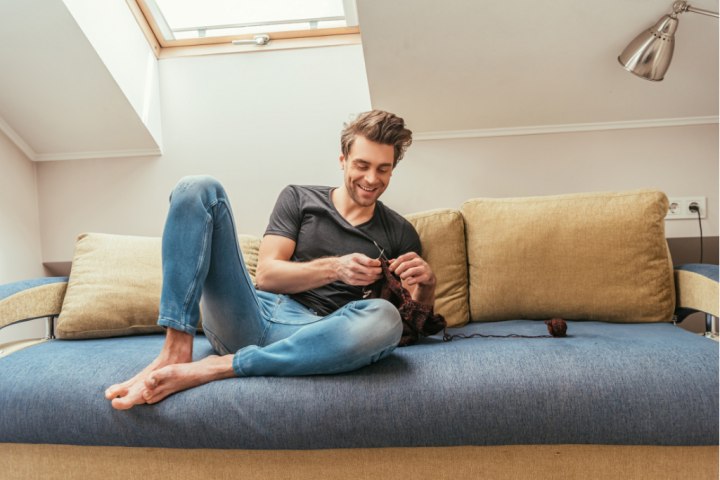 Attics were made for storing things -- especially old family heirlooms. But if you have attic space in your home, have you considered refinishing it? Doing so will greatly expand your overall usable space. For example, the denim and tan couch above transforms into a guest bed right below an attic window.
12. Building Better Bins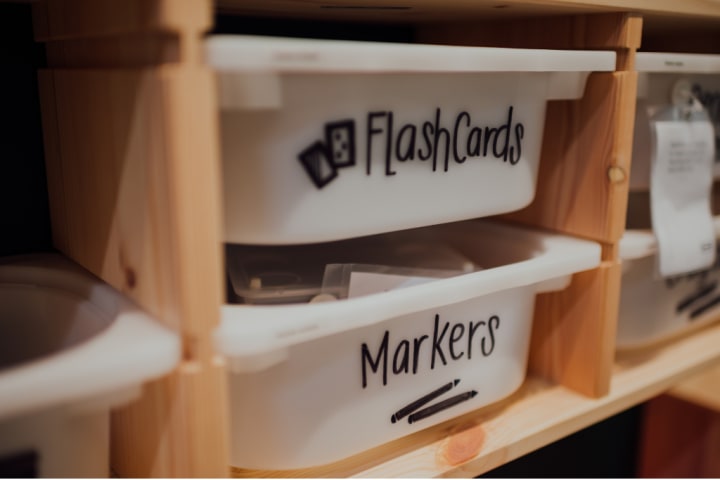 This storage solution for small spaces offers ideal organization that's perfect for teens, seamstresses, artists, or collectors. Small plastic bins, with clearly labeled contents, slide in and out of simple wood cubbies. This is a great storage idea for closets, garages, attics or any enclosed space.
13. Portable Toolbox Storage
Toolboxes are very sturdy, and great for maximizing tight storage spaces. The above toolbox holds colorful, folded scarves, which can be stacked, set on high shelves or stored in crawl spaces. As an added bonus, their sturdiness also assures our possessions will stay safe and dust-free.
14. Kids Room Storage Musts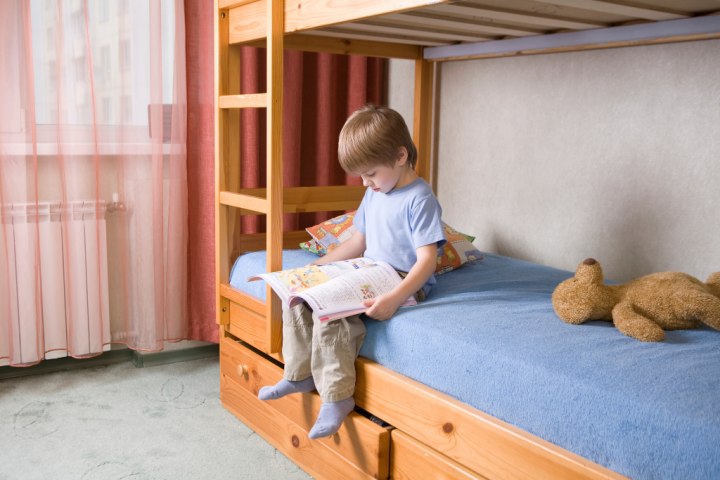 If you have young children, you might have to get creative with your small bedroom storage ideas. The above wooden bunk bed features wooden drawers just below the mattress – the perfect height for children's reach. If you like this design, ShelfGenie offers even more
tips for organizing the closets of small ones
.
15. Vintage Trunk Storage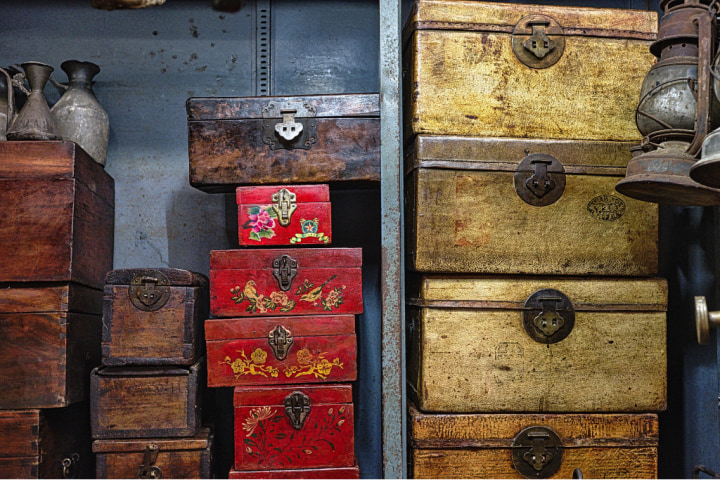 Stylish storage ideas come in many shapes and sizes. Vintage trunks like the one above can hold anything from fine china to bulky bed linen, keeping your possessions safe from both unwanted dust and unintended knocks. Perfect for the foot of your bed, on top of curio shelves, or nearly anywhere in the home.
16. Not Just for Wine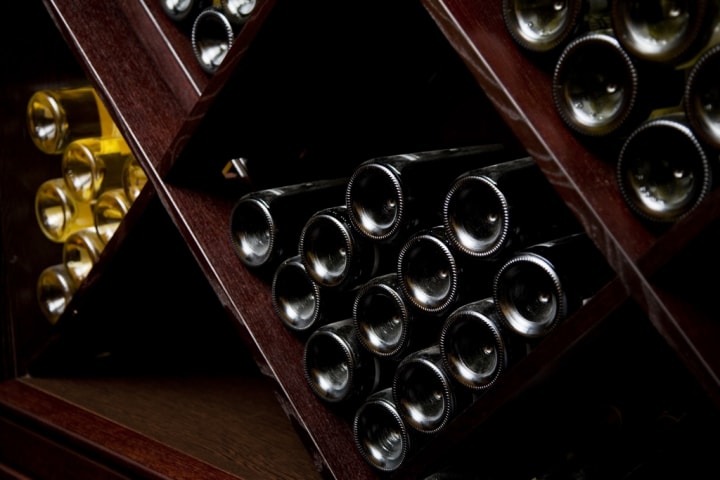 We love this gorgeous storage idea: a wine cabinet made from crossed planks of stained wood. X-configured shelves provide excellent sturdiness, and are perfect for storing heavy bottles of wine. This idea need not be just for wine; it can also work well for bathroom towels or for organizing your pantry.
17. Pantry Storage Solutions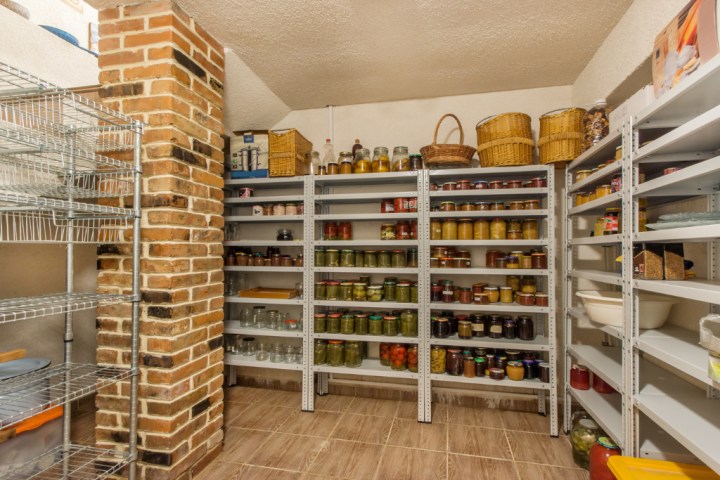 It's always a wise idea to have a food storage area. The simple, sturdy metal shelves protect jarred food, with lighter-weighing wicker baskets stacked on top. Pantries and food storage areas need to be sturdy and spacious, and this design overdelivers on both fronts.
18. Hooks for Savvy Kitchen Storage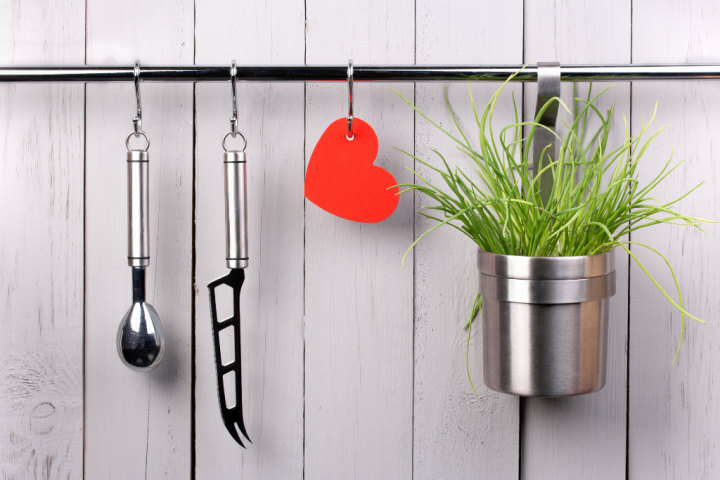 Want a simple storage idea for very small kitchens? Consider hanging bulky utensils or pans! This design idea, which utilizes a metal bar for the hanging hooks, lets you both organize and decorate. Here, it provides plenty of room for hung kitchenware, a plant, and some beautiful art.
19. Lockers, Anyone?
Need to create storage space in a home with no storage? Wall-to-wall lockers can be a wise option. Perfect for garages, this solution leaves every tool or Christmas decoration out of sight. This solution can also work well in mudrooms, basements, playrooms, or anywhere you want to safely store your items.
20. Storage Sheds & Gardens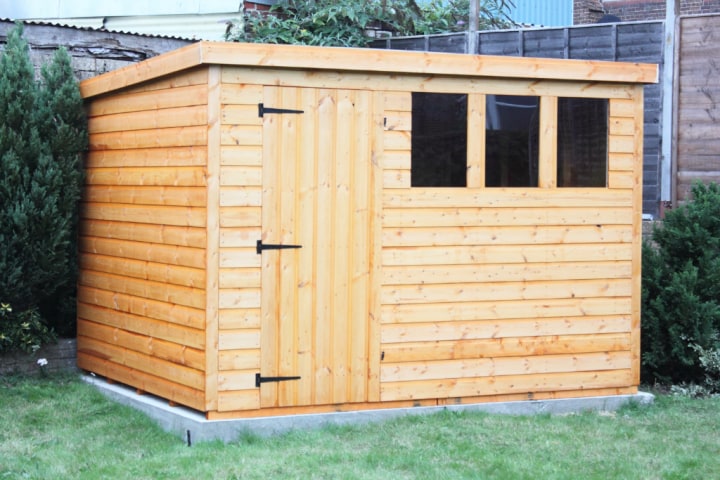 Still need more storage space? Check outside. There are many great outdoor storage bins available at home goods stores. Or consider this garden tool shed, made from treated wood and polarized windows for keeping items inside at the perfect temperature.
Claiming Every Inch of Storage Space in Your Home
Did these storage ideas for small spaces get your creative juices flowing? Stylish, functional storage ideas can save you from running out of space, or losing your mind.
Think about what space in your home can benefit from one of these brilliant storage ideas for small spaces. Focus first on which areas in your home need the most organizational TLC.
If you get stuck, or could benefit from a
free professional design consultation
, reach out to one of our experts. We know how to squeeze every square inch out of the available space in your home.
Which of these 20 creative storage ideas for small spaces best suits your needs and style? Let us know.
We love bright ideas.