Upgrading your kitchen is a big task. It can also be an expensive one. Did you know there are ways to cut the cost by buying used kitchen cabinets? Replacing your kitchen cabinets is a significant factor in the cost of kitchen remodels, so if budget is a concern, it's worth considering any opportunity to save money. While buying secondhand kitchen cabinets may not be the first idea people have when planning a remodel, it can be just as effective in achieving the ultimate goal of sprucing up your home.Here is your complete guide to buying secondhand kitchen cabinets to help save money on your kitchen remodel.
Where to Look for Secondhand Kitchen Cabinets
If you are in the market to buy some salvaged kitchen cabinets, you can begin the search right on your couch. There are several online marketplaces for people selling their reclaimed kitchen cabinets, like
Facebook Marketplace
. You'll be able to see listings in your area with photos of the kitchen cabinets and other items they want to sell. Message the sellers to inquire more about the cabinets, then set a time to meet up and buy them.
Ebay
and
Craigslist
are additional online options worth checking for secondhand cabinets.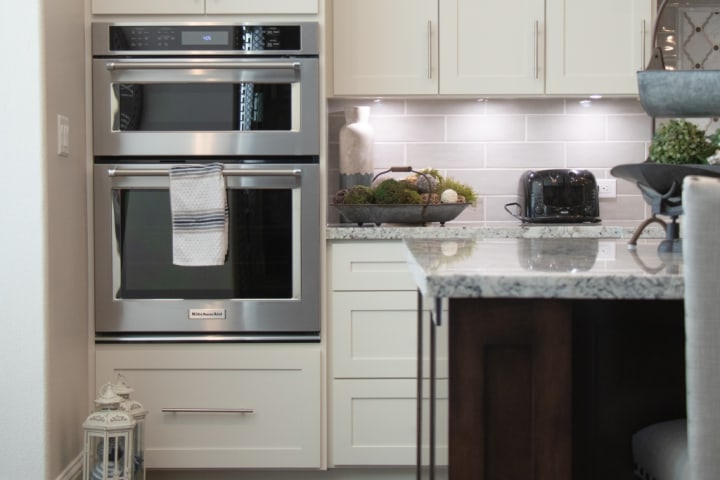 If you do not trust buying virtually and want to visit stores with salvaged kitchen cabinets you can see in person, visit your local thrift store, architect yards, or secondhand furniture stores. These locations may have the deals you are looking for, and the staff may also lend you a hand in searching for a cabinet if they don't have any in stock.
What to Look for in Used Kitchen Cabinets
Here is everything you need to look for to identify and buy great secondhand kitchen cabinets.
Damage
Most salvaged kitchen cabinets you find will have some kind of damage to them. Whether that damage is chips, cracked pieces, stains, or smudges depends. Used furniture of any kind will certainly need to be touched up when you buy it, but when you are looking for secondhand kitchen cabinets, stay away from those that have severe damage unless you are confident you can flip them.
Stains
Depending on the history of your reclaimed kitchen cabinet, heavy cleaning might be involved when you get home. Remodeling a kitchen takes a lot of work, and while it is a great idea to save yourself some money, plan strategically to reduce the amount of extra work you will have to do. Buying a used cabinet with extensive stains may require you to put more time and effort into the remodel than you planned.
Build
Before you take any used cabinet home, thoroughly scope out the build of the cabinets and how they're constructed. Will the wood or laminate be durable enough for your home, or is it likely to fall apart after installation?
Prepping Your Used Cabinets
After you purchase salvaged kitchen cabinets for your home, properly prep them for the remodel by cleaning them with soap and water and painting them, if that is a part of your project. Depending on the type of cabinet you purchase, your prep time may increase or decrease. Choose wisely from the following types of reclaimed cabinets you may encounter.
Display
Display kitchen cabinets are goldmines. They are the cabinets that showrooms or home design centers use to demonstrate the products they offer to clients. Companies toss these cabinets out when they're no longer needed, which means they may only require minimal cleaning or touchups.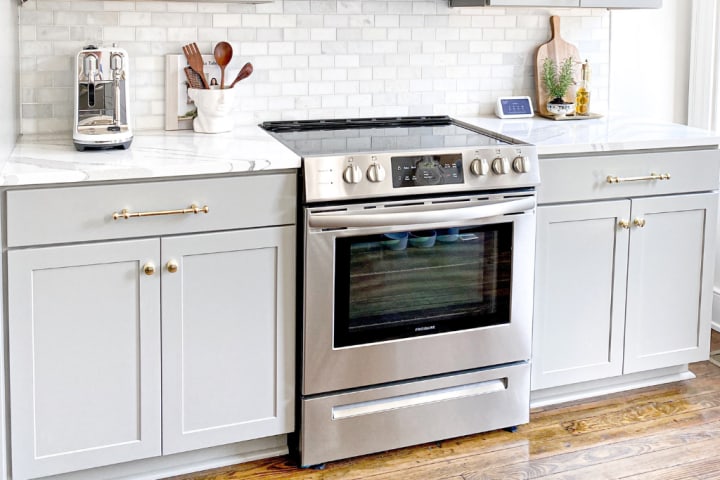 Working
Working salvaged kitchen cabinets are the everyday cabinets that people use in their homes. Unlike display cabinets, these cabinets are typically heavily damaged or stained. If you decide to go with a working cabinet, prepare to spend extra time fixing the damage.
Pros & Cons of Used Kitchen Cabinets
Evaluate the advantages and disadvantages of secondhand kitchen cabinets for your kitchen remodel. Pros
A cheaper option than buying new ones
You can often find other kitchen necessities like sinks or faucets in the same visit
Architect yards often let you add countertops
You can find high-quality cabinets for less than retail value
Cons
They can show severe damage
May require a lot of cleaning and prep time
Might not find the sizes or layouts you are looking for
Styles might be outdated
Going this route may have you looking around for longer than you planned, especially if you have a specific style or layout in mind. This could push back the time it takes to complete your remodel. On the other side, looking for secondhand kitchen cabinets can have a significant payoff in the end if you luck out and find affordable options that will look great after you touch them up.
Make the Most of Your Storage Space
We understand the stress that comes with remodeling a kitchen. We can help. ShelfGenie makes it easy to upgrade your cabinets, shelves, and drawers with our custom glide-out solutions. Our dedicated designers work with the cabinets you already have, adding at least 50% more usable storage space. During our free, in-home design consultations, you'll see a 3D rendering of your perfectly optimized storage spaces.
Contact us today
to schedule a free, in-home design consultation and see a 3D rendering of your perfectly optimized storage space.