You may be working from home, helping someone recuperate, or just trying to stay sane during the lockdown. We know how important it is to refuel and reenergize, so you can keep yourself and your loved ones, active and healthy. Having a kitchen that is both functional and beautiful will help you work better and enjoy the space you're in.So we searched for some creative cabinet storage ideas to not only make your kitchen easier to cook in but easier on the eye.
First, Demarcate Kitchen Zones
Before you try any of these ideas, create these clearly demarcated zones in your kitchen:
Storage
Cook
Prep
Clean
Food Storage
If you have them already, kudos for efficiency. Having these zones ensures a good flow of movement in the kitchen. You can read more on demarcating these zones for an efficient kitchen
here
. Once that's sorted, keep reading to see how the ideas we found can benefit you.
Kitchen Drawer & Cabinet Storage Solutions
We found 10 smart storage ideas to help you get more space and
functionality
out of your kitchen cabinets. These are great if you or a loved one needs:
More space
Easier access
Better organization or
Something beautiful
Which of these ideas could work in your kitchen?
1. Tension Rods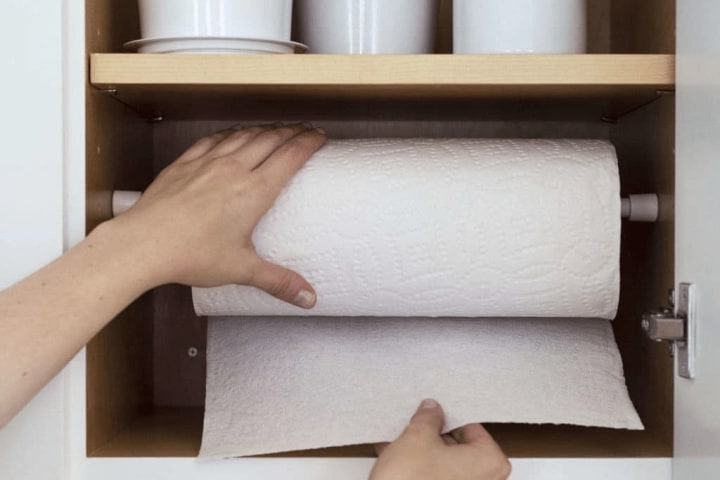 Tension rods are very versatile. You can hang up your paper towel or separate your cutting boards, trays, and baking sheets. You can also use them with S hooks to hang up mugs
.
If the cabinet doors under your sink fell out, a tension rod will make an excellent impromptu curtain rod to conceal that space. You can find more ways to use tension rods
here
.
2. Customized Glide-Out Filing Drawer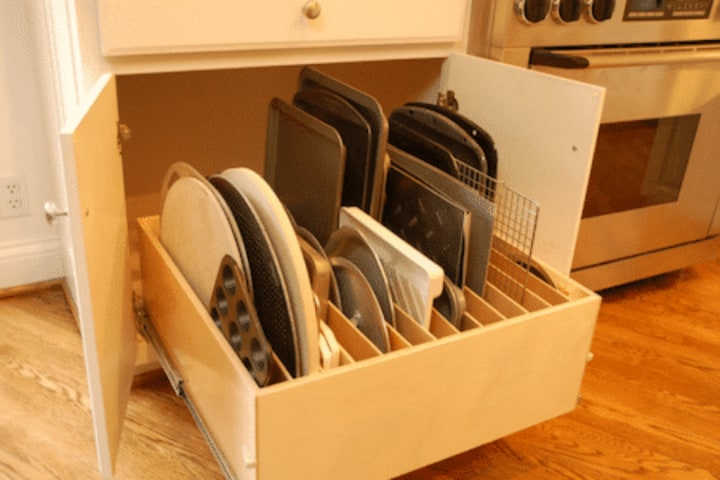 Another great way to store cutting boards, trays, or recipe books is with ShelfGenie's
custom solutions.
You can choose for it to slope in any direction or to be of
uniform height
. If you wish, you can have it attached to your cabinet door. ShelfGenie can make your divider to custom-fit your space, needs, and preference.
3. Wicker Basket Vegetable Drawer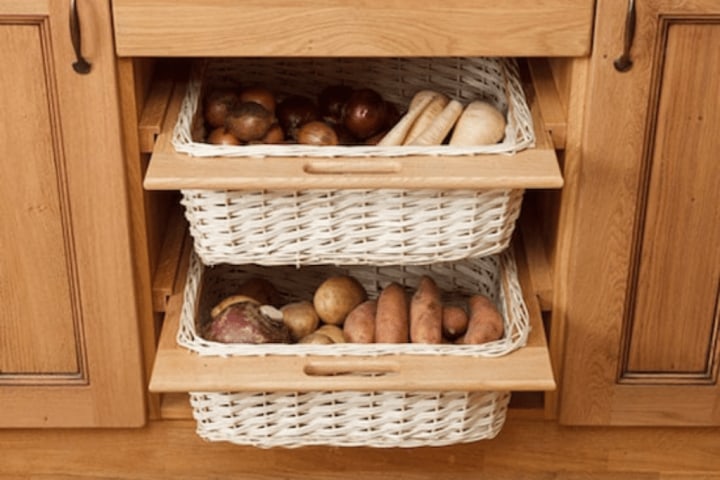 Wicker baskets are an excellent choice for breathability for your root vegetables. You can have them as pull-outs or sitting on their own in an under-cabinet space. If you line them with a white breathable linen cloth, it will give them a neater look and be easier to clean.
4. Tall Corner Kitchen Cabinet Drawers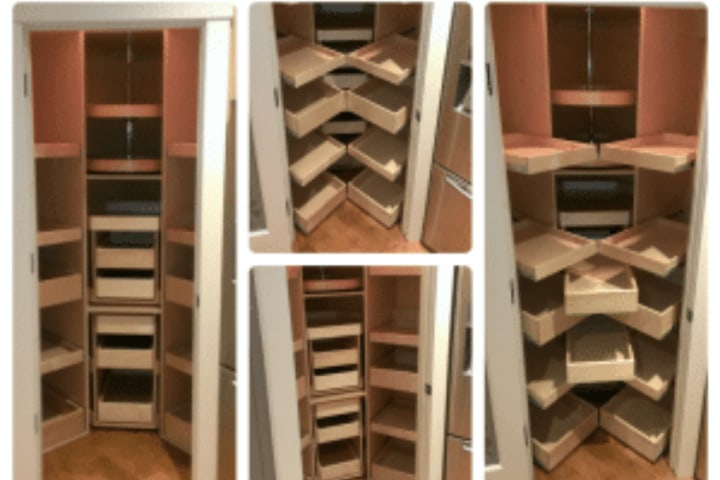 If you have a tall corner cabinet that's difficult to reach into, then ShelfGenie's corner cabinet solution can help.It has a central unit and two columns of five Glide-Out shelves each, on either side. The
central unit
alone consists of a Lazy Susan unit and two Glide-Around units beneath it. The Glide-Around is a three-sided rotating unit. It has pull-out drawers in the center and, when they are turned around, you can access fixed shelves on either side.ShelfGenie designs its solutions to last a lifetime. They are sturdy, custom-made, and hand-crafted using natural wood. Have a look at these blind corner cabinet solutions for
lower
and upper corner cabinets.
5. Fruit Bar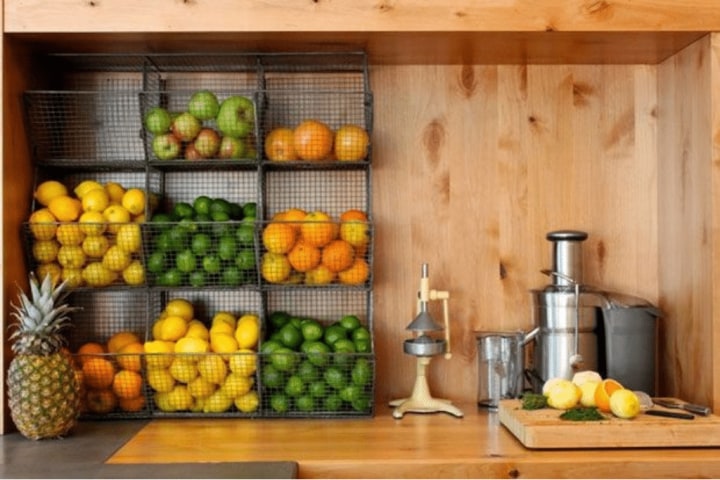 If you have an open cabinet space on your countertop, why not transform it into a fruit bar? Treat yourself and create a natural, beautiful decoration. Create a transparent fruit display. Hang up a mesh rack or create a glass display to store your fruits and set up your juicer. You could use wood to create the partitions and instead of glass, you could use Perspex. You will be more encouraged to make that smoothie or grab a fruit instead of that cookie or bag of chips.
6. Replace Shelves with Pull-Out Shelves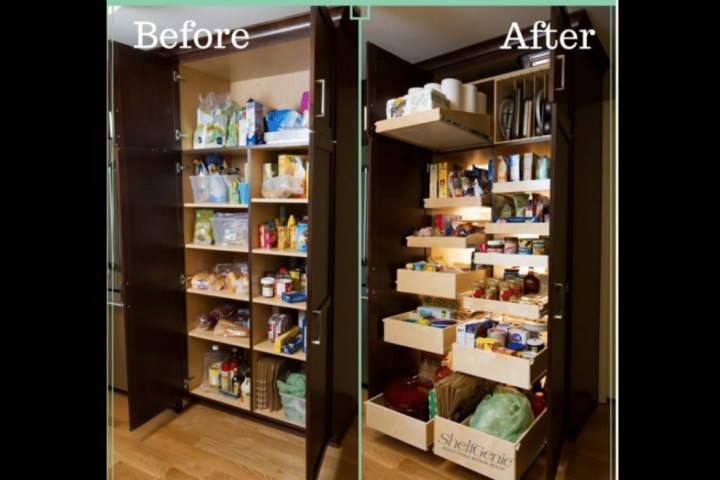 ShelfGenie designs its
kitchen shelves
to fit your existing cabinets. ShelfGenie Glide-Outs are
fully extendable
and provide a load capacity of
100 lbs
. With ShelfGenie, you can get something custom-made just for you. So if you want a 3 tiered pull-out with
shelves
of different widths, why not talk to a ShelfGenie designer? It's an obligation-free, no-cost consultation.You can also
double
up your space, with the
Drawer in a Drawer
solution from
ShelfGenie
. It's basically two drawers in one unit and helps you make use of the vertical headspace. It's ideal for separating your smaller items from your larger items.
7. Kitchen Trash Solution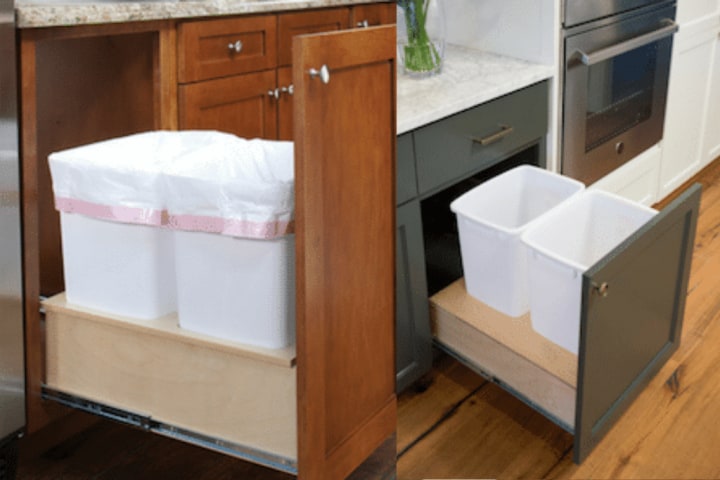 The main thing I like about any modern trash solution is the
hidden bin
, whether it's a glide-out or a tilt-out. Even with the pull-out, there are quite a few options. You can have the bins hanging from cut-out drawers or sitting in a pull-out drawer. Two clever ideas here:
a built-in paper towel holder above the pull-out trash or compost canister
the trash chute on the countertop.
This is especially ideal in the
prep zone
of the kitchen. Wipes are within reach and no opening and closing cabinets.Now, if you recycle according to each category, you may opt to have a recycle cabinet. A dedicated drawer with two or more trash cans for recycling cans, paper, electronics, and more.
8. Custom-Made Drawer Divider Inserts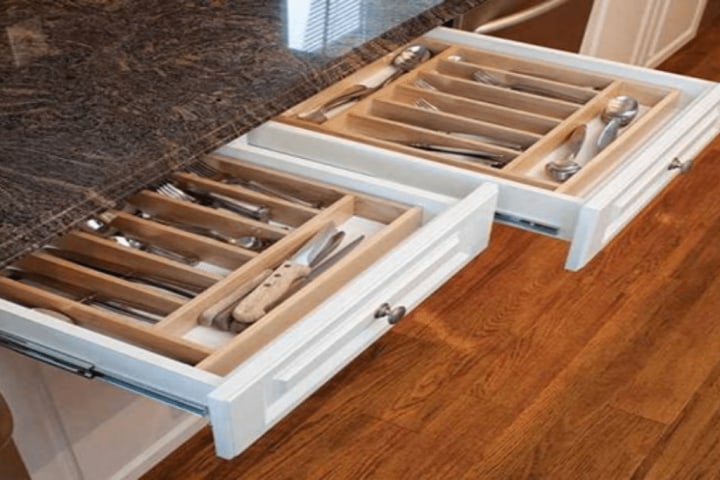 You can add your own or create customized inserts with
ShelfGenie
. You can use inserts to organize anything from
cutlery
to
vegetables
to
spices
. You can design an insert with your preferred size and number of compartments. Best of all, you can easily remove them for cleaning.
9. Bulk Dry Goods Storage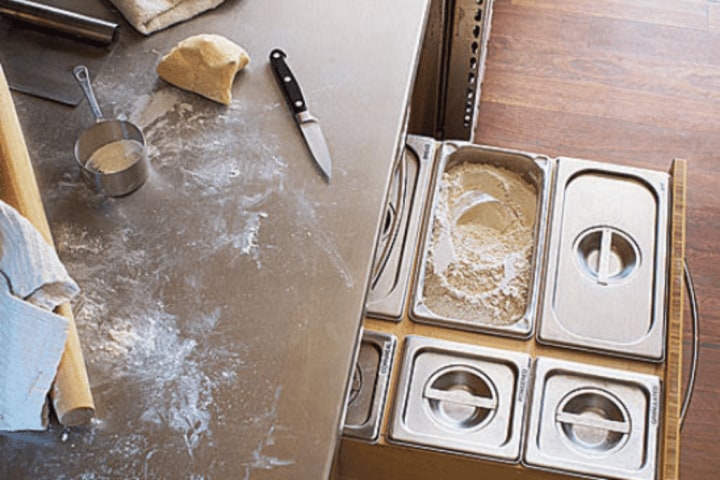 Here is an idea that I absolutely love. You can use stainless steel containers with lids. These should be available at restaurant supply stores. Then, you can get
drawers
precisely measured
to fit these commercial containers.No clutter of canisters or difficult-to-open lids. You could also use glass containers with attached flip-up lids. (The kind you see at sweet stores, with dividers, but the individual containers make for easier cleaning.)I can think of two drawers to separate my basic essential dry goods. One for my baking goods and cereals and the other for grains and legumes like
rice
, beans, peas, and more.You can have different sizes to cater to smaller quantities. Be careful that some items can not store for too long. So be sure to take this into account when thinking of what size container to use.
10. Under-the-Sink Kitchen Storage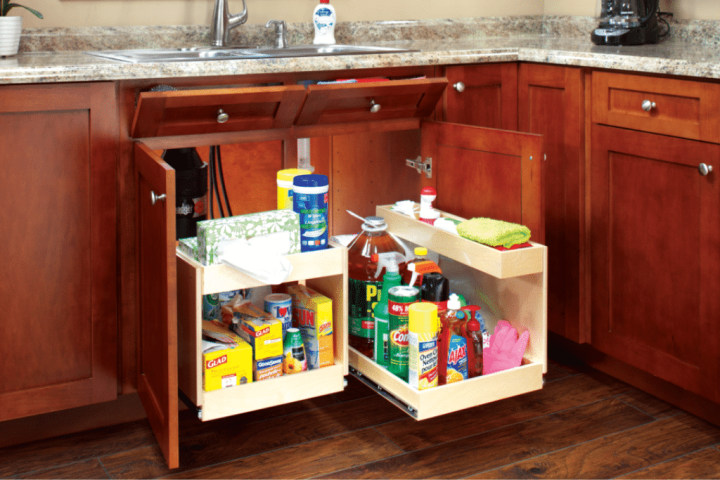 ShelfGenie provides customized solutions for pain points, such as under-the-sink areas.Your solution will depend on the height of your cabinets and the location of your pipes. You can have tiered front or side risers. You can have them attached to a pull-out shelf, or you can have them glide out independently.You can also include a
tip-out tray
underneath the counter to store things like sponges.I enjoy keeping my kitchen sink shiny and dry. That's why this magnetic kitchen cloth holder is my personal must-have item. It's neat, handy, and will help me keep my kitchen sparkling all the time.
Which One of the Kitchen Cabinet Drawer & Storage Ideas is Your Favorite?
ShelfGenie custom Glide-Outs shelves can be used to create some of these ideas. ShelfGenie offers solutions to many different pain points - under the sink, in corner cabinets, in the trash and recycle bin areas, or if you just need something unique. ShelfGenie solutions are customized, long-lasting, and beautifully hand-crafted. It doesn't just serve a function, it's beautiful too. You'd want to convert all your fixed shelves to these pull-outs and maybe even add a pull-down shelf. After that, you'd certainly feel like leaving your cabinet doors open or getting rid of the cabinet doors completely. Having a permanent, long-lasting solution will continue to keep you motivated to keep everything in order.
Want to know if ShelfGenie can create the design you want?
Schedule
a free, no-obligation design consultation today or fill out the form below to have ShelfGenie contact you.