Guest bedroom storage ideas can range from traditional to modern and innovative. It is all about what options work for your specific space and putting your plan into action. In many cases, working with a professional team to help you install shelving and customize closets is a must.
We all want our guests to be as comfortable as possible. While a small guest bedroom can make it challenging to find storage space, there are still plenty of ways to amplify storage space and keep your guests as cozy as possible.
Small Spare Room Ideas to Keep Guests Comfortable
Of course, sorting out your guest bedroom storage ideas is not all about your guests only. When there is no one staying in your spare room, it becomes your space, and you should use it to store whatever you would like.
However, there are few things worse than your friends and family coming to stay and finding themselves bombarded by your holiday decorations. These amazing spare room storage ideas will get you on the right track!
1. Work with What You Have Got
In many cases, spare rooms end up in an attic or basement. These spaces are not always shaped in a square or rectangle, like most bed and guest rooms. Instead, there are angles, corners, and points that do not give much leeway for arranging furniture.
You could consider custom-made and professionally installed cabinets to add storage and make your guest space easier to use. Even in traditional bedrooms, built-in shelving becomes a necessity when the space is so small. You can keep your storage items in the closet, while your guests can keep whatever they need on the built-in shelving!
2. Consider a Sofa Sleeper
If you have a considerably small guest room, a sofa sleeper is a fantastic option. Folding a bed up into a sofa when it is not in use will supply you with plenty of room when you do not have guests visiting. Sofa sleepers have come a long way in recent years, and they are much more comfortable than they have ever been before.
Many people who do not have an extra bedroom utilize a sofa sleeper for their living rooms, dens, and basements. It is the perfect way to accommodate guests without giving up your living space in the meantime.
3. Floor to Ceiling Storage
When you don't have a lot of space, floor-to-ceiling cabinet installation is a must. The higher up you can take your storage options, the better. You are not making guests reach ten feet up to store their items, but you are keeping your extras up there, so they can use lower shelves. Storage in the extra room is all about making it work for you while providing space for your guests.
4. Keep it Simple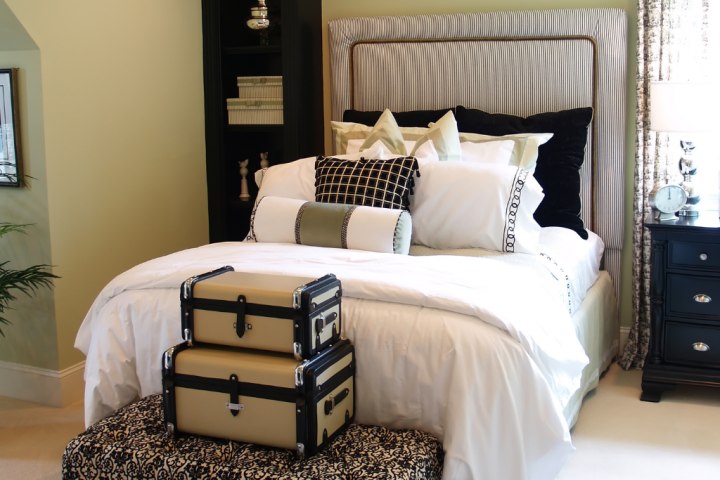 If storage is a huge problem in your home, keep it as simple as possible. A guest room with neutral tones and minimal furniture is a huge part of keeping things looking organized and neat. Functional furniture, such as end tables with drawers and an ottoman that allows for linen storage, is a must.
5. Add Extra Shelves
Shelving units aren't everything when it comes to storage solutions. Adding floating shelves can open up any space and negate the need for bulky shelving furniture pieces to take up room on the floor. Adding shelving is a perfect way to make a room look bigger, store various items, and avoid crowding the living space.
6. Use the Closet Space
Of course, you are probably using the closet space in your spare room for storage, but it is crucial to use as much of it as possible. Organize with plastic totes and bins, use a label maker, and capitalize on the space you have. From the top of the closet to the floor, you'll want to use it all. Even if you do not plan on installing built-in shelves or drawers, a professional design company can help you get the most out of your closet space.
7. Scale Down Furniture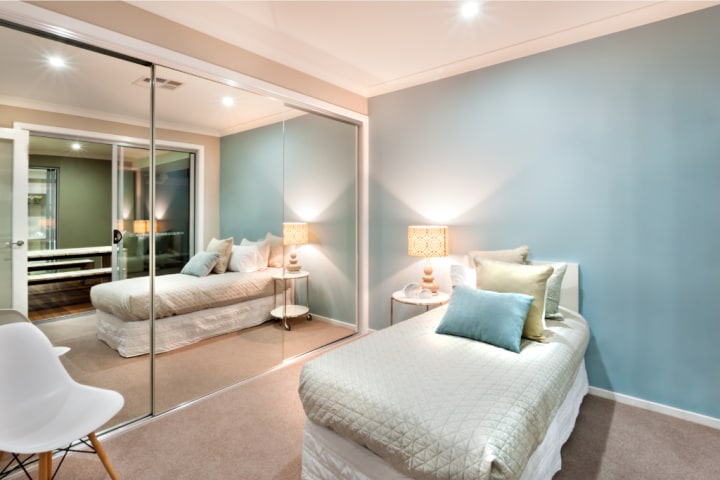 You want your guests to be as comfortable as possible when they stay with you, but that doesn't mean they need a king-size bed. Scale back on bed size as much as you feel comfortable, and please note that there is nothing wrong with a cozy twin or full-size bed. Use only one nightstand, and remember that there is no need for extra furniture, as this room is primarily storage for you.
8. Underbed Storage
Underbed storage is a great guest bedroom storage iea. When you are updating the furniture for your guest bedroom, consider choosing a high bed frame in the sense that the legs raise it up off the floor quite a few inches. By adding that space under the bed, you can slide flat totes full of stored items underneath. Remember, you can always hide items under the bed with a modern bed skirt.
9. Door Organizers
Any type of organizer that goes over the back of the door is a super choice for second bedroom storage ideas. From shoes to Christmas ornaments, there isn't much that you cannot do with a canvas door organizer. Metal door hooks work well for winter coats and sweaters during the summer months, especially if you do not have the time or space to fold them.
10. Blanket Ladder
Using a blanket ladder in the guest bedroom is essential to store comforters, blankets, and extra linens that your guests might need. It can double as a place to keep the blankets that you aren't using, especially during the summer months, as well.
11. Bring in a Daybed
Daybeds are classic pieces of furniture that have the ability to double as couches during the day. Though it is not quite a sleeper sofa (it does not pull out), day beds add a dash of a much-needed organization to any cluttered room. Though not used as often in modern decor, the day bed should not be forgotten, as it is an incredible space saver.
12. Make it a Home Office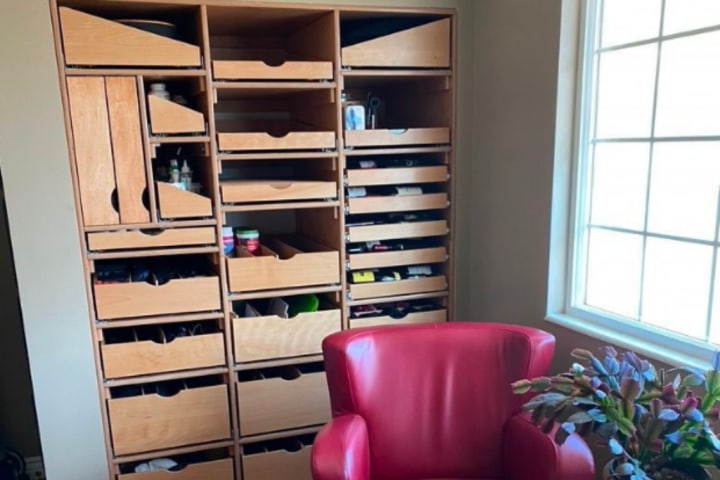 Your spare room hosts you more than it hosts your friends and family, so make good use of it! Turning your guest bedroom into a home office is simple, and it does not require mass amounts of office furniture. A desk, a chair, and a space for your laptop are really all you need, and it is easy to clean up when someone comes to stay.
Get the Most Out of Your Spare Room
ShelfGenie wants to help you get the most out of your spare room. Whether you are using it as a guest room only, or you want to turn it into a playroom or office when you do not have visitors, we cannot wait to help you create your custom space.
Call us today to book your free design consultation!