Having some creative bathroom linen storage ideas can go a long way in decluttering small bathrooms and creating a more beautiful room that looks neat and well organized. We could all do with more bathroom storage space, especially when things are starting to pile up.
Bathroom Linen Storage Should Not Be Complex
When thinking of smart bathroom furniture ideas, you simply cannot overlook having a dedicated storage space for your linens and other bathroom needs. Whether you want to spruce up your half bath or transform your main bathroom, here are 14 inventive bathroom linen storage ideas you need.
1) Tuck it out of sight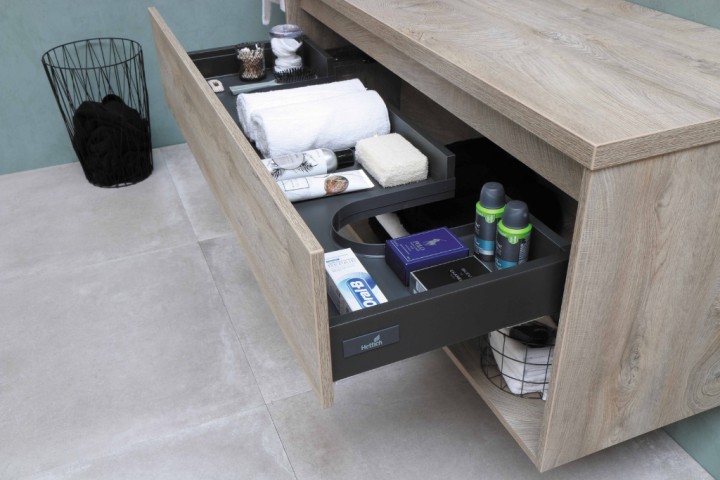 Some homeowners like to keep everything tucked away to avoid a mess close to laundry day. This bathroom smartly keeps everything inside a cabinet under the sink to avoid an unsightly pile-up of towels. With closed storage space, you can fit all your private items along with your towels safely hidden away.
2) Put it on display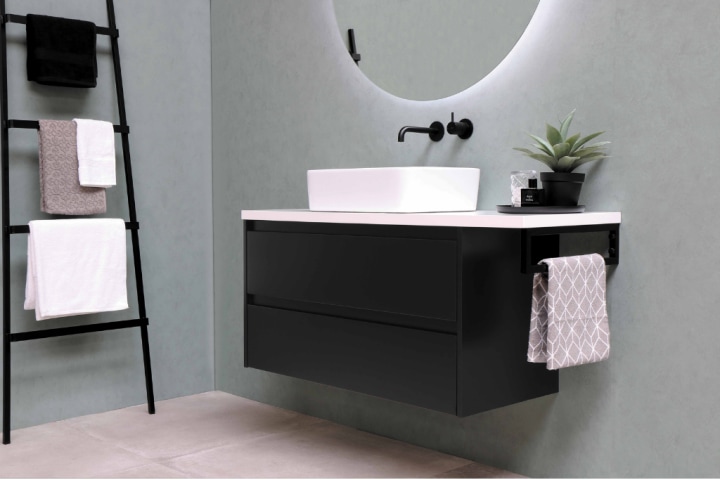 Leaning ladder shelves are a versatile way to 'embrace the mess' and put up a statement piece in the bathroom. They are also a great accessory to decorate with adorable and colorful towels and can fit into even the smallest spaces in the bathroom. The best part? There is no fumbling around multiple drawers to get what you need.
3) Build an outdoor oasis
Did you know that humans spend over 2 years of their lives in the bathroom? With that much time in the bathroom, it could be worth decorating it with our favorite things and making it a personal sanctuary to unwind and relax. Often, the storage solutions we choose are functional but are actually eye-sores. This resort-style bathroom turns a simple space into an outdoor oasis by playing around with accessories, like a large plant, to cover or decorate our storage solutions. Using natural materials for your storage like wood and stone rather than plastic will also help create this feeling.
4) Explore colors and themes
If your bathroom linen storage cabinet is going to be a permanent fixture in the house, it is important to make sure it blends well into the rest of the space. In this bathroom, we can see sleek white cabinets against the cement background as an aesthetic choice that will never go wrong.
5) Go with artsy pegs
Artsy pegs like the ones in this bathroom can be a quirky and fun way to decorate the place. They are a dynamic choice for bathroom linen storage since you can move them around whenever and be a subtle way to introduce style and color.
6) Have a linen basket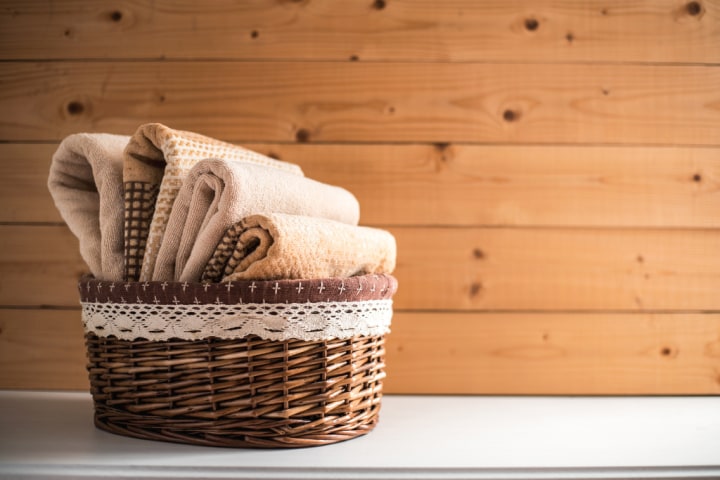 Homeowners that find it hard to commit to a permanent linen storage cabinet can explore more movable items like a linen basket. They are easily transported from the bathroom to the laundry area and are less difficult to clean. Baskets also have a sort of boho element to them, if that is the look that you are going for.
7) Built-in cabinet
The most sensible linen storage solution is to have a built-in cabinet to hold all your bathroom needs. They help to maximize space and with multiple shelves, it is much easier to organize and categorize linens, grooming tools, and more. By choosing the right material and size, it can beautify any bathroom.
8) Build a shelving unit outside the bathroom
Some home remodeling projects overlook the amount of storage one needs in the bathroom. Perhaps you do not like to have linens and other fabric in a space that gets wet easily. But who says that bathroom linens have to be kept in the bathroom? Building a shelving unit in the common area is not only a stylish way to keep your bathroom essentials, it can also be used in houses with more than one bathroom.
9) Install floating shelves
Floating shelves are fashionable in any part of the home – kitchen, pantry, bathroom. You name it. They add a whimsical air to any space and support the minimalist aesthetic that is super popular in modern homes. Floating shelves are also a great way to put your best linens on display for when guests come over.
10) Install a simple structure for facial towels
Getting ready in the morning gets easier when you consider the ergonomic design of the house. Installing a simple hanging rod right next to the sink can help your morning routine get done in a shorter time.
11) Go for a mix of open and closed shelving
For those who cannot decide on whether they want open or closed shelving, a hybrid shelving unit works as well. In this bathroom, the open bottom shelves are a place for neatly folded towels and adorable wicker baskets, while the more private items can be kept in the drawers above it.
12) Cabinet-for-one
Minimalist living is about using only as much space as you need to. For singles and those living alone, or even couples who share the same bathroom essentials, a smaller cabinet can be utilized. This way, it is more affordable and takes up less space than custom-built cabinets in larger family homes.
13) Under the sink for easy access
Especially in small bathrooms, there may seem to be a lack of space for a sensibly-sized bathroom linen storage shelf. However, many overlook the space under the sink. By utilizing every available part of the bathroom, small homes can have as much space as they need!
14) Hang it nearby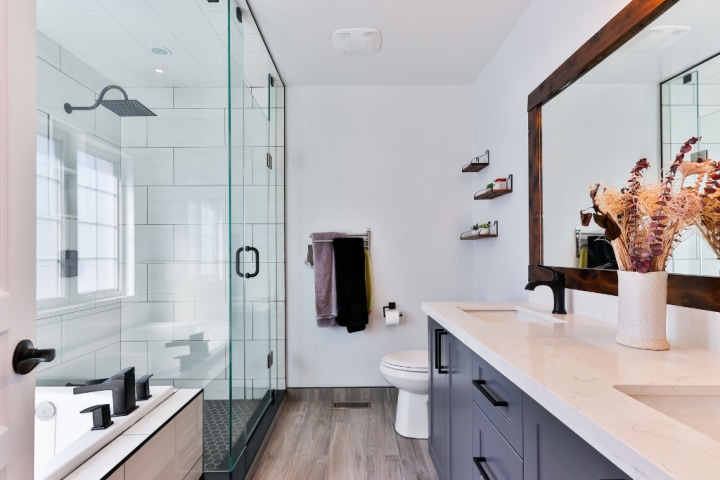 Nobody likes to walk to the linen closet dripping wet after a shower. Installing a few shower rods near the shower will create a better flow when moving around in the bathroom. Not to mention, these can be done in an hour, unless you're using a DIY method.
Conclusion
Creating an ideal living space takes a lot of visualization and planning. Beyond being just a space to cram your towels in, it needs to fit into the theme and layout of your home. With ShelfGenie's custom-built storage solutions, you can do just that for your bathroom. Talk to us for a consultation today.