There's something special about shoes. A good-looking pair of shoes can elevate your outfit and your status among peers as well. Shoe storage ideas are so important because they keep your shoes looking newer for longer while they help you organize your closet. Whether you prefer to keep your shoes neatly organized individually or prefer to have access to all your shoes at once, there is a unique shoe storage idea for everyone.
Do you have a lot of shoes and nowhere to put them? Are they taking up space in your closet, and you don't know what to do? Well, there are many solutions to your shoe storage woes. We've gathered some of the best shoe storage ideas to inspire you in this roundup! Here are the top fifteen:
1. Make Use of the Storage Ottoman
A storage ottoman might be useful in a hallway with a lot of space. Ottoman designs have come a long way over the years, and they are a strong contender for individuals who have exhausted all other hallway storage options.
Most furniture stores have storage ottomans in various colors and styles. You'll have no trouble finding one that matches your hallway and existing home décor.
2. Use the Area Beneath your Stairwell
It's vital to be inventive sometimes! If you live in a tiny flat, have limited square footage in your home, or if you prefer minimal furniture, the space beneath your stairs might be ideal for storing your shoes. You'll be surprised at how much you can store there if you take the time to clean and organize the space. You could also install pull-out shelves beneath your stairs. You can enlist the help of a designer to customize the perfect under-stairs storage solution for your needs.
3. Under the Bed Organizer
The secret to having a well-organized home is to make the most of small, underutilized spaces. The under-bed organizers could accommodate a lot of shoes if organized well. They are the ideal solution for anyone with a shoe addiction or with too many children's shoes strewn about the house.
4. Use Cubbyhole Storage
Make mornings flow more easily with cubbyhole storage that can accommodate a family's shoe collection. You can designate a row for each member to quickly discover their favorites. This shoe storage idea is ideal for a utility room, bedroom, and hallway. It can also work well for a walk-in closet with a collection of trainers or high heels. It would be best to store boots and larger shoes in custom sized cubbyholes.
5. Keep Storage Behind Closed Doors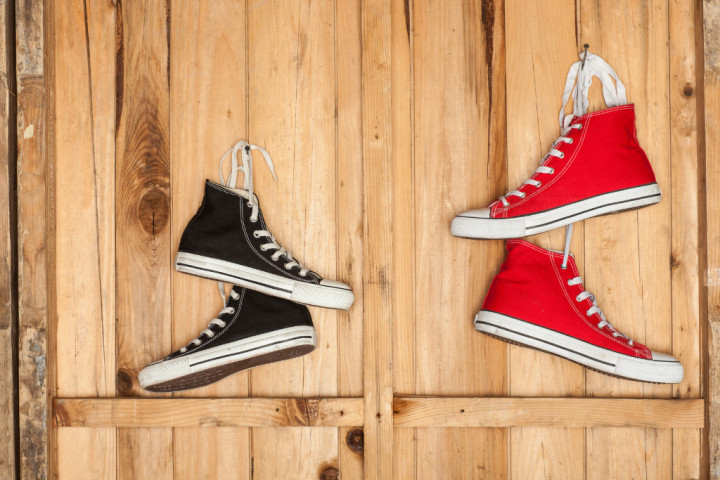 This is an excellent shoe storage idea if you don't have enough closet space for all of your shoes since it allows you to keep them behind your door. Your shoes will still be concealed as long as the door is closed. You can use nails or command hooks to hang sneakers by the shoe strings. You can also be inventive and install some shelves behind the closet door to arrange your shoes neatly.
6. Use Transparent Shoe Boxes
Finding a spot for your footwear might not be easy when your closet shelves are crammed with loose fashion accessories. Instead, use clear plastic shoe boxes for placement on your closet shelves. These are see-through so you can choose your shoes for the day without opening every box. Many plastic shoe boxes are stackable, and you can place these on the closet floor under hanging clothes to save the shelf space for other items. Clear plastic shoe boxes may serve a dual purpose if you can also organize your fashion accessories in them for a uniform look.
7. Go for a Slimline Shoe Cabinet
Are you running out of hallway space? Adopt a slimline shoe storage idea that maximizes vertical space while allowing easy access to shoes. We recommend picking a finish that fits your design for a seamless appearance. This shoe storage idea doesn't consume a lot of space in your hall since it's slim and mounted on or against the wall. You can also store items on top of the shoe cabinet for maximum utilization of the available space.
8. Vertical Shoe Rack
Some vertical shoe racks take the appearance of a ladder. You need to lean them against the wall and place your shoes on each tier up to the top. You can upcycle any old ladder to create this type of shoe rack by mounting shelves to each step and painting or staining it. A vertical shoe rack will be effective for storing a variety of high heel shoes and sneakers.
9. Linen Shoe Box
Getting a linen storage box for your shoes is a brilliant shoe storage idea. They maintain and safeguard your shoes from dust and sun damage. Linen shoe boxes with a drop-front opening make it easy to reach any pair of shoes when stacking many boxes.
10. Use Hanging Organizers
There are many different types of hanging organizers on the market, making it easy to find one that fits your needs. These come in various sizes and can hold anywhere from one or two pairs of shoes to a dozen or more pairs. They're made from sturdy materials like plastic or aluminum and have compartments for each shoe.
Hanging shoe shelves may also come in handy. These suspend from your clothing rack or closet rod and store a pair of shoes in each segment. If you have a dual rack or double rods, add in even more hanging shelves — I can assure you this idea is brilliant, and you will love it.
11. Shoe Shelf Storage Bench
This decorative furniture option works best in bedrooms, entryways, and other similar areas. This unique type of bench has a plush cushioned seat and an open-front shelf underneath for various everyday shoes.
12. Custom Shelving in Closet
This custom shelf design is exactly as described. It's not just beautifully constructed, but it is also perfectly sized for your space and your shoe inventory. This will be a more expensive and more time consuming option, but if you enlist the help of a professional you're sure to have the best custom result.
13. Stackable Shoe Bin
If you're short on space or looking for a creative way to store your shoes, a stackable shoe bin is great. These bins come in different shapes, sizes, and materials, and may have several slots or compartments for storing shoes. They're often made from clear material or mesh so that you can see the contents without having to open or unstack the bin.
Stackable shoe bins are a great way to keep your shoes organized and in one place. They're perfect for small spaces and make it easy to find the pair of shoes you're looking for. You can also use them to store other items like socks or gloves.
14. Use Boot Trees
Boot trees are an important part of shoe care. They help keep your boots in good condition by preserving their shape and keeping them from becoming misshapen. Boot trees also help remove moisture from the inside of the boots, which can help prevent the growth of mold or mildew. Boot trees should be stored in a dry place when not in use.
15. Multi-Tiered Shoe Rack
This classic shoe storage idea with a strong steel frame and a two-tiered structure can hold up toy 24 pairs of shoes. A mesh or plastic liner keeps the shoes in place, and the addition of rolling wheels will allow simple access and movement.
Conclusion
There are many great ways to store your shoes. Whether you are looking for a cheap solution or something more expensive, ShelfGenie has great custom storage solutions for you. Be sure to check out our catalog and get your home organized today!