Small living room furniture ideas can be underwhelming, to say the least. It is challenging to have a small living room and come up with furniture ideas that do not overcrowd the space. Chances are, you spend a great deal of time in your living room, and it should be as comfortable as possible for you.
A small living room tends to mean small and uncomfortable furniture, but that is not a mandatory concept. When it comes to choosing furniture for a smaller living space, it is much more about custom design than it is size. There are four major rules of thumb to keep in mind: don't sacrifice comfort, experiment with different furniture types, carefully select your materials, and light it up!
Don't Sacrifice Comfort
Small does not have to mean lack of comfort. The society we live in today is well-acclimated to small spaces, and you should be able to find furniture you love that also fits well within your living quarters. Let's explore options.
1. Low-Backed Furniture
Instead of going smaller, try looking for pieces you like that have low arms and a low back. This aesthetic could apply to chairs, couches, and loveseats.
The idea here is to focus on something that is lighter from a visual perspective. You can choose a standard-sized couch for your small living room layout, and it will feel more comfortable than a chunky loveseat!
2. Higher Legged Furniture
Furniture with higher, visible legs helps to make your small living room feel a little bit airier. When you open the space underneath your furniture, you can create a room that feels larger than it actually is.
Take care not to use the open space under your furniture for storage, unless it's necessary. Doing so will close up the space once again, defeating the purpose of choosing higher set furniture.
Experiment with Different Furniture Types
Choosing the right types of pieces is the most important consideration for small living furniture ideas. Multi-functional pieces are ideal - combining seating, storage, and shelving needs. Flexibility is essential so that you can rearrange the layout when using the living room for different needs.
3. Modular Sectionals
Modular sectionals are a fantastic option for small living spaces because you can move the pieces according to the room you have available. Modular sectionals work in a tiny living area because you can switch their layout according to the occasion.
For example, if you have family over for a holiday or gathering, your seating can change to accommodate that.
4. Accent Chairs
Accent chairs are a fantastic option if a couch or loveseat overwhelms your living room. Accent chairs come in a wide variety of colors and sizes, and they can be as cozy as a plush couch or sectional.
Rounded and wooden accent chairs also add the appearance of more space and take up less space than a traditional accent chair. As you browse, you will find that it is enjoyable to shop unique design styles for works in your small space.
5. Sleeper Sofas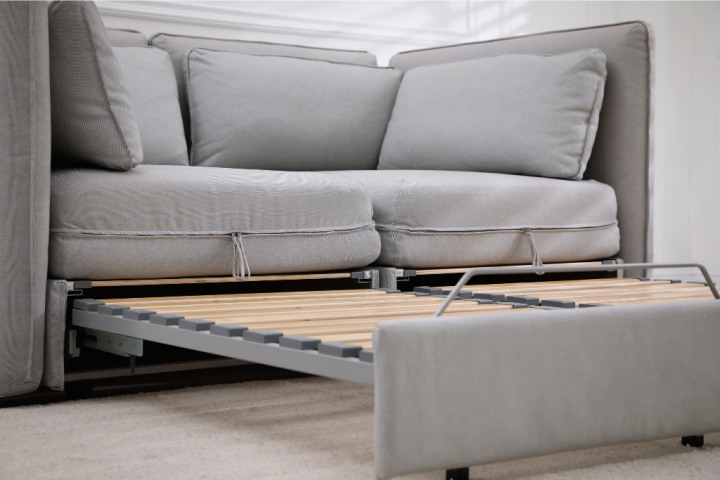 A sleeper sofa is a good option if you need extra storage throughout your home. A small living room does not always indicate a small home, but that is usually the case.
A sleeper sofa can double as a makeshift guest room and give you a place to stow extra blankets and linens. When the home is small, it all comes down to what you can add that has more than one use.
6. Storage Ottomans
Ottomans are necessary for small living room storage. They come in a variety of sizes, and most of them offer a storage design that allows for blankets or toys to hide inside. Ottomans can work as a coffee table as well. All you have to do is place a tray on top of it to hold your drinks and television remotes.
Ottomans are also a wonderful place to rest your feet. Overall, they are an excellent alternative to coffee tables and they make sense (and a statement) in small living room spaces.
7. Built-In Shelving
Building your shelving units directly into the walls takes the skill of a contracted professional, but it is worth the time and money to save space. Custom shelves will completely change the look of your living room, opening it up and moving any potential clutter where it needs to go.
8. Flexible Seating
We've talked about sectionals, sleeper sofas, and accent chairs, but what about floor pillows? Dealing with a small living room means becoming flexible regarding your seating situation.
Not everyone needs a chair. Try purchasing a couple of large fluffy floor or meditation pillows. You can tuck them in the corner when you are not using them, and there are hundreds of designs and patterns to choose from.
Meditation pillows work as well as floor pillows for floor seating purposes. They are a little sturdier as well, offering more comfort to many!
Carefully Select Materials
Choosing the right materials for your furniture is also very important to consider for small living furniture ideas. Color, texture, pattern, and matter are just as essential as design. Tricking the eye with material choices can transform the way you experience a space.
9. Acrylic Furniture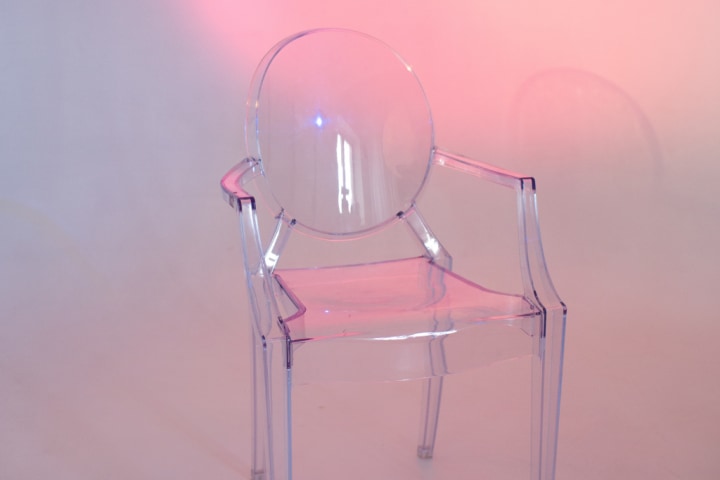 Try not to judge it until you have tried it! Acrylic furniture can be incredibly sleek and modern when styled the right way. Consider an acrylic coffee table or end table, and you will see how they tend to disappear into their surroundings. Without question, an acrylic furniture is a great option for opening up space.
10. A Mirror Strategy
A design trick that goes back decades! Utilizing a mirror or two within your small living room gives the illusion of a larger space. Mirroring your walls to bounce light seems daunting, but it does not have to be.
Consider taking one wall and placing different mirrors on it to span the length of the wall. You can paint the frames to make them cohesive and bring the look together.
11. Simple Patterns
When you have a small living room, solid patterns are your friends. It doesn't matter the textile you choose as long as it is a solid color.
Of course, you could also choose a pattern, as long as it is not too busy, such as small polka dots or even a paisley. Giant, bright patterns will quickly overwhelm the space, and make it feel smaller.
12. Choose Neutral Colors
Neutral colors, such as light gray, tan, and even white, will open up the space. Even in larger homes, designers and homeowners choose light neutral colors to open up spaces, making them seem bright and airy. Avoid dark neutrals like black, brown, and dark gray if at all possible.
If you have ever lived in an apartment or moved into a renovated home, you will likely notice that the walls are light in color. This is to open up a space that may appear smaller otherwise.
13. Employ Textures
One of the smartest moves you can make with a small living room furniture arrangement is to lean into the cozy factor. You can create an extra cozy space by placing seating closer together on purpose or by adding a textured rug, throw blanket, and pillows. Suede, velvet, microfiber, faux fur, and wool are all comfy textures to complete your small living furniture ideas.
Light it Up!
Playing with lighting is another way to trick the eye into seeing your small living room furniture ideas as larger than ever. Take the time to play with the sun patterns and layout you have, but be careful not to overcomplicate. Simple additions - such as stringing lights hung behind the couch - can make all the difference.
14. Smart Lighting
Seating in a small living room is difficult enough to execute, and lighting is a whole other problem. Instead of buying lights designed to take up floor space, like floor lamps, try hanging lighting from the wall or even the ceiling.
Lighting the room from above can help it appear larger. Pendants and lamps directed downward are great for targeted lighting. Cove lighting and ceiling pendant directed upward can help diffuse the light and draw the focus vertically rather than wide.
15. Utilize Your Natural Light
If your small living space has natural light, let it pour in. Move furniture out of the way and hang sheers under your heavier curtains so they can hang open. This will offer privacy and still allow the light to come in.
Making the Best of Your Small Living Room
It may not seem like it, but there are plenty of options to make the best of the space in your small living room. From small living room furniture ideas to decor planning and playing on light, there is so much you can do to make it work.
If you are ready to make the best of your small living room, perhaps with some built-in or floating shelving, call ShelfGenie today! We offer a free consultation so we can get a firm grasp of the space we are working with, no matter how small.
Spending a great deal of time in a small space that you do not like can seem too confining. Contact us today to change the way you feel in your space. We can help!