Your attic doesn't have to be a place for forgotten items. Not only can you turn an attic into prime storage space, but you can also convert it into a fun, secluded area. These attic closet ideas are here to inspire you. We have looked at kitchens before, with 17 brilliant kitchen cabinet storage ideas. Today we are going upstairs and looking through some attic closet ideas to transform your space.
Attic Closet Ideas to Try Today
1. Hanging rack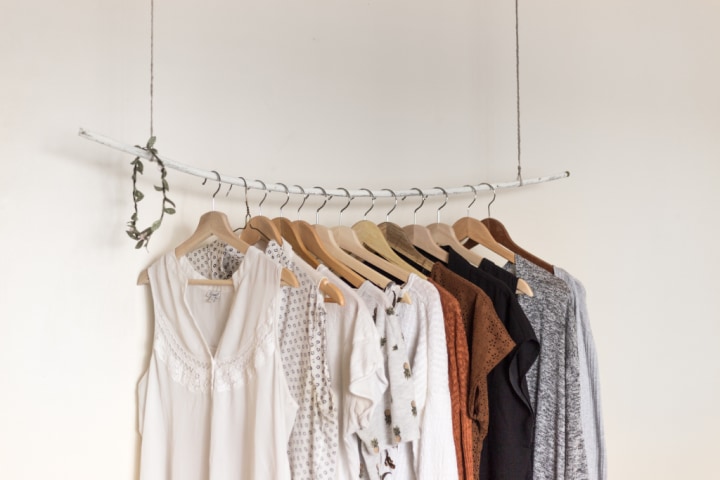 Make use of your attic's trusses by suspending a hanging rack from them. A hanging rack functions in the same way as a freestanding one, but it's perfect for attics that have uneven floors. It works best for clothes too long to fit on a traditional rack, especially if you want to keep them off the floor.
2. Wall closet
Building a wall closet is a great way to move your storage space closer to the walls. The beauty of building your own is that you can adjust its height according to the space you have. Most attics have slanted roofs, meaning you may have to decide between a taller or shorter wall.
3. Open display cabinet
A display cabinet has the same functionality as a closet, but without the doors. This idea works best in dust-free attics, but it's a storage idea with plenty of visual appeal.
4. Modular closet
You don't have to install cabinet furniture to make the most of your wall space. Using a combination of mounted racks, shelves, and cubbies, you can build a custom modular closet while making the most of the space available to you.
5. Freestanding rack
A timeless classic, freestanding racks fit anywhere across your floor space. They're low and lightweight, making them easy to move around smaller attics.
6. Walk-in closet
An empty attic has even more space than you think. If your bedroom doesn't have the space for the walk-in closet of your dreams, why not convert the entire attic?
7. Freestanding wardrobe
A new or pre-loved wardrobe works best here. We tend to think of wardrobes as bedroom furniture, but they also work in the attic. If you enjoy thrifting, this is a good opportunity to get out there and find the perfect wardrobe for your attic.
8. Closet nook
Modular closets rely on wall space and mounting equipment, but you can turn any corner of an attic into a freestanding cabinet nook. You can use any clothing storage items available to you – let your creativity guide you!
9. Floating hangers
Hangers don't have to live inside closets, especially in attics with limited space. Make use of the overhead space in your attic by installing floating hangers for coats, jackets, and other heavy items that you can't fold away.
10. Shoe shelf
Shoe shelves are more specialized than closets, but they have just as much functionality. Hanging shelves work well for all types of storage. If you dedicate them to items like shoes, you can free up existing cabinet space for the rest of your wardrobe. Shoes get left on the floor more than any other clothing item, so this is also an option for keeping your favorite pairs in good condition. You can also mount a hanging rod under the lowest shoe shelf for double the functionality!
11. Mounted hooks
Mounted hooks aren't just for keys – they're perfect for hats too! Like dedicated shoe shelves, hooks help spread your wardrobe across a few storage options. Thanks to their size, you can install mounted hooks almost anywhere on a safe wall and at the most comfortable height.
12. Door hooks
Door hooks keep clothing off the floor but also out of sight. They don't have the storage capacity of traditional cabinets. Still, this idea is about spreading storage space around and making use of every available nook.
13. Table display
If your attic has a lot of floor space, consider a table display instead of a wall closet. Table displays work best in larger attics. The display element means your wardrobe is within easy reach and always in your line of sight.
14. Ladder rack
Sometimes the simplest solution is the best one. The right ladder can function as a freestanding rack, a mounted wall rack, or even a support rack if you lean it against a wall.
15. Mounted wall bar
However, if you want to go for something designed for the purpose, nothing beats a mounted wall bar. With sturdy fittings, a mounted bar can support as much weight as a freestanding rack. These racks also have the same flexibility in placement as mounted hooks.
16. Corner closet
We believe the only thing better than one closet is two! Instead of investing in one large closet, consider splitting the storage space between two adjacent walls. Using two smaller cabinets means you can shift them into the corner instead of relying on a single wall for space.
Attic Closet Ideas from the Custom Design Experts
The fun doesn't have to stop here. We also have 10 custom closet ideas and building hacks to help you put your ideas into practice. Even then, you don't have to do it alone.
Why not book a free consultation with our custom design experts. We're here to help you convert any part of your home into your ideal space.