At ShelfGenie, we have no shortage of kitchen cabinet storage ideas to take your kitchen from cluttered to organized in no time. Don't know how to make use of that tricky corner pantry cabinet? Unsure of how to deal with your overflowing cutlery drawer? Big or small, these ideas will inspire you to give your cupboards an organizational transformation.If you are looking for kitchen storage solutions that will make better use of your space, you'll see a variety of examples of ways to transform your kitchen into a functional and stylish haven.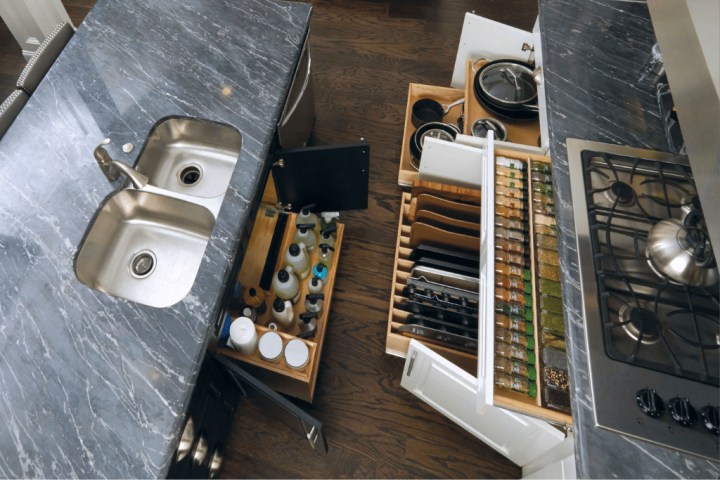 1. Pull-Out Storage Cabinets
Pull-out cabinets are a great way to store small bottles and jars so that they are organized and easily accessible. You can adjust the height of your shelves to accommodate various containers, making these cabinets an especially space-efficient way to house all of your different spices.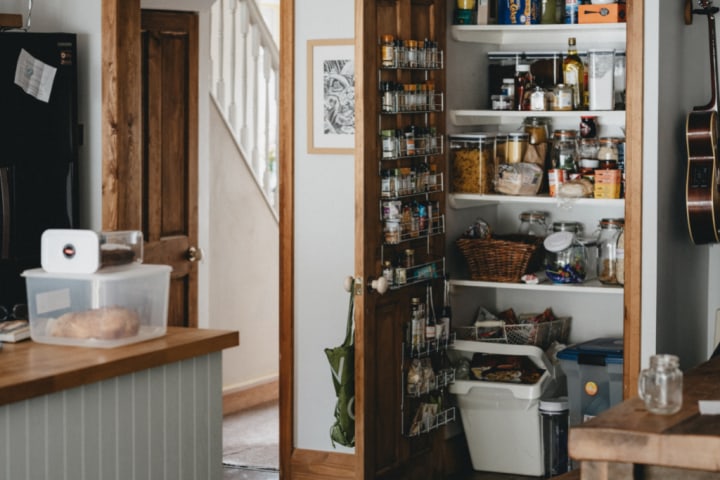 2. Wall or Door Spice Rack
Installing a wall or door spice rack is another clever way to
save kitchen space
. Plus, it will save you from digging around in your cupboards to find the perfect spice for your meal. Storing your spices vertically gives your kitchen a lively character while freeing up counter space for larger items.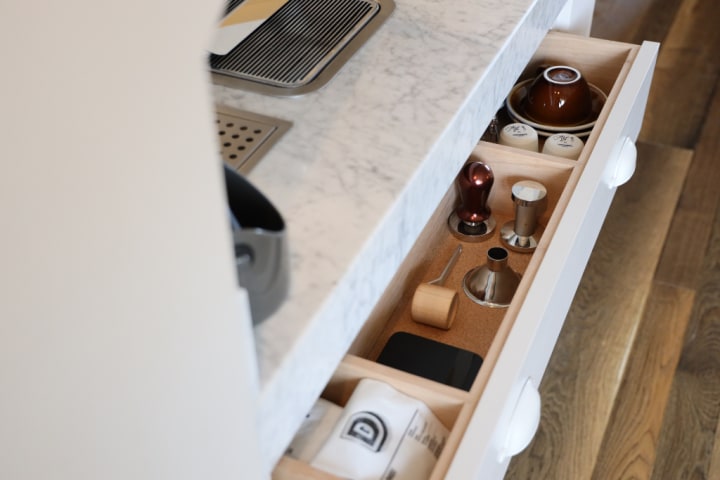 3. Multi-Storage Drawers
Need to store different items in the same drawer? Try using deep drawer dividers to separate items into different categories. This instantly makes any drawer look tidier, including your designated 'junk drawer,' while maximizing your drawer space – win-win!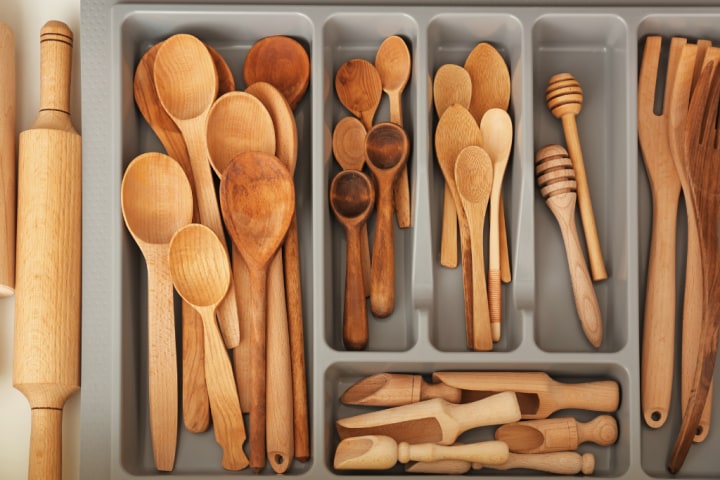 4. Utensil Drawer Insert
Utensils come in many different shapes and sizes, which makes them difficult to organize. Try decluttering your utensil drawer by using a drawer insert to sort your large utensils. That way, everything has a proper place, making everything that much easier to find when needed.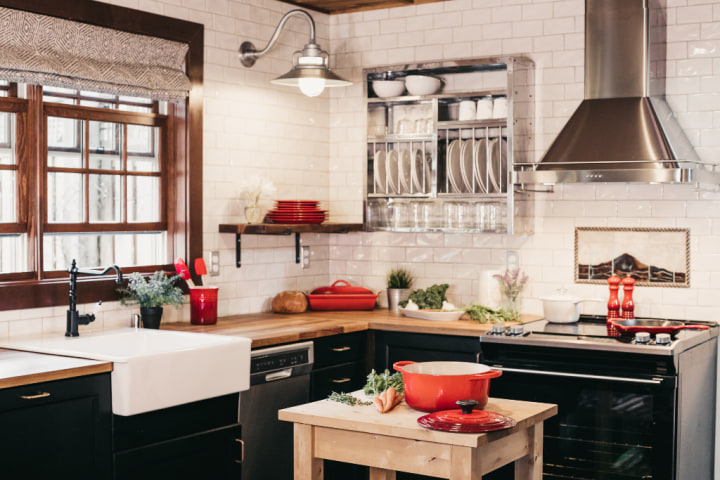 5. Vertical Tray Dividers
Storing large, flat items like cookie sheets and cutting boards can be such a hassle. Installing vertical tray dividers in one of your cabinets can help you easily tuck items away in organized categories. It's like having a file folder for your baking trays!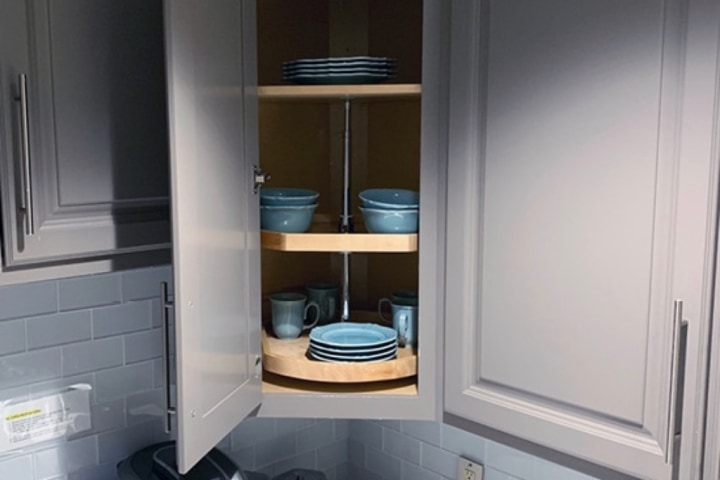 6. Lazy Susan Cabinet
Lazy Susans are the perfect solution to awkward corner cupboards. These cabinets have two revolving shelves, which saves you from blindly reaching around the back of the cupboard to find what you need. Instead, you can simply rotate the shelves to see their full contents.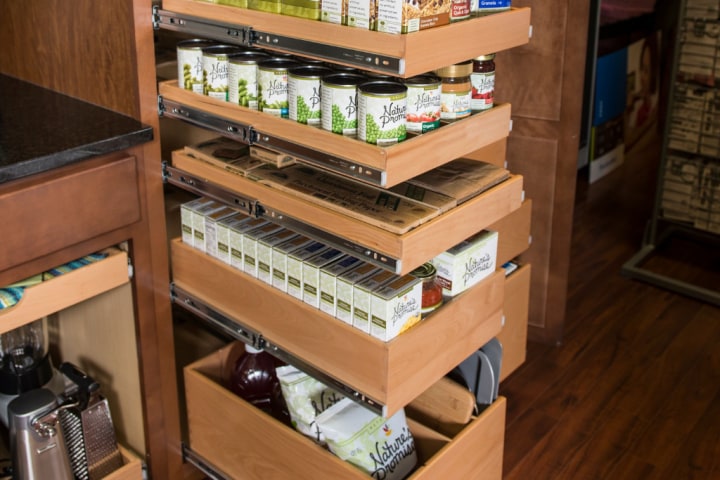 7. Glide-Out Trays
Do you ever wish that you could just pull the whole pantry shelf out and see its contents immediately? With roll-out trays, you can.While having space for a large pantry is nice, deep pantry cupboards can be a hassle. These slide-out trays make it easy to access hard-to-reach spaces at the back of your shelves. Now, you can fully stock your pantry shelves without worrying about losing items that are stowed out of sight.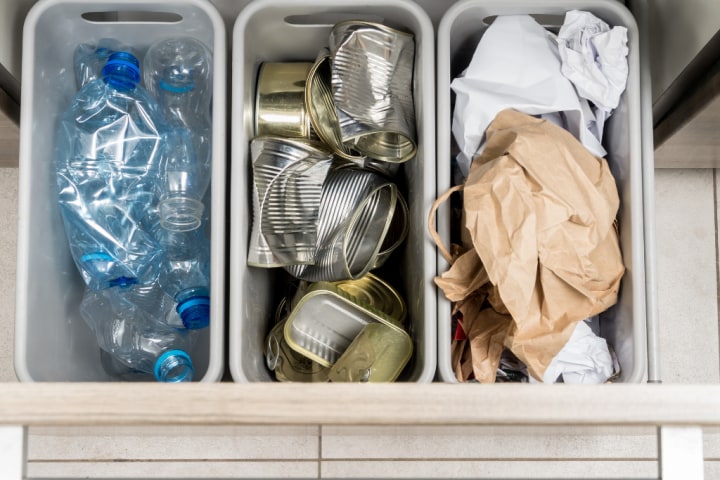 8. Pull-Out Trash Can Cabinet
Make use of your deep kitchen cabinets with this sleek upgrade. Pull-out trash can cabinets are the perfect way to keep kitchen garbage out of sight and out of mind. This hidden in-cabinet waste solution neatly conceals garbage and recycling bins, while still allowing easy access. Plus, it helps facilitate household waste sorting, be it compost, recycling, or trash. Investing in slide-out bins also helps control odors and messes, keeping your kitchen looking (and smelling) fresh.
9. Two-Tiered Cutlery Drawer
While cutlery dividers can be very useful, what if you want to store lesser-used utensils like steak knives or parfait spoons in the same drawer as your forks and knives?Enter: the two-tiered cutlery drawer insert. This system allows for the top tray to slide back to reveal a lower tier of cutlery storage. If you have a small kitchen with a limited number of drawers, this is the perfect storage solution.
10. Built-In Drawer Outlet & USB Port
It always seems like there is a shortage of power outlets in the kitchen. If you like to pull up recipes on your phone or iPad, or if your phone always seems to be low on battery, having a built-in outlet will certainly come in handy. Plus, this solution stows your electronics away while they charge, keeping your countertops neat and tidy.
11. Toe Kicker Drawer
Sometimes the most genius kitchen cabinet storage solutions are the ones that are hidden from sight. Toe kicker drawers are shallow storage drawers located just above the ground that pop out when you push them in with your toe. These are great for efficiently storing flat trays or shallow dishes that do not get used as often as other items in the kitchen.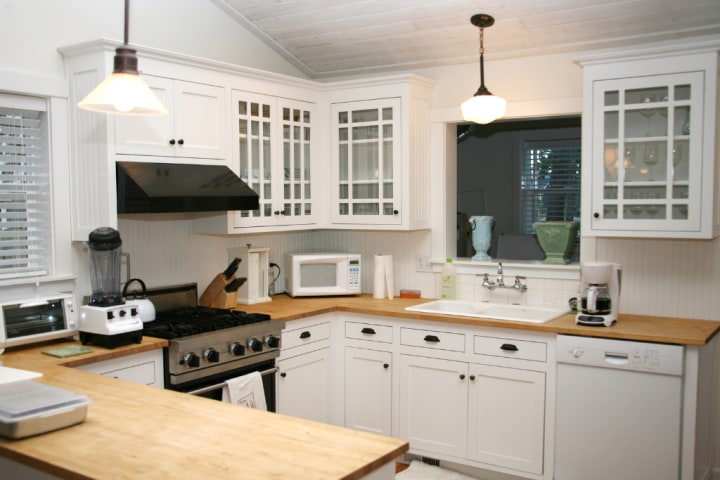 12. Glass-Fronted Display Cabinets
Kitchen cabinets are not just for storage, they also brighten the space and provide an aesthetically pleasing display for your favorite glassware and china. Plus, neatly showcasing your fanciest utensils can add a sophisticated stylistic element to your kitchen, while still functioning as extra storage.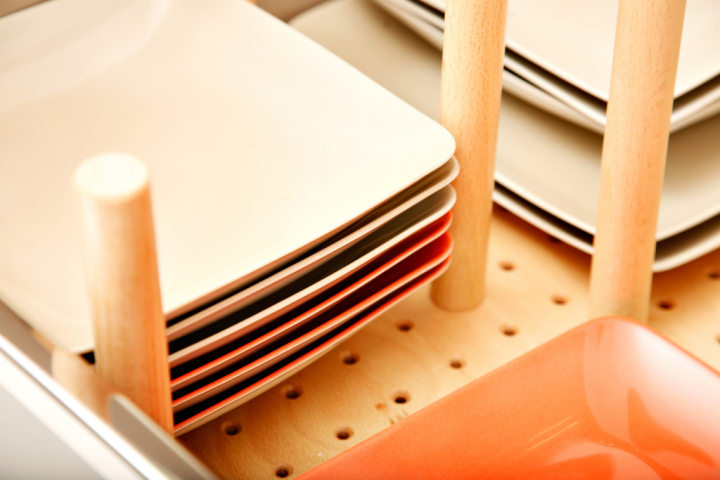 13. Peg Drawers
Have a ses of matching dishes that need to be organized? Peg drawers are similar to deep drawer dividers, and they can help you organize round objects, like plates, bowls, and saucers. Adjustable wooden dowels help you avoid precarious piles of mismatched bowls or jugs by keeping everything securely stacked.
14. Use Hook Hangs
Avoid an overflowing shelf of mugs and use hooks to hang them instead. This solution is an easy way to make use of empty space, plus it offers the perfect opportunity to put your favorite mugs on display.
15. Tension Rod or Over-the-Cabinet Towel Bar
One of the most difficult cabinets to organize is the cupboard under the sink. If yours is jam-packed with bottles of detergents and other cleaning supplies, we have a simple solution. Try mounting a tension rod that can be used to hang spray bottles. You can also use an over-the-cabinet towel bar to hang more regularly used cleaning products in plain sight.
16. Diagonal Drawer Organizer
Utensil inserts are great, but are less useful if you have many items that differ in size. Diagonal drawer organizers make efficient use of your drawer by creating space for small and large utensils to be stored side-by-side. For many, they look a lot nicer than traditional organizers.
17. Add Shelf Risers
One of the best small kitchen storage ideas incorporates shelf risers to maximize cabinet space. You might find that fixed cabinet shelving leaves a lot of unused vertical space so, instead of stacking items on top of each other, try adding shelf risers. This solution creates extra levels between shelves, so you can store items on top of each other without needing to stack them.
Does Your Kitchen Need Some Serious Organization?
Spending time in your kitchen should be a joy, not an organizational nightmare. Luckily, there are countless inspiring kitchen cabinet storage ideas to help you organize your space, no matter the size of your kitchen.We are here to help you streamline your storage solutions with ShelfGenie custom Glide-Out shelving. Transform your kitchen into a functional and stylish oasis that is a pleasure to cook in.Our knowledgeable staff are here to help you every step of the way. Get started by giving us a call today! We offer
free design consultations
to help meet your needs and exceed your expectations.