When it comes to a butler's pantry vs. walk-in pantry, there is much to consider. Both options have their pros and cons. It is best to study each when deciding which one is more suitable for your home. Before we dive into the differences, we will define what a butler's pantry is and then do the same for a walk-in pantry.
Butler's Pantry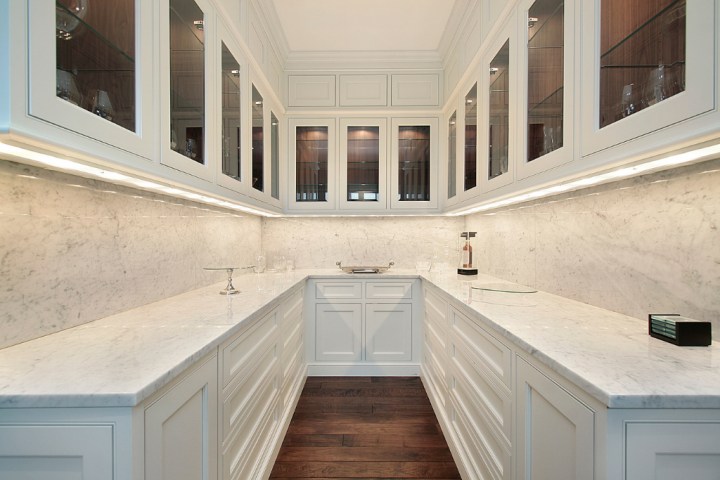 A butler's pantry is a small transitional room between the dining area and kitchen. The primary purpose of a butler's pantry is to act as a service and storage room. Often the butler's pantry serves as a place for food and drink prep.
It is also the ideal staging area for parties where guests gather throughout your home, including the kitchen. The idea here is to keep the kitchen spotless by using the butler's pantry for any prep or other messy work.
Historically, a butler's pantry securely stored fine china and other valuables. Today, in addition to the uses mentioned above, this pantry can act as a coffee bar or store appliances like microwaves and toasters to free up kitchen counter space.
Walk-in Pantry
A walk-in pantry is a closet space added on to a kitchen and used to store dry goods, beverages, and the like. As the name implies, you can walk into this pantry. Homeowners often opt for a walk-in pantry since its contents are out of sight once you close the door.
Butler's Pantry vs. Walk-in Pantry
Now that we scratched the surface as to what each pantry has to offer, we will take a closer look at the pros and cons of each when considering a butler's pantry vs. walk-in pantry.
Butler's Pantry Pros
Extra Storage Space:
Many homeowners would agree that there is no such thing as too much storage space. A thoughtfully designed butler's pantry comes equipped with shelving and both upper and base cabinets.
Pull-out shelves
are an excellent option to upgrade a butler's pantry. This extra storage space is ideal for tucking away items to quickly locate at a later time.
Additional Food Prep Surfaces:
For many of us, our dream kitchen is a work of art. Since a work of art should stay clean, it makes sense that one would opt for the extra prep space a butler's pantry provides. Additionally, if two family members are prepping a large feast, one person can use the main kitchen's counter space while the other utilizes that of the butler's pantry.
These surfaces are ideal for making drinks for your guests or putting the final touches on any dishes you will serve.
Dirty Dish Stash Area:
When entertaining, the number of dirty dishes that pile up can be staggering. Most home gatherings include the kitchen, where appetizers cover the counters or bar top. With a butler's pantry, you spend more time entertaining guests and less time keeping the kitchen presentable. This is because your butler's pantry provides the space you need to stash these dishes away until the party dies down.
If your butler's pantry includes a sink or dishwasher, you can even clean as you go or add this step to the duties of a catering service.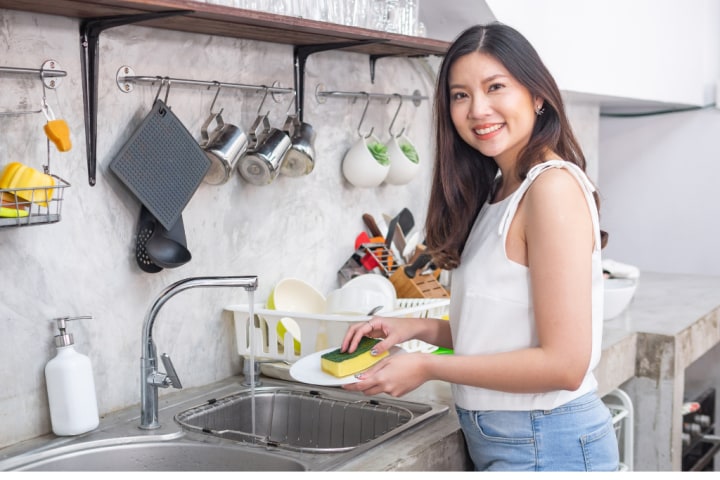 Butler's Pantry Cons
Additional Costs:
Even if it is a mini one, a second kitchen like a butler's pantry will add to the overall costs of your home. That said, it will likely also
increase your home's value
.
Planning:
Adding a butler's pantry to your home requires a lot of planning and design work. This planning may even include structural changes.
More to Clean:
Of course it feels great to have a mini kitchen to keep your main kitchen tidy. However, you still need to keep your butler's pantry clean. A worst-case scenario is forgetting about the dishes in your butler's pantry. The concept of "out of sight, out of mind" can work against you.
Walk-in Pantry Pros
More Storage Capacity:
When considering a butler's pantry vs. walk-in pantry, the latter offers more storage space. With multiple walls, all offering floor-to-ceiling shelving and other storage options, a walk-in pantry will meet all your kitchen storage needs and then some.
Store Large Appliances:
Most
walk-in pantries are spacious enough to store large appliances such as blenders, microwaves, and toaster ovens. This is a major pro for folks who prefer their countertops open and uncluttered.
Easy Organization:
Since you are working with so much storage space, a walk-in pantry makes it easy to organize items thoughtfully. The space stays neat, and your items are easy to locate. If an organized walk-in pantry excites you, we offer fully
custom pantry solutions
tailored to fit your individual space, budget, and needs.
Walk-in Pantry Cons
Spread Out Storage:
Size is one of the best things about a walk-in pantry. However, this is a double-edged sword, as it takes longer to locate what you need on the fly. One way to avoid this issue is with our
custom Glide-Outs
. This way, you can develop categories and designate zones for every type of item stored in your pantry.
In some kitchens, the walk-in pantry is not within arm's reach of the cooking area. This can become frustrating if you like cooking at a fast pace.
They Take up More Space:
While they do not require a dedicated room like a butler's pantry, a walk-in pantry still takes up a good deal of space, and that space comes directly out of your kitchen area. If you are short on space to begin with, adding a walk-in pantry may not be the best option.

Butler's Pantry vs. Walk-in Pantry – Which Is Best For You?
When deciding between a butler's and walk-in pantry, there are many factors to consider. Among these factors are available space, convenience, and need.
Renovating your home to add a butler's pantry makes little sense if you will never use the space. On the other hand, if you see a clear need for this type of pantry, having a walk-in pantry may be redundant.
Ultimately you know the right choice for your family's needs, though talking to an expert can give you ideas or options you hadn't considered. We offer
free design consultations
and can answer any questions you have along the way.