Your kitchen says a lot about your home—and by extension, you. For some, the priority might be entertaining. For others, it's all about high-efficiency cooking space and there's a lot of common questions about Kitchen organization.There's no end to differences in how we all use the space...but one thing is common among all kitchens: the constant need to keep them clean. Just take a glance at any restaurant-improvement TV show ever made: they make a big huff about organization and cleanliness. As they should! After all, it's where you make your food.
6 Common Kitchen Organization Questions
1. How can I organize my kitchen?
Kitchen organization is an exercise in patience and planning. As we wrote about recently,
priorities should dictate how you think about organizing your space
. The kitchen is, after all, an extremely versatile room. To make sure your chosen organization solution works
for you
, it's crucial that you understand what you actually want from the final result.
2. How do I maximize small kitchen space?
Saving space in the kitchen is all about creativity. Sure, we'd all love to fantasize about unlimited space and top-of-the-line equipment...but sometimes we have to make do! Besides, the extra challenge can lead you to come up with some truly incredible results.
To begin with, try expanding your available space by adding hooks and shelves where possible (walls are a great place to start). Then continue by exploring what you really consider "essentials" in your kitchen. Having the audacity to downsize (where appropriate) can, counterintuitively, really make your space feel larger and more impressive.
Just take a look at some of the other top tips we collected recently for
maximizing kitchen space.
You'll see how a willingness to look outside the box can not only increase available space in a kitchen—but also add flair to the entire look.
3. What are the best kitchen storage containers?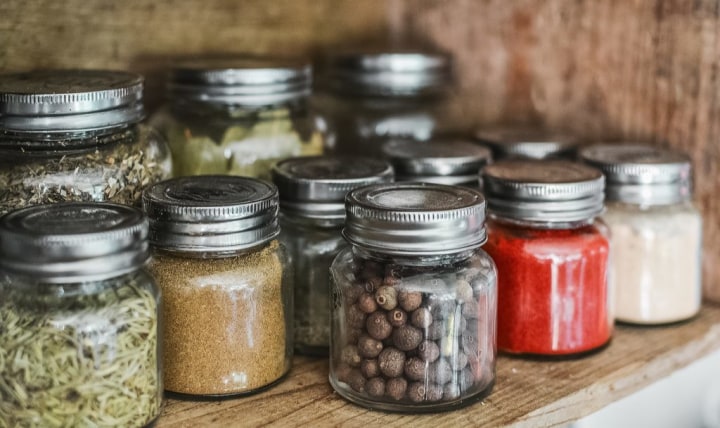 Kitchen storage containers come in all shapes and sizes...and each has its own set of pros and cons.
When it comes to basic options, many people will opt for a simple set of plastic containers, like those from Rubbermaid. As the
New York Times
commented
, "They're durable, tight sealing, and available in a number of convenient sizes."
For a more stylish option, some people will incorporate woven or wicker baskets, which can also help with your organization expert by allowing you to "zone" your kitchen, with smaller containers collected within larger baskets. Try using a collection of cute jars in combination with your baskets to really complete the rustic aesthetic.
Speaking of jars, don't think that all jars are alike. You could choose to go with a finely designed class canister with a wood lid, like
those offered by The Container Store
, or considered a more
rectangular option
with potentially more possibilities when it comes to organization.
4. Should I consider a 'kitchen triangle'?
Most kitchen design experts will tell you that
zoning is the most important thing you can do
to improve your kitchen organization.
The basic idea is to avoid extra movement and increase your efficiency. With that in mind, the triangle system is made up of three zones: cooking, storage, and cleaning. The three usually make up a triangle shape when viewed from above, thereby giving the system its name. It works wonders for saving time and reducing mess—particularly when the kitchen starts to get crowded (with people
and
with stuff).
Is the triangle absolutely essential? Depends on who you ask. Of course, not all kitchens will work for this system—particularly if you live in a smaller apartment. But the general advice from the pros is: if you can manage it, you need to seriously consider the triangle.
5. How can I get custom kitchen shelving?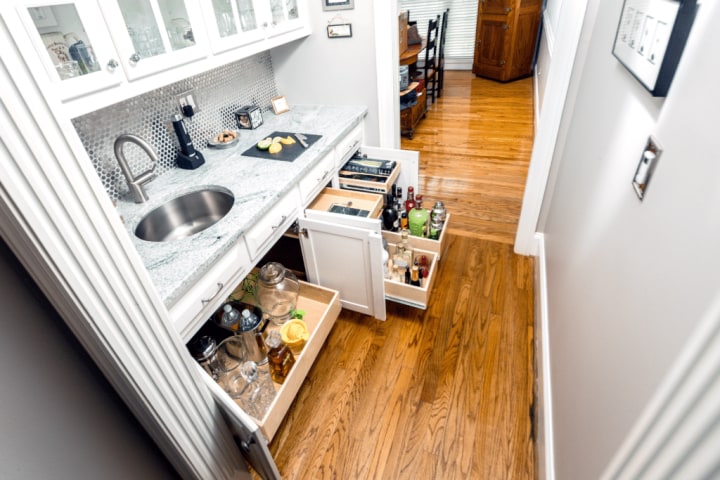 Nothing opens up the possibilities like custom kitchen shelving.
It's really no surprise, then, that this is one of the more commonly asked questions on Google in regards to kitchen organization. A good custom system can make the whole process of organizing your space immeasurably easier, giving you more time to focus on what's important to you.
To find a good supplier, you'll want to keep in mind a few key factors:
Reliability

Ease of use

Time to install

and Cost
ShelfGenie is a perfect example of a company that provides all four. Over the last few years, we've built an unrivaled reputation all around North America for custom shelving solutions that completely transform our customer's lives.
The best part about ShelfGenie? It's such a trusted, well-documented option. We're proud of our thousands of online reviews, and the countless success stories we've been a part of.
6. How much does a custom kitchen shelving cost?
Custom shelving, unlike something you buy off the rack, ranges considerably in price.
Factors to consider include placement, material, timeline, and financing options. Luckily, our expert design team at ShelfGenie can easily give you a price estimation along with a custom design plan, all
completely free of charge.
Just book a call today to get started.
Let a ShelfGenie Expert Answer all Your Questions about Kitchen Storage and Organization
Our professional design experts have been solving problems of kitchen storage for years—at this point, we've just about seen it all. Our
before and after photos
are often extraordinary, with customers left surprised at just how impressive the change can be.
Interested in a new and custom kitchen storage system? We're here to help
check us out here!