Corner pantry cabinets are excellent storage solutions for small kitchens or inconvenient room layouts. This element of your kitchen can be highly functional and strategic with a bit of planning. If you're thinking of adding corner pantry cabinets to your kitchen or dining room, keep reading. We're sharing everything you need to know about purchasing or building them, along with some ideas to get you started.
Designing Your Corner Pantry Cabinets
When you're designing your corner kitchen pantry, you have to consider the space and the style. Here are the details that can help you narrow down your choices in both areas.
Dimensions
The most important aspect of designing the perfect corner kitchen pantry is knowing your space's precise dimensions and measurements, so your pantry shelves will fit the height and width. Accurate measurements are even more critical if you decide to build corner pantry cabinets into your wall.
Ideal Materials for Corner Pantry Cabinets
Typically, these cabinets are made of wood, but with so many different types of natural hard and softwoods available, it's easy to get overwhelmed by the tradeoffs of one wood over another. Just be sure to choose something sturdy and robust, especially for a free-standing kitchen pantry. You'll want to make sure it can comfortably handle the weight of whatever you're storing, whether it's plates, pots and pans, spices, or kitchen appliances.
Storage
What do you want to store in your corner pantry cabinets? They have plenty of uses, like storing extra food, displaying your dishes, or even as a wine rack.
Finish
The finish is the final touch of your free-standing kitchen pantry. From a minimal clear gloss to a rich wood stain or a high-quality paint, there are countless choices. What you choose should align with the type of material you use. If the pantry is beautiful cherry wood, you wouldn't want to cover it up, but something like birch makes an excellent canvas for paint.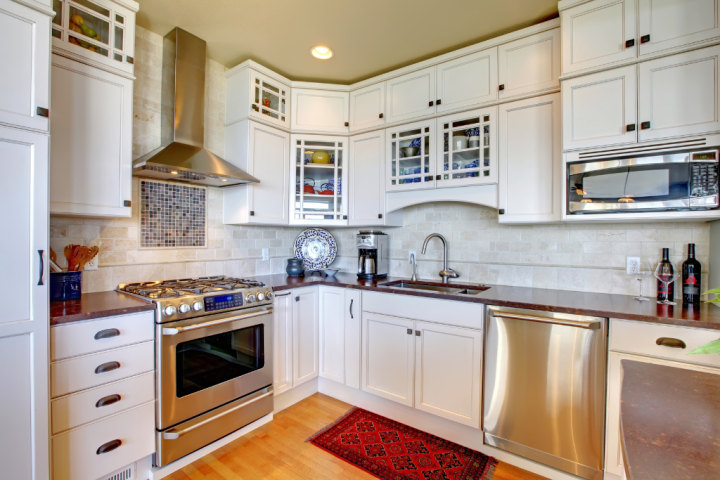 Using a Blind Corner Cabinet
Blind corner cabinets are a little different from a standalone kitchen pantry. Unlike the tall and large storage units, these designs are more obscured and blend in with the other cabinets in the kitchen.
This style consists of two cabinet doors combined with a hinge to open and close, and typically appear in the corner of the lower cabinetry.
Design Ideas for Corner Pantry Cabinets
We mentioned the limitless possibilities that come with corner pantry cabinets earlier, so choosing what you want can seem overwhelming.
Distressed Rustic Style
If you want to create a comfortable aesthetic in your kitchen, a distressed rustic corner pantry provides a classic, inviting style. Create this look by painting and then distressing the paint. Certain woods like pine also add a natural rustic touch.
Dark and Modern
Modern kitchens with dark wood add a sense of style and luxury to a home. If this is the aesthetic you enjoy, then a tall corner pantry cabinet will enhance this. When combined with stainless steel handles and knobs, you'll have a stunning contemporary piece with form and function.
Half Size
Not all corner pantry cabinets need to be as tall as the ceiling. One fun way to get additional space without taking up too much room is a shorter pantry. This option allows you to discreetly store extra kitchen items while displaying unique decor on top of the piece.
Accent Lighting
A tall corner pantry cabinet can quickly become the focal point of your room, and one way to draw more attention to it is through accent lighting. Use LED light strips to brighten up an entire shelf, or use one central light to focus on specific pieces.
Add Glass
If you own delicate, well-designed dinnerware, why not display it by adding glass to your corner pantry cabinets? Make it even more appealing by adding lighting to the inside of your cabinets.
Maximize Your Corner Pantry Cabinets
Perhaps the best idea of all for a tall corner pantry cabinet is to get it organized. Optimizing the shelves alone can add extra space you can use for dishes, food, or decor. Our custom Glide-Out shelves allow you to get even more use out of this area so your items are even more accessible.
Call or message us today
to schedule your free design consultation. We'd love to help you come up with a custom design that makes the best use of your space.