Many of the requests we hear from homeowners are the same – they dream of custom pantry shelving. Have you ever been rushing to pack a lunch before work and felt overwhelmed by overcrowded shelves? Do you have to find creative storage spots because the groceries will not fit into those overfilled, cookie-cutter cabinets?We get it! Organizing your pantry doesn't need to be a chore. That is why ShelfGenie offers custom pantry shelving solutions that help you organize the busiest parts of your home. Our dedicated team of professionals will upgrade your existing interior storage spaces, so you do not have to worry about expensive remodeling. We can transform your pantry into an organization dream with our custom-fitted Glide-Out shelves.
What Are Glide-Out Shelves?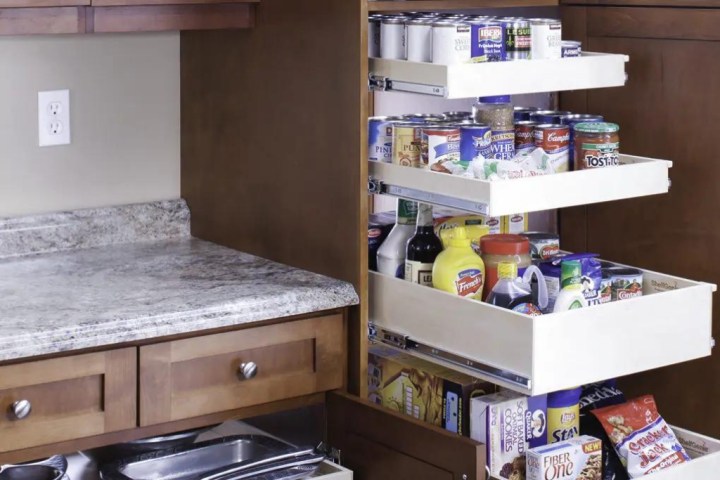 Custom Glide-Out shelf arrangements will revamp your pantry with custom pull-out shelves and dividers. It is the epitome of user-friendly storage solutions. No more bending, reaching or knocking things over to get what you need. Our pull-out shelves bring the back of the pantry to you.Glide-Outs do more than make storage spaces easier to access. You can group items by shelf into visible zones so you know exactly where everything is, bringing peace of mind to even the busiest home chef.No matter what type of pantry you have, ShelfGenie has the custom pantry shelving solution that is right for you.
Practical Small Pantries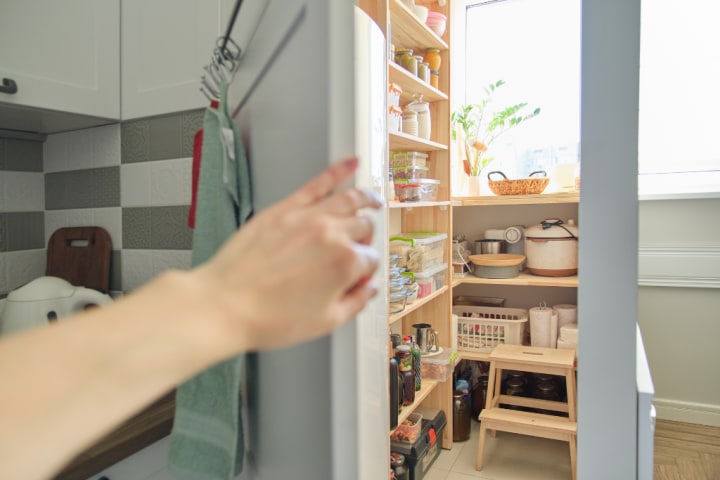 Custom pantry shelving is not just for big walk-ins or emergency food cabinets. In particular, small pantries depend on customization for maximum storage. Adding pull-out baskets and pantry shelves can easily double the number of items that fit in a compact space.Good organization can also make it easier to keep track of what needs restocking. When everything is neatly arranged and visible, there are fewer hiding places for small ingredients. So, even if the space is small, there are clear benefits to our custom
pantry shelving
solutions.
Tidy Corner Pantries
Corner pantries often get a bad rap for their lack of space. But putting something in a corner is not always a bad thing. You can create an amazingly efficient pantry in what would otherwise be unused space.Height is your friend when it comes to maximizing tight spaces. The best corner pantry shelving systems let you adjust shelf height and organize items in tiers. With our custom solutions, you can store small, high quantity items out of sight in pull-out drawers and fill any extra spaces with vertical organizers for cutting boards or pull-out wire baskets. For a more dynamic look, you can even create spaces of varying heights and group similarly sized objects together.
Clutter-Free Walk-in Pantries
The extra elbow room of a walk-in pantry may feel luxurious, but it can be a double-edged sword – every free surface is a potential landing zone for clutter. If you want to make your pantry look like it came straight out of a magazine, be sure you manage it carefully.Stay clutter-free by giving a purpose to various spaces. Labels are a fast and easy way to mark the purpose of a shelf or basket. And if that "pasta shelf" is looking a bit
messy
, maybe it is time to
bring back the cookie jars
. Clear, wide-mouth jars are the perfect way to store bulk items.
Basement Pantries
When thinking about organizing your home, it's natural to think that food storage only takes place in the kitchen. However, basement pantries can hold more than just old clothes or gym equipment! Items related to hobbies like cake decorating, bread baking kits, and so on can take up a lot of your precious pantry space. Keep in mind that anything used infrequently can easily be stored downstairs. Just be sure to seal the items in a bin to keep dust out.
5 Tips for Organizing Your Custom Pantry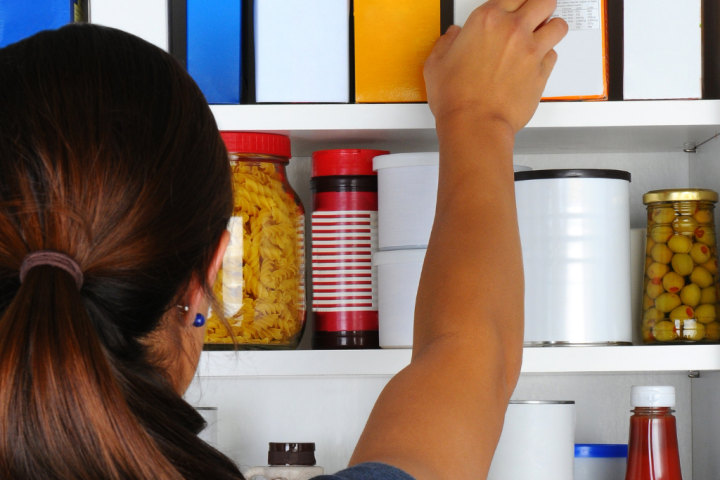 1. Add a Dry-Erase Board
Dry-erase boards are a quick and easy way to take notes and pass along messages. Why not use one to keep track of your grocery list? Almost all dry-erase board brands come with hanging strips that will work on the inside of a pantry door. You now have a convenient place to write down what needs to be picked up from the grocery store.
2. Clear Storage Containers
Have you ever realized halfway through making dinner that you were missing the main ingredient? Transparent containers make it easier to see what you have. No more opening the flour bag only to find it empty --
again
.
3. Hanging Wall Storage
All you need for this solution is an open wall in your pantry or the back of a door. Pegboards are versatile storage platforms – on them you can hang utensils, cookware, or even fresh herbs to dry.
4. Give It Some Décor:
Personalize your storage space with a touch of color. Wallpaper, contact paper, and vinyl decals are fun ways to brighten up any space. Go a step further and color-code shelves for streamlined sorting.
5. Create a Kid-Friendly Cabinet
Get the kids involved. Convert a lower cabinet into a special place just for their lunchboxes and pre-packaged snacks. It will be easier to get out the door when you are in a rush. Plus, now they know where those things belong so they can help clean up.For more advice like this, customized to your lifestyle and your space you are in the right place. ShelfGenie is your one-stop-shop for all things organization, and we would love to build a design plan just for you. Schedule a free, no obligation at-home consultation today.
Book online
or call (866) 460-9894.