Need home office storage ideas that will transform your space into a chic, functional haven? Fortunately, we have you covered with our smart storage ideas that range from simple tweaks to bigger, more permanent projects to overhaul your space.We have all seen examples of beautiful home offices that look effortlessly minimal and incredibly stylish. Then you might glance nervously into your cluttered, disorganized workspace, feeling guilty about the mountains of paperwork on your desk. Not to worry! With a little effort you can organize your workspace too. Here are some of our favorite home office storage ideas.
1.Use an Ottoman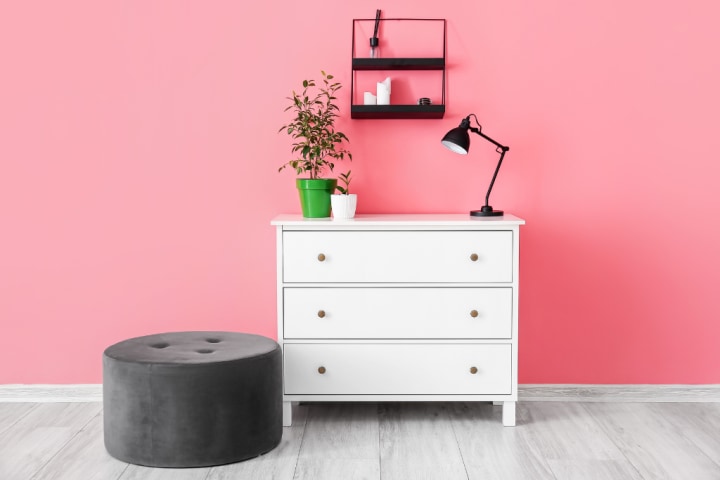 The humble ottoman can do so much more than just store blankets and pillows.
An ottoman creates instant seating space and additional storage to keep supplies you don't always need on hand.
To level up your ottoman even further, consider adding organizers and dividers to make it easier to find what you need and maximize the storage space.
2. Install Floating Shelves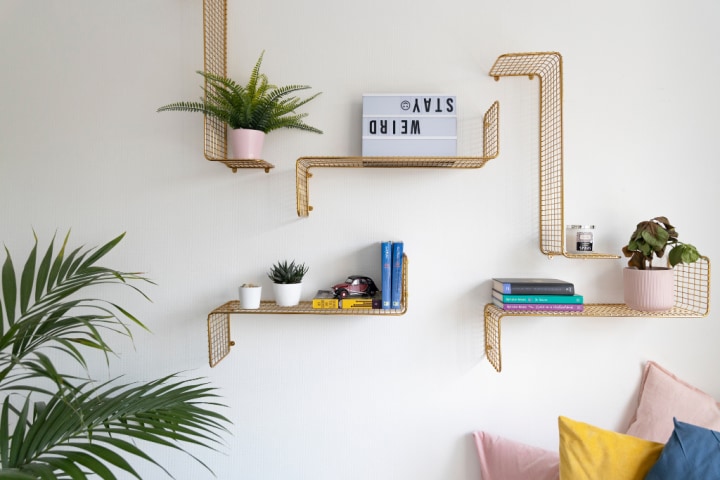 Floating shelves look effortless, create storage space for your home office supplies, and use up empty wall space.
You can usually find a range of shelving types, from flat planks to geometric shapes.
Because floating shelves have a hidden wall bracket, they look minimal and give your home office area a clean, tidy appearance. You also have the added freedom to arrange them however you like.
3. Organize Drawers with Dividers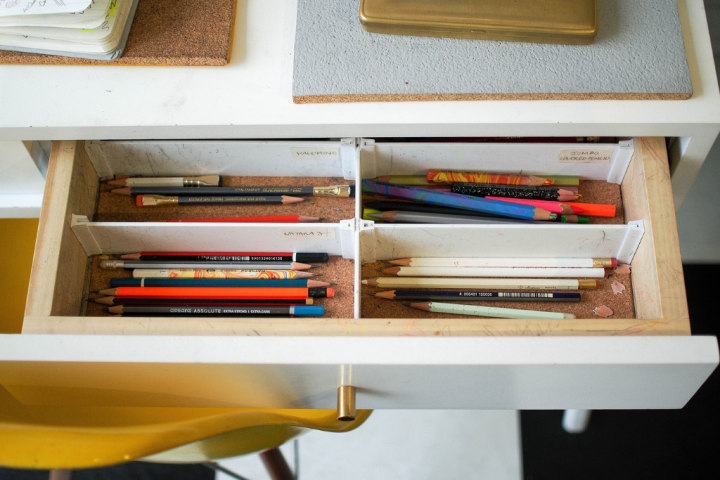 Opting for a desk with drawers takes advantage of the space under your desk and can give you more options for tidying away paper, diaries, and stationery. However, it is easy for a drawer to become
cluttered and filled with junk
.
The solution? Create dividers.
You can buy purpose-made drawer dividers that transform one big drawer into smaller sections to give your belongings their own designated place, making it easier to access pens and cables when you need them.
But you can easily make your own, too. Why not declutter by repurposing boxes and their lids, toilet roll tubes, or cutlery organizers?
4. Make Hanging Pouches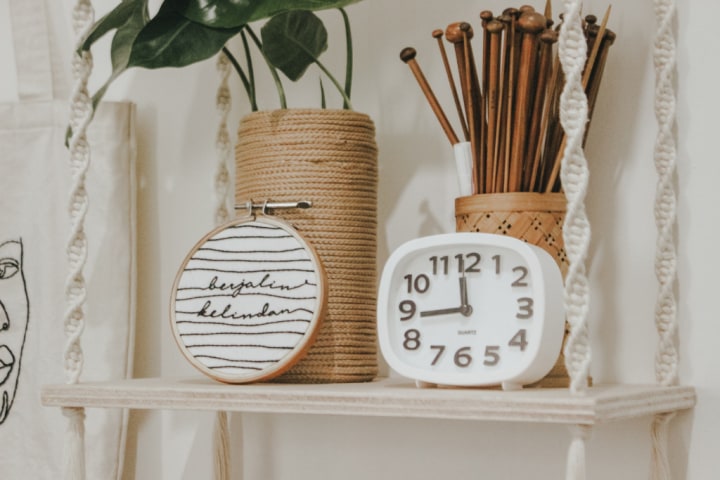 These trendy home office storage ideas come in all shapes and sizes, and are easy to hang wherever you want.
Usually made from macrame, crochet, or fabric, they are as much an art piece as they are storage. If you are crafty, you can even whip up your own, coordinating the color scheme with your home office decor.
Need just a few mini pockets for small items like paper clips, staples, and pins? Opt for a vertical organizer with several small pockets.
Are you after something more robust and versatile for your paperwork, books, and even a laptop? Some wall organizers have lots of different-sized pockets, hooks, and miniature shelves for flexible storage.
5. Opt For Storage Boxes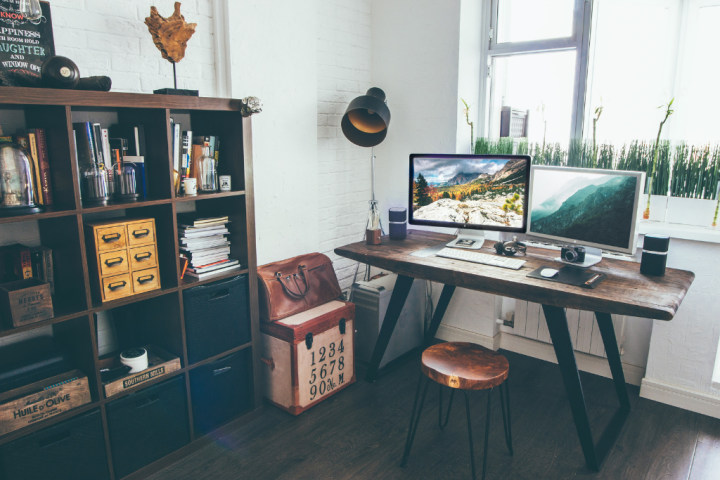 Storage boxes are an easy solution to creating a more inviting, organized home office space.
Boxes often come in sets, so you can stack them neatly on a shelf or in a corner. Choosing boxes that have enough room is important, as is selecting a design that fits with your space's aesthetic.
6. Conceal Your Office Inside a Cabinet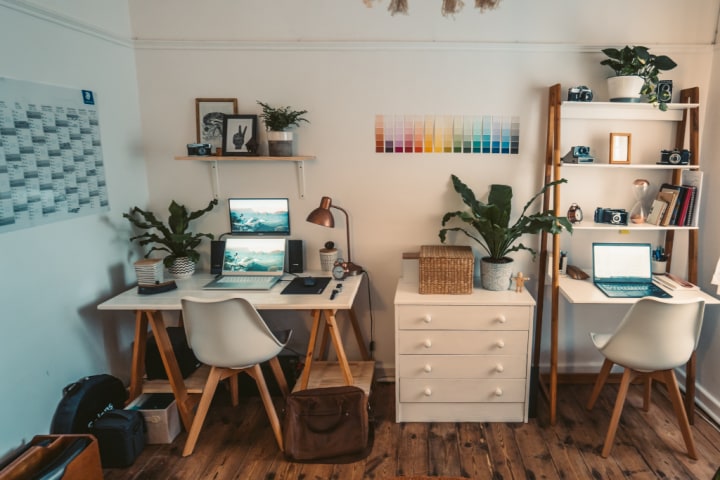 If you have a smaller home but still need a separate space for your office, try concealing your desk and storage inside a cabinet.
On the outside, the cabinet looks like any other cupboard or wardrobe. But, when you open it up, it features several shelves, drawers, and a fold-out desk.
7. Repurpose Old Furniture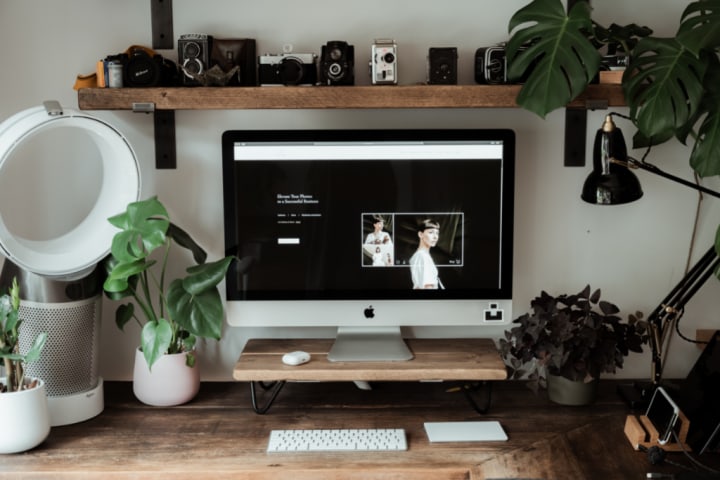 It is tempting to give up old furniture and buy new, but with a few creative ideas, a splash of paint, and some simple reupholstery, you can easily repurpose old pieces into something new that works well for your home office.
Try using an old dressing table as a desk with drawers, or a chest of drawers as a filing cabinet. The only limit is your imagination!
8. Put Up a Pegboard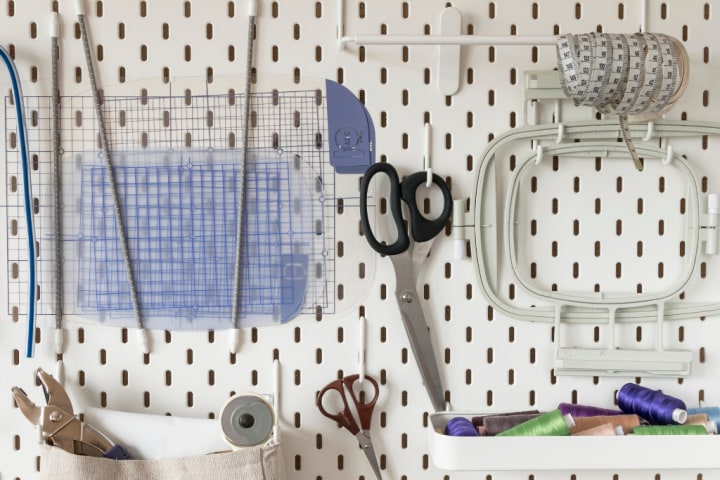 Pegboards look deceptively simple. In reality, they are one of the most flexible office storage solutions.
You can customize their features to fit your needs, even if you have a massive amount of clutter that needs organizing.
Pegboards work by inserting small pegs into an array of holes, where you can add different elements like shelves, hooks, cups, loops, and holders for specific items. They are not restrictive in the way that shelves can be as you can simply move the pegs around to fit in different sized objects.
9. Make Your Storage Portable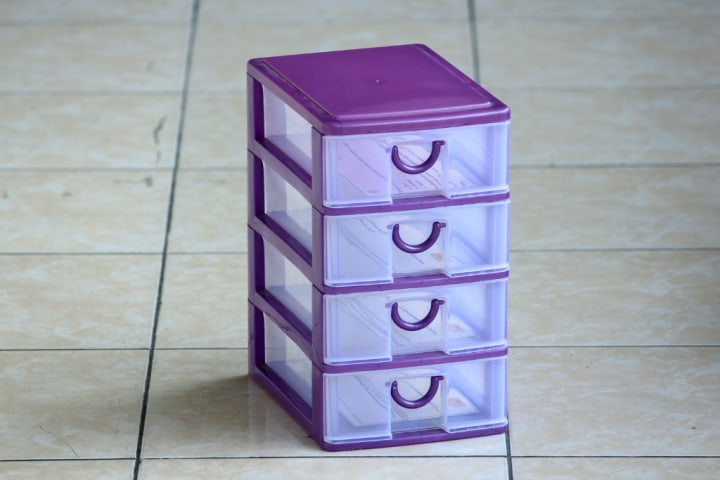 Moveable storage solutions are effective no matter the size of your home office. Opting for storage you can wheel around makes it easy to find things when you need them.
Portable storage works well for stashing printers, tech, and even creative supplies for easy access. Plus, because the storage is mobile, you can move the unit to a different location if you need the supplies somewhere else for an afternoon.
10. Stack Desk Storage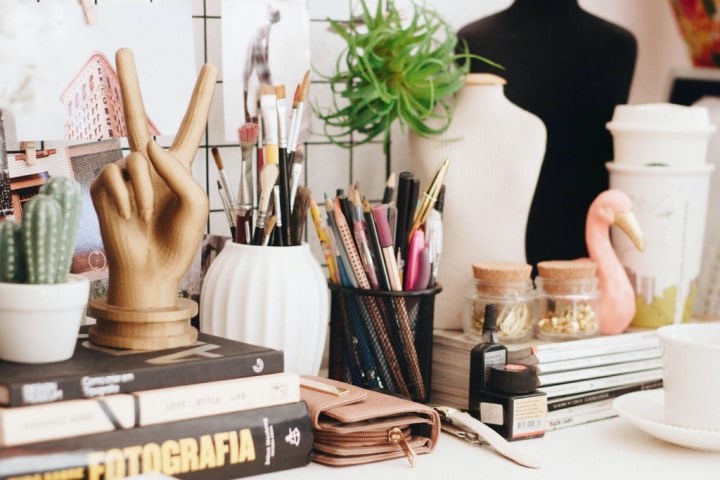 Desks get messy.
There are simple yet smart solutions for storing your most-used items right on your desk.
Many retailers sell monitor stands with drawers inside to keep pens and smaller, loose items like sticky notes and paper clips easily accessible.
A pen pot with compartments is useful for organizing your writing tools, and an upright paper tray can keep your paperwork tidy and easily referenceable.
11. Reuse Household Items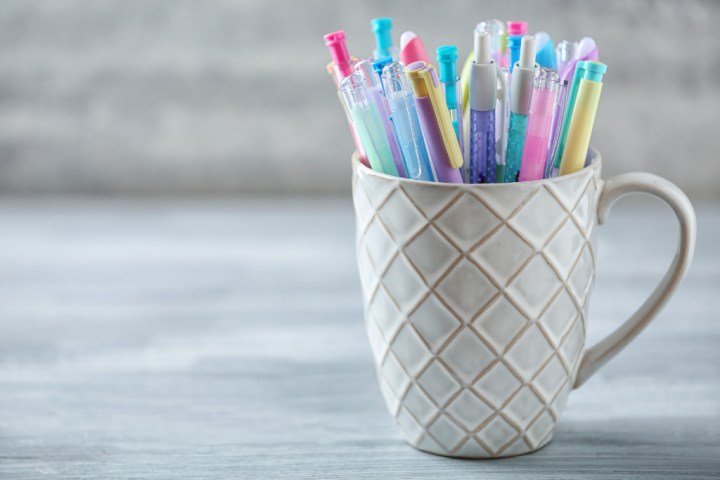 We already talked about using old furniture as storage, but what about your smaller items?
Old jars and tins make for fantastic pen and pencil storage with a unique twist. Just make sure they are clean and free of sharp edges!
Unused muffin pans or cutlery organizers can also be used in the office to keep things tidy in a small drawer.
Have an abundance of plastic storage containers that never get used? These can function as a catch-all for storing items in your office that never seem to find a home.
12. Create a Mobile Office
Some people like to move throughout their home during the work day. A change of scenery can help keep you focused and productive, and ensures that you take those must-needed standing breaks between long hours on the computer.
Similar to portable storage, this idea combines your desk and storage into a caddy you can carry or roll around your home. Whether you want to set up in the garden on a hot summer day or curl up with your laptop next to the fire in winter, this solution offers clever storage while being flexible.
Make sure it is easy for you to move around (not too cumbersome!) and offers enough storage for everything you need at hand.
13. Hang a Wall Unit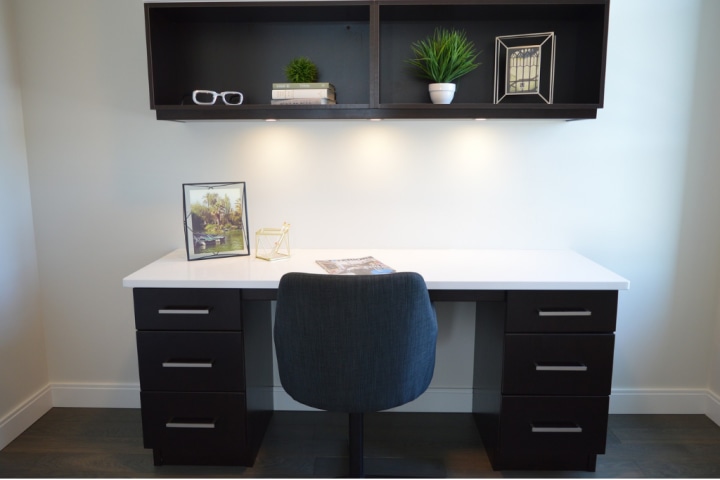 To make the most of your empty wall space, a wall unit consisting of shelves, drawers, and cubby holes can drastically increase the storage options in your home office.
There are options to suit everyone – from simple three-shelf units to comprehensive wall cabinets, this is a more permanent way of creating a tidy workspace.
When you are installing your unit, be sure to leave enough headroom and avoid blocking natural light and power outlets.
14. Use a Garden Trellis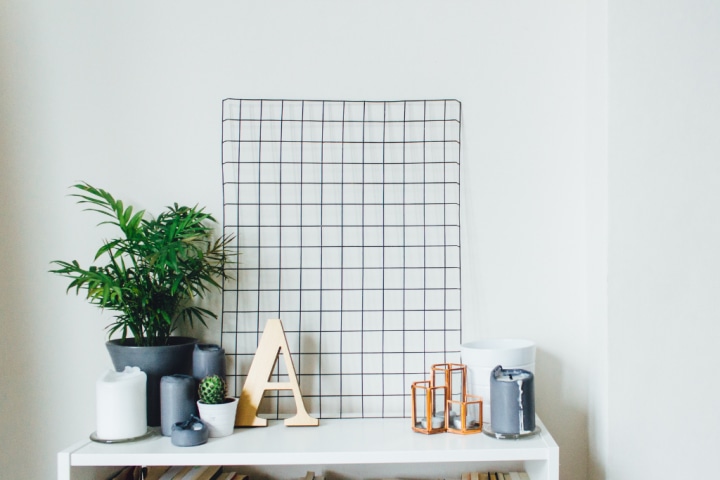 A wire garden trellis is not reserved just for the green-fingered among us. In a home office, it can convert into a smart 'inspiration board'-style organizer. By simply using a few pegs, you can hang up important paperwork, reminders, and photos.
Similar to a pegboard, you can level up your trellis by clipping pockets and pouches to the wire, creating instant storage.
15. Build Custom Shelving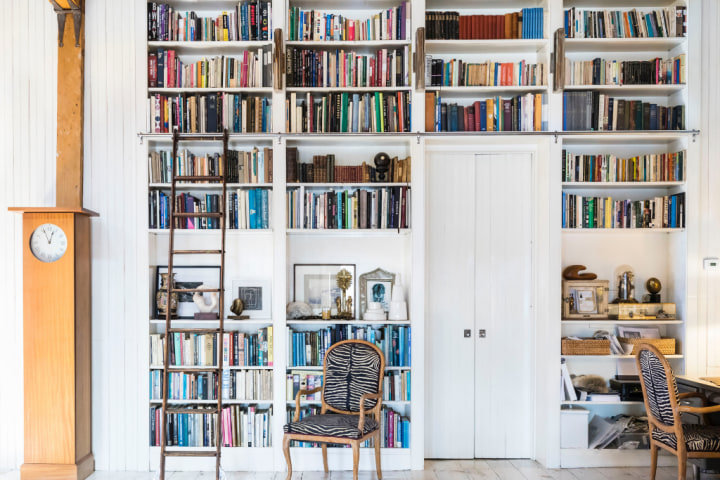 For a permanent storage solution, consider building shelving into your home office area that fits seamlessly with the surrounding interior.
Built-in cabinetry and shelving looks clean and effortless, offering maximum storage space for your office supplies, books, and files.
To refresh existing built-in units, try giving them a facelift with new paint or handles. Or try upgrading the storage with clever inserts or dividers to make the most out of the space.
16. Use Door Organizers
You have probably seen the organizers that hang on the back of doors in the bathroom or bedroom for storing shoes, towels, or cosmetics.
If you have unused door space in your office, you can repurpose one of these over-the-door caddies for your office supplies.
Most people do not look behind doors, so this solution can make your home office area look neater and more organized without drawing too much attention to what you have stored inside.
Which Office Storage Ideas Are Your Favorite?
Hopefully, these clever storage ideas for your home office have inspired you to tidy up clutter and create a useful, calming workspace, no matter the size.
Now all that is left to do is get started. If you are ready to level up your existing storage areas, ShelfGenie can help. Book your
free in-home consultation
today.