How to clean wood kitchen cabinets—it is a topic friends could discuss for hours. Combined with opinions on the best kitchen cabinet storage solutions, it's not too far-fetched to imagine the conversation spilling over into the next gathering.Knowing how to make wood cabinets look like they have been cleaned by a professional is not complicated, but it can often stress people to the point where they ignore the grime on cabinet doors altogether. Savvy homeowners know how to clean wood cabinets without hiring a professional or losing sleep over the job. Here's how they make it happen:
Tips and Tricks on General Cleaning
Kitchen cabinets take the brunt of a family's daily living activities. People spill and splatter without noticing. And then, the kids come along and constantly smudge cabinet surfaces with fingerprints.
Unfortunately, with their busy schedules, most people put off even basic general cleaning, which results in the build-up of greasy grime, food splatters, and dust. Cleaning wood kitchen cabinets like a boss requires a system.
General cleaning should be quick, but not sloppy. It looks like this:
Start at the top and work down

Clean cabinet interiors first, working back to front

Tackle shelves and drawers

Use a toothbrush spritzed with a cleaning solution to clean corners

Remove soap residue with a cloth soaked in plain water

Wipe dry

Clean sides

Finish with doors and drawer fronts
General cleaning does not require pricey products or gadgets. The right cloth, the most effective cleaning solution, and a firm but gentle cleaning technique all work together to keep up with the daily grime.
The Wood Cabinet Deep Clean
It is not feasible to apply deep-cleaning techniques every week. Devoting time every few months to deep clean makes a world of difference, both inside and outside of cabinets. As with general cleaning tasks, there is an order to a cabinet deep clean:
Wipe cabinet exteriors

Remove everything from cabinets

Dust or vacuum inside cabinets

Wash with warm water and gentle detergent

Rinse with a clean—damp, not wet—soft cloth
No one wants their kitchen to look like an eyesore. Aside from creating a poor appearance, dirty cabinets can harbor harmful bacteria that could make household members and guests sick.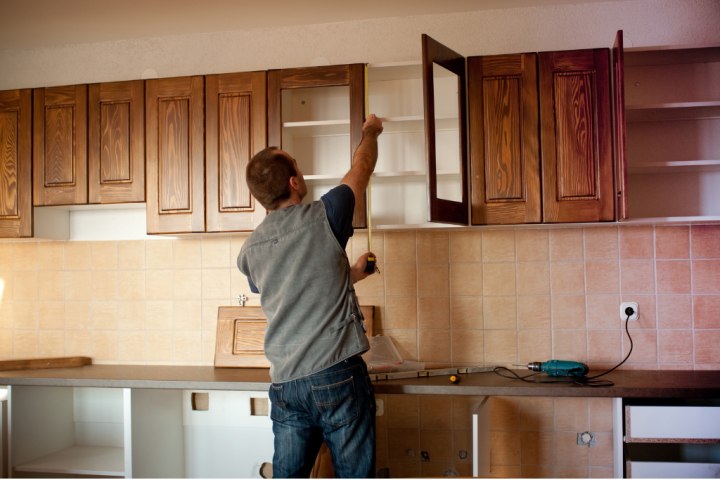 How to Clean Sticky Wood Cabinets
Wood cabinets seem to draw grease and grime naturally. It's not uncommon to find a sticky, greasy build-up as soon as a week or two after the most recent deep cleaning. Knowing how to clean sticky grease off kitchen cabinets makes frequent deep cleans less necessary. It also makes general cleaning go more smoothly.
Most people have a preferred method to get rid of sticky, greasy film from wood cabinets. Using one of these three cleaning methods should bring the luster back to wood kitchen cabinets:
Warm water mixed with a few drops of dish soap

Multipurpose cleaner with citrus oil

Baking soda and water
The key to removing sticky grime from wood kitchen cabinets is selecting the best solutions and cleaning tools.
Best Cleaner for Wood Cabinets
In the quest to learn how to clean wood kitchen cabinets, most homeowners start at the grocery store. While grocery and home improvement store aisles hold a dizzying array of household cleaners, two stand out as top performers for cleaning wood cabinets.
Murphy Oil
Murphy Oil soap would win, hands-down in any battle, for a tried-and-true cleaning solution for wood cabinets and drawers. Based on a 100-year old recipe purchased from a German immigrant, Murphy Oil contains
98% naturally derived ingredients
and leaves wood cabinets with a rich, silky shine.
[Please embed:
https://youtu.be/L0BsInGRYKE?list=PL8470033E27BF6B76
]
Vinegar and Olive Oil
A couple of everyday pantry items offer unmatched cleaning power for wood cabinets.
Vinegar and oil
may sound like a salad dressing, but combined in equal parts, they clean
and
shine natural wood surfaces.
In a nod to the well-stocked pantry, baking soda is another staple used to clean wood cabinets. Water, vinegar, baking soda, and ammonia, if necessary to cut through layers of stubborn grime, make an effective cleaning solution.
When thinking about how to clean kitchen cabinet doors, Murphy Oil soap or vinegar, water, and baking soda are good to keep on hand. Why not stock your pantry shelves with all three, plus a supply of olive oil and a few strategically placed shelves?
How to Clean Inside Kitchen Cabinets
Keeping the interior of kitchen cabinets clean is essential because the inside is where dirt and food particles accumulate. Ignore it long enough, and bugs and rodents may find cabinets enticing.
It is a simple process to clean inside kitchen cabinets.
First, empty the cabinets. Second, dust or vacuum out any visible debris. Third, spray a 50:50 solution of vinegar and water on shelves and the rest of the cabinet interior. Finally, after allowing the solution to sit for a minute or two, wipe it off with a soft cloth. Before putting items back in the cabinets, carefully dry every wood surface.
To help keep kitchen cabinets clean and organized, consider using a variety of
storage solutions
. A well-designed storage system works in tandem with routine cleaning to ensure wood cabinets look beautiful for years to come.
Every Kitchen Deserves Clean Cabinets
Why go to the trouble of creating a stunning kitchen design if prioritizing clean cabinets never happens? Avoid wasting those hours spent selecting the perfect flooring, lighting, wall treatments, and, yes, cabinetry by failing to learn how to clean wood kitchen cabinets.
Cleaning wood cabinets serves multiple purposes. Clean cabinetry enhances the mood in a kitchen. Keeping cabinets free from dirt and grime build-up helps maximize the homeowner's investment as well.
Ready to Spruce Up the Heart of the Home?
Every kitchen needs a little TLC to keep it functioning well as the heart of the home. One way to keep wood kitchen shelves clean and organized is custom Glide-Out shelving from ShelfGenie. The best time to start caring for cabinetry is now. Call us for a
free design consultation
, and we'll show you how it all works.