Your powder room may not be the largest area in your home, but it is one of the most useful. A powder room, also known as a half bath, can provide a private bathroom for guests visiting your home and can also function as an extra restroom for a large family. Unfortunately, it can be hard to find powder room ideas, so we are here to help!Because it is not the top priority in your home, powder room decorations may not be top of mind. However, now that more people are inviting guests back into their homes, there's no time like now to refresh your powder room and turn it into a beautiful and inviting space. Here are 18 of our favorite powder room ideas to spruce up your half bath.
Bright and Modern Powder Room Idea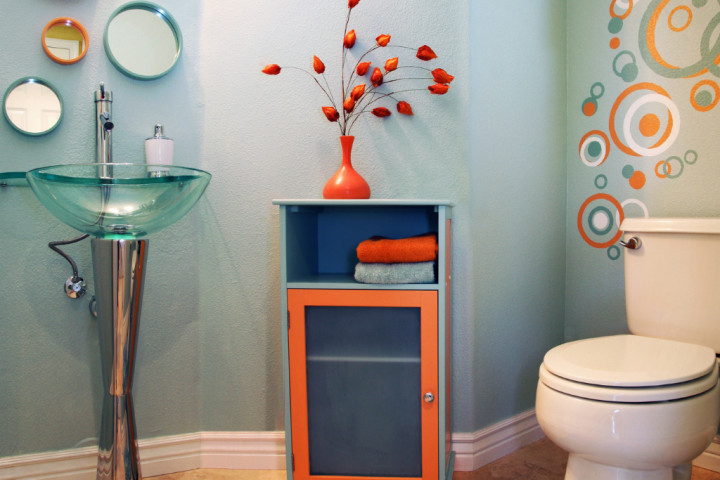 Add some fun to your powder room by adding circular mirrors and an attractive sink as a statement piece. For more fun, mimic circles in similar colors on the wall. Add accessories or find a
ShelfGenie custom shelving option
for extra storage space. With small half baths, more storage is never a bad idea!
Monochrome Powder Room Idea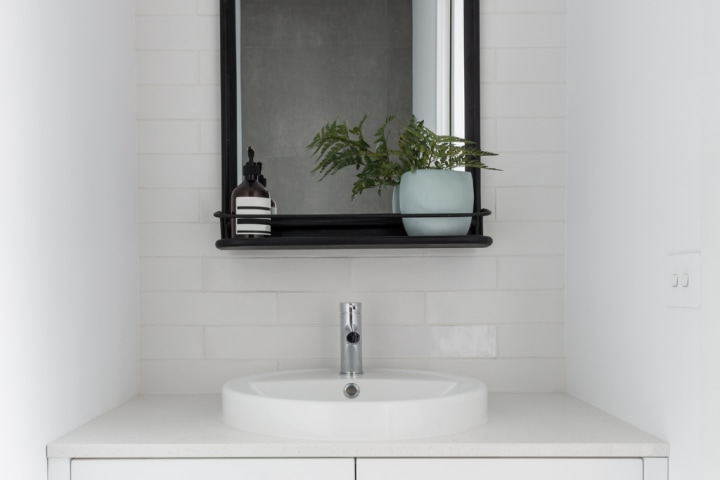 This white subway tile and a white sink come together with a black-rimmed mirror for a chic, minimalistic look. You can also add a pop of greenery and an accent wall for more visual interest. With this style, you will want to keep all clutter tucked away. Invisible shelving under the sink is one of our favorite powder room ideas.
Neutral Toned Powder Room Idea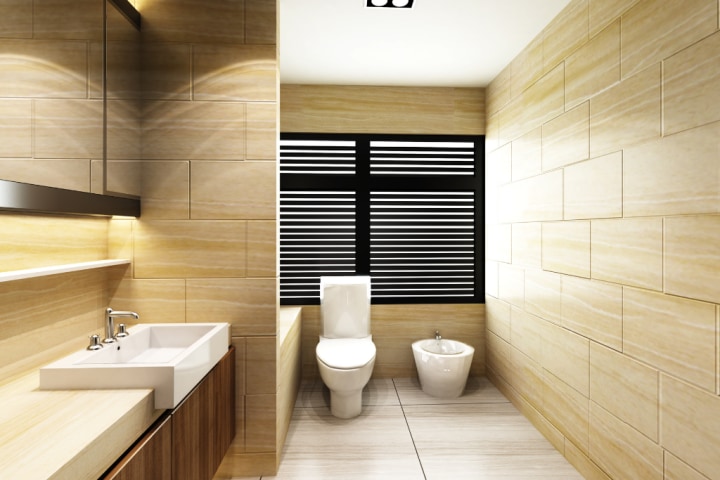 This next inspiring powder room is similar to a monochrome powder room. The neutral-toned powder room gives an ambiance of elegance with a warmer feel. Plus, black and tan colors can make a small bathroom feel larger. If you need more storage, adding custom glide-out shelving can increase the small amount of space in any half bath.
Farmhouse Powder Room Idea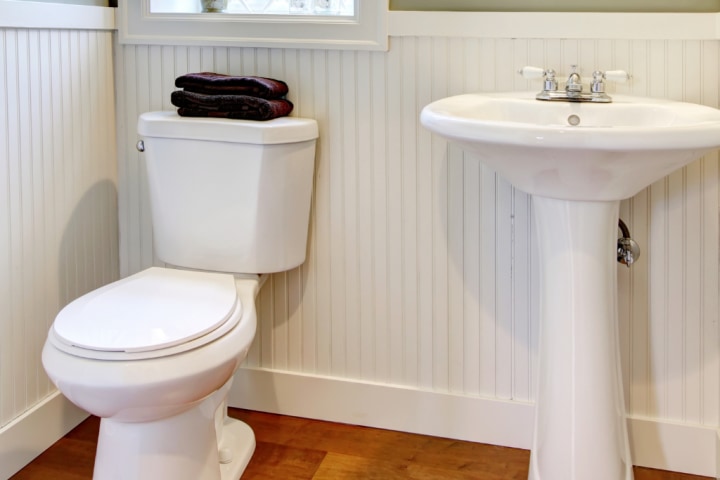 This simple, warm look gives off an upscale farmhouse chic. For this powder room idea, try using sage paint, shiplap overlay, a pedestal sink, and dark framed mirror to finish the look. For storage, consider adding in a small cabinet with
glide-out shelving from ShelfGenie
, which will give you extra storage to stock soaps and supplies for your guests.
Perfect Peach Powder Room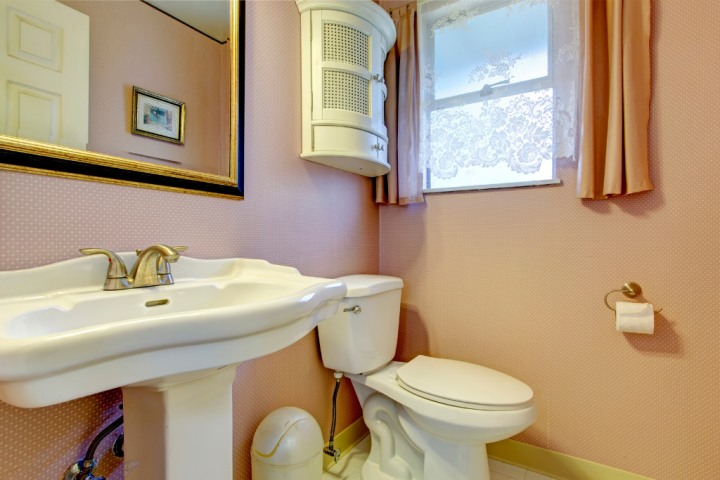 This powder room brings a strong impression of old fashioned elegance. It features peach wallpaper with tiny polka dots, silk curtains, and a lace window, bringing a vintage quality to a small half bath. Add shelving and gold-toned features to complete this powder room revival.
Lavender and Gold Powder Room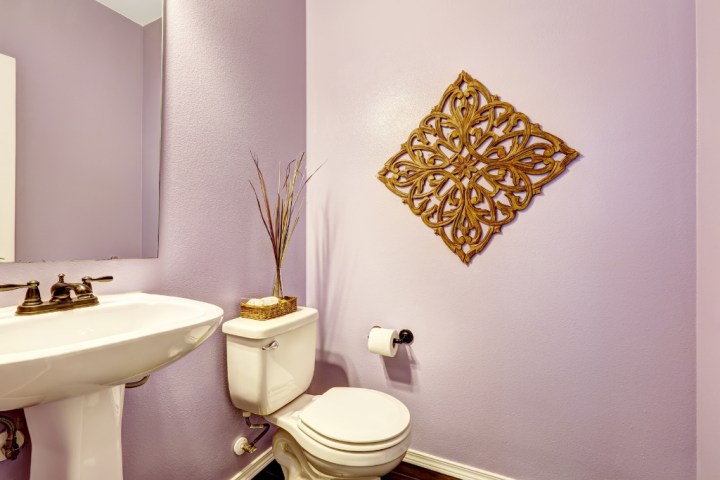 Your guests will feel like they are in the lap of luxury when inside this powder room. Lavender walls and white fixtures set the stage, while large gold artwork draws attention to the walls. Add gold-painted florals and brushed gold fixtures to finish off the aesthetic of this regal room.
Silver and Gray Powder Room Idea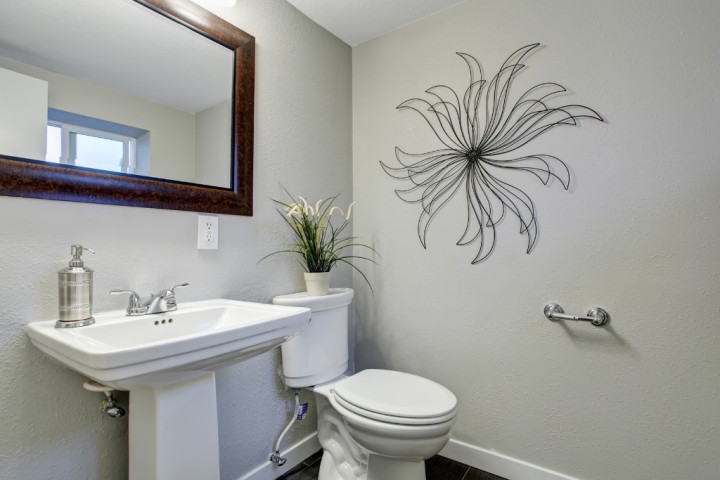 This idea is simple and sophisticated. It gives off a classic look that will serve as a neutral palette for future residents in your home. Start with light grey walls and add fresh ferns or greenery to add some color and make the room feel more welcoming. ShelfGenie glide-out shelving opposite the toilet and sink gives you space for cleaning supplies or extra toilet paper. Finish the room with silver accents (like a soap dispenser or lotion bottle) and add a minimalistic piece of artwork to finish the room.
Bright and Parisian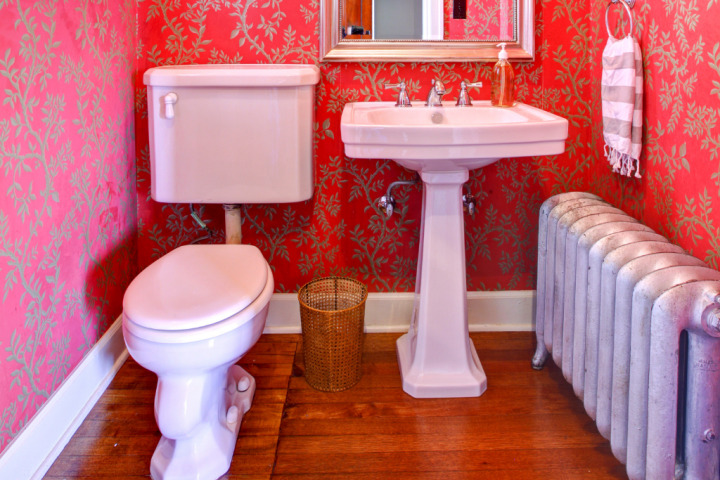 Luxury is vital with the centerpiece of this half bath design. To really make the room pop, choose opulent and bright wallpaper, like the floral red and gold pictured. A vintage light fixture will also provide a lovely touch to the room and give your guests proper lighting. Striped towels and a silver-framed mirror also add a decorative, yet luxurious feel. Lastly, fitting the closet with glide-out shelving will keep everything out of the way so your guests can focus on the stunning decor.
Exotic Details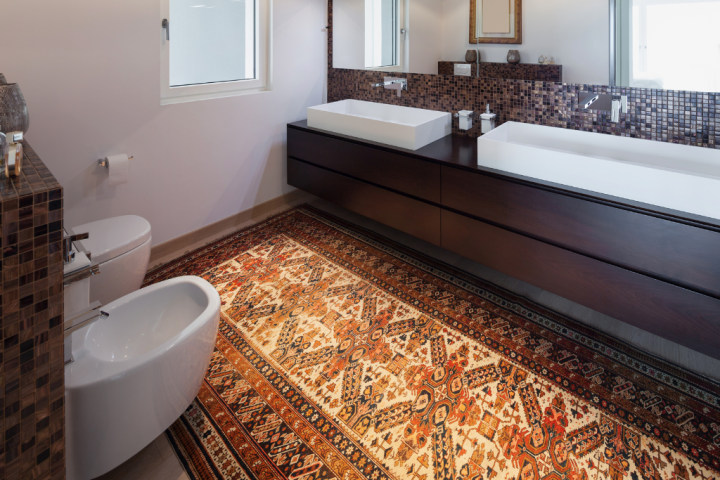 Although most powder room ideas have wood, tile, or laminate flooring, adding a rug is a great way to provide additional comfort and warmth. Carpets are also an excellent way to highlight the style of your powder room. Look for Oriental rugs with interesting patterns, and then match your decor to the colors in the carpet. You will also keep clutter out of the way in a small, narrow bathroom like this with
ShelfGenie gliding shelves
customized for your room.
Blue Oasis Powder Room Idea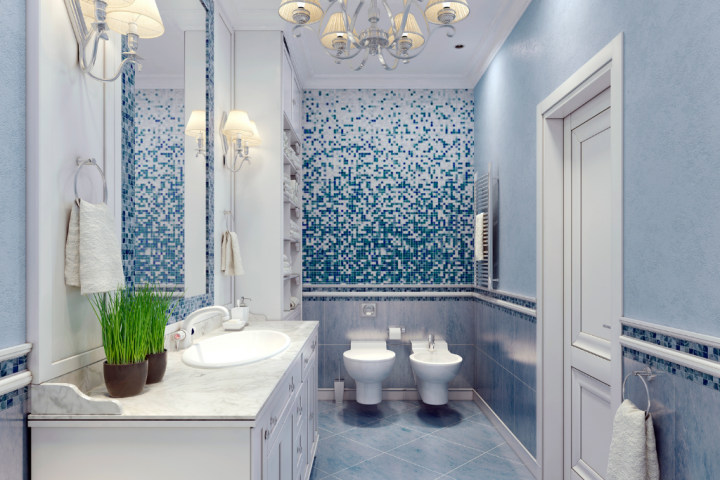 Blue tones are known for being soothing and instilling a sense of calm. When you use different complementary shades of blue, you can create a lovely space to reset. In this example, custom tiling adds a touch of class, while blue wallpaper and tiles make the room feel relaxed and serene. Add white hand towels to store in your
ShelfGenie glide-in custom shelving
to keep clutter at bay.
Mid-Century Modern Powder Room Idea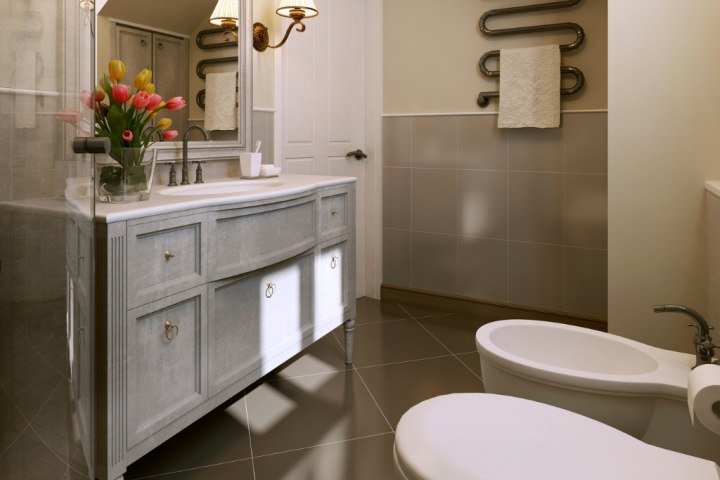 The sink and cabinetry is the focal point of this mid-century powder room. ShelfGenie custom shelving solutions can optimize this freestanding cabinet and maximize your storage capabilities. Use gray, white, and tan tones for this look. To really bring the room together, replace your old light fixture with sconces and add tulips in a vase for a bit of color. Don't forget accessories like towels and a towel rack!
Grecian Powder Room Idea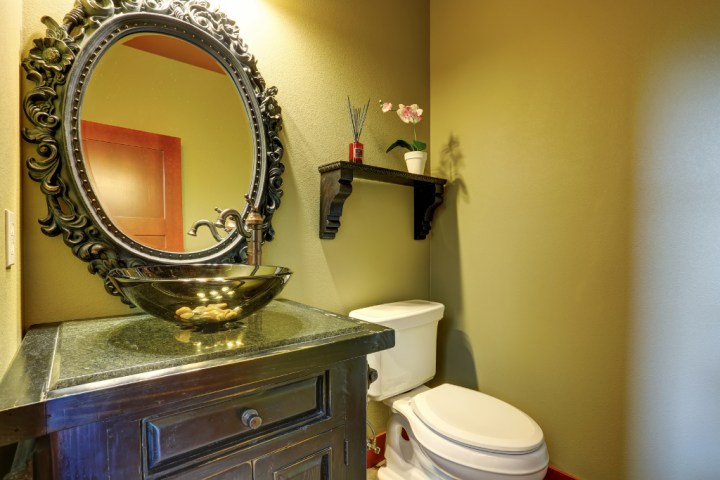 This unique powder room is reminiscent of Ancient Greece. While the opulent mirror is the focal point of this half bath, notice the neutral sage color, which sets the stage for the bowl sink and bronze faucet. Marble counters and distressed wood cabinetry also provide a classic, old-world feel. In this example, a shelf serves as extra storage and, of course, ShelfGenie glide-in and pull-out solutions can add function to basic
over-the-toilet shelves
.
Storage Focused Powder Room Idea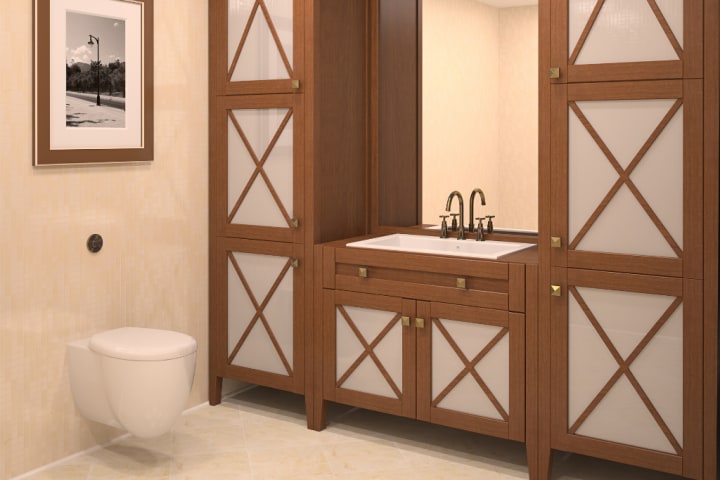 Although most powder rooms are small and hold only a sink and toilet, this powder room features a spacious and chic storage unit. The custom-built cabinetry surrounds the sink and adds a very unique look that ties the room together. This type of half-bath redesign can turn a room used only occasionally for extended family or friends into a solution for decluttering your whole home.
Asian Inspired Powder Room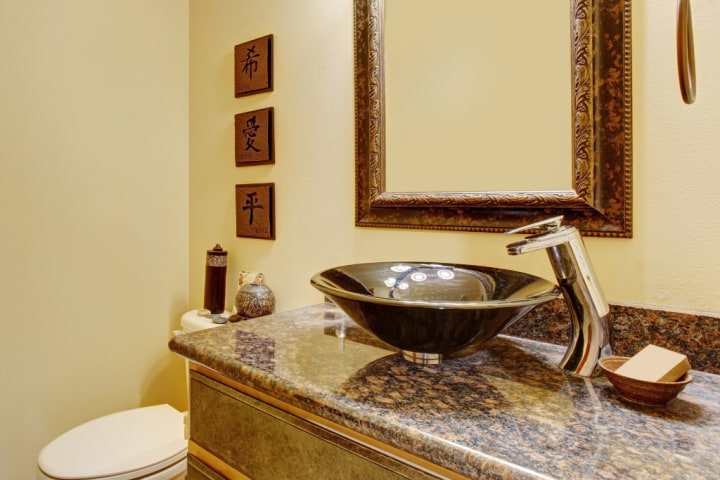 This powder room idea draws inspiration from far East influences. Neutral colors allow the detail to be the star of this half bath. The hallmark of this remodel is the artwork with Chinese letters or Japanese calligraphy, bamboo accessories, pottery, and stamped designs for accessories. A large mirror with a heavy frame completes this powder room remodel. Of course, you could also update the cabinets to feature a smooth, dark finish and add
glide-in ShelfGenie custom shelving
to organize the space.
Full-Wall Storage Powder Room Idea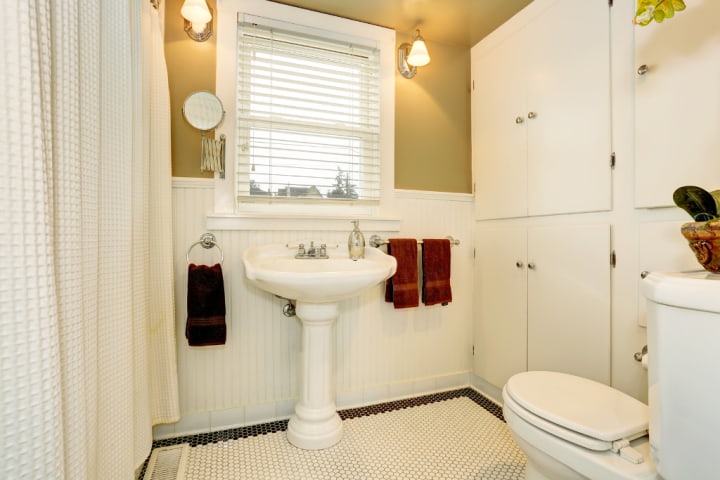 Instead of building a custom solution for storage around your sink, you can try using an entire wall to increase your home's storage. This idea for a powder room update includes replacing an empty wall with floor-to-ceiling cabinetry instead of artwork. While the cabinetry is a white color in this example, we suggest using a darker off-white shade and a large centerpiece to make your room appear larger.
Bright Sunny Powder Room Idea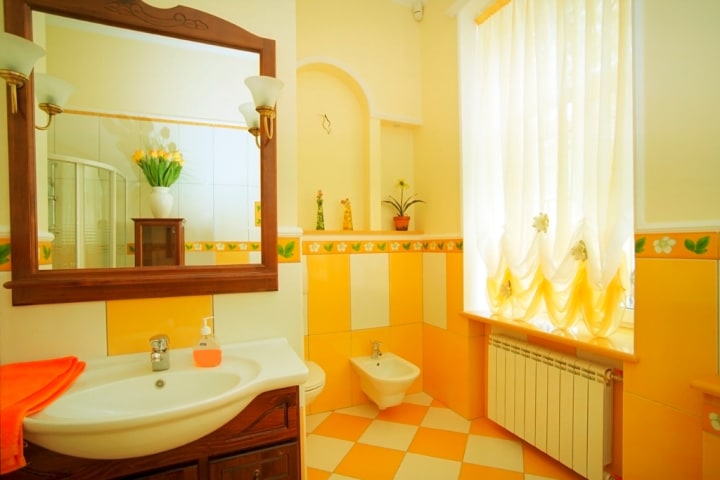 When you want to make a statement, a bold color will do the trick. Yellow and white paint and floor tiles can easily brighten up a small room. Yellow sheers in the window provide bright, filtered light, and the flowers add a fantastic accent to the brightness of the flooring. If you wish to temper the brightness a bit, choose an oak-colored frame for your mirror and oak cabinetry with
ShelfGenie glide-in shelves
. Your guests won't forget their visit to this gorgeous powder room.
Benefits of a Powder Room Renovation
With these tips, your powder room will go from a forgotten addition to your home to a bright, welcoming spot for your guests.. And with ShelfGenie glide-outs, you will never have to worry about clutter and lack of storage taking away from the creative design. Call us today for a free consultation – we'd love to help make your dream home a reality!