Refacing kitchen cabinets is an extreme makeover for your kitchen cabinets that can make them look brand-new at a fraction of the cost of custom-made cabinets. Imagine a dated, light pine-wood kitchen with cottage-style, back-iron handles swapped out for deep mahogany with modern silver handles. It can change the whole look and feel of your kitchen.Is refacing the right option for you, your budget, and your existing kitchen cabinets? Read on for help deciding.
What is the Cost of Refacing Kitchen Cabinets?
The cost of refacing kitchen cabinets is much less than that of installing new cabinets and depends on whether you do the job yourself or hire a professional company. While exact costs vary on your location, here are some typical costs:
Refinishing costs 50% of new, custom cabinets
Refinishing costs 70% to 80% of stock, premade cabinets
10 x 12-foot kitchen: $1,000 - $3,000 laminate veneers
10 x 12-foot kitchen: $2,500 - $6,000 wood veneers
For example, an average-sized kitchen could cost between $12,000 and $15,000 to install new cabinets. Refacing will cost $7,000 to $10,000.Doing the work yourself means huge savings in labor costs, as you only need to pay for materials:
Veneer materials range from $200 - $500
Cost of new doors, drawer fronts, and hardware
Are Your Cabinets Suitable for Refacing?
Depending on the design of your kitchen cabinets, you may need to use new door-fronts and drawer-fronts. Look carefully at the shape and design of your cabinet doors and drawers:
Are the surfaces flat? Edges may curve, as part of the design, and there may be grooves in panels or molding. New veneers need a smooth, solid surface to stick, so you'll need new doors and drawer tops if your cabinets have lip curves or design features.
Are the cabinet boxes sturdy, based on the inside parts, materials, and craftsmanship? Not all cabinets are suitable for refacing. Well-built cabinets can work well with veneers, whereas poorly made cabinets will not be able to anchor new doors.
It is also important to be practical and evaluate the
shelving, storage space
, and functionality of your cabinets. Refacing kitchen cabinets is an investment that will make the cabinets look new, but does not change the cabinet inside. Some companies offer to heighten cabinets or add cabinets.
Steps to DIY Refacing Kitchen Cabinets
The good news is that you do not need to be a master carpenter to do this job. You do need to have some experience working with tools, however.
1. Tools
4-in-1 screwdriver, Brad nail gun, Caulk gun
Circular saw, Cordless drill, File, Forstner drill bits
Laminate slitter, Miter saw, Paper cutter
Veneer tool (Virutex laminate slitter, Table saw)
Veneer scraper
2. Plan, Plan, and Plan Again
What kind of doors do you want to have? Standard cabinets have an overlay, inset, and 3/8-in lip. Contemporary cabinet doors have a 1-1/4-in overlay for a sleek, modern look. The doors are very close together and make the main surface. This look has its challenges, however: measure carefully to make sure there is enough space and clearance.The overlay is the distance the door extends past the frame. The type of hinge used affects the overlay, and you may need to reduce the top or bottom overlay to accommodate the hinge. These measurements are very important, as the doors must be able to open freely in all areas.If you have corner cabinets, ensure you cut 3/4-in.-deep notches in the face frame stile to mount the special scissor hinges these cabinets require.
Do a Tape-Check on the Frame
It is especially important to carefully measure inside corners and between doors. To check the overlay measures, place colored tape on the face frame. While you may be confident of your measuring skills, the wrong measurement will cause huge problems later. Stick the tape on and confirm the measurements before you order or make doors.
3. On the Job
A refacing job includes having the right tools and materials, as well as refacing the cabinets and other areas. This is a simplified breakdown of the steps:
New drawer-fronts, door-fronts
Removing the old fronts
Covering the cabinet frames, end panels with approximately 4-in plywood to match
New cove molding at the top of cabinets
A thin layer over the toe-kick area (matching plywood)
Sanding down and preparing the surfaces for plywood
Cutting sheets of veneer
Applying readily to stick veneer
Trimming the edges
Scrapping tools and adding pressure to remove air bubbles
Reattaching cabinet doors, drawer fronts, and handles
While you might think this is a weekend project, it does require a fair amount of expertise, labor, and some special tools. If you are new to DIY work, consider hiring some expert help or enlisting handy friends or family to support you.
Dream Colors, Laminates, and Finishes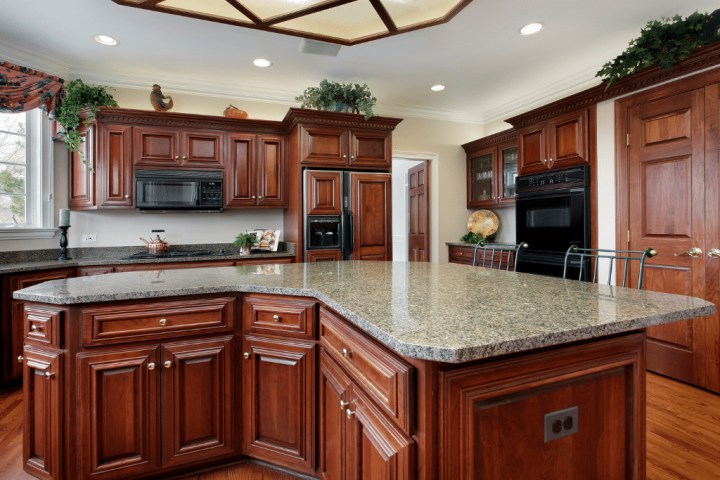 There are different options when it comes to veneers – whether natural wood or laminate. Laminate is strong and durable. There are many new trends for
kitchen design
in 2021, including stunning designs that incorporate the natural texture and hue of the wood. A few beautiful options for the grain, glaze, and stain:
Dark Wild Apple, Hard Rock Maple, Cherry Harvest with Caramel Glaze
Red Oak Honey Pewter, Bamboo Harvest
Natural Cherry with Glaze, Chocolate Pear
Harvest Gold on Maple
Refacing Kitchen Cabinets
Refacing kitchen cabinets is a great choice for cutting down costs. Expect to save about 50% compared to installing new cabinets. You could use that extra cash to install new appliances, add a new backsplash, or redo your flooring.