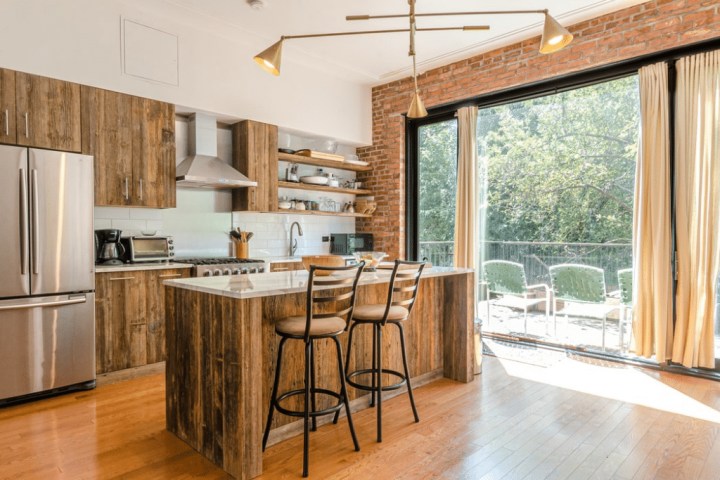 Want to know how to remodel a kitchen cabinet on a budget, and why you should? At ShelfGenie, we know shelves and cabinets. We also know new cabinetry can be the most expensive purchase in your kitchen. And we know you likely have a lot of good questions, like: How can I save? Can I install new cabinets myself? Can I save my old, outdated kitchen cabinets?Read on to find out the answers to these questions and to learn some tricks of the trade.
Remodeling Your Kitchen Increases Your Home Value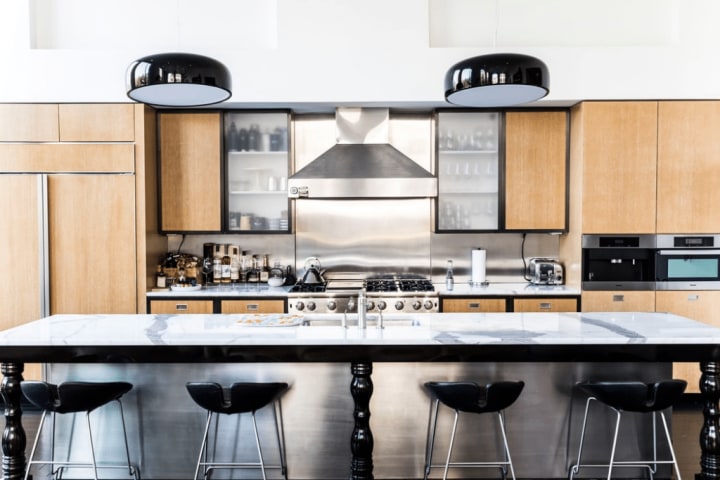 Upgrades to mid-sized kitchens cost an average of $35,000 to $50,000, according to
Home Advisor
. Plan on about $150 to $250 per square foot to professionally remodel your kitchen.
That kind of investment can increase your home's value between $20,000 and $40,000, on average. As far as a return on your investment, that's a 57% expected return on the cost of your project.
In comparison, minor kitchen upgrades recover roughly 78% of the project cost. As our cabinetry experts know and
Home Advisor
underscores, only two items in kitchen remodeling bring a 100% ROI:
Remodeling your existing cabinets
Replacing knobs and hinges
That's it. Nothing else done to your kitchen, except those two things, promises more than a 40% to 80% ROI. So if your kitchen needs a facelift
and
you need to stick to a budget, we've got you.
How to Modernize Old Kitchen Cabinets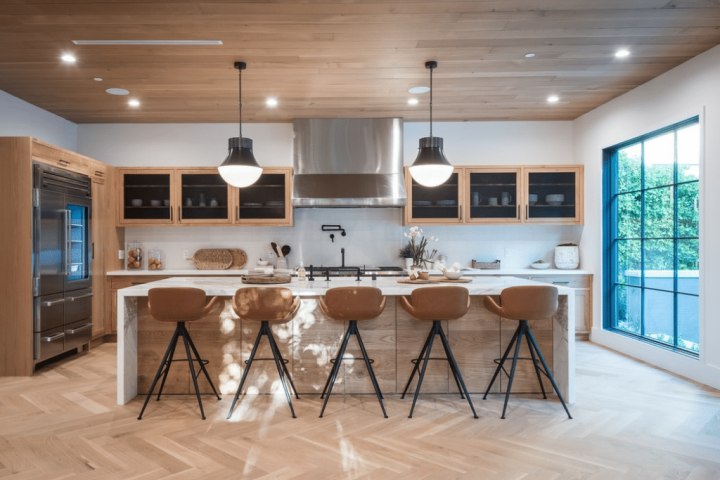 When money is no object, you can gut and rebuild any kitchen or room to suit your needs and style. For most of us, money is
very much
an object. If you know you need to update your kitchen, first take a close look at your kitchen's cabinets, knobs, and hinges.
Be honest with yourself. Take inventory.
They may be outdated, depressing, and old. But if your kitchen cabinets are still sturdy and strong, you can easily renovate them. If they're not worth saving with a renovation, then start saving your money. If you can salvage your cabinets, the savings on renovation versus gutting are huge.
Last year, ShelfGenie shared 12 easy hacks for upgrading kitchen cabinets. Here's how to renovate your old kitchen cabinets and upgrade your kitchen on a budget.
Refacing Old Kitchen Cabinets
To reface your old cabinets for a whole new look, first remove the hardware, cabinet doors, and drawer fronts. You can do this yourself or hire a service professional. Next, remove all dust, dirt, grease, and debris from your cabinets.
We recommend mixing
3 tablespoons of trisodium phosphate inside 1 gallon of hot water. With a sponge or cloth, wash the cabinets clean. Use clean water to rinse off any residue, then let these surfaces dry.
Once clean, with the doors and drawer fronts removed, the magic begins.
Next, wrap a thin coat of wood, veneer, or laminates around your existing cabinets. Usually, this involves a 1/4-inch layer of wood or veneer. Refacing provides a wide variety of options for finishes, such as favorite colors, wood grains, or solid finishes in black or white.
After refurbishing your existing cabinets, you can easily match and attach new cabinet doors and drawer fronts, knobs, and hinges. This creates an entirely updated look.
Consider matching the cabinets to your flooring, kitchen island, window sills, or countertops.
It may also be possible to reface your cabinet doors and drawer fronts, replacing the knobs, hinges, and other hardware for a more contemporary look and feel. Whether this is possible depends largely on the integrity of your existing doors and drawers.
Regardless of how much is salvageable, refacing improves your cabinets' durability and will add years of life to your kitchen shelves.
Refinishing Old Kitchen Cabinets
Refinishing kitchen cabinets is one of the most inexpensive ways to renovate and update your kitchen, although it does take a bit of ingenuity, effort, and elbow grease.
First,
remove all hardware, drawer fronts, and cabinet doors. Next, clean all surfaces. Begin sanding down every cabinet surface you wish to paint. Make time to figure out what colors will best complement the finished look. (More on color later.)
If your cabinet doors are made of wood, in addition to sanding them down, you might want to apply a paint stripper before painting or restaining. If you have oak cabinets and want to re-stain,
HomeGuides
offers a thorough explanation of the intricate process so that you can DIY.
As far as style and design, a great option is to both paint
and
stain. For example, staining the inside of wood cabinets, but repainting the outside doors. Just remember, you must match or go darker for staining. You cannot go lighter. If painting, use chalk paint, then a sealant.
Have you considered staining the wood in more than one color? Or adding a trim or molding in a different stain? This recent cabinet trend looks gorgeous, dramatic, and rustic. Imagine having wood doors and drawers of three different shades, mimicking nature's beauty.
A typical kitchen undergoes a lot of wear, tear, and traffic. Staining wood allows you to hide discolorations from actual stains, while a professional paint job will touch up nicks, scratches, or areas that have worn clear through, and last for years to come.
Want more? Your wish is our command. Here are even more tried-and-true ways to give your old kitchen cabinets a makeover.
More Bright Ideas for Remodeling an Old Kitchen Cabinet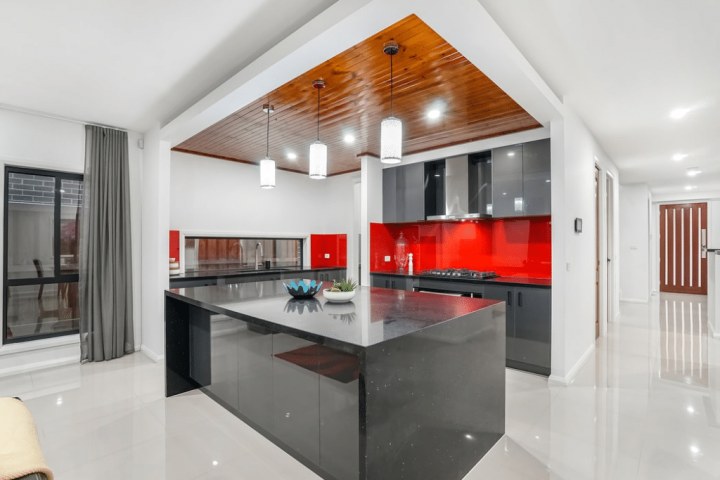 At ShelfGenie, custom glide-out shelving is our passion. And we can use them to upgrade cabinets of all shapes and sizes without the renovations! We love being organized. It makes living possible. We also love to retrofit older kitchens to give them new life. Even on a budget, there is no need to settle for drab, dated kitchens.
Better Homes & Gardens
agrees.
Here are some bright, easy ideas for affordable kitchen cabinet upgrades.
Replace hardware

. This is simple to do. You can easily replace knobs and hinges. You can even refurbish hardware. Repaint it in, say, bronze tones, and then seal it with a lacquer.

Colors 101.

Contemporary kitchen designs often come in neutral colors—taupe, black, wood, steel, or white—with just a dash of color, like the red back-splash featured above.

Grab a color wheel

and keep complementary or monochromatic colors in mind.

Under-cabinet lighting.

LED track lighting under your cabinets can elegantly frame your kitchen. It can also keep your counters lit, so you can see what you're doing.

Space and height.

In today's kitchens, cabinets often reach the ceiling. See if you can install new cabinets above your old ones, and decorate them to match.

Doors to glass.

Think about replacing some of your old cabinet doors with tinted or frosted glass doors. With or without wood frames, they look gorgeous.

Wood or metal?

With so many options in shelving today, it really depends on your budget and aesthetics. ShelfGenie gives a primer on

types of shelves here

.
How Will You Brighten Up the Heart of Your Home?
You have countless options for remodeling your kitchen cabinet without breaking the bank. Will you choose wood or metal shelves? Glass doors or open cabinets? (Don't get us started on the
possibilities for pantries
.)
Or treat yourself to a more organized and streamlined space by installing Glide-Out shelving from ShelfGenie. Imagine being able to reach things easily, even in the back of a drawer!
We have the technology. Call us for a
free estimate or a free design consultation
so we can help you start making your kitchen dreams come true. Without a large budget.